Television Can Be Expensive (It Doesn't Have To Be)
One way that my wife and I have saved money over the years is that while most of our friends have cable or satellite TV, we've never paid subscription costs to receive TV programming. We like to watch TV free.
That means that we are saving ourselves a good chunk of money every year. If you're in debt, you probably shouldn't be paying for TV either!
Rates for cable in our area range anywhere from around $12/month for the basic package with only local channels to well over $100/month for upgraded offerings with premium channels and shows.
We probably would have ended up going for a middle of the road package, somewhere between $50-60/month. How much have we saved every year by not paying subscription costs for our TV entertainment? Probably between $600-720! That's a lot of money! The good news is, TV doesn't have to be that expensive! In fact, TV can be cheap or free!
While we haven't paid for cable TV, we haven't exactly been deprived, or had to watch only the shows offered by the over the air networks. There are tons of free video options out there! In fact, we actually still watch a lot of the same shows that our friends do. How do we do it you ask? Through a combination of free over-the-air digital TV, free online video services (the legal kind), a video streaming software, super low-cost internet service, and a Xbox.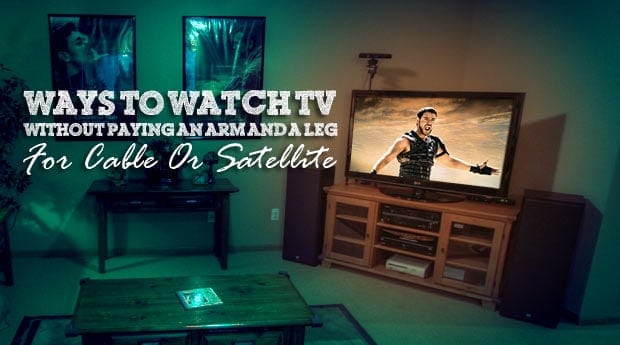 Our Low Cost Home TV Setup
Here's how we watch TV at our house. Keep in mind that this package isn't free, but it is lower in cost than the above mentioned $720/year package. Things we needed:
TV: A TV to watch your shows on! – Cost: Free (you probably already have one)
PlayOn Media Streaming Software: The PlayOn software allows you to stream online video from popular services like Hulu.com, Netflix, Amazon Video, the big networks and a myriad of others straight to your TV through a networked media device (see below). They also have a feature if you pay for the "Plus" version of the software that allows recording of series of shows, and automatic skipping of commercials. They even allow you to record your favorite Netflix or Amazon shows so you can take them with you on the go (with no need for internet). It's essentially a home DVR for online video. Cost: Limited functionality free version, or one time fee of $59.99 for lifetime license. Monthly or yearly subscriptions are also available.
Networked Media Device – Like Our Xbox 360: You can get a brand new Xbox 360 for around $100-150 nowadays, sometimes cheaper. We just got our second one for $75 from a friend. Tons of other networked media devices are compatible as well including Ipad, Iphone, Google Chromecast, Playstation 4, HP Mediasmart TVs, and Nintendo Wii and Roku devices. Check the link above to see if your device is supported. – Cost: Free-$200 (depends on if you have one of these already. If you don't have one already, I recommend the uber-cheap $35 Google Chromecast or Fire TV)
Affordable Home Internet Plans – FreedomPop offers 100% free home broadband. There is a one time cost of $99 for their home wireless hub (act as a both a modem and rougher in one), and you get 1GB of data a month completely free. You'll need a little more data if you're into streaming videos a few times a month, but you could easily get by with their 10GB/mo plan for only $18.99 if you only watch shows a few times a month like me. Check them out here.
Video Streaming Services: There are tons of online video streaming services like Hulu.com, Netflix, Amazon.com Instant, CBS.com, Philo, YouTube, Comedy Central, HGTV, and ESPN that support the PlayOn software! The software also now supports plugins, so additional channels are appearing all the time including the Food Network, NBA/NFL content, and others! – Cost: Free
UPDATE: Check out my updated cord cutting package and recommendations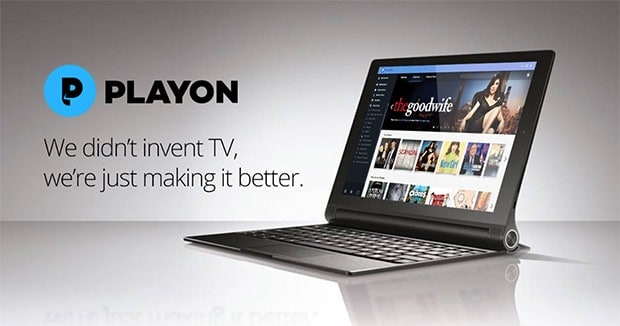 In our case, we already had everything at our house, except for the PlayOn software. So for this setup we paid $59.99 for a lifetime license for the PlayOn software, plus the $8.99/month for the basic Netflix streaming package (get it, it's worth it!).We were also already paying for Amazon Prime, so we got free streaming TV shows and movies with that membership.
The total cost was $168 for the first year, and $108 for every year after. That is a lot cheaper than if we were paying for cable!
Here's a video showing how easy it is to install PlayOn.
For a more detailed look at installing Playon, check out this post on Installing Playon.
So here's how the above cited items are setup at our house in order to stream video from the web, to our TV
The PlayOn software is installed on our home computer connected to the network.
Once installed PlayOn has a media server running in the background that pulls in shows from major video content providers, and allows the PC to pull in the video streams in the same way that a web browser does. From there you can set it to record shows, record entire series, or record new episodes. Or just watch a stream live.
Video is watched on the desktop via the included app, or is sent over the home network and played full screen through a connected device. In our case that means the Xbox 360, Nexus tablet, Fire TV, Samsung Galaxy Smartphone or Chromecast connected to our 50″ Plasma TV. We can control playback via a smartphone or tablet via the PlayOn app. We can watch our shows on whatever devices we want!
Here's an explanation of how Playon works from the software's website:
PlayOn is a streaming hub which organizes all of your favorite online streaming sites and all of your personal media into one convenient location on your PC…It offers content discovery & management and functions as a media server and online DVR all wrapped into one easy-to-use interface.
Watch Free Over-The-Air HDTV

The setup I talked about above is only one way to get free or low cost TV content. Another way we get free content at home is through the free over-the-air HDTV channels that are now available to everyone who has a HDTV tuner and an antenna. Did you know that 94 of the top 100 watched shows are shown on network television – that you can get over-the-air?
If you have a TV with a built in digital tuner and a simple HDTV antenna, you should be able to just turn your TV on, do a channel scan and get all the network TV stations in their full HD glory! In fact, in many cases you'll get a higher definition signal when watching over the air as they are often sent in lower definition via your cable provider.
Check for your local digital stations here.
Which antenna do we use? We have the Mohu Leaf 50 digital HDTV antenna (review at the link). We love it and we are able to pull in 35 strong channels over the air, and another 14 with a low signal! I'd also recommend the SMARTenna from Channel Master.
If you're one of the 10 people who still have a regular TV, you'll need to buy a digital converter box to watch TV in conjunction with your antenna, and once you get one, you will then get tons of crystal clear TV stations for free! When we switched to watching Digital TV years back we instantly gained about 5-10 TV stations because some channels have the main channel, and then sub channels as well.
Honestly we could probably survive on our over the air channels alone, although my wife likes to have our cable TV fix every once in a while – which is why we have PlayOn.
Watch an unboxing and setup of our digital antenna that we use to watch over-the-air TV channels here:
Over-The-Air DVR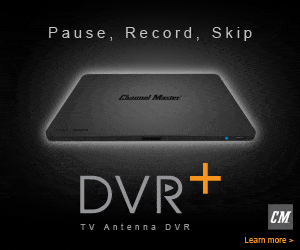 If you're using an antenna like the Mohu Leaf, you can also buy an over-the-air DVR, similar to what you would use from your cable company, but with more features in some cases.
Some of the better OTA DVRs include:
Tablo DVR: The Tablo DVR allows you to watch live TV, record shows or record series, much like a cable company DVR. It also allows you to watch recorded shows or live TV on all your devices like set top boxes, phones, tablets, etc. A comprehensive Tablo review can be found here.
Channel Master DVR+: Channel Master DVR+ will allow you to record shows or watch live TV, in addition to viewing streaming video from a variety of sources. Rumored to be adding more streaming TV channels and possibly Sling TV into their guide soon. Channel Master DVR+ review here.
HDHomeRun Extend Tuner & DVR: The HDHomeRun Extend is a network over-the-air tuner that will sync up with their HDHomeRun DVR software, or with a third party software like Plex to watch Live TV and record your favorite shows. I use it in conjunction with Plex Media Server and it works great! Read a full HDHomeRun Extend review here.
All three of the ones listed above allow you to record over-the-air shows and then watch them on your TV. On the Tablo and HDHomeRun you can also stream them to a tablet, phone or the TVs in your house using devices like the Fire TV, Roku or Chromecast (Adding a Slingbox 500 to the DVR+ will accomplish the same). Definitely worth looking into if you're a cord cutter.
Watch Free TV Online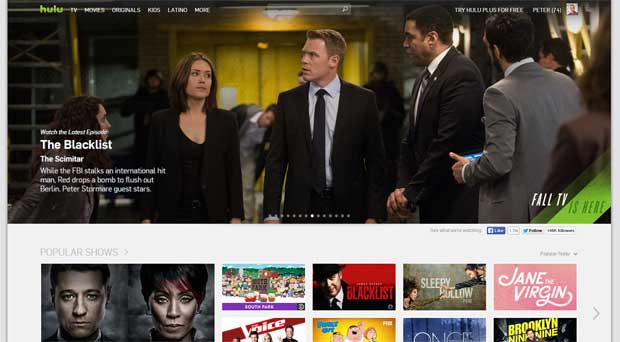 In addition to the options above, you can also watch TV for free through a variety of websites online. While it isn't as fun to watch the shows on a small computer monitor, it is still a good option I think. Many of these online options may be available for streaming through the PlayOn software in the future as well.
UPDATE: You can now watch video from any streaming website on your TV using your Google Chromecast. Check out details of how to stream video from your computer to your TV here.
Hulu.com: probably the best one out there in my opinion, already works through PlayOn, but you can watch it on your computer as well if you'd like.
Crackle.com: Watch tons of movies and TV shows.
Pluto.TV: Tons of free content in a cool online TV network format that's compatible with Chromecast and other devices.
Veoh.com: Tons of content, including TV shows!
Sidereel.com: I'm new to this one, but it looks to have lots of good free TV options.
AOL Video: Both short and long video clips and full shows.
There are a ton of other free video sites out there, this list only lists some of the ones I found to be the best. Have some free online video options that you use? Let us know about them in the comments and maybe I'll add them to the list.
Rent Movies And TV Shows – And Use The Library
Another low cost option to get your TV and movie fix is to either rent your TV shows and movies, or to get them from your local library. My favorite options are:
Redbox: Redbox allows you to rent a new release movie for $1 a night, which is an extremely low cost movie rental option. Search for coupon codes online for free redbox rentals, and it can be even cheaper!
Netflix.com: Slightly more, but the added convenience of keeping the movies and TV shows as long as you want, and being able to stream a selection of movies and TV shows over the computer, or networked media device. Netflix is getting better all the time, now with great original series like House of Cards. Find all plans and how to maximize your return on this post: How Much Netflix Costs.
Amazon Instant Video: Amazon Prime members can stream hundreds of movies and TV shows included in their $79 yearly Amazon Prime membership. Other premium or recent movies and TV shows may have a purchase or rental cost. Amazon Instant streaming is now integrated with Xbox 360 and a variety of other media players.
Vudu.com: Watch hundreds of TV shows and movies for a low cost.
Sling TV: Online streaming cable replacement service. Starting at $25. Ready my full Sling TV Review here.
Fubo TV: Fubo TV is a relatively new streaming service that has a ton of live TV stations, and specializes in sports content – for $54.99/month. Read a full FuboTV review here.
YouTube TV – $44.99/month: This service has quickly become my favorite cable TV replacement streaming service, if you need to watch sports. It offers a ton of channels and an unlimited cloud DVR, ability to get local and national sports channels and more.
Philo TV– $20/month: Philo TV is our current favorite streaming service. We pay only $20/month and we get 50+ channels. The only catch is there is no sports or news channels included since those are some of the most expensive. Read my full Philo review here.
Your Local Library: Your local library will most likely have a decent selection of DVD movies that you can check out for a week or more. My local library tends to be a bit picked over, but if you get on a waiting list you can usually find movies or TV shows you'd enjoy watching.
Borrow From Friends: Borrow movies and TV shows from friends and family. They already own a ton of DVDs, they may as well get some use out of them!
Conclusion
A lot of people pay a lot of money in order to be able to watch the TV shows that they want, when they want. In the process they end up spending upwards of $500-1000 a year, mostly for programming that they don't watch. If they would just look a little deeper they might find that there are a lot of free or low cost options out there, and they can get a lot of the same TV shows, movies and other video content for free.
My suggestion? Read this article, do some research, and find your own low cost option for watching the TV shows that you love. If you put a few of these tips above into practice, you can save thousands of dollars, just like we have.
Do you have other suggestions for low cost or free options for watching TV? What setup do you have at your house, or do you still pay for cable or satellite TV? Are there shows that you think you can't get by using these free video options? Tell us your thoughts in the comments!
UPDATED POST: Cutting The Cord And Getting Your TV On The Cheap