This site has offered up quite a bit of content in the last couple of years about cutting the cord. We've found a plethora of products and services that can enable you to drop your cable or satellite TV provider and move to more cost conscious alternatives.
When the average American family spends $123 on cable TV service monthly, or $1476 in 2015, (According to the NPD Group), why wouldn't you look for ways to cut back?
We've purchased affordable streaming devices like the Chromecast and the Fire TV Stick. We tested HDTV antennas that give you free HD broadcast TV. We've explored the best streaming video services. We have even looked at a couple of over-the-air DVRs as well.
All of the DVRs we've looked at can help you to get the entertainment that you desire, while not spending nearly as much to get it. The problem is that many of the options will still have a monthly subscription cost associated with them, usually for program guide data. Until now.
A month or two ago while doing research I discovered an over-the-air DVR that has been getting rave reviews for the past months – the Channel Master DVR+. The DVR+ is a digital video recorder that allows you to record your favorite broadcast TV shows, while also giving you access to certain streaming services like Sling TV, YouTube, VUDU, Pandora and other online streaming channels. It gives you all those things in one convenient package – and without any subscription costs for the program guide data like most other DVRs charge you for. That alone can save you tens if not hundreds of dollars per year.
So let's take a look at this cord cutter's dream machine, the Channel Master DVR+!
Unboxing The Channel Master DVR+
I received two big boxes in the mail from the kind folks over at Channel Master.
The first box contained an outside antenna that could be mounted and used as the main antenna for the DVR+ (I didn't use this one). The second box contained everything else that I needed including the DVR+ itself, a remote, a 1TB hard drive, a wireless USB adapter, a power adapter and a smaller FLATenna antenna.

Here's a quick unboxing video and walkthrough of the DVR+ once I had it set up:

The DVR+ device is surprisingly thin at 0.5″, just under the height of a dime.

The metal chassis feels extremely sturdy when you take it out of the box. The remote doesn't feel quite as sturdy, but should do just fine. I'll likely use a Harmony type remote instead anyway.
The WiFi adapter is tiny and only sticks out a tiny bit when plugged in. The Channel Master FLATenna HDTV antenna is a thin mud-flap type antenna that you can pin up or stick to just about any surface.
Here are a few pictures as I unboxed the unit.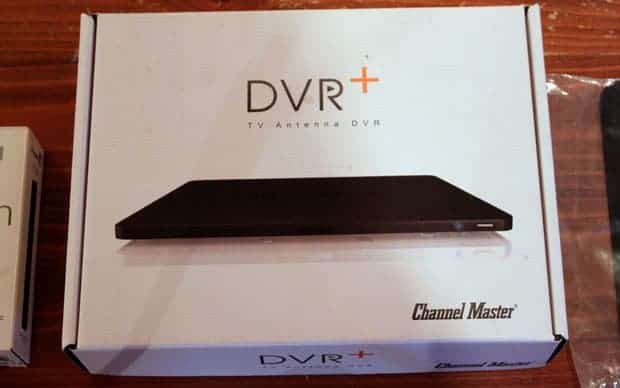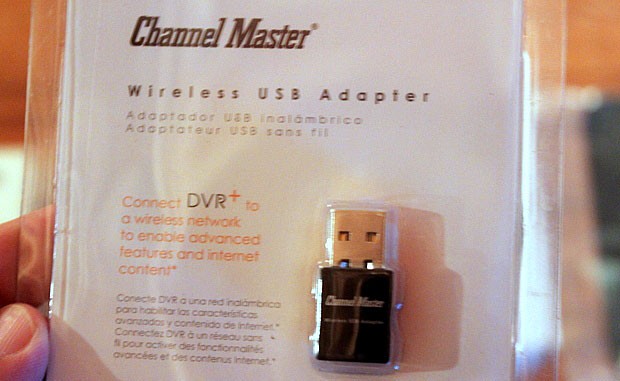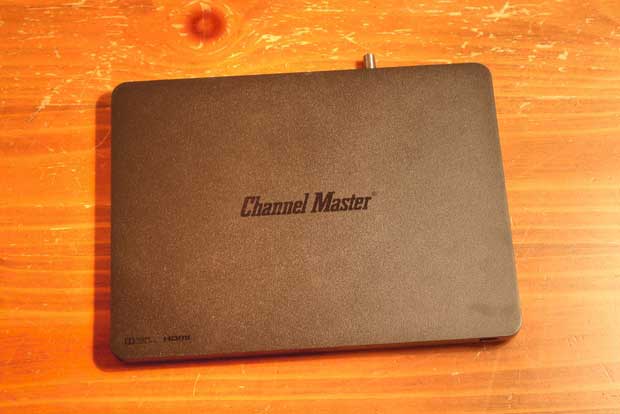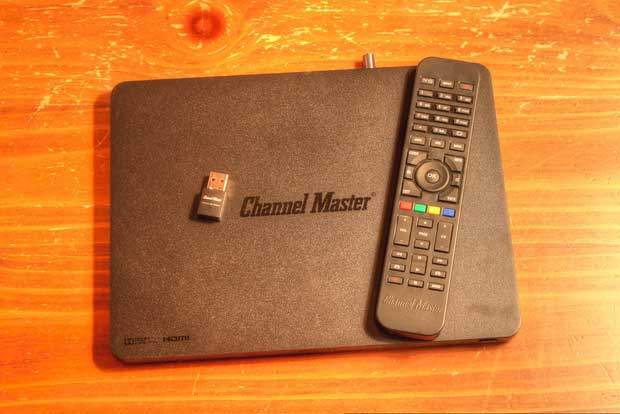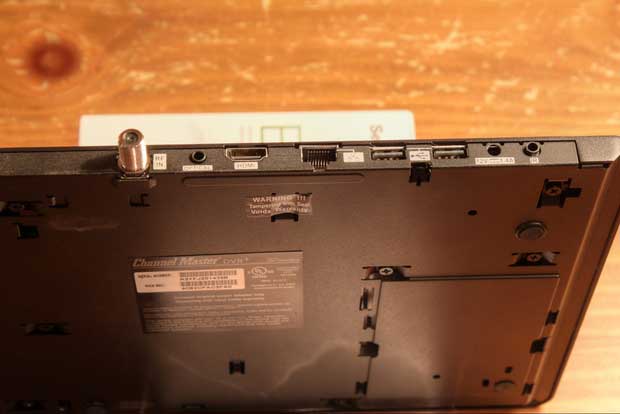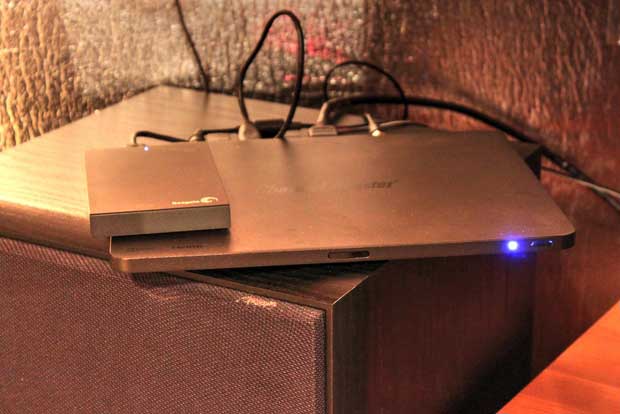 Channel Master DVR+ Tech Specs
For those who are interested, here are some of the tech specs for the DVR+, from the company's website: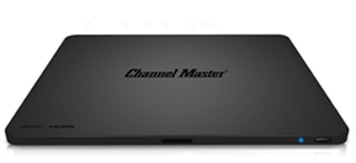 Specifications
Advanced System on Chip (SOC)
DRAM: 1,024MB
Storage/Memory: 16GB Flash
Two ATSC Tuners
Video Resolutions: 1080p, 1080i, 720p, 480p, 480i
MPEG-4 part 10 high profile L4.0 video decoder
HDTV output: SD & HD Decode
Aspect Ratio: 16:9, 4:3
Dolby Digital Plus & PCM Audio Support
120VAC power
0°C-45°C operating temperature
Length/Width/Height (in/mm) – 8/27, 10.5/20, .5/1.5
Weight (lb) – 1.14
Front Panel
User-dimmable bi-color power/status LED
Wide range IR sensor
Power/Standby button
Rear Panel
Tuner Input Connector – 75ohm Female F-Type
Two USB – 2.0 ports – Type A
HDMl-1.3a port (with HDCP 1.3)
Mini TOSLINK – S/PDIF (Optical)
RJ45 – 10/1 OOBase – T Ethernet Port
3.5mm jack (TRS) – IR Extension Port
Remote Control
Universal
Supports IR extension
Built-in remote code database
Accessories You'll Need With The DVR+
When you take your device out of the box, you're going to need a few things to get up and running.
Antenna: You'll need an antenna like the Channel Master SMARTenna or a Mohu Leaf to hook up to your DVR+.
USB Hard Drive: There are two versions of the DVR+. If you buy the one without the included 1TB hard drive (recommended), you'll need to provide your own hard drive. Find one on Amazon for $50-75 or so, like this 1TB Seagate one I use.
Wireless USB adapter or network cable: If you don't have a network connection where you plan to put the DVR+, you'll want to purchase the Channel Master specific WiFi adapter. If you do have network access there, you'll need a network cable. NOTE: Using an internet connection isn't a requirement, it's only needed for enhanced guide data, firmware updates and streaming channels and apps.
HDMI cable: The DVR+ will hook up directly to your TV, so you'll need to have a HDMI cable handy when setting it up.
Setting Up The DVR+
Setting up the DVR+ should be relatively easy. The unit I received was a used review unit, and as such has been setup previously. It was already tuned and set to receive programming in another U.S. market. After I turned the unit on I had to go to the settings section and re-scan for channels so that it would update with the correct channels for my market. I also updated the zip code in the unit as well.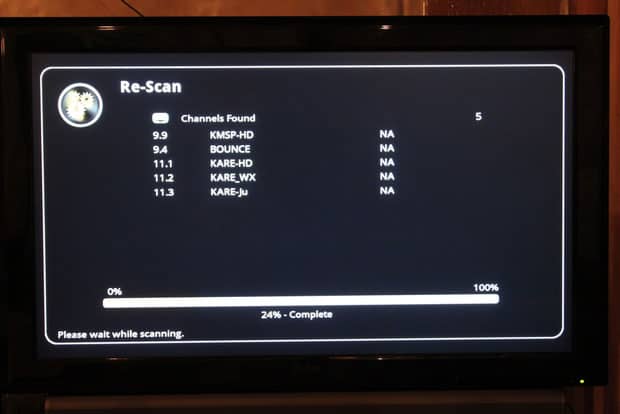 After the DVR+ completed scanning for channels, it confirmed that the unit was set to go, and then it suggested that I setup an internet connection so that I would be able to do the following:
Get more reliable program guide data over the internet
Get enhanced guide data
Allow for streaming internet content and apps
Enable software downloads
I installed the wireless USB adapter, and then went through the quick process to connect to my WiFi router, and enter the password so it could connect. It connected quickly and we were all set to go.
After connecting to the internet I noticed that the guide data started to show more information including channel logos and richer descriptions.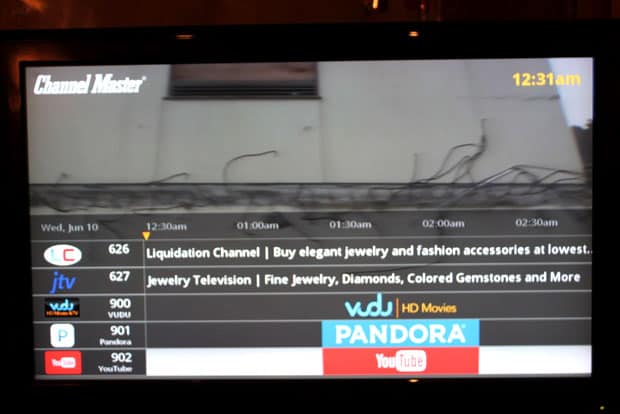 I was finally able to go in and just test things out.
While I was flipping through the channels the unit froze on me, the remote becoming unresponsive (see the video above). After rebooting I checked and found that the unit had a new firmware available, which I promptly installed.
Firmware Update
The updated firmware took a few minutes to download over WiFi, and then the unit installed the update and rebooted. In all it took about 10-15 minutes for that to happen. After the update I didn't experience any major issues with freezing or unresponsiveness.
An added bonus of the firmware update was that it added online streaming video channels to the program guide. Previously only over-the-air broadcast channels and 3 apps were available for viewing. Now DVR+ also has what they call "Channel Master TV" which is a selection of online streaming video channels, some of which you may recognize, others which you probably won't. New channels will likely be added as time goes by.
Using The DVR+
Using the DVR+ was extremely simple. If you've ever used a cable company DVR, you'll be right at home.
Watching Live TV
94 of the top 100 shows are available over-the-air on broadcast network TV. (source)
You turn the unit on and it is tuned to the last channel you were watching. If you hit the "Guide" button, it will bring up a program guide grid showing what shows are on at what times. If you click on a show it gives you the option to watch the program or record it.
Once you start watching a show you can pause live TV for up to 2 hours, then fast forward or rewind to the point at which you started watching the channel. It all works well and I had no hiccups during that process. My only complaint is that the remote didn't always seem to be super responsive. I'm not sure if the review unit had weak batteries, or if it just had a weak IR blaster, but at times it wasn't as responsive as I would have liked. I'm thinking that would be better if/when I switch to using a Harmony remote.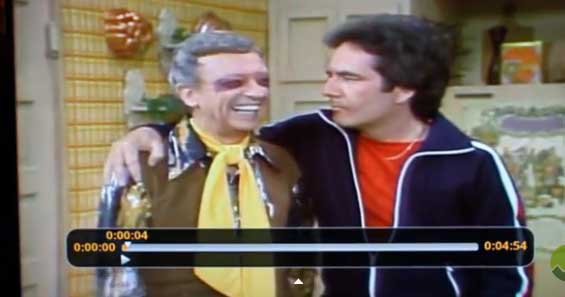 One other note. The device has two tuners, so if you are recording two shows, you can't watch another station without canceling at least one of the recordings first.
DVR Functions
Like other DVRs I've used, you can set the the unit to record any of your over-the-air shows that you want to watch later. You can also set it to record all of a certain series if you like.
Once a recording is set it will record the show and add it to your DVR's recordings list, accessed by clicking on the "DVR" button on the remote.
Watching a recorded show is as easy as selecting it from your recordings list and then playing it. Recorded series will have their own folder, individual shows or movies show by themself.
If you want to skip commercials you can set the DVR's fast forward button to skip forward in any of the pre-set time increments of your choosing. I chose a 30 second increment to make skipping commercials easier. You can also set the skip back increment as well, I set that one for 20 seconds, which seems to work well.
If you stop watching a show in the middle it remembers your place and you can just resume where you left off, or restart playback from the beginning.
In the short time I've used the DVR it hasn't missed any recordings, and the only issue I had was a poor recording quality on a channel that I don't get very good reception for.
Online Streaming Channels
In their recent update Channel Master added what they're calling "Channel Master TV". It basically adds the functionality of adding online streaming video channels as actual channels you can watch in your program guide.
The listing of channels as of this writing was around 25-30 channels or so. They include channels like Bloomberg, WGN, BBC World News, Sky News, Outdoor Cooking Channel, Vevo TV, Adult Swim and more.
In my tests of trying to watch the online streaming channels on the DVR+, I have to admit that I wasn't overwhelmed. Some of the channels like BBC World News played just fine when I tried to watch them, while others didn't come up at all, or in some cases constantly buffered. The internet connection is a fast one, so I'm not sure what the problem was. I never could get the Channel Master TV channels working reliably. I'm sure in some respects these channels are dependent on the quality of the stream from the online station as well, so I'm not sure I can blame Channel Master for this one completely.
Streaming Apps
The DVR+ currently has 3 apps through which you can access content as well.
VUDU: VUDU is a online video streaming service owned by WalMart where you can buy or rent streaming video. You can find Movies, TV shows and more through this app. I was able to use the app just fine and view a few free streaming TV episodes without issue. Video quality was very good.
Pandora: Log in to this app to listen to the music streaming service. If you have an existing account you can just sign in and start listening.
YouTube: Watch all your favorite viral videos on YouTube.
Sling TV: Channel Master announced that the live TV streaming service Sling TV will be made available to DVR+ users via a firmware update on January 6th, 2016. The addition of this app is great news for cord cutters! (The Sling TV service costs $20/month extra but brings live and on demand cable channels like ESPN, AMC, HGTV, TNT, A&E and Disney Channel.)
I've heard rumblings of other services having apps added to the Channel Master DVR+ in the not too distant future as well. I think the more services they can add in, the more attractive it will become.
Services I'd like to see added? Hulu, Netflix, Amazon Instant Video.
How Much Does The DVR+ Cost?
Here's where the rubber meets the road. If you're truly going to use the DVR+ in order to save on monthly entertainment costs, just how much does it cost -and how much can you save by using it?
DVR Cost
There are two versions of the DVR+ currently available.
Personally I would go with the lower priced model and add on your own 1TB hard drive later.
Accessories Cost
The Channel Master provided accessories and cost are below. It should be noted that for some of these things, like the hard drive, you can likely find cheaper alternatives elsewhere.
Subscription Cost – FREE

Here's where the big savings can be over time. Most available over-the-air DVRs require subscriptions to program guide data in order to function correctly. Channel Master's DVR+ does not. The guide data is subscription fee free! Competitors will cost anywhere from $5/month all the way up to $15/month for Tivo's Roamio box. That's anywhere from $60-180/year!
DVR+ program guide subscription cost: $0 FREE
The total cost for the DVR+ that I tested was as follows:
DVR+ $249
1TB Hard Drive $99
FLATenna $10
Wireless Adapter $39
Subscription costs: $0
TOTAL: $397
While that total might seem like a lot, the real value is in the fact that you never have to pay for cable TV again, and that there are no recurring monthly costs for using the DVR+. Cutting out the cable can help you to save hundreds every year!
If you're worried about the initial costs, Channel Master regularly runs specials on the DVR+, sometimes sells refurbished units, and you can cut costs by buying or using your own hard drive or antenna. Just remember, the savings will pay for the unit in no time flat!
Channel Master DVR+: A Fee-Free Cord Cutters Dream Machine
The Channel Master DVR+ is a nice addition to the cord cutter's toolbox. Not only does the over-the-air DVR portion of this device work well and have high quality recordings, but it is the only over-the-air DVR I know of that has no ongoing fees for program guide subscription or other data. While other company DVR subscription fees may be low, they do add up over time. Using the DVR+ will allow you to cut your cable and be subscription-free while still enjoying an entertainment experience that rivals what you'll find via the cable company's DVR.
While I did experience some hiccups with getting the online streaming channels to work reliably, that functionality is brand new, and relies on outside video services in order to function, so I can't blame that wholly on Channel Master. Hopefully that functionality will improve over time.
Overall if you're looking for an over-the-air DVR for your living room TV that has no ongoing fees, the DVR+ is definitely worth a look.
Disclosure: This site may receive compensation if you choose to purchase through the affiliate links on this page. I have actually tested the unit, and the opinions expressed here are my own.