I've written on this site quite a few times about how to cut back on your entertainment expenses. I've written about how to cut the cord altogether to avoid paying high cable or satellite TV costs, or how to get the best deal if you do decide to pay for cable.
If you're planning on going down the road of cutting the cord, however, you'll likely still want to have a good amount of entertainment choices. Thankfully there are a lot of free or affordable options for you to find the entertainment you want. For me, the best value you're going to get is just buying and setting up a digital over the air HDTV antenna. Not only will you get amazing 1080p picture quality for a lot of stations, but you'll get it all for free after the cost of the antenna.
Today I thought I would look at just how easy it is to setup a digital over-the-air HDTV antenna, and get amazing HD programming without paying a monthly subscription fee. In our case we chose to use the Mohu Leaf® 50 from Mohu – one of the best HDTV antennas available. So let's take a look.
Can You Get Local TV Stations Without Cable?
One thing that a lot of people think is that they'll be forgoing a ton of great shows by opting out of cable or satellite entertainment. The fact is, a majority of the top shows are on over-the-air network television. In fact, 94 of the top 100 watched shows are available over-the-air in 1080p HD! That means for many of your favorite shows you may be getting a higher definition signal by using an over-the-air antenna than you would using your cable provider, most of which use a 720p signal.

Depending on where you're located there may be more or fewer over-the-air TV signals available to you. To find out what stations are available to you in your area, do the following:
Go to GoMohu.com
On the homepage enter your zip in the "find the right antenna" box near the top.
On the page that comes up you can view a full list of channels that should be available in your area, and which antenna might be the best fit for your location.
For me, when I run the test it says I should be able to receive up to 36 channels from 17 over-the-air stations in my location.
You can also run your zip code and address through other sites as well. For me the others sites gave much the same answer. I should be able to receive somewhere around 35 channels including all of the big networks, public television, and various other channels.
Unboxing The Mohu Leaf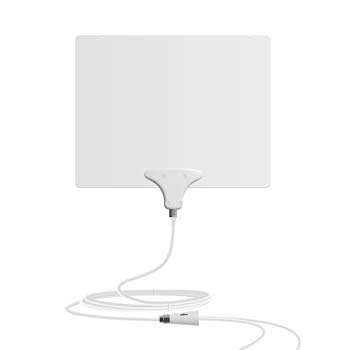 After reading some of my content on cutting the cord on this site, the folks at Mohu were kind enough to send out one of their digital antennas for me to review. They sent out the Leaf® 50 HDTV Antenna, a paper thin USB powered and amplified antenna. As long as you're within 50 miles of the TV towers, you should be able to get a decent amount of shows using this antenna. Some bullet points from Mohu:
Modeled after a discrete mud flap antenna designed for the U.S. Military

Reversible and paintable to match décor

Easy to install

Original amplified paper-thin antenna

16 ft high performance cable included

Multi-directional: No "pointing" needed

50 mile range

1 year part and labor warranty
After receiving the box in the mail from Mohu, I opened it up to see what was inside. Here's a quick unboxing video to show everything that comes in the package.
Inside the box you'll find the following: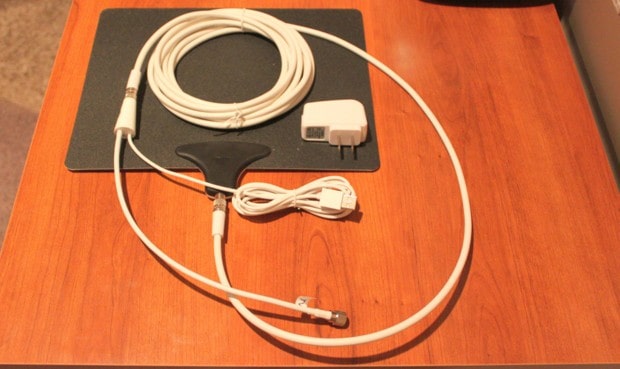 1 paintable & reversible Mohu Leaf® 50 HDTV Antenna
16 ft antenna cable (that you attach to the back of your TV, and the antenna)
USB power cord (to plug into your TV)
USB wall plug, in case your TV doesn't have USB
Antenna hanging kit. It includes your choice of pushpins and velcro stickers to hang your antenna.
One thing I really like about this antenna is the fact that it is USB powered. That means you won't have any phantom power pull for the amplifier because you can plug it into an open USB port on your TV, and it will only draw power when the TV is on.
Another thing I love about this antenna is that it is super light, paper thin and easy to mount. The included antenna hanging kit make it even easier to hang, depending on where you're mounting it. The fact that it's also paintable means that it can fit into any room's decor as well.
Check out the complete unboxing gallery on my Google Plus page.
Setting Up Your Digital Antenna
Now that we have unboxed the antenna, it's time to set it up. The question is, just how easy is it to setup your TV service using a digital antenna? The answer for me was that it only took 5 to 10 minutes. It was super easy!
After removing all of the elements from the box, the first step I had to complete was assembling the antenna. To do that you just have to screw on the antenna cable onto the antenna, and then onto the two pronged USB/coaxial cable. That's basically all you'll need to do for assembly.
Next you'll need to hook up the antenna to the back of your TV or other Digital TV tuning device. In my case I plugged the antenna and USB cable into my Dell all-in-one PC because it has a built-in digital TV tuner. It also has Windows Media Center that enables you to watch TV, record shows, and so forth.
After plugging in the power and antenna I placed the antenna behind my 2 monitor setup where it couldn't be seen. I'd worry about placing it in the perfect position later.
After everything was installed, I booted up Windows Media Center and clicked on "Live TV'. It asked me to scan for channels, which I did. I was expecting it to get about 35 channels or so, as the wizard told me, and to my surprise the channel scan came up with 49 channels! After looking a bit closer, 10-12 channels had a pretty low signal, however, so that means the estimate of 35 or 36 was just about right – give or take 10 or so low power channels that don't come in that great.
After setting the TV signal up, I was set to go. It took me no more than 10 minutes and I was up and running – sans cable TV!
What About The Shows I Can't Get Over-The-Air?
Having a digital antenna is a great option for most people who are looking to drop expensive pay TV services. You'll get high quality HD programming at no cost!
What if you're like me, however, and you have a few must-watch TV shows that you can't get on network TV? What are your options?
Options For Watching Cable Shows Not Available Over-The-Air
There are usually plenty of options to find your favorite shows if they're not available for free on one of the major networks.
Watch it on the network's website: some shows are available to watch for free on the network's website a day or two after they air.
Watch it on a streaming service: Pay for a video streaming service like Netflix, Amazon Prime or Hulu Plus. Often your favorite shows will become available for free streaming on these premium services. Just buy a $35 Google Chromecast streeaming device, plug it in and start watching!
Pay for a season pass: If you really want to watch a show and it's not available for free online anywhere, you might consider paying for a season pass for that show. You can purchase a season pass on iTunes, Amazon and other places to watch the show once it's aired. I did this for a season of Walking Dead. The only problem? As soon as I had paid for it, it became available for free a couple of months later on Netflix.
For most people, even if they end up having to pay for a season pass for a show or two, they'll end up coming out hundreds of dollars ahead at the end of the year. $20 for a season pass for a show here and there is still a lot less than paying for cable.
The only caveat is if you love watching live sports, like I do. Certain sports aren't always available over-the-air, and you may have to consider other options. For example, my Vikings football games I get just fine over-the-air, they're all on regular network television. If, however, I want to watch the local NBA, MLB or NHL teams, their games are for the most part on cable TV. Some leagues will allow you to sign up for streaming video packages to watch the games online, but even then in some cases there are local game blackouts. So if you're a lover of sports, you may be stuck with cable TV to watch your favorite teams. At the very least you may have to listen to the games on the radio, and then watch the highlights after the game.
A Digital Over-The-Air HDTV Antenna Will Save You Money
As time goes on the amount of entertainment options available to us as cord cutters is growing. Pay TV is no longer the only option. We now have the option of buying a digital TV antenna and getting tens of free HD channels, at no cost whatever. You can pay for cheap or very affordable video streaming services like Netflix or Amazon Prime, and get access to a wealth of TV shows, movies and other entertainment. You can also pay for individual shows if you want to, instead of having to pay hundreds per month for an expensive premium TV package. In short, you don't have to pay a ton of money for premium TV, unless you want to.
If you're planning on getting away from cable or satellite TV, paying the small up front investment for a digital HDTV antenna like the Mohu Leaf only makes sense.
Have you cut the cord? Do you use an antenna to get free HD programming? Tell us about your experience in the comments!
Get your own Mohu Leaf and start the cord cutting process here