If you've read this site for any period of time, you know I like getting free stuff.
Why pay good money for things, if you don't have to?
In the past couple of years I've realized that there are a ton of easy ways to earn free gift cards.
How?
There are any number of websites, services, cash back sites and survey companies that will ask you to do certain tasks, and in return they'll give you points that you can use towards free gift cards for Amazon, Walmart, Target, Starbucks, Visa gift cards or any number of online and bricks and mortar stores. Free gift cards are just as good as cash in most instances.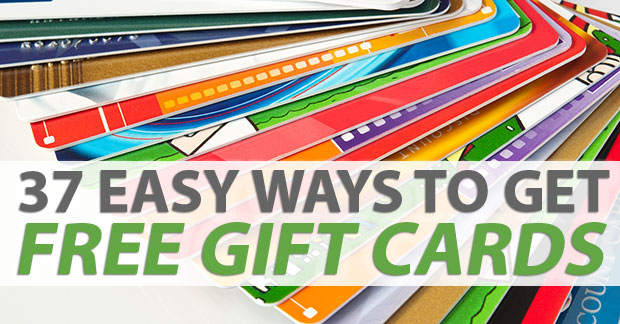 I'm a technophile, I love new technologies and gadgets. The problem? I don't want to pay for all those gadgets.
So what do I do?
I write about those products on this site, and often companies will send out free gadgets for me to use in a review. For the ones I can't get free, I use free gift cards that I've earned online to pay for them.
Today's article will show you how you can get free gift cards of your own.
Finding Free Gift Cards
If you do some quick keyword research on Google for the term "free gift cards", you will quickly find that thousands of people are searching on this topic. I mean, who doesn't want free stuff?

The search term "free gift cards" has over 70,000 searches a month, while other similar search terms are getting tens of thousands of searches as well.
It's clear that a lot of people are trying to get free gift cards, and there are a thousand and one sites and services that claim to give you free gift cards, for little to no work. In fact there are over 1.3 billion sites in the search results for that "free gift cards" search!
The problem is, while many of those sites may in fact give you free gift cards for performing certain activities, on many of them it is next to impossible to get enough points or dollars in order to actually claim a gift card.
Today we want to walk you through some of the best and easiest ways to find free gift cards, ones that will actually pay out, and where you won't have to take on a second full time job just to get a $5 Starbucks gift card.
So let's get started.
Best Ways To Earn Free Gift Cards
So what types of companies are going to pay you in free gift cards for doing something on their site or app?
There are several main categories of companies that will pay you in free gift cards.
Survey sites: Most survey sites are paying you to fill out surveys for companies that are doing market research. You take the time to fill out the survey, and when you complete one you get points that can be put towards a reward of some kind. In many cases that means free gift cards.
Cash back apps: There are a lot of cash back apps and websites that will give you cash back or points for buying products or services through their shopping portal link. You can then redeem the points you earn for free gift cards.
Receipt scanning apps: There are receipt scanning apps that will pay you in free gift cards for scanning all of your shopping receipts. Once you're earned enough points, you can redeem them for rewards.
Miscellaneous sites with referral programs: There are a ton of sites out there that will pay you in free gift cards for referring other users to their service. Some of my most successful free gift card payouts have come from referring other users to services using my social media accounts.
Vehicle test drives: I don't see this one mentioned very often, but it's an underrated opportunity. You can often find free gift cards for $50-$100 just for doing a quick test drive.
Here's a look at my Amazon account currently, as you can see I've been claiming all sorts of Amazon gift cards, and you can too! So let's get started!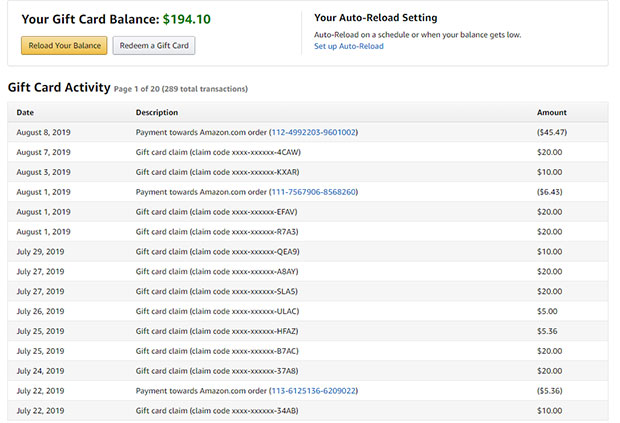 Free Gift Cards By Filling Out Surveys
There are a ton of survey sites out there that will give free gift cards for filling our questionnaires. How does it work?
Typically once you've signed up and confirmed your details, you'll start receiving notifications about surveys that you can fill out to receive points or credit.
Once you've gotten enough credit you can redeem your points for a gift card.
Most of the sites that do surveys will only be available for U.S. panelists, so be sure before you sign up.
Free Gift Cards Via Swagbucks (And A $5 Bonus)
Swagbucks has been one of the cash back and survey sites of choice for me for a few years. I've gotten hundreds of dollars in free gift cards from them by now.
How does it work?
Once you've signed up for Swagbucks you can earn points by filling out surveys, shopping via their shopping portal, playing games or watching videos.
They have a rewards store on their site, so you just figure out what kind of a reward you want (Visa gift card, PayPal, Amazon gift card, etc) and then keep earning points until you have enough to redeem for the reward of your choice.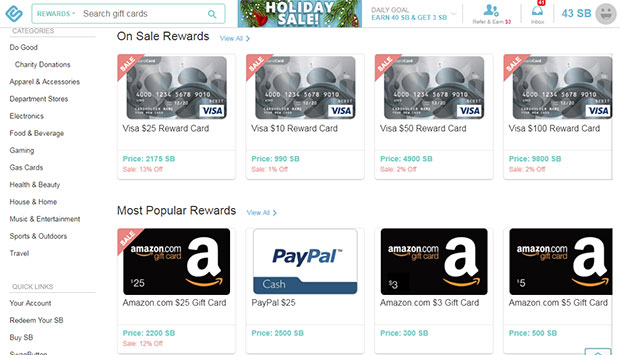 One thing I like about Swagbucks is that there are plenty of rewards that you can get for low dollar amounts, so it won't take months to get a reward. Some other sites may require you to earn enough to get $10 or $20 worth of gift cards before redeeming, which means it can take forever.
Get a $5 bonus just for signing up for Swagbucks through our link when you earn 2,500 SB points within the first 60 days.
Free Gift Cards By Using Prize Rebel
Prize Rebel is a site where you can do things like answer survey questions, complete offers, watch videos and more, and in return they'll pay you in gift cards or cash.
I've been using Prize Rebel for a while now and they consistently pay out gift cards very quick. You can redeem points for Amazon gift cards, PayPal payments, or a host of other redemption options.
One thing to love about this site is that they have some very low levels of points that you can redeem for cash or gift cards. For example, for only 200 points you can get a $2 gift card!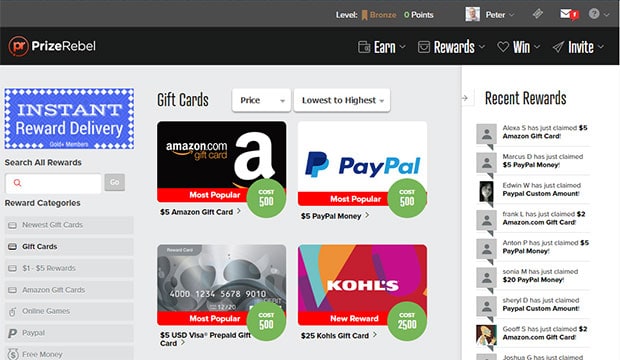 Another way to earn points ist by referring other users to the service. When a user you referred earns points on the site, you'll earn 20% of their earned points too.
Read our full PrizeRebel review here.
Free Gift Cards By Using Fetch Rewards (And A $3 Bonus)
Earning rewards with Fetch Rewards is pretty simple.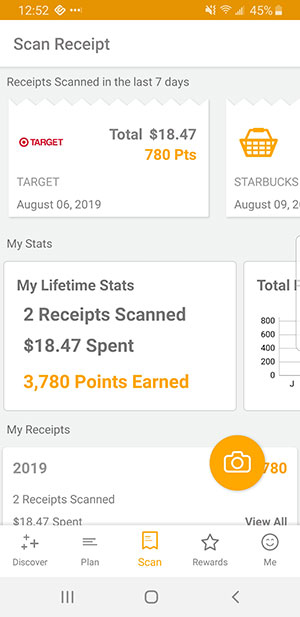 All you have to do is scan your grocery store receipts whenever you shop. Once the receipt is scanned it'll find products that you've bought that can earn you points. Earn points on thousands of products, every time they appear on a receipt.
You can redeem your points for your choice of hundreds of available rewards.
For example, just by signing up for the app with a promo code I got 3000 points right away, which is enough credit to get a $3 gift card for a number of stores including Amazon, Target and others.
If you are feeling charitable, you can also donate your points to a charity of your choice.
Use my referral code, MREFX, during signup and you'll get 3,000 Fetch Points ($3 bonus) just for signing up with my code.
Free Gift Cards By Using ReceiptPal
The ReceiptPal app is another app that gives rewards when you snap a picture of your shopping receipt. This one however, doesn't accept solely grocery receipts.
Snap photos of your receipts from grocery stores, restaurants, and local retailers and submit them so that companies can do market research. In return they'll give you points that are good towards gift cards from places like Amazon, Visa, Walmart, Target, Home Depot and more.
You can also link your email and Amazon accounts and get credit for e-receipts and shopping you do online as well.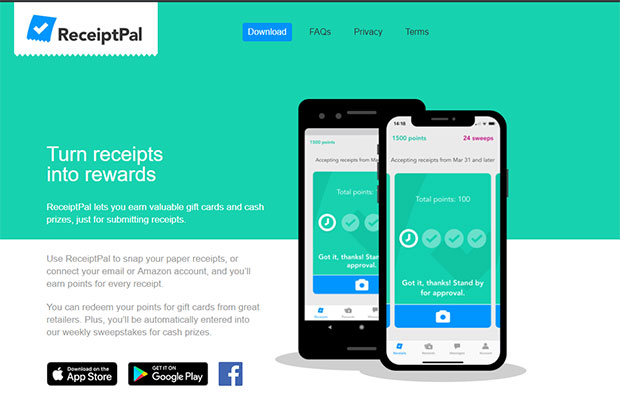 You can also earn points from ReceiptPal answering surveys, playing fun mini-games and more.
Free Gift Cards By Using Ibotta (And A $10 Bonus)
Ibotta is an another app where you can earn cash back by scanning receipts. It is an app for your Android or iOS device.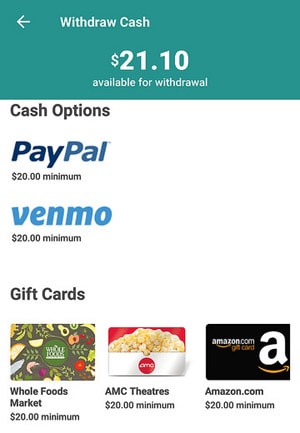 How does it work?
Before you go shopping you just browse through the offers on the app and add the ones that you might want to buy to your account.
Then, you go shop.
When you are done shopping just snap a picture of your receipt, and after the purchase is verified the cash back will be added to your account.
While I don't always find a ton of cash back offers I want to use, sometimes I'll find some higher dollar ones that definitely make it worth my while. Plus the small amounts add up over time.
Get paid in gift cards from a variety of places, or simply get cash back to PayPal or Venmo!
You can
get a $10 bonus just for signing up
for Ibotta
through our link
and activating your first offer within 15 days of signing up.
Read a full Ibotta review here.
Free Gift Cards By Using Dosh Cash Back App (And A $5 Bonus)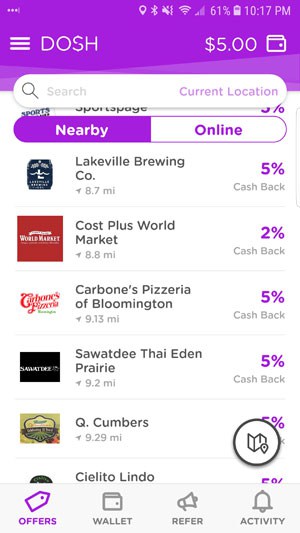 Dosh is an app that gives you cash back on the purchases you make in person, or online.
Just view cash back offers within the app at a variety of stores like Pizza Hut, Costco, local restaurants and more. You can shop online or in store using a linked credit card, and you'll get cash back on those purchases.
When you have a balance that reaches $25, you can cash out. They'll send your payment via PayPal or a linked bank account.
To get started just sign up through our link and use our referral code:
Use the code: PETERA18 and link your first credit card to Dosh, and you'll get a $5 credit.
Read our full Dosh app review here.
Free Gift Cards By Using Drop App (And A $5 Bonus)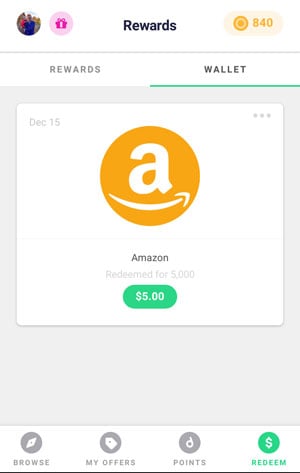 Drop is a cash back shopping app that lets you earn gift cards from your favorite retailers, just by using their app as the starting point when you shop.
So how does it work?
First, you need to download the app to your phone. Then, just link your credit or debit card to the app.
Next, browse through the cash back offers within the app. Find cash back from stores like Target, Best Buy, Walmart and more. Click the shopping link for the store you're buying at and then use your linked card to earn cash back.
Drop also offers drop points for filling out surveys, playing games and more.
Once you have enough points in the app you can redeem them for a reward, with as little as 5,000 points.
Read our full Drop app review here.
Free Gift Cards By Using BeFrugal.com (And A $10 Bonus)
BeFrugal.com is another cash back site that helps you to give cash back when shopping online via their shopping portal or browser extension.
Get cash back at sites like Walmart, Amazon, Ebay and more.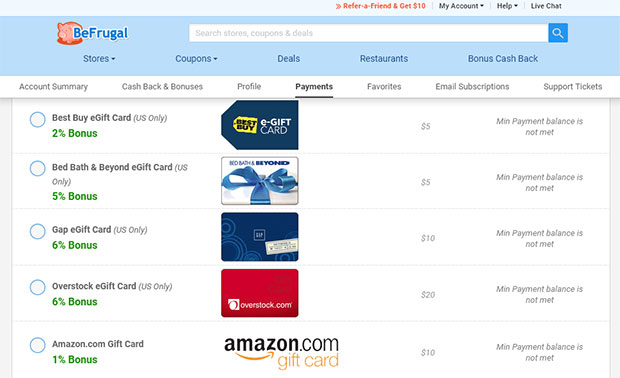 You can redeem your cash back for get cash payments or gift cards. If you choose to get a gift card often you'll get a bonus. For example, if you cash out with an Best Buy gift card, you can get a 2% bonus over the cash payment! Choose a gift card of your choice, tons of them to choose from.
Sign up for BeFrugal
through our link
, and get a $10 bonus. The bonus can then be redeemed once you've reached $25 in cash back.
Free Gift Cards By Using ShopKick
ShopKick is a cash back app that helps you to earn points (they call their points "kicks") for doing things like linking a credit card and making purchases, submitting receipts, making online purchases through their app, scanning product barcodes or even things as simple as just walking into a store.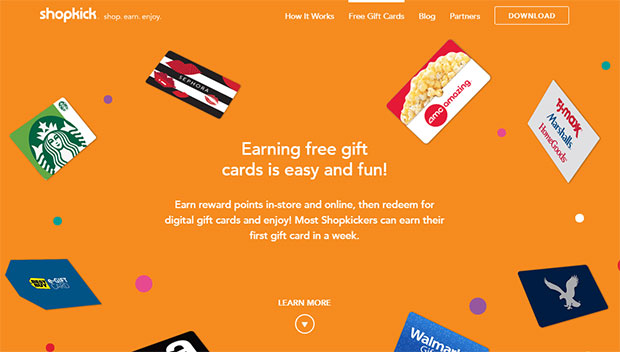 The process for earning free gift cards is pretty easy and they claim that most users can earn their first free gift card in a week. It definitely helps that they have so many different ways to earn points.
They have a ton of available gift card types from Starbucks cards to Amazon and Walmart gift cards.
Free Gift Cards By Using Inbox Dollars (And A $5 Bonus)
Inbox Dollars pays you to take surveys, watch videos, play games and shop via their portal to earn cash back.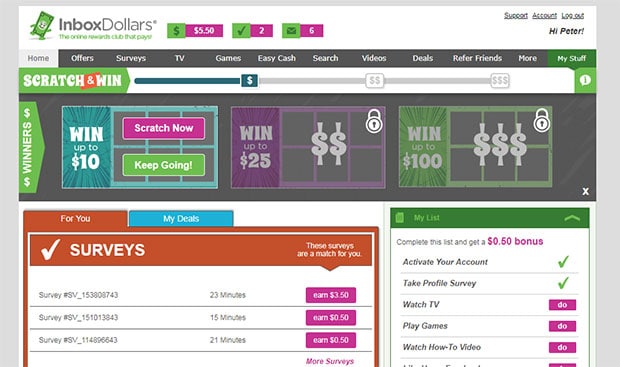 You can also refer friends to the site and earn a bonus each time someone signs up, and then earns money! You'll get a $1 bonus, and then 30% of your friend's earnings while they're active users.
The only downside to Inbox Dollars is that you do have to earn $30 to cash out to a gift card, so it may take little while to earn enough to cash out.
Free Gift Cards By Using Product Tube
Product Tube is a website were you can help do market research by taaking videos and get paid for your time with free gift cards.
So what do you have to do?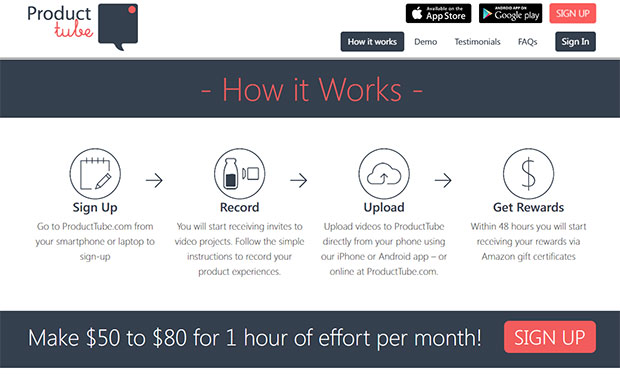 To earn gift cards you'll be asked to do a couple of different kinds of videos.
First, they may ask you to do a video in-store. They'll ask you to take a video while you're shopping in a certain category at a store, or when buying a certain type of product. You just video your visit, narrating it while you go.
They also ask you to do at home videos of you using a certain product, and talking about your experience with that product.
Once you've uploaded a video via their app or website you'll be paid in Amazon gift cards within 48 hours.
Free Gift Cards By Using My Points (And A $10 Bonus)
MyPoints helps you earn points when shopping online. Just start by shopping through their site and you'll earn points that you can use towards a variety of rewards.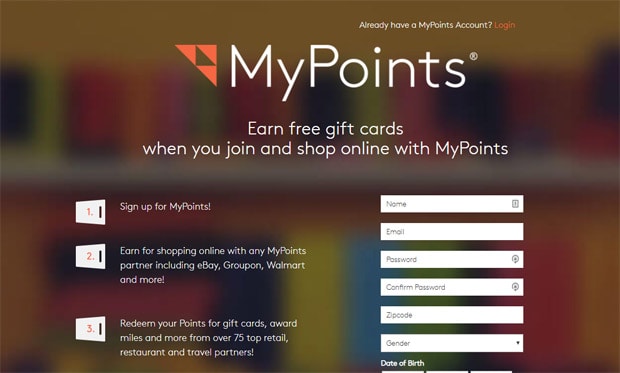 Redeem your Points for gift cards, award miles and more from over 75 top retail, restaurant and travel partners!
Free Gift Cards By Using Honey Extension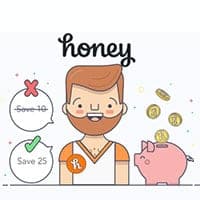 Honey is an extension for your web browser that helps you to get cash back and save money when you're shopping online.
Let's say you're shopping on Fanatics.com for a jersey for your favorite sports team. When you arrive at the site, if that site has cash back available through Honey you'll get a notification to activate it.
Then once you're checking out Honey will automatically try to find a working coupon code for that site as well. So you save twice by getting cash back and you save using coupon codes.
When you get cash back points, also called "Honey Gold", you'll have a balance in your account that you can redeem once you've reached 1000 Honey Gold.
One thing that's nice is that you can also earn Honey Gold by referring other users. You get 500 points per user.
1000 Honey Gold points can be redeemed for a free $10 gift card of your choosing.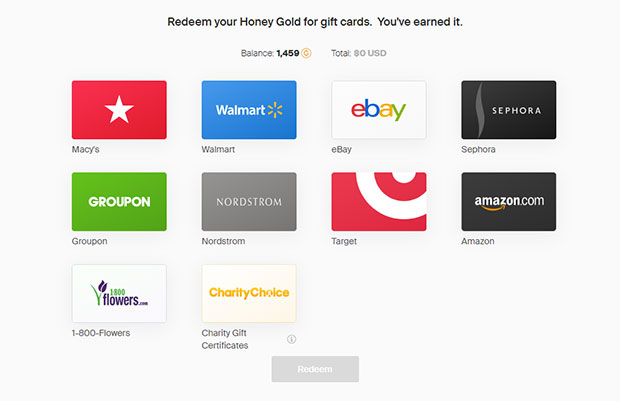 In writing this article it reminded me to check my Honey account and I had enough to get a $10 gift card!
Read our full Honey review here.
Free Gift Cards By Referring People To Personal Capital (A $20 Bonus)
Personal Capital is a website and app that helps you to track your entire financial situation from assets and debts, to investment accounts, credit cards, home values and mortgages. It will give you a complete financial picture, and a peak at your net worth.
Personal Capital has been my go to financial app for years now. We use it just about every day.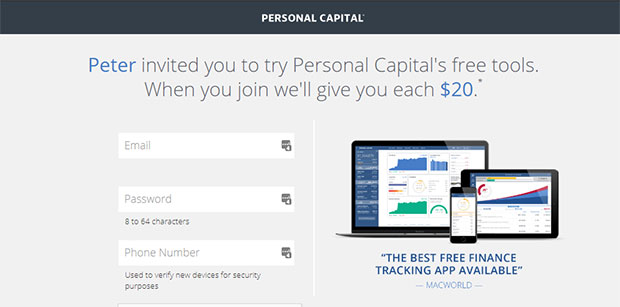 Personal Capital is offering a free $20 Amazon gift card for new users when you sign up for an account through our link below.
What do you have to do?
Just link at least one valid investment account (brokerage, 401k, IRA, etc) with at least $1000 in it within 30 days of registering. Most people will be able to do that. It doesn't get much easier than that for a free $20 Amazon gift card!
Read our full Personal Capital review here.
Free Gift Cards By Doing A Test Drive
One way you get some pretty high dollar gift cards pretty easily is by taking advantage of free test drive offers from various vehicle manufacturers.
If you have a free Saturday you could even take the time to visit several dealerships and get free gift cards from all of them.
For example, in my area we have one particular highway that has 10-15 dealerships within a couple miles of each other. You could easily visit 4-5 of them within a couple of hours, do test drives and get a couple hundred dollars in gift cards. Often if it's busy the salespeople will ask you if you really want to do the test drive, or if you would just like the gift card. Because of that it might pay to visit during a busy time.
The only caveat for this free gift card is that you'll have to give up some personal information in order to get a gift card, and you'll likely end up on the dealer or manufacturer's mailing list.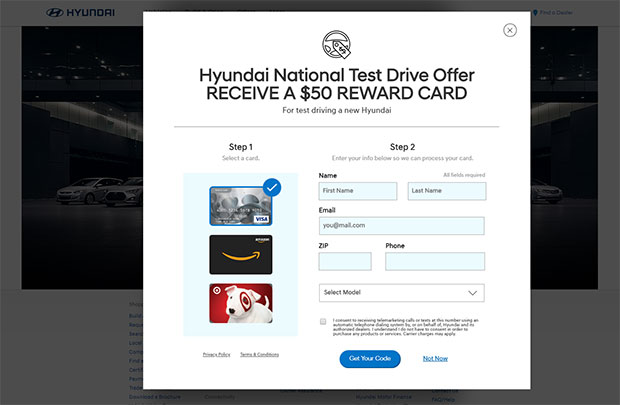 Here is one current offer available for a free gift $50 gift card for doing a test drive.
The best way to find out what the current offers are is to go to a manufacturer website, click on "new inventory" link, and usually if there is a test drive incentive a pop-up will come up on your screen.
Other Places To Get Gift Cards Or Cash For Free
The places above to get free gift cards are some of our favorites but they're not the only places you can go.
Here are a few more places we recommend.
Get Bonus Savings Every Time You Shop With Your Free Gift Cards
Want to save triple the money when shopping online? Here's what I do in order to stack my savings using my free gift cards.
Here's what you do:
Shop via a cash back portal: When you shop online make sure to first activate cash back via a site like Rakuten, Swagbucks or Honey by using their browser extension. Most browser extensions will pop a message asking if you want to "activate cash back". Before you do, however, figure out what cash back site has the best cash back percentage via Cashback Monitor.
Use Honey extension to try coupon codes: When you find the item you want to purchase and add it to your cart, proceed to the checkout process. On the page with a space for coupon codes, use the Honey browser extension to search and try the available coupon codes automatically, to save you more money! RetailMeNot is another one to try for coupon codes if Honey doesn't have any.
Buy gift cards from Gift Card Granny to cover the balance: After you figure out the order total after the coupon code is appplied, if you don't have enough free gift cards to cover the total, head over to Gift Card Granny to buy gift cards at a discount to to pay the balance.
Activate cash back, use a coupon code, and pay for your order with a discounted gift card. When you do, you'll triple the savings!
How To Get Free Gift Cards Online?
We all have things we need or want to buy online, but if you're paying with your own money it can be expensive.
Thankfully there are a ton of ways to earn free gift cards online whether it's filling out surveys, getting cash back on shopping your doing already anyway, or if it's scanning your grocery receipts.
Free gift cards are out there and available. It just comes down to figuring out which programs are the best for you, and then going for it.
Let's get to earning some free gift cards!
Have your own places to recommend where you can earn free gift cards? Tell us what they are in the comments!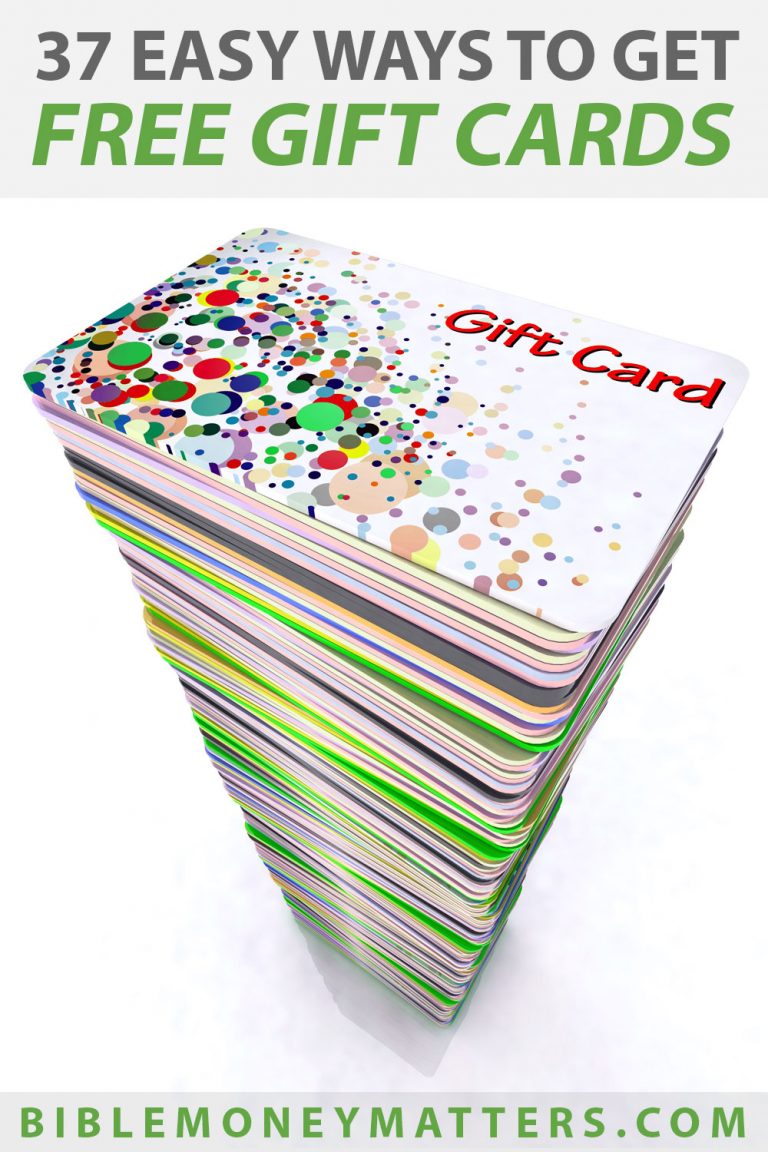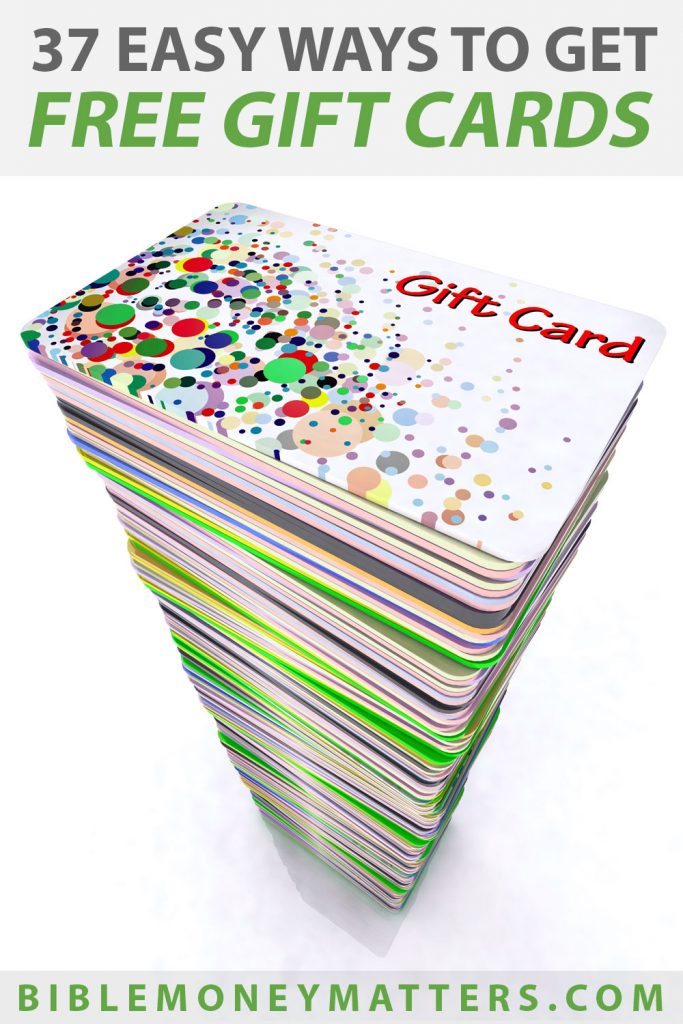 Frequently Asked Questions
How can I get free gift cards?
There are lots of way to earn free gift card codes. Some sites will ask you to shop through their cash back portal in order to earn free gift cards. Others will ask you to fill out surveys, or sign up for free services. Still others will ask you to write reviews, or refer other users to their service .
How can I get free gift cards fast?
You can get free gift cards fast at cash back sites like Swagbucks, PrizeRebel, Honey, Drop, Dosh, ReceiptPal, TopCashBack, Earnably and InstaGC. Many survey sites like Survey Junkie, Pincone Research, MySoapbox, Springboard Amaerica and others will pay you for filling out surveys in gift cards. Finally, many software companies will give you a free gift card for referring new users.
What is the best app for free gift cards?
The best app for free gift cards will depend on your personal situation, how much shopping you do, and how big of a friends list you have. If you have a lot of friends on social media that you can refer to use apps, products and services, for my money the easiest way to earn free gift cards is to refer your friends to products and services via one of the cash back apps.
Where can I get money for free?
In most cases you can't get money for free, at least not completely. You'll likely have to perform some action online, purchase something, or give up some personal data. One cool thing a lot of apps do, however, is offer sign up bonuses. So your best bet for truly free money is to sign up for offers that give generous signup bonuses.
Should I opt for a gift card or a cash payment?
In most cases the cash payment to a linked PayPal, Venmo or bank account is your best option. In some cases, however, sites and apps will offer a bonus in value when you opt for a free gift card. If you were planning on shopping at a certain site anyway, it may pay to opt for a gift card in that instance.