Since I started writing about financial topics I've had no shortage of personal finance management software to write about on this site.
Most of the software does a decent to a great job of helping you to track your family budget, stay on top of where your money is, and make sure your bills are paid on time. But something none of them did to my satisfaction was to track our investments in my 401(k), Roth IRA, and other taxable accounts.
Some of my favorite personal finance software that I've tested include Mint.com, You Need A Budget, and Tiller Money. All of them were very good, but in my opinion, the Empower Personal Dashboard is one of the very best. It helps you to stay on top of your investments better than any other online financial management software that I know of.
We wrote a quick review of Empower right after they launched a few years ago, but today I thought I'd take a deeper dive into the details of the site, and update how they've been working for me the past couple of years.
Want to join in the fun and follow along with your own account?
Open your own FREE Empower Account here
Manage Your Entire Financial Life – Wherever You Are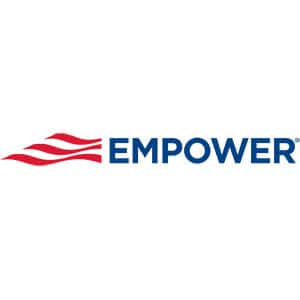 The idea behind the Empower Personal Dashboard is to give you one convenient and secure place where you can manage your entire financial life. Not just your cash and credit accounts, but also your investments, mortgages, and other assets.
If you're looking for an online app to keep track of your budget, Mint.com is probably going to be your best bet in my opinion. If you're a bit beyond that, however, and you're looking more for a tool that can help you maximize your investments, Empower will be the perfect fit.
Empower can help you to track your investments, figure out what your mutual fund and ETF expenses are, analyze your 401k fees, and break down your asset allocation to see if you're too heavily weighted in a certain area. While you can track some of your investments in Mint, you're not going to be able to do all that.
Empower is a free tool, they're able to keep it free as they make their money from annual fees for offering personal portfolio management for customers through Empower Advisors. If you're not using them to manage your money, however, you can still use the free suite of tools.
Here's a quick video review I did a while back while the site was still new and under another name. The site has changed a bit since then, but much of it still applies.
So let's take a look at what you can do with Empower.
Signing Up & Linking Accounts
The first step to using Empower is to open your account and then link your external cash, credit and investment accounts.
Open your Empower Account here
Once you enter your name and contact information to open the account, it will ask you to link your accounts.
As mentioned previously you can link cash, credit, investment, mortgage, and other asset accounts. The more of your accounts you link, the more complete of a financial picture you'll be able to see in the software.
Linking accounts with Empower has worked extremely well for me. When I originally signed up I was able to link all of my accounts except for one of my bank accounts and one retirement account. In the 2 years that I've been using them, however, they've made site updates and I'm now able to link all of my accounts – even ones that no other site had been able to.
Accounts Section
When you first log in to Empower you'll find yourself in your personal dashboard in the accounts section where you can view your net worth, income and spending, portfolio balances, and portfolio allocation. You'll also see a recap of your holdings and the gainers and losers in your investments.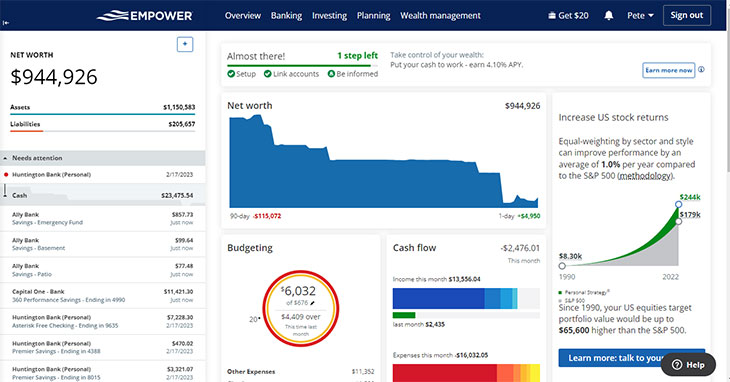 The left-hand side of your screen will have a sidebar that shows your account balances, grouping accounts by cash, credit, investment, mortgage, and asset categories. You can click into any one account and view the transaction history for that account.
Net Worth Tool
From the dashboard, you can click into the net worth tool where you can view your net worth, and track it over time – narrowing it down by whatever date range you'd like.
I like this tool because it gives you an overall feel of how you're doing, and whether things are improving over time – and how much they're improving.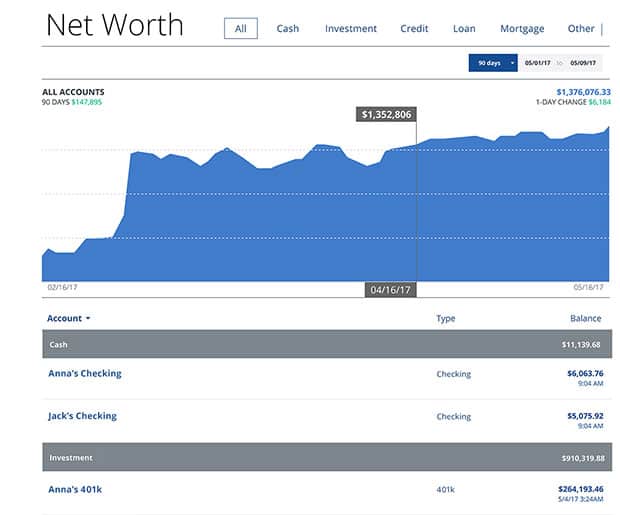 Transactions Tool
You can also access all of your transactions for all of your accounts in the "transactions" menu item. This is handy if you're searching for a certain transaction in your accounts or if you're not sure which account it appears in. You can also view transactions for a specific account by choosing that account from your accounts navigation on the left side of the screen.
Banking Section
If you want to get into the meat of your income and spending in your accounts, you can do that through the banking section on the site.
Cash Flow Reports
In the banking section, you'll find the cash flow reports that will detail your income and spending for you down to a pretty granular level.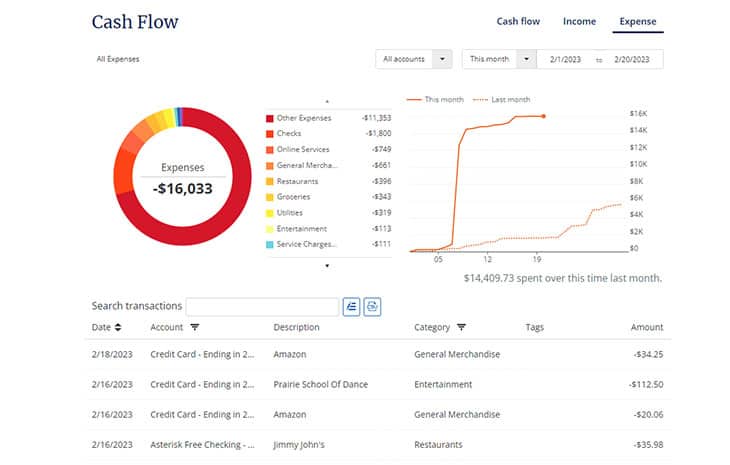 The cash flow reports and charts are beautiful and give you the information in a way that helps you to picture just where the money is going. You'll see how much you're spending, which categories you're spending the most in, and your average spending per week.
Bills
In the banking section, you'll also find the bills area that will alert you to any bills that you have coming due. Credit card payment coming due? You'll get an alert here.
Investing Section
The investing section is where the rubber meets the road for Empower. It's what sets the product apart and makes it so great.
Holdings
When you first click on the investing menu it will take you to the "holdings" tab where you can view your portfolio. On this page, you can do quite a few different things.
You can view your holdings in your accounts, and compare your portfolio's performance against key indexes. You can view the balances in each of your investment accounts and chart it over time. You can see your portfolio's performance over whatever time range you choose, and then see what expenses you've incurred. Finally, you can view your asset allocation in your portfolio, to see if it lines up with your investment strategy.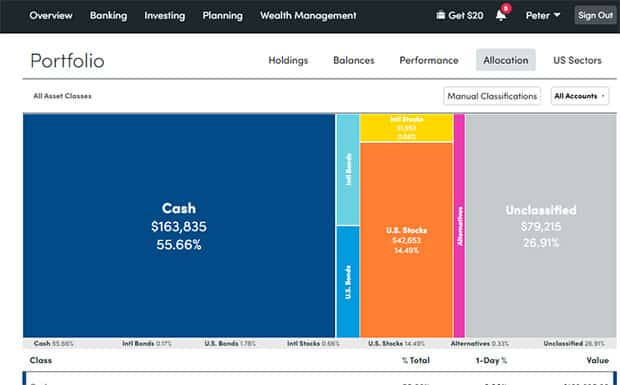 Planning Section
The planning section of the site has some retirement and savings planning tools to help you plan for the future.
Retirement Planner
The retirement planner section of the "Planning" tab will ask for a few key pieces of data from you like your age, planned retirement age, and how much you already have saved, along with income and a few other things.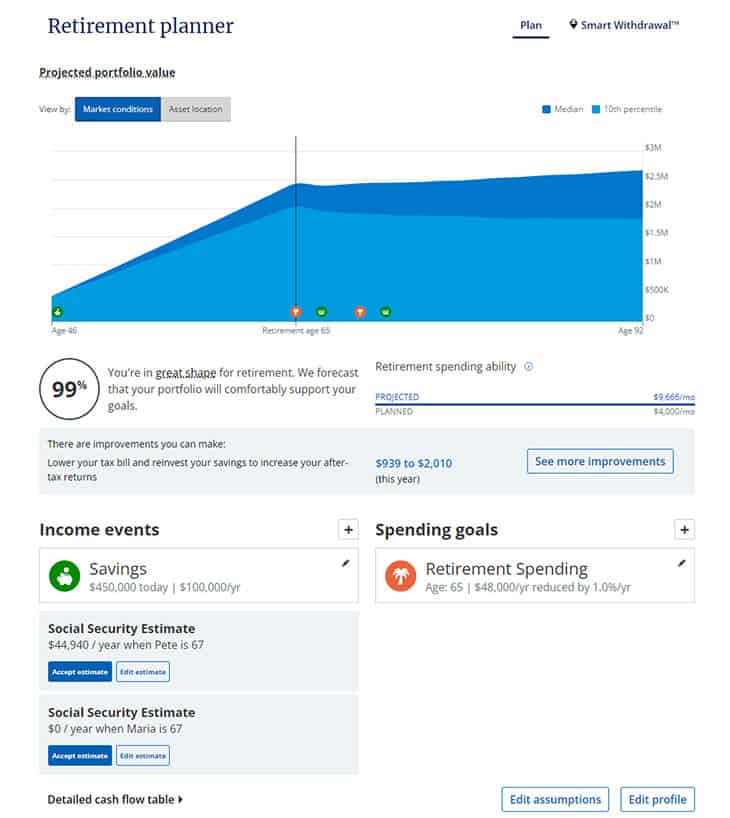 After you enter all of your data it will give you an overview of how your retirement outlook is shaping up. If you aren't on track, it'll give you an idea of what you need to do to get back where you need to be.
Savings Planner
The savings planner section will allow you to see how much you've saved this year and how it puts you on track for retirement. If you're not on track, it will help you to make adjustments.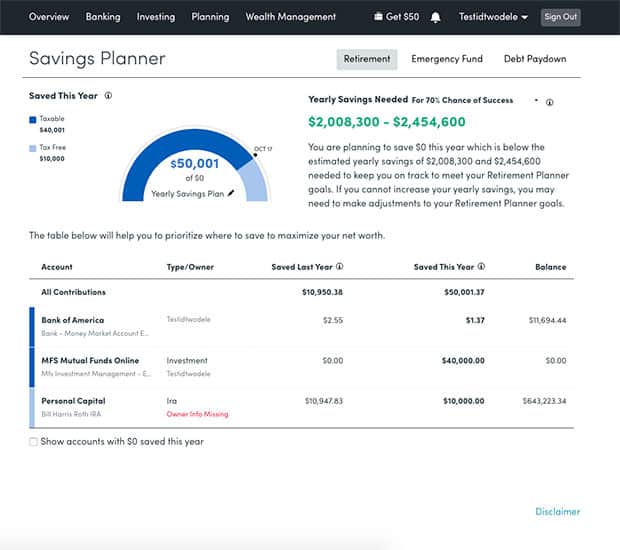 The "emergency fund" section of the savings planner helps you to put a contingency plan in place for an emergency fund of 3-6 months of expenses, just in case something happens.
The "debt paydown" section will give you an overview of your current debt situation, and how long it may take you to pay off all your existing debts.
Investment Checkup
Another cool tool that you can use in Empower is the investment checkup tool. This tool goes beyond just telling you what your asset allocation is, and actually gives you some recommendations about what changes you could make in your portfolio, based on questions you've answered in your account, and what your current holdings are.
If you're over-weighted in one type of stock, it will give recommend changes that can bring you more in line with a targeted allocation. You can see different target allocations vs. current allocations based on different levels of risk – that you can adjust. It's a cool way to see where you are, versus where you could be if you made some changes.
Retirement Fee Analyzer
Another great tool that has proved extremely useful for me is the Retirement Fee Analyzer. With this tool you can look at your investment holdings and see just how much you're losing to expense ratios, yearly fund fees and more.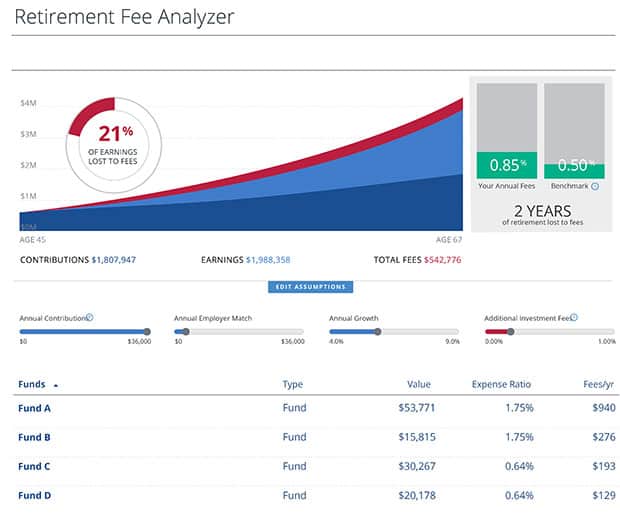 When I initially analyzed my company 401(k) I realized that a couple of my fund holdings were less than ideal and had fees I wasn't aware of. I was able to take Empower's suggestions and make some changes in my holdings and save myself a ton of money over the years.
Advisory & Wealth Management
If you have over $25,000 in investment accounts in your dashboard in your account, you'll be assigned a free personal financial advisor who can help you to manage your investments. They can offer you advice on ways to improve your portfolio's performance and give insights based on your personal situation. You used to need more than $100,000 in investable assets to use this service, but they recently lowered it to only $25k.
Clients with over $25,000 in investable assets receive access to:
Portfolios composed of ETFs that are designed to take advantage of asset location, tax loss harvesting and disciplined rebalancing
Access to Empower's full suite of financial planning services
A licensed Advisory Service Team to answer questions and advise clients on college planning, estate planning, home purchases, 401k allocation, and more
There are fees for this advisory and wealth management service. Empower charges 0.89% for all accounts up to $1 million. Once you hit $100k in assets you'll get a second dedicated Financial Advisor and increased customization for your portfolio.
I haven't used this service but it's nice to know it's available if you have reached that level of investment.
Mobile Apps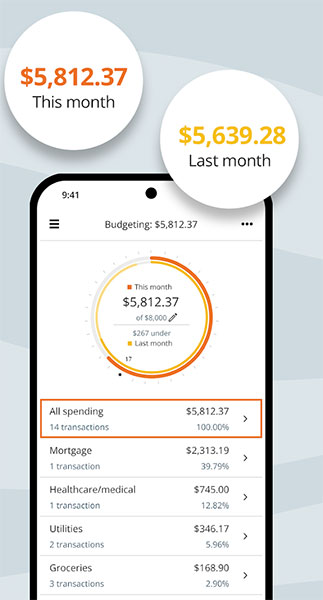 Empower recently redesigned its iPhone app from the ground up to make the most of what iOS has to offer. They also have a great Android app (which I have been using on my Android devices for quite some time).
The apps have essentially all of the same functionality that you can use on the website, just made to work well for smartphone and tablet touch-oriented devices.
Some of the more advanced features like Retirement Fee Analyzer and investment checkup are only available on the site as far as I can tell, but all of the essential tracking tools are found in the app. I've found it useful on many occasions to track down a transaction, or to check my account balances.
Empower – What's The Verdict?
Empower came on the scene a few years ago with the goal of becoming the go-to financial aggregation software for those who are investing in the stock market and who want to continue to improve.
It has become the main software that I use to track my finances for a few reasons.
First, I've been able to link all of my financial accounts, even obscure ones.
Second, it gives me a better picture of my finances because of how well it works with my investments, which other software doesn't always do.
Third, it is a pleasure to use their website, and their mobile apps are some of the best and most beautiful apps I've ever used.
What things would I change? I might make their site a bit more customizable when it comes to setting up your own asset allocation strategies or give more options for setting up custom budgets, but beyond those things, I think Empower doesn't give me any other reasons to complain.
I love Empower's site and mobile apps, and would highly recommend that others use them – especially if they're investing in the stock market and want to have a better hold on where they are, and where they're going.
Sign Up For Your FREE Empower Account