Saving $100,000 is a financial milestone that can have a major impact on your life.
Maybe you're saving for a specific purpose, or perhaps you're simply looking to get a quick start on your retirement savings.
Regardless of your reasons for saving, once you've reached this milestone, you will have developed some solid money habits that will carry over to the future, helping you to save even more.
If you'd like to reach this ambitious goal but you're not sure how to save $100k, we'll break it down into specific steps. In the end, this goal that may seem unrealistic now will feel much more achievable once you've broken it down.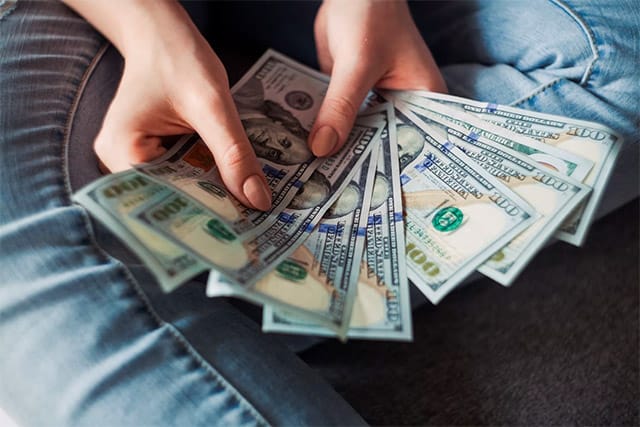 Of course, $100,000 is a significant amount of money. Unless you have a very high income, it will take some time and patience to reach this goal. But the good news is, once you've established some healthy financial habits and put the foundation in place, saving is much easier than you might think.
How To Save $100k In 7 Practical Steps
Here are the specific steps you can follow to set yourself up for success with your savings goal.
Step 1: Adjust Your Priorities
Aggressive savings goals like $100,000 will require you to evaluate your priorities and be willing to make changes where needed. Saving a large amount of money is possible, but it will take some sacrifices along the way. If saving money is truly your priority, most of these sacrifices won't be a big deal, but you need to know where your priorities lie.
At this stage, you need to commit yourself to save and adopt the mindset that you're going to do what it takes to reach your savings goal.
Step 2: Set Milestone Goals
Saving $100,000 is the overall goal, but that can be intimidating because the amount of money is so large. It feels much more attainable when you break it down. For example, if you want to save $100,000 over the course of five years, that's $1,667 that you need to save each month. You may even want to break it down to a weekly or bi-weekly goal, depending on how often you're paid.
Step 3: Analyze Your Current Expenses
Now that you have your savings goal in mind, it's time to start looking at your current expenses and see where you can make some cuts. To start with, it's a good idea to look for easy wins. This includes recurring expenses that you could easily reduce or eliminate without a major impact on your lifestyle. For example, my wife and I were able to save $70 per month by switching to a discount wireless carrier for our mobile phones. That's an easy $800+ per year!
Other possibilities for easy wins include cutting cable TV and any subscriptions or memberships you might have that you no longer use or don't get much value from. You can also look at the amount of money you spend on meals at restaurants, daily coffee purchases, and other items that aren't really necessary. With some small adjustments, most people are able to save at least a few hundred dollars per month without making any huge sacrifices.
Once you've identified some of the low-hanging fruit, it's time to start looking at your bigger expenses. This includes your housing, transportation, groceries, insurance, and other necessary costs. You may be able to make cuts in some of these areas, and this is often where you'll see bigger savings.
You may also want to consider making some changes to your lifestyle in order to save more money. If you live in an expensive area, maybe you could move to someplace with a lower cost of living. Or if you're a multi-car family, maybe it would be possible to live with just one car. Of course, these changes may or may not be possible in your situation, but they're worth considering. If you're able to make any major lifestyle changes, you could see significant savings.
Step 4: Create a Budget
Now that you have an idea of where your money is currently going, it's time to start creating a budget. This will help you track your progress and ensure that you're on track to reach your goals.
When you create your budget, be sure to include a line item for the amount that you need to save each month. For example, if your goal is to save $1,667 each month, put it into your budget just like all of your other expenses. If savings are not part of your budget and you're just saving whatever is left at the end of the month, you're leaving it up to chance that you'll reach your goal.
Step 5: Start A Side Hustle
You may need to increase your income to reach your savings goal, and the most practical way to do that is to start a side hustle. There are many different side hustles out there, and with the extra income on top of the changes you've already made to your regular spending, you should be able to reach your savings goal.
When it comes to side hustles, the best option for you will depend on your skills and interests. For example, if you're good at writing, you could start a blog or become a freelance writer. Or if you're good with numbers, you could offer your services as a bookkeeper or accountant. There are endless possibilities!
The key is to find something that you're interested in and that you can do relatively easily in your spare time that will produce enough income to reach your goals.
Here are a few side hustle ideas that you may want to consider:
Freelancing
Freelancing is an ideal way to use the skills and experience you already have to make some extra money, and there are endless different services you could provide. Some common examples include writing, proofreading, graphic design, web design, web development, photography, voice acting, and consulting. Think about the skills you have and see if there's a way for you to make money as a freelancer.
There are a few reasons why freelancing is an excellent side hustle. First, you can start making money very quickly. Second, you can earn a good hourly rate for most services, so it's a great use of your extra time. Third, you can take as much or as little work as you want, so it's easy to make it fit your existing schedule.
Virtual Assistant
If you're good at administrative tasks and enjoy helping others, then becoming a virtual assistant could be the perfect side hustle for you. Virtual assistants provide a variety of services to their clients, such as managing email inboxes, scheduling appointments, moderating Facebook Groups, and much more. While the exact tasks will vary depending on who you're working for, it's generally a realistic way to make some extra money.
Getting started: If you want to learn how to build a successful business as a VA, Gina Horkey's Fully Booked VA is an outstanding resource.
Social Media Manager
If you're an avid social media user, then becoming a social media manager could be a great side hustle for you. Social media managers help businesses to grow their online presence and connect with their target audience. This generally involves creating and scheduling posts, interacting with followers, and monitoring the analytics of the account to see what's working well and what can be improved.
Getting started: Bobby Hoyt's Facebook Ads Side Hustle course is an excellent resource for anyone who wants to build a business managing Facebook Ads for clients.
Delivery Driver
If you have a reliable car and a clean driving record, then you could make some extra money as a delivery driver. Delivery drivers pick up and drop off items for businesses and individuals in their local area. This could include food, groceries, packages, and more. Many companies use delivery drivers now more than ever before due to the popularity of online ordering, so this is an excellent way to make some extra cash.
DoorDash, Postmates, and Uber Eats all provide flexible side hustle opportunities. Possibly the best thing about this opportunity is that you can start making money almost immediately.
Online Surveys
If you're looking for a very easy way to make some extra money, then taking online surveys could be the perfect option for you. There are many different companies that offer paid surveys, and they'll usually give you a small amount of money in exchange for your feedback on various products and services.
While the amount of money you can earn from online surveys is relatively small, it can still add up over time, and it's a great way to make some extra cash with very little effort. It's also extremely flexible and you can earn something extra whenever you have a few minutes to spare.
Swagbucks, Survey Junkie, and InboxDollars are a few popular options for taking online surveys.
Dog Walking
If you love spending time with animals and don't mind getting some exercise, then dog walking could be the perfect side hustle for you. As a dog walker, you'll be responsible for taking dogs out for walks, usually in the owner's neighborhood. This is a great way to get some fresh air and exercise while also earning some extra money.
To start dog walking, simply create a profile on Rover. Once your profile is approved, you can start accepting bookings from pet owners in your area.
Step 6: Automate Your Savings
One of the best ways to reach your savings goal is to automate your savings. This means that you set up automatic transfers into your savings account each month, each week, or at specific intervals. Most checking and savings accounts allow you to easily set up these automated transfers.
Ideally, you want to make this transfer on the day that you get paid so that you're not tempted to spend the money before it hits your savings account. With your savings automated, you're far more likely to reach your goals.
Step 7: Stick With It
Saving $100,000 is not an easy task, but it is possible with dedication and discipline. Stay the course and don't give up, even when you feel like you're not making progress. Remember, even small amounts add up over time and every dollar that you save brings you one step closer to your goal.
Bonus Tip: Save in a Qualified Retirement Account
One of the best places to save money is in a qualified retirement account. 401(k)s and IRAs offer tax advantages that can help you to reach your savings goals faster. The money that you contribute to a 401(k) or Traditional IRA reduces your taxable income (within certain guidelines), allowing you to save more money faster.
If your employer offers a 401(k) plan, be sure to take advantage of it. You can set it up so a specific amount or percentage of your paycheck is contributed automatically each pay period.
Final Thoughts on How to Save $100k
With these steps, anyone can save $100,000 in 5 years or less. It takes some sacrifice and discipline, but it is achievable with the right mindset. So get started today and take the first step towards reaching your savings goals.