There are a few things you can do to save money, starting right this very moment! Each one of these ideas might not save you much, but together, you'll save a whole roll of cash!
Some of these ideas will save you money immediately, and others will save you money over time. Nevertheless, they are sure to save you loads of money! So let's get started!
10 Ways To Save Money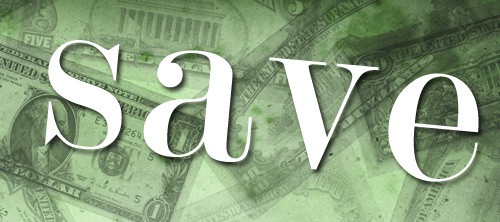 1. Turn off those lights.
Electricity costs a lot. You know that light that's on right now? Why not open a window instead and let some natural sunlight in. It'll be better for your health as well!
2. Review your cell phone plan.
On many cell phone bills, you'll discover charges for random features you thought weren't even on there in the first place.
Review your bill and see if there's anything you can cut back on. This will help with reoccurring savings down the road!
You can also consider dropping your current mobile provider for a more low cost pre-paid provider.
3. Save the leftovers.
I don't know about you, but I don't really care for leftovers too much. There's just something about a fresh home-cooked meal that satisfies like nothing else. Nevertheless, when you throw out the scraps, you're wasting. So whatever meal you're snacking on right now, save the rest for later, won't you?
4. Unplug everything you're not using.
Believe it or not, just because an appliance isn't in the "on" position doesn't mean it's not sucking energy. Unplug your toaster. Unplug your other computer. Unplug hairdryers and toothbrushes! Unplug your refrigerator – wait, don't do that (I just want to make sure you're awake).
5. Review last month's expenses.
Sign in to your online bank account and check to see where you've been spending money in the past month. Are there any purchases you're not so proud of? What kinds of things could you really do without? Make a commitment to not continue buying those things. This will help keep your expenses down and save you money right away!
6. Drop the Netflix plan.
Netflix has raised their prices, and you might be stuck with a $15+ bill every month for streaming and DVD rentals. Pick whichever service you use more, and drop the other one. For many families, streaming is adequate. Or, if you want to be extremely frugal, you can check out the Netflix alternatives, or drop Netflix all together! We're now using RedBox and love it! You can't beat $1.00 rentals.
7. Switch banks.
I don't know about you, but with Bank of America, Wells Fargo, and other big name banks now charging to use their debit cards, an alternative is in order. Switch to a bank that actually wants your business, and doesn't charge you fees for using your own money!
8. Downgrade your internet speed.
If all you do on the internet is read blogs, check email, and surf news sites, you probably don't need blazing fast speeds. However, if you regularly stream video and music, you might want to consider keeping your internet speed in top shape. By downgrading your internet speed, you can potentially save $10 or $20 a month.
9. Consume less water.
Well, you should probably drink more of it, but use less while:
Taking a shower.
Washing clothing (try a quick wash cycle).
Washing dishes.
Shaving.
As a bonus, if you have an electric water heater, you'll save money on electricity too!
10. Think differently.
If you're going to save money in the long run, you have to obtain and maintain a frugal mindset. When you're out and about shopping, always ask yourself if you need the items you're holding. Sometimes it's easier to ask a friend to show you some areas where you can improve.
For some more saving and income producing ideas, check out these posts:
Which ways to save money are your favorite? Meet us in the comments and let us know!