For me, there's nothing quite like buying a new electronic gadget. The thrill of unboxing it, charging it up and using it for the first time, and then figuring out how to use the device. You use the device, and if it's a winner, you use it for a couple of years.
But what happens when that shiny new device is no longer being used, or isn't as fast, or doesn't have the latest operating system update? Does it just sit in your drawer gathering dust?
I have had a tendency to use things until they're not as useful as they once were, then to upgrade and let the old ones sit in a box somewhere.
The thing is, often those old, unused, and sometimes broken electronics are still worth some money to someone.
This past week while continuing to unpack and declutter at our new house, I decided to sell a couple of old electronic devices that I had sitting around the house cluttering things up. A couple of them were still working but were unused. One of them, my old Nexus tablet, was working to a degree but had a cracked screen. I decided to see if I could get any money out of them.
10 Places To Sell Your Old Electronics

If you're looking to sell or trade your old electronics, there are plenty of places where you can do that and make some extra cash or get free gift cards in return.
Here are the top 10 (or more) places that I found where you can sell your old, unused or broken devices.
SellCell.com: SellCell.com is the US's largest price comparison site for selling old mobile phones and tablets – they compare all of the key BuyBack companies in the market, saving the user the time of visiting lots of other websites to get the best deal for an old device. They guarantee that the user will always get the maximum cash when selling an old device on SellCell.com and offer users a "Best Price Guarantee" – if they spot a higher price on another site, they will refund the customer double the difference. They also show each BuyBack company's user ratings from sites likes ReSeller Ratings, Trustpilot & BBB for peace of mind.
Decluttr: Decluttr is a fast, easy and free way to sell and buy cell phones and other gadgets. Fast next-day payments for your Apple and Android phones, game consoles, and other technology items. You can even sell your old Legos! Read a full Decluttr review here. UPDATE: Get an extra 10% on electronics traded in using code: ELECTRONICS10
ItsWorthMore: Sell your iPhone, Macbook, or Android device with a well-rated buyer. A+ rating with the Better Business Bureau, and payments within 2 days.
Apple Trade-In: Trade in your eligible device for credit toward your next purchase, or get an Apple Gift Card you can use anytime.
SellYourBadApples.com: This is a new buyback website that specializes in buying cracked, broken or financed iPhones, iPads, MacBooks, and Apple Watches. Get a quote, ship with a free label, get paid via Venmo, PayPal, Check, or Zelle. Use promo code: "moneymatters" to get a $10 bonus!
Gizmogo: Gizmogo will buy cell phones, tablets, laptops, gaming consoles, cameras, drones and more. They have a best price guarantee and will offer free USPS or UPS shipping for your device. Gizmogo will also pay you for your device fast, within 24 business hours. When you send in your device they will perform a professional data deletion on your phone to protect your privacy.
BuyBack World: They'll buy iPhones, iPads, media players, and a host of other electronics. They even buy unwanted gift cards.
BuyBackBoss.com: With an A+ Better Business Bureau rating and a 9.6/10 rating on Trust Pilot, they are well respected. They issue payments quickly, within 2 days via PayPal or Check.
GadgetPickup.com: BuyBack company where you can sell a huge variety of Phones, Macbooks, iPads, iPods, Game Consoles, GoPros, and other electronics. Simple and easy to use platform. Just get an instant quote, ship your item for free, and then get paid within 48 hours of them receiving your device.
QuickSell: QuickSell is an online trade-in website that offers competitive prices for used, cracked, and broken iPhones, iPads, and Apple Watches. They offer multiple payment options, quick payouts, and free shipping on all orders. Use promo code "MONEYMATTERS" at checkout to receive an additional $5 on your order!
OCBuyBack: Sell your used or broken iPhones, iPads, iPods, Samsung Phones even MacBooks. From the OCBuyBack team: "Help us keep e-waste out of landfills. We keep a low overhead to give you a bigger payout." Get free shipping and fast payment via check or PayPal. Use our exclusive promo code MONEY5 to get $5 added to your trade-in!
GreenBuyback: GreenBuyback pays cash for your cell phones and a wide variety of other electronics. GreenBuyback makes the process quick and simple with free shipping and speedy payment. Want extra cash? Use promo code: moneymatters when checking out at GreenBuyback to get an extra $5 for your order.
Swappa: A great place to sell your late model phones, tablets, wearables, and some computers. Buy from other phone owners!
ecoATM: ecoATM has ATM-like machines in high-traffic locations that will buy your phone or tablet. Use our

ecoatm promo code

: peter at the ecoATM kiosk checkout to get an extra $5 on your order! Find a location near you here: ecoATM locations.
SellShark.com: Sell your Apple products, everything from Apple TV and Apple Watch devices to broken iPods.
Amazon Trade-In program: Ship your old items, not only electronics, to Amazon and receive Amazon gift cards in return. Not typically the biggest return on your money.
Swopsmart: Select your phone type, options and condition, and you'll receive an offer.
Craigslist: Sell locally to people on craigslist who want to see the device in person before buying. In some cases that can mean a higher price, although more hassle.
Ebay: Sell your item at auction and pay listing and final value fees. I've done pretty well selling things through eBay, even things that are broken. Some items like TVs can be sold for parts, remotes, etc as well. Just be careful of scammers.
UpTrade: UpTrade is a great choice if you want to keep the process of buying or selling a used phone simple.
Sell On Amazon: Just search for your item on Amazon, then look for the button that says "Sell on Amazon". You can then create a listing to sell your used item via Amazon. You'll just pay a small listing fee and a pay a percentage when it sells.
Walmart: Walmart has a trade-in for gift cards program, and they are partnered with third-party company CExchange.
Target Stores: You can trade in items at Target, although it's "powered by NextWorth", so you'll likely get a similar bid for your item.
Best Buy Trade-In: Trade in your electronics and get credit in Best Buy gift cards.
Gamestop Trade In: Get a quote on your device online, and then get paid after it has been sent in and processed.
Facebook "For Sale" Groups: A relatively new phenomenon is the Facebook yard sale group. Most local areas that are big enough will have at least one or two local yard sale groups where you can connect with others and either buy or sell your item to other Facebook users. We haven't used this to sell electronics, but have sold other items this way.
Sell Broke: Get an instant quote to sell laptops, phones, tablets, or other electronic devices – even if they're broken.
Gadget Salvation: This website will take most electronic devices, even those that are broken. Get a quote through their website.
GizMogul: Sell anything from old iPhones and smartphones to tablets, watches, Macbooks, and more.
uSell: Working or damaged, sell your used phone in seconds
iPhone Antidote: Mainly buying Apple products.
SellMyCellPhones: They claim to offer the "best price when you sell your old cell phone, iPhone, iPad or tablet".
Gadget Traders: Sell iPhone, Macbooks, Android devices, tablets, iPod and more. Recycle your devices and get paid.
Gadget Gone: Sell your iPhone and get the most cash, fast.
Get Your Device Fixed
One thing you might want to consider if your device is broken and you don't really want to get a new device or sell it – is to get your device fixed. Some companies will have retail locations that you can go to and get your device fixed – have a screen replaced, get a new battery installed, etc.
Other companies like Puls will come to you and fix your device at your location. They can fix issues ranging from a faulty headphone plug, broken power button, to giving you a new Bluetooth radio or screen.
Even if you decide you do want to sell your device, you'll likely get more money for the device if it's fixed first. Usually, the cost you pay to get it fixed before you sell will be outweighed by its increase in value. Something to consider.
Consider A Warranty If You're Accident Prone
If you're concerned that you might end up breaking your expensive device because you tend to be a bit clumsy or accident-prone, you may want to consider purchasing an extended warranty from the outset for your device.
One of the best places to do that in my experience is Square Trade as the costs are typically pretty reasonable and they cover things like drops and spills:
Another thing to consider is that a lot of credit cards will offer extended warranty protection just for using their card. For example, I bought a GPS years ago that my credit card added a second year of warranty onto – which came in handy when it stopped working.
When Selling Your Device, Negotiate Your Bills Lower
When you're in the midst of getting rid of one device and looking for another might be a good time to think about negotiating your bills and lowering your monthly costs. You might be sitting on hundreds of dollars in savings, just by switching services, or asking for a discount with your current provider.
There are services out there like Bill Shark, BillFixers, BillCutterz, Rocket Money, and Ask Trim that will do all the negotiating for you. They'll call your provider, and find a discount, whether it's monthly or a one-time credit. I've used these bill negotiation services and have found savings.
Selling My Old Devices
Selling your old devices can take a little bit of work, especially if you're trying to get top dollar for them. It pays to look around, get quotes at a few different sites, and see what you can get for them. On one of my devices I found that the average selling prices on eBay were about $25, but if sold on Amazon would bring in closer to $50. Another item I found I could get the best return by selling on eBay. All three of the items had no trade-in value when I looked at popular trade-in sites like Gazelle and NextWorth. Typically it seems your devices have to be relatively new and popular, like iPads and iPhones.
This week I decided to sell three items. Let's take a look at how it went with all three.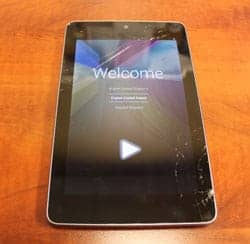 Nexus 7 8GB 1st Generation Tablet
This item I didn't think I'd be getting much, or any, money for. The tablet had come flying out of its case while I was walking through a parking lot and landed screen down on the asphalt. The screen cracked and the touchscreen was inoperable. After doing some research I found that there was an active marketplace for repairable items on eBay where people will buy broken electronics and repair them.
Broken tablets like mine were routinely selling for between $25 and $50.
I listed the tablet on eBay and after a week at auction, it sold for about $41 with $9 shipping. Not too bad for a broken tablet that would have just sat in a drawer.
I got rid of the broken tablet, and someone else got a DIY project. For that adventurous person, they can replace the screen for about $100 and have a nice tablet for about $150. Typically it would cost new for about $200.
Virgin Mobile Optimus V Cell Phone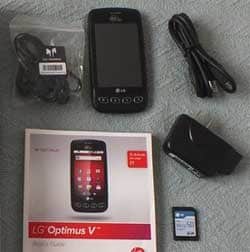 I looked at a bunch of places to either trade in or sell my Android cell phone. It's on an older version of Android, and the device is now a few years old.
A lot of trade-in sites offered me $0 for the phone, and when checking eBay the recently completed sales for this phone ended in the $20-30 range for brand-new phones.
In the end, I put a listing up on Amazon to sell the cell phone since other listings there were closer to the $30-50 range. 10 minutes after listing my phone it sold for my listing price of $45! After selling fees I netted about $40. I'm happy with that since I paid about $70 for it a few years ago!
Virgin Mobile Overdrive Pro 3G/4G Mobile Broadband Device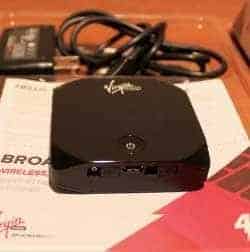 I bought this mobile broadband device about a year ago on sale for about $90. After using it for a month or two I switched to the free mobile broadband offered via another provider called FreedomPop. The new device was the exact same device, also using the Sprint network. I basically got the same service for free instead of $35/month. (Freedompop is no longer in business)
After checking around I saw that the Virgin Mobile device was getting about $50 or so on eBay, and trade-in prices weren't great. On Amazon, however, most people had their devices listed at $90-110, and the device still sells new for $120 at Virgin Mobile. I decided to list the item at Amazon for $89.99, at the time the lowest price for the device. I was pretty confident it would sell, however, the day I listed it Virgin Mobile put the device on sale for $71.99, essentially killing any chances I had of selling until the sale was over.
For now, I'll leave the device listed, but it hasn't sold yet. We'll see what happens once the sale is over. I have a feeling it will sell for close to what I paid for it. (Update: I ended up selling the device for $65 after several others listed their devices at lower prices. Just goes to show, the sooner you sell something the better off you are.)
Selling Your Old Electronics Can Mean Cash. The Sooner You Sell The Better
Selling your old electronic devices can mean cash in your pocket. The one caveat is that often the older or less desirable the device, the harder time you'll have in selling it. If you have a recent generation Apple product you'll probably have more luck than an older off-brand item.
My Nexus tablet was pretty desirable and relatively new at the time, so even broken it sold for almost 25% of its original price. The phone wasn't as desirable but was in like-new condition and in the right marketplace still fetched over 1/2 its original price. The last item I sold was a newer device and is still being sold new by the mobile network – but since quite a few others popped up in the marketplace, the sales price ended up being lower than hoped.
So if you have some old electronics, why not try listing them and making a few dollars?
Have you tried selling old electronics online? What sites have you used, and how successful have you been?
Selling Your Old Phone, But Looking For A New Service?
If you're selling your phone and looking for a new mobile provider, there are a ton of great low-cost providers out there. Here are some of the best cheap cell phone plans that I've found:
| Moble Virtual Network Operator (MVNO) | Mobile Network | Minimum Plan Price | Free Tethering | Review |
| --- | --- | --- | --- | --- |
| Gen Mobile | Sprint | $5 (Unlimited Text - No Talk, No Data) $10 (300 Min Talk & Unlimited Text - 1GB Data) Discounts if prepaid for 3 months. | Yes | Review |
| Tello | Sprint | $5 (100 Min Talk & Unlimited Text - No Data) | Yes | Review |
| Twigby | Sprint, Verizon Wireless | $9 (300 Min Talk & Unlimited Text - No Data) | Yes | Review |
| Ting | Sprint, T-Mobile | $9 (100 Min Talk & No Text - No Data) | Yes | Review |
| Red Pocket Mobile | Verizon Wireless, AT&T, T-Mobile US, Sprint | $10 (500 Min Talk & 500 Text - 500 MB Data) | Yes | |
| Republic Wireless | Sprint, T-Mobile | $15 (Unlimited Talk & Text - No Data) | Yes | Review |
| Mint Mobile | T-Mobile | $15 (Unlimited Talk & Text - 3GB Data) If prepaid for 1 year. Prepay in 3,6, 12 month increments. Buy 3 Months, Get 3 Free) | Yes | Review |
| Unreal Mobile | AT&T | $15 (Unlimited Talk & Text - 3GB Data). Prepay in 3,6, 12 month increments. | Yes | Review |
| TracFone | Verizon Wireless, AT&T, T-Mobile US, Sprint, U.S. Cellular | $15 (200 Min Talk & 500 Text - 500 MB Data) If put on auto-renew save 5%. | No | |
| Google FI | T-Mobile, Sprint, U.S. Cellular | $20 (Unlimited Talk & Text - No Data) | Yes | |
| Total Wireless | Verizon Wireless | $23.70 (Unlimited Talk & Text - No Data) $25 without auto-pay. | Yes | |
| Cricket Wireless | AT&T | $25 (Unlimited Talk & Text - No Data) | No | |
| Boost | Sprint | $35 (Unlimited Talk & Text - 3GB Data) | No | |
| Straight Talk Wireless | AT&T, T-Mobile, Sprint, Verizon | $35 (Unlimited Talk & Text - 2GB Data) | No | |
| Visible | Verizon | $40 (Unlimited Talk & Text - Unlimited Data) | Yes | Review |