I've written a decent amount on this site about finding ways to cut your regular recurring expenses by finding alternative services that give the same or better service, for a lower price.
One way we've saved hundreds of dollars over the years was by cutting our mobile phone costs and home phone costs.
ABC put out a report a year or two ago that stated that the average American spends about $1,000 a year on his or her cell phone bill.
Analysts estimate that 80 percent of American wireless subscribers are paying service providers $200 a year for excess minutes, messages, and mobile data. That adds up to over $52 billion of wireless waste a year!
For years now we've been big proponents of low-cost no-contract cell providers, and we've reviewed several of our favorites here on this site. This past week I discovered another low-cost provider that promises to be even more affordable, Tello Mobile. They have customizable plans that can come in starting at $5/month, depending on your needs! Today I thought I'd do a quick post talking about Tello Mobile, who they are, what they have to offer, and how you can use them to save.
UPDATE: Read my updated review along with an unboxing of my new Tello phone.
Tello Mobile History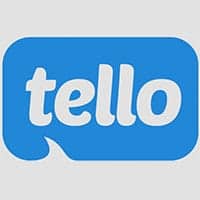 Tello Mobile is a wireless communications service provider that was just launched in the US market in the past year. It has been available in the UK since 2014, and both the US and UK versions of the company are offshoots of KeepCalling, an international telecommunications company registered in 2002 in the USA.
KeepCalling has been listed by Inc 5000 as one of the fastest-growing companies in the United States for 5 consecutive years.
So while they're new(ish) to the wireless provider game, they've been around for over a decade as a company – so they're no flash in the pan.
Tello Mobile – How It Works
Tello Mobile is an MVNO, a mobile virtual network operator, which essentially means they do not own and operate their own wireless network infrastructure. They rent space on a mobile network from an existing mobile network operator, typically one of the big companies like Sprint, AT&T, T-Mobile, etc.
Since they don't have to keep up the network and are only renting space on the network, they are able to get wholesale rates on the network and pass some of the savings on to us.
Tello Mobile was an MVNO on the Sprint network, but when T-Mobile acquired Sprint in 2020, the network is switching to T-Mobile's GSM network in 2021. For me is great since I've been with other Sprint and T-Mobile MVNOs in the past and we get great coverage in our area with both. If you're wondering if you get good coverage with Tello in your area, click on the link below and then click on "support/coverage" to view a coverage map.
Build Your Own Calling Plan – And Save
So what are the plans that are currently available on the Tello Mobile network, and how affordable are they?
Their plans aren't your traditional "choose a set calling plan" type plans, they're based on the idea of building your own calling, texting and data plan that fits your specific needs – and budget. They call it, "Build Your Own Plan".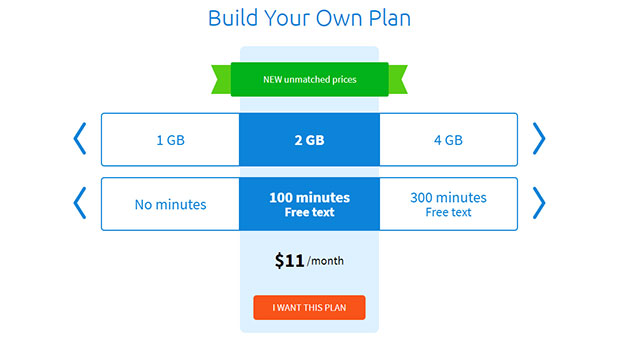 The cost for a plan can start at a minimum of $5/month for 100 minutes of talk, unlimited texts, and no data, and it goes up from there depending on what your needs are.
For example, if I built my own plan based on my average current mobile usage (which is pretty low), I'd likely end up with a plan costing me about $7/month for 100 minutes of talk, unlimited texts and 1GB of mobile data.
The plans do go all the way up to $39 for an unlimited talk, text and data plan.
Tello does also have some predefined calling plans that you can just choose to make things easier. They include: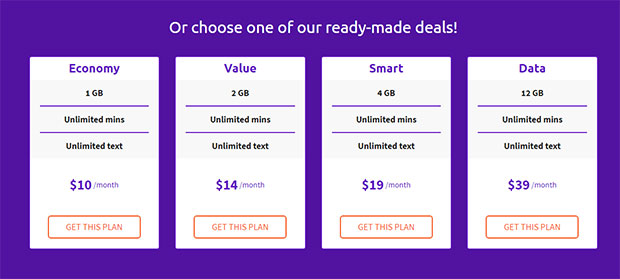 $10/month unlimited talk, unlimited texts, 1GB of data
$14/month unlimited talk, unlimited texts, 2GB of data
$19/month unlimited talk, unlimited texts, 4GB of data
$39/month unlimited talk, unlimited texts,unlimited data. (25GB of 4G LTE data, unlimited 2G data.)
With whatever plan you choose you'll get no contract, no hidden fees whatsoever, and you can reconfigure your plan at any time with no extra fees.
Plans renew automatically every 30 days, and you can cancel your plan at anytime, without any charges.
What Phones Can I Get?
Currently, I see 5 new and 13 refurbished phones available for purchase from Tello on their site. They range in price from $29 for an old-style flip phone, all the way up to $649 for a new Apple iPhone 7.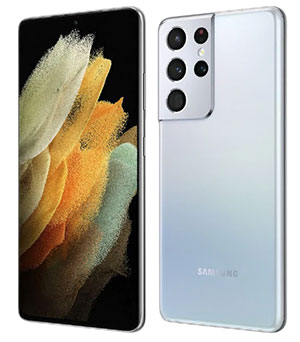 New And Refurbished Phones Available On Tello
Motorola Moto G Fast $219
Apple iPhone 8 $319
Alcatel Go Flip 3 $89
Samsung Galaxy J2 Core $79
Apple iPhone 7 $239
Samsung Galaxy S9 $399
Apple iPhone 6s $199
Apple iPhone SE 2 $359
Apple iPhone XR $519
Bring Your Own Phone
Another nice thing is that you can bring any GSM device free of contract, developed for the T-Mobile network over to Tello, you don't have to buy a phone through them. Also, some select phones made for other carriers – as long as they're unlocked – can be used as well. To find out if your phone will work, Go to the Tello site and click on "Shop/Bring Your Own Phone".
Pros & Cons
What are the pros and cons of cell service with Tello Mobile? Here are a few:
Pros
Low cost – super affordable: Depending on your needs your service will be anywhere from $5-$39/month, never more. Much cheaper than the average $83/month phone bill mentioned above!
Flexible, build your own calling plans: Every person has different calling, texting, and data usage habits. For me, I hardly ever call so for me putting together a plan that has few calling minutes, but more data makes sense. Others may want more texts. Whatever your needs, you can create a mobile plan that fits you.
Ability to switch plans whenever you want: If you want to upgrade your data allowance, calling minutes, or the number of text messages, you can do that at any time with no fees. Never pay for more than you need!
Free tethering: Tello phones offer free tethering to your other devices, which most MVNOs don't offer.
Good phones available: The service has everything from iPhones to Galaxy smartphones available. If you don't need a fancy phone, there are cheaper alternatives available as well!
Make calls on WiFi – even in your basement!: If you typically can't make cell phone calls in your basement, or at your job – as long as you've got a WiFi signal you can now make calls using the My Tello app!
Make international calls, as long as you have good WiFi: I remember paying through the nose for calling cards when my family took a cruise a few years back. Now, as long as you have WiFi you can make calls to the U.S. with the My Tello app, even if you're overseas.
Port your existing number: You can port your existing phone number to the service and keep your existing number.
24/7 friendly Customer Service: You can reach out b phone, email, or get a call back24 hours a day.
Cons
No roaming: According to Tello, "we do not offer roaming services or national roaming at this time". That is disappointing, but to help offset this, they do offer the My Tello app which allows you to call over WiFi.
Nicer phones can be expensive when not subsidized: When buying phones from Tello, you'll likely be paying full price as the phone cost isn't being subsidized by expensive calling plan costs and long-term contracts. You can abate this a bit by buying a used and unlocked phone elsewhere and bringing it in.
Setup snags: I have heard from a friend that the initial setup was a bit frustrating with Tello, but that they're happy with the service after all the setup confusion was resolved by their friendly customer service.
Tello Mobile seems like a good up-and-coming non-contract cell service option. It ends up being cheaper or comparable in cost to most of the other services that I've looked into, and what I've heard from others is that they've got great customer service. Plus since they're on a recognizable national mobile network, you're likely going to get good coverage as we do.
I'd definitely recommend checking Tello out if you're looking to cut back on your expensive smartphone bill.
Find out more about the service and sign up via the link below.
Get More Details About Tello Mobile
Are you using Tello Mobile? How has the service worked for you? How much are you saving?
Disclosure: links on this page are affiliate links and we may receive a referral fee if you purchase through our links.
| Moble Virtual Network Operator (MVNO) | Mobile Network | Minimum Plan Price | Free Tethering | Review |
| --- | --- | --- | --- | --- |
| Gen Mobile | Sprint | $5 (Unlimited Text - No Talk, No Data) $10 (300 Min Talk & Unlimited Text - 1GB Data) Discounts if prepaid for 3 months. | Yes | Review |
| Tello | Sprint | $5 (100 Min Talk & Unlimited Text - No Data) | Yes | Review |
| Twigby | Sprint, Verizon Wireless | $9 (300 Min Talk & Unlimited Text - No Data) | Yes | Review |
| Ting | Sprint, T-Mobile | $9 (100 Min Talk & No Text - No Data) | Yes | Review |
| Red Pocket Mobile | Verizon Wireless, AT&T, T-Mobile US, Sprint | $10 (500 Min Talk & 500 Text - 500 MB Data) | Yes | |
| Republic Wireless | Sprint, T-Mobile | $15 (Unlimited Talk & Text - No Data) | Yes | Review |
| Mint Mobile | T-Mobile | $15 (Unlimited Talk & Text - 3GB Data) If prepaid for 1 year. Prepay in 3,6, 12 month increments. Buy 3 Months, Get 3 Free) | Yes | Review |
| Unreal Mobile | AT&T | $15 (Unlimited Talk & Text - 3GB Data). Prepay in 3,6, 12 month increments. | Yes | Review |
| TracFone | Verizon Wireless, AT&T, T-Mobile US, Sprint, U.S. Cellular | $15 (200 Min Talk & 500 Text - 500 MB Data) If put on auto-renew save 5%. | No | |
| Google FI | T-Mobile, Sprint, U.S. Cellular | $20 (Unlimited Talk & Text - No Data) | Yes | |
| Total Wireless | Verizon Wireless | $23.70 (Unlimited Talk & Text - No Data) $25 without auto-pay. | Yes | |
| Cricket Wireless | AT&T | $25 (Unlimited Talk & Text - No Data) | No | |
| Boost | Sprint | $35 (Unlimited Talk & Text - 3GB Data) | No | |
| Straight Talk Wireless | AT&T, T-Mobile, Sprint, Verizon | $35 (Unlimited Talk & Text - 2GB Data) | No | |
| Visible | Verizon | $40 (Unlimited Talk & Text - Unlimited Data) | Yes | Review |