Over the past few years I've had mobile phone service with quite a few providers.
For the most part I've been happy with the service with all of them – the services were all very similar.
Part of the reason why the services haven't been all that much different is that many (most?) of them have been MVNOs, mobile virtual network operators. That means they operate on the networks of other providers. In my case most of the cell providers I've used were using the Sprint network, and as such the network coverage, call quality, etc were very similar.
What it comes down to for me is figuring out which of the providers can provide the best combination of value when it comes to pricing, customer service, ease of use, and reliability.
Today I want to look at a provider that recently came to my attention when a colleague told me he was using them, Twigby.
After looking them up I realized they had monthly calling plans that were less than what I was currently paying. Not only that but they had a fallback network beyond just Sprint, Verizon.
I was intrigued. I asked Twigby if they would send out a review phone for this site, and they were happy to oblige. So today I want to take you through a quick unboxing of the phone they sent out, and then discuss what options they have available on their service. Stay tuned for a full review of Twigby.
Are You Paying Too Much For Cell Service?
Here's a mind boggling stat for you:
The average American spends about $1,000 a year on his or her cell phone bill. – ABC News
The average American is spending almost $83/month for their wireless service. In a day and age when MVNOs are everywhere and low cost service is much more available, I can't even imagine paying that much.
I saw a post recently on CNBC where they broke down the monthly spending of a frugal 25 year old entrepreneur who makes six figures. In the article it mentions that he spends $40/month for his mobile phone bill. People on Twitter and elsewhere were savaging the article and this young man because his expenses seemed unrealistically low, especially on his wireless bill. They were saying things like, "where can you get a mobile plan for that low of a cost?".
While reading these comments I just laughed. People who pay attention to these things have been paying $40 or less for their mobile bills for years now! I'm amazed at how people continue to throw good money after bad – paying the big networks big money for plans they can get on a smaller carrier for much less!
Twigby is one of the new breed of providers who have calling plans that are much more customizable, and affordable than the mobile phone plans of yesterday.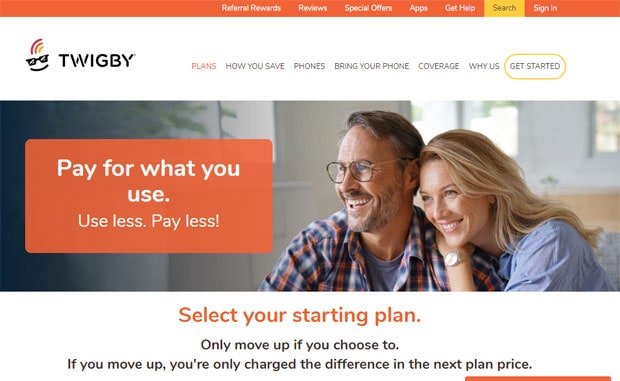 Pay for what you need and nothing more. You can get a calling plan for as little as $9/month. That's much less than $83 average!
Twigby History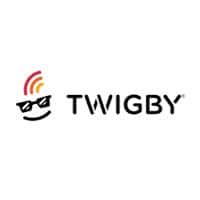 Twigby is a wireless communications service provider that launched just a few years ago.
Twigby is a wholly owned subsidiary of SI Wireless, LLC. Founded in 2010, SI Wireless is a privately held company and one of the
most diverse Telecommunications companies in America – with over 100 years of combined wireless telecommunications experience.
In addition to Twigby, SI Wireless also operates a wireless phone company with retail stores serving Tennessee and Kentucky.
Twigby has only been around since 2015, but they're part of a company that has a longer track record, and from what I'm hearing they're doing a great job so far.
Twigby – A Mobile Virtual Network Operator
Twigby is a mobile virtual network operator, or MVNO. That basically means they do not own and operate their own wireless network infrastructure. They rent space on an existing mobile network from a mobile network operator, in this case Sprint and Verizon. Twigby uses service from Sprint as the main network, with a fallback network of Verizon when the Sprint coverage isn't there.
Since they don't have to keep up the network and are only renting space on the network, they are able to get wholesale rates and pass some of the savings on to us.
I've been with other Sprint MVNOs in the past and we get great coverage in our area. If you're wondering if you get good coverage with Twigby in your area, click on the link below and then click on "support/coverage" to view a coverage map.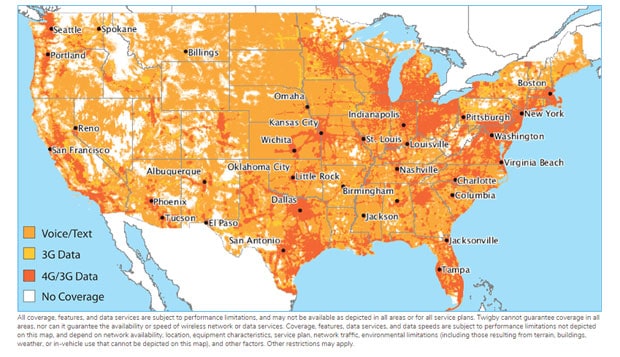 Unboxing The New Phone From Twigby
The folks at Twigby were nice enough to send out a Motorola Moto E4 phone to try out on their service for a month.
Here's a quick unboxing video of the phone, and a look at the My Twigby app:
Here are some pictures I took as I was unboxing the phone I received from Twigby: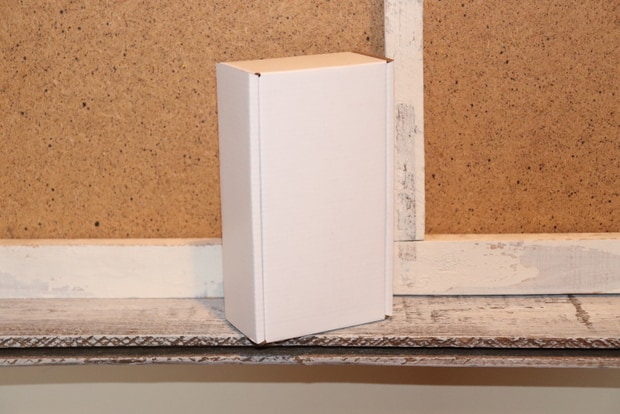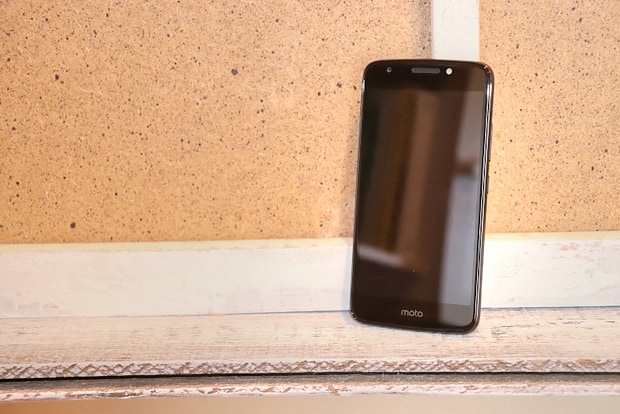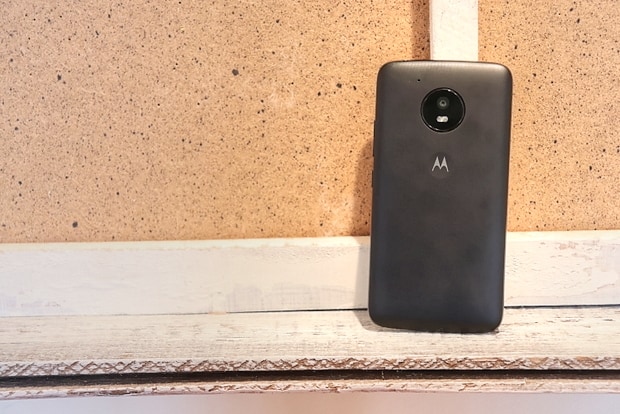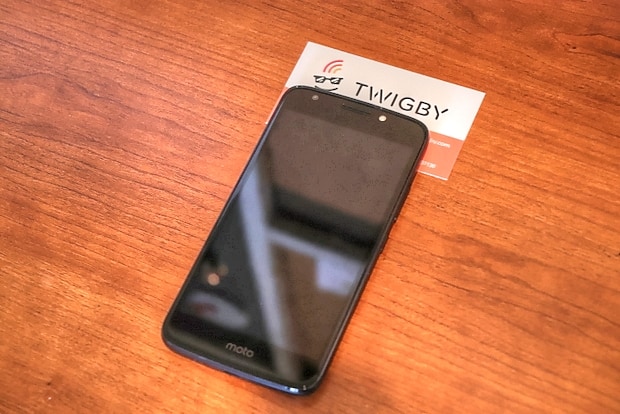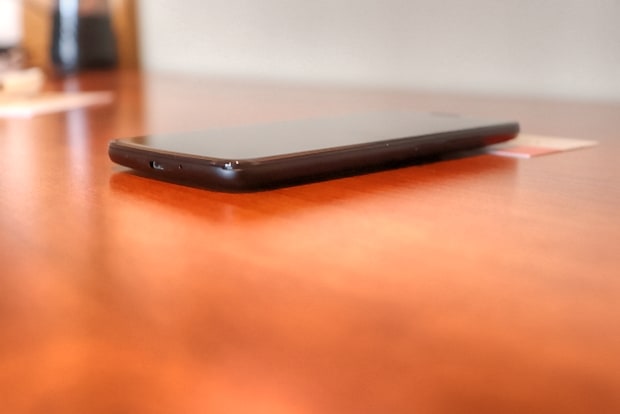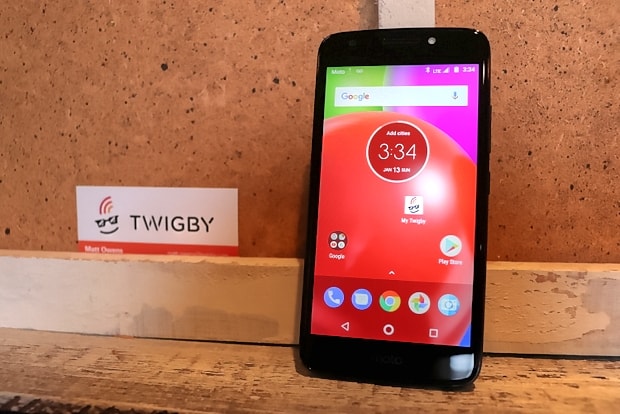 Bring Your Own Phone To Twigby
If you don't want to buy a phone from Twigby, you can bring just about any device free of contract and developed for Sprint, over to Twigby. Some unlocked phones made for other carriers can be used as well. To find out if your phone will work, Go to the Twigby site and click on "Bring Your Own Phone" link. From there it will ask you to enter your IMEI/MEID code and the system will lead you through the process to find out if the phone is compatible.
Twigby Calling Plans: Pay For What You Use
So what is service with Twigby going to cost? As little as $9/month, and no more than $43/month.
To start, all Twigby calling plans get unlimited global texting included for free. So all you really have to do is choose how many minutes of talk time you're going to need, and how much mobile data you're going to use. Let's take a look:
NOTE: All plans are currently on sale, 25% off for 6 months, for a limited time. Get your calling plan now and save for the next 6 months!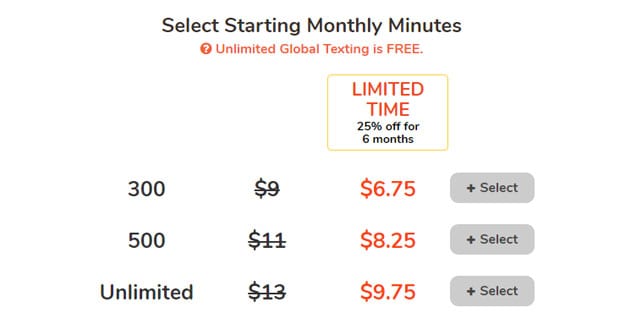 Minutes
300 – $9 $6.75/month
500 – $11 $8.25/month
Unlimited – $13 $9.75/month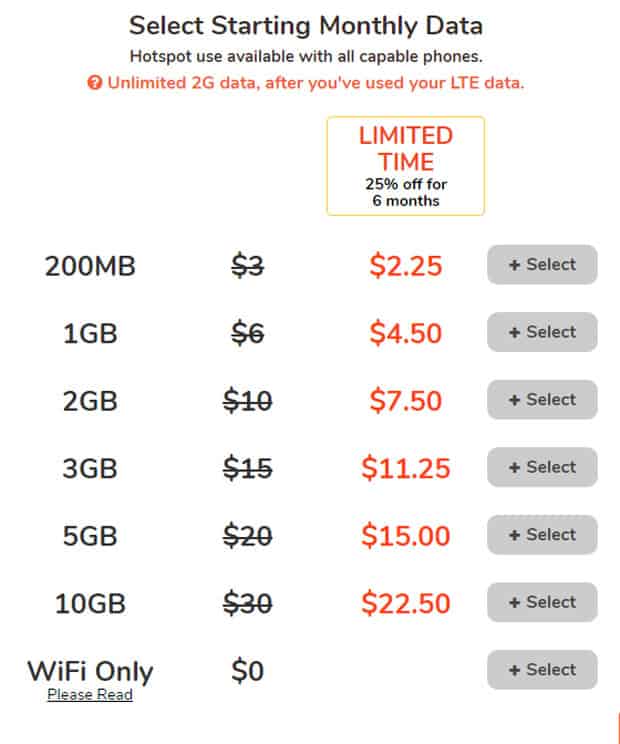 Data Packages
200 MB – $3 $2.25/month
1GB – $6 $4.50/month
2 GB – $10 $7.50/month
3 GB – $15 $11.25/month
5 GB – $20 $15/month
10 GB – $30 $22.50/month
Wifi only – $0/month
My Customized Monthly Plan
To get started with Twigby you would typically choose a plan that fits your specific needs. For me, that would probably be this plan:
$15 $11.25/month for 300 minutes of talk, unlimited texts, 1GB of data.
$11.25 for a plan that fits my needs perfectly? That would have been unheard of even a few years ago. Even at $15 it would be less than my most recent plan!
If you have a family that you want to add to your account, you can add a calling plan for them as well, you can add up to 5 phones per account.
With whatever plan you choose you'll get no contract, no hidden fees whatsoever, and you can reconfigure your plan at any time with no extra fees.
Plans renew automatically every 30 days, and you can cancel your plan at anytime, without any charges. Just make sure to cancel before the next billing period, or you will be charged for the next month.
Overage Protection
Twigby also has what they call "overage protection" on all accounts. Basically it allows you to turn this feature on and be assured that you'll never have to pay for overages on your account. It will monitor you account, and if you use up your allotted minutes or data it will turn off your calling until the first day of the next billing cycle. Or for data, it will throttle speeds for the remainder of the billing cycle. You won't be forced to pay for a higher priced plan.
Of course if you leave it off, you'll just have to pay the difference between your lower plan and the plan one level up. No big deal.
Referral Rewards
Another cool way to save on your monthly calling costs is to take advantage of Twigby's referral credits.
Refer someone in the month of January 2019 and you'll get a $20 credit, and they will too! Normally it's a $10 credit for each person. Why not help your friends and family save, and get a free month or two of service?
How Good Is Twigby, Would I Recommend Them?
So how is Twigby working out now that I've been using it for a short while?
So far it has worked just about as expected, which is great. It's on the Sprint network, and we have great Sprint coverage where I live. The call quality has been good, the phone they sent me was a great deal, and so far it's been extremely reliable.
I would definitely have no qualms about recommending Twigby to anybody who's looking for a low cost calling, texting and data plan.
Pros & Cons Of Twigby
What are the pros and cons of cell service with Twigby? Here are a few:
Pros
Very low cost: Depending on your needs your service will be anywhere from $9-$43/month, never more.
Coverage of two mobile networks: Uses Sprint network as the main network with the Verizon network as a fallback network just in case.
Calling plans to fit your needs: Their calling plans all have texts for free, and then you choose the talk and data that fit your needs. Don't pay for what you don't need!
Switch your plan when you need to: If you need to upgrade your data allowance one month because you're on vacation, just do it and then switch back the following month!
Good selection of phones on their site: The service has everything from iPhones to Samsung Galaxy smartphones available, and you can bring your own phone to the service as well!
Easy porting of your existing number: You can port your current cell number and keep it while you're with Twigby. You can do this easily during the activation process.
Great customer service: Their customer service is top notch, getting a 98% customer satisfaction rating in a December 2018 survey of their customers.
Free tethering: You can use your phone as a hotspot (don't forget to enable this in the settings), you just have to pay for the data. Not all providers have this.
Cons
Can't choose network to be on: At the current time Sprint is the main network, and you can't specify which network you'd rather use. Verizon only comes into play when Sprint is not available at all.
No WiFi calling: There is no WiFi calling available, like with some providers.
Twigby Has Affordable Calling Plans, And Reliable Service
Twigby has only been around for a few years, but they have been making an impression with their low cost service that doesn't sacrifice good customer service or good call quality.
They use the Sprint network for making calls, and in a pinch it can fall back on the Verizon network if you're out of a Sprint coverage area. That alone is a bonus that many other MVNOs don't have.
While the lack of Wi-Fi calling is a downside, it isn't a deal breaker.
If you're looking for a new low cost cell service, I'd recommend you give Twigby a shot.
Find out more about the service and sign up via the link below.
Are you using Twigby? How has the service worked for you? How much are you saving?
| Moble Virtual Network Operator (MVNO) | Mobile Network | Minimum Plan Price | Free Tethering | Review |
| --- | --- | --- | --- | --- |
| Gen Mobile | Sprint | $5 (Unlimited Text - No Talk, No Data) $10 (300 Min Talk & Unlimited Text - 1GB Data) Discounts if prepaid for 3 months. | Yes | Review |
| Tello | Sprint | $5 (100 Min Talk & Unlimited Text - No Data) | Yes | Review |
| Twigby | Sprint, Verizon Wireless | $9 (300 Min Talk & Unlimited Text - No Data) | Yes | Review |
| Ting | Sprint, T-Mobile | $9 (100 Min Talk & No Text - No Data) | Yes | Review |
| Red Pocket Mobile | Verizon Wireless, AT&T, T-Mobile US, Sprint | $10 (500 Min Talk & 500 Text - 500 MB Data) | Yes | |
| Republic Wireless | Sprint, T-Mobile | $15 (Unlimited Talk & Text - No Data) | Yes | Review |
| Mint Mobile | T-Mobile | $15 (Unlimited Talk & Text - 3GB Data) If prepaid for 1 year. Prepay in 3,6, 12 month increments. Buy 3 Months, Get 3 Free) | Yes | Review |
| Unreal Mobile | AT&T | $15 (Unlimited Talk & Text - 3GB Data). Prepay in 3,6, 12 month increments. | Yes | Review |
| TracFone | Verizon Wireless, AT&T, T-Mobile US, Sprint, U.S. Cellular | $15 (200 Min Talk & 500 Text - 500 MB Data) If put on auto-renew save 5%. | No | |
| Google FI | T-Mobile, Sprint, U.S. Cellular | $20 (Unlimited Talk & Text - No Data) | Yes | |
| Total Wireless | Verizon Wireless | $23.70 (Unlimited Talk & Text - No Data) $25 without auto-pay. | Yes | |
| Cricket Wireless | AT&T | $25 (Unlimited Talk & Text - No Data) | No | |
| Boost | Sprint | $35 (Unlimited Talk & Text - 3GB Data) | No | |
| Straight Talk Wireless | AT&T, T-Mobile, Sprint, Verizon | $35 (Unlimited Talk & Text - 2GB Data) | No | |
| Visible | Verizon | $40 (Unlimited Talk & Text - Unlimited Data) | Yes | Review |