A while back we ran a series on this site where we looked at a variety of ways that you can create extra income for your family. Creating a side income is a great way to get ahead and dump debt faster, work towards maxing out that Roth IRA or 401(k), or to just build up that emergency fund. Having secondary sources of income has been a huge godsend for our family, and I believe it can be for yours as well.
Today I thought we could look back at some of the posts we've done in the past couple of years that involved creating side income, including posts from our "Ways To Make Extra Money" series. Have your own posts about how to make extra income? Leave a link in the comments and I'll try to make sure it gets approved.
50 Ways To Make Money: Maximizing & Increasing Your Income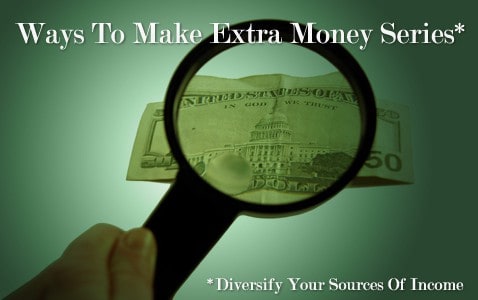 Here are a few more posts that we've written on the topic of making extra money:
Reader Ideas for Creating More Income
Today I thought I would wrap things up with a few more ideas brought to us by our readers in the comments, as well as suggestions given on Twitter. If you want to add your own – as always – add your suggestions to the comments!
Money Making Ideas from Twitter:
Money Making Ideas from the comments:
Conclusion
One of my main reasons for doing this series, was not necessarily to give specific ideas and methods for making money, but rather to get the creative juices flowing and to help you to find your own best method(s) for making money.
So often on personal finance blogs we focus only on the frugality aspect of personal finance. But in reality, you can only cut back so much and you can only be so frugal. My opinion is that you ignore the other side of the coin – generating income – at your own peril.
There are a million and one ways that you can find to generate income, you just have to find where your skill sets lie, what you're passionate about, and where there is a need. So go out there and start earning!
Have more ideas for generating income? Have a sure fire way to make money? Tell us your thoughts in the comments!