Have you heard of Swagbucks?
Many people have but don't know what it is. Others are Swagbucks enthusiasts. I fall into the latter category.

What Is Swagbucks?
Swagbucks is an Internet search engine much like Yahoo! or Bing. The difference is that you get paid for searching the Internet. I know, it sounds like a scam, but I have gotten my rewards multiple times, and I can assure you that it isn't a scam.
If you do nothing more than search the Internet a few times a day (and don't we all do that?), you could easily earn 7 to 10 Swagbucks a day. Earn 450 points (which is possible in 4 to 6 weeks with minimal effort), and you could redeem your points for a $5 Amazon gift card.
How To Sign Up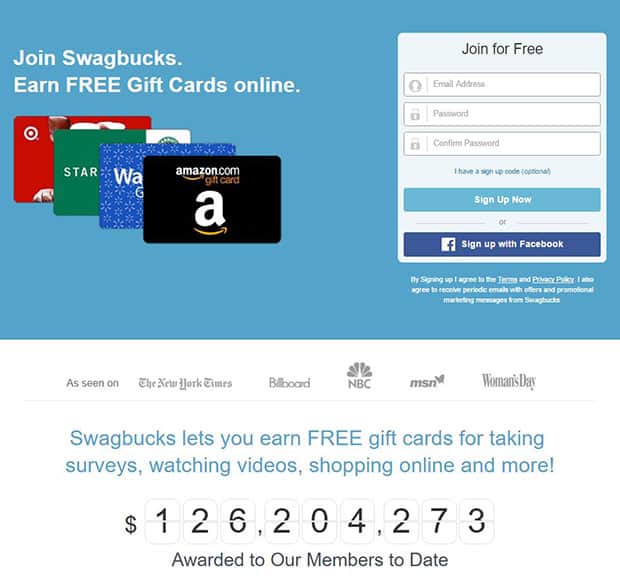 Signing up for Swagbucks is simple. Simply go to the Swagbuck's page and either sign in with Facebook or fill out a simple form with your e-mail address and a password for your Swagbucks account. Registration is free!
Use our link to get a $5 signup bonus, and if you use promo code "BMONEYMATTERS" when you register you'll get an extra 70 points called SB.
Get Your Free 70 Points Called SB When You Open Swagbucks Account Now!
Once you are signed up, make sure you stay signed in so you can use SwagBucks to search the Internet and earn points. You can default your search engine for your browser so that each time you search, you have a chance to win Swag Bucks, so you don't lose any opportunities to earn more!
How To Earn Points Called SB
There are many ways to earn points called SB. Like I said, if you use it to search the Internet, you will randomly earn points. I have earned anywhere from 7 to 79 SB points at one time. Those points continue to accrue until you redeem them for your rewards.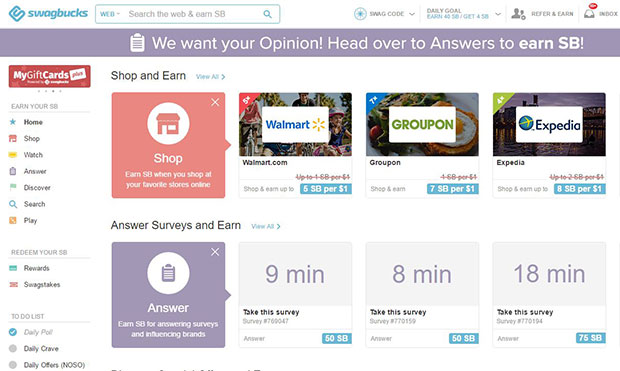 In addition to searching the Internet, there are many other ways to earn points:
Watch television programming. Like to find new recipes? Watch the Food Network videos on SwagBucks and earn points. SwagBucks also streams off of Hulu, so they also have movie trailers, celebrity news and more. (They have many quick two to three minute shows and videos that you can watch to earn points in many other areas besides cooking.)
Encourage your friends to join. If others sign up through your referral link, you will earn 10% of what your referrals earn for life. So if your friend signs up using your link and earns 100 SBs, you'll earn 10SBs. You can earn off them throughout their entire SwagBucks lifetime!
Use coupons. If you routinely print coupons off the Internet, print them from Swagbucks. For every coupon you redeem at the grocery store, you earn 10 SB.
Take a poll. There are usually short, one question polls that you can answer. This takes less than 10 seconds, and you can earn a SB.
Special offers. You can also earn SB through special offers, for example, signing up for trials on sites and services like Netflix, TaxAct or Expedia.
These are just a few ways to earn rewards; there are many more, some more labor intensive than others. I usually just have time for the polls and searching the Internet, and I still earned enough in a year to redeem for Amazon gift cards and get a few presents for my kids at Christmas.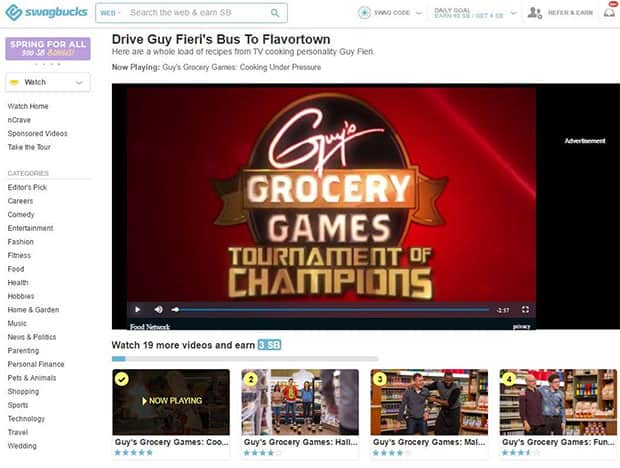 What Can You Win?
As I mentioned, you can redeem your points for a gift card, but there are other ways to also redeem your SB points. Choices include:
Gift cards: Choose from a wide range of retailers—Amazon, Target, Lands End, Chili's, Starbucks, and many more.
Paypal (cash): Get your points redeemed for cash via PayPal.
Sweepstakes entries: Spend your Swag Bucks on entries to win electronics & gift cards at the Swag Stakes section.
Donate your SB points to a charity: You can donate your accumulated SB points to charity.
There are quite a few prizes to choose from, and if you want to make your SB stretch further, look for the sale category where they temporarily discount how many Swag Bucks certain items can be redeemed for.
They say that nothing in life is free, but if you search the Internet using Swagbucks, you will earn points called SB to redeem for free gifts. Since we are repaying debt this year, I plan to use my SB to redeem for some gift cards to buy presents for my kids.
Have you used Swagbucks? If so, what have you earned?
Don't forget signup to get your $5 bonus, and use promo code "BMONEYMATTERS" when you register to get an extra 70 SB points!
Sign Up For Your Free Swagbucks Account Now!
Similar Programs
Making Money With Cash Crate