Have you heard of Dealspotr? It's quickly becoming one of my favorite sites.
Not only can you find great deal codes to save money on your purchases, but you can also earn gift cards. With this site, you save money AND earn money!
Dealspotr launched in late 2015 and likes to refer to itself as the Google for deals because Dealspotr seeks to keep all of the deals organized on its site and to keep them up-to-date.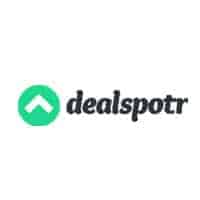 Yet, Dealspotr is also like Wikipedia in that users are the ones who share the deals, are rewarded for the accuracy of the deals, and can edit other people's deals.
Dealspotr is also a social site in that allows you to follow those who post deals you are most interested in. If you find a deal that you love, you can give it a thumbs up, like you would give something on Facebook a like.
Dealspotr is a one stop, money saving, money making, social site and can become quite addictive.
How To Find Deals
There are many ways you can find the deals that interest you most. Considering there are 5 million deals shared, narrowing your choices down to those deals that interest you the most is important.
New Homepage Feed
As of May 2017 Dealspotr introduced a new homepage for users when they're logged into the site. It's the new updated feed page where you can keep up to date on all the people you're following on Dealspotr, their deals, their conversations and social interactions.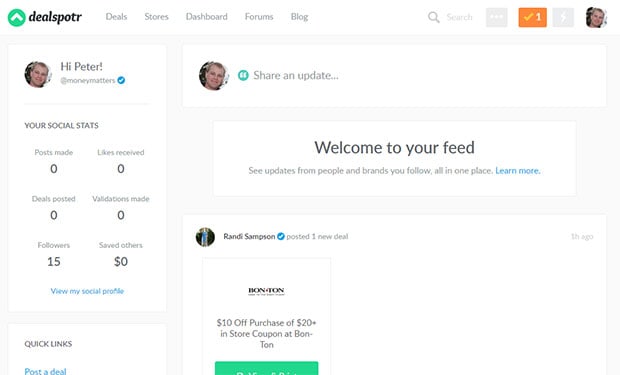 Customize Your Feed
You can customize your Dealspotr deals feed to get deals chosen for your own particular interests and buying patterns.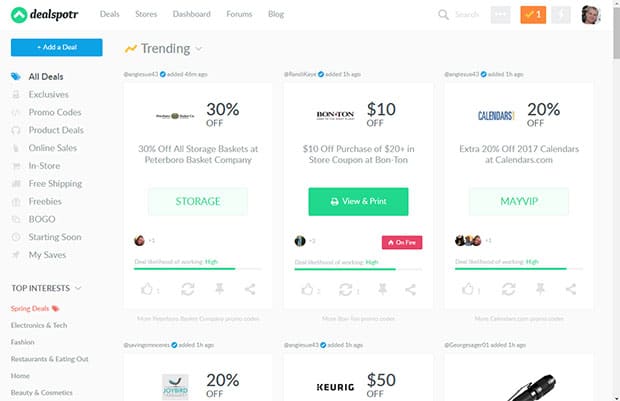 To customize, you simply click on "View More" under "Top Interests" and then choose to follow interests that you're most interested in. You can search for specific interests, or follow interests like dining out, babies and kids, pizza, business, fitness and sports, just to name a few.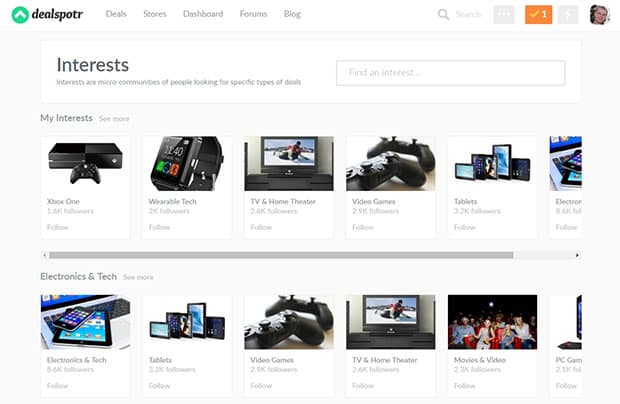 Live Feed Deals
If you want to be in the know with the latest deals, you can follow the live feed deals. These deals appear as they are listed, so you can see the deals as soon as they are posted. Just click on the "Latest" drop down at the top of the feed.
More Ways To Find Deals
In addition to customizing your feed and following the live feed deals, there are several more ways to find deals. On the side bar, there is a section, "Top Interests," that list deals by category such as Electronics & Tech, Fashion, Restaurants & Eating Out, etc.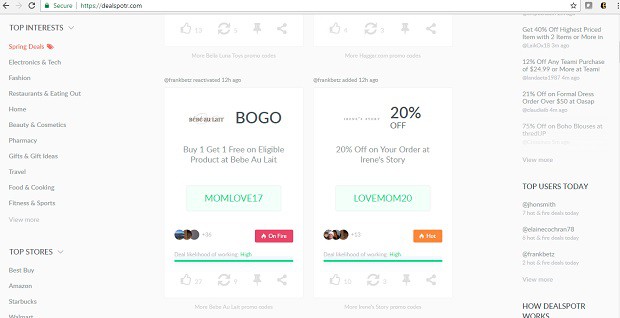 Also, below these on the sidebar, you can choose "Top Stores" including Starbucks, Walmart, Target, Subway, and many more.
You can follow deal bloggers to see what is in their feed, and you can also follow people whose deals you like. When you look at a deal sharer's page, you can see how many deals she has shared, how much money she has saved her followers, and what her ranking is for various stores (such as #8 for Michael's). You can also see how many Dealspotr followers she has. If she has a blog, you can go there, and you can like her on her social media sites. There is even a way to send your favorite deal bloggers e-mail through Dealspotr.
How To Earn Points And Gift Cards
While Dealspotr offers plenty of opportunities to save with great deal codes, what is exciting is that you can also earn money in the form of gift cards by using Dealspotr.

Approximately each 5,000 points you earn translate to $5 in gift cards. You are allowed to request a gift card once you reach 10,000 points.
You can expect your gift card via e-mail in five to seven days. There are many ways to earn points for gift cards.
Add A Deal
Dealspotr is like Wikipedia for deal codes in that all participants can add deals. If you add a deal that others can use, you'll earn points for gift cards.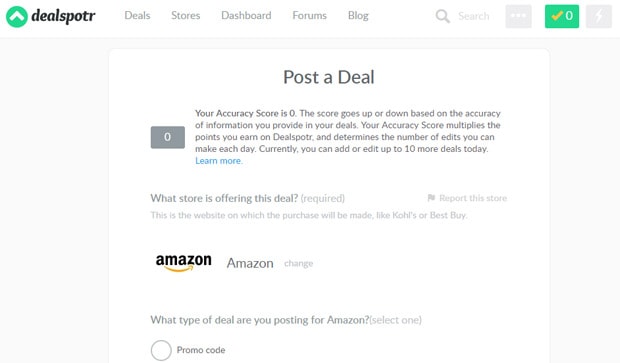 Dealspotr tracks the accuracy of your deals and can multiple the points that you earn. The number of edits you can make to deals others have posted is also impacted by your deal accuracy.
If you post deals that others like, those deals may be marked as "Hot" or "On Fire," which can improve your reputation as a deal spotter.
Share Dealspotr And Earn More
If you're a blogger or have another social media platform, you can earn points by introducing Dealspotr to others. I'm sure you were going to do that anyway, right?
First, people who sign up under your referral link can earn 5,000 points when they join, complete the new user checklist, and post their first deal. In return, you earn 10% of the points generated by your referrals over the lifetime of their accounts. The more people who join, the more you earn.
However, there is a way to earn even more when you refer others. Dealspotr offers bloggers and social influencers three tiers of "influencer status." They are bronze, silver, and gold.
Bronze Influencer
To achieve bronze influencer status, you must register with Dealspotr and confirm your e-mail address. In return, you'll be included in the Influencer Directory, and you can give your referrals 5,000 points when they join.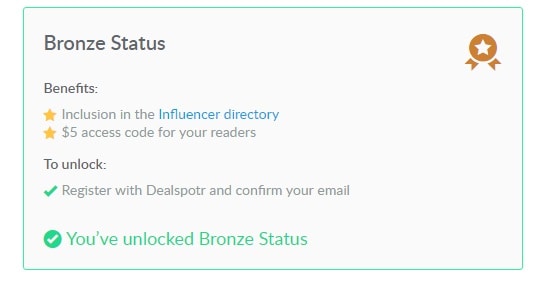 Silver Influencer
To achieve silver influencer status, you must complete a new user checklist, enter your blog URL, place a Dealspotr button on your blog, and validate your site. The benefits of having silver influencer status include earning a "Verified Influencer" badge on your profile, double (2x) lifetime points multiplier on Dealspotr, and a 20% commission rate + $2 upfront.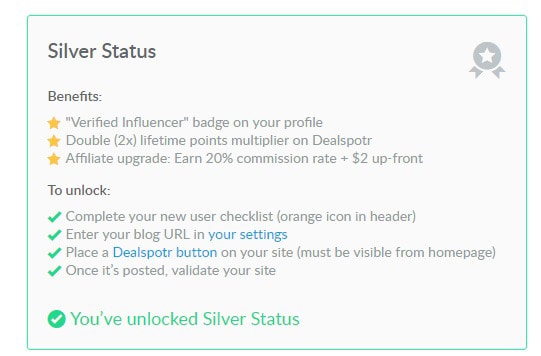 Gold Influencer
The best way to earn more money is as a gold influencer. To earn this level, you must post or validate your first 5 deals on Dealspotr, try the Dealspotr deal sharing widget on your blog, introduce Dealspotr to your readers with an informative article, and submit your article for review.
Here's the exciting part. As a gold influencer, your points can be redeemed not just for gift cards. You can choose to redeem your points for cash via PayPal. You'll also earn bonus points.
Dealspotr Helps You To Save AND Make Money
Whether you're a blogger or someone looking for the hottest deals, you can't go wrong with Dealspotr.
This site offers you the opportunity to save money on your purchases and to make money, especially if you love finding and sharing deals. If you're a blogger, you can earn even more. Not to shabby of a deal.
Have you tried Dealspotr? If so, how do you like it?
Sign Up For Dealspotr Now And Get 5,000 Bonus Points!