Free money.
We'd all like some of that wouldn't we?
I talk a lot about finding ways to make secondary income on this site, and while my preferred way to make income is by starting a money making blog like this one, it can be nice from time to time to just make some quick cash on the side.
There are a lot of easy ways to make free money fast if you do a few quick searches online.
Today I want to do a rundown of 40 easy ways to get free money fast.
40 Places To Get Free Money Fast
The places to get free money below run the gamut from free sign up bonuses for websites and services, to earning free money by filling out surveys, watching promotional videos and more. There are also several ways listed that you can get free money fast by participating in the gig economy and doing ridesharing, renting a room on Airbnb or by watching other people's pets.
Getting free money isn't that hard if you just give it a shot. You can earn anywhere from a few dollars, to thousands of dollars, depending on how much you do. So let's get started.
Get Free Money Fast Via Sign Up Bonuses
One of the easiest and quickest ways to get free money online is to take advantage of the free sign up bonuses that many companies offer, just to sign up and use their product.
Companies will offer cash to sign up for their products and services like cash back apps, savings accounts and investing apps. Why not take advantage of this free money since you might be using these services anyway?
Free Money From Personal Capital ($20 Sign Up Bonus)
Personal Capital is one of the best free financial tracking and budgeting apps out there. Just sign up and you can track your entire financial situation from assets and debts, to investment accounts and home values.
I have had a Personal Capital account for several years now and it's a great way to keep track of your net worth, and probably the best way to keep track of your investments. Read our full Personal Capital review here.
When you sign up for the free account with Personal Capital through our link below they are offering a free $20 Amazon gift card, for you and for me!
All you have to do is link at least one valid investment account (brokerage, 401k, IRA, etc) containing a balance of more than $1000 within 30 days of registering. That shouldn't be a problem for most people. It's an easy free $20 Amazon gift card!
Free Money At Swagbucks (Plus A $5 Sign Up Bonus)
I've been using Swagbucks for several years in order to earn free PayPal money through their site.
How does it work?
Just sign up for Swagbucks for free, then earn SB points for answering surveys, watching videos, shopping online and more. You can then redeem your SB points for a PayPal payout, or gift cards from Amazon, Target, Walmart, Starbucks and more. You can even get free cash payments Visa reward cards if you prefer.
The nice thing with Swagbucks is that they require you to get a relatively low 300 points in order to get a $3 Amazon gift card, while many other sites require you to earn enough to get $10 or $20 worth of gift cards before redeeming.
Get a $5 bonus just for signing up for Swagbucks through our link when you earn 2,500 SB points within the first 60 days.
Free Money With Rakuten (Plus A $10 Sign Up Bonus)
Rakuten is a cash back website and app for your Android or iOS device. The company was started in 1999, and now has over 12 million members and has given over $1 billion in cash back over the years. They're a legit way to get free cash for doing things you're doing anyway.
So how does it work? You shop online via the Rakuten portal, or via the app, and when you click through their site on your way to your favorite shopping sites, you'll get cash back for your purchase. The amount that you earn varies by retailer, but it can be as little as 1 or 2%, all the way up to 10-12% in some cases.
Rakuten makes using their service easy because they have extensions that you can add to your web browser that will alert you when there is a cash back opportunity, and allow you to activate the cash back. It's super easy to use, and I've gotten hundreds of dollars in cash back over the years.
Rakuten has also added in-store cash back opportunities more recently. To take advantage you just add a linked credit card to your account, and then add in-store cash back opportunities to your account. When you spend at those stores with the linked card, you'll get cash back!
When you sign up for Rakuten through our link you'll get a $10 bonus after activating your first offer within 15 days of signing up.
Read a full Rakuten review here.
Free Money With Ibotta (Plus A $10 Sign Up Bonus)
Ibotta is a cash back and rewards app for your Android or iOS device. When you sign up and open the app, you'll see a variety of available cash back offers at stores you're shopping at anyway, both in-store and online.
I usually will just check the app before I head out to the store, and look for offers available at the store I'm shopping at. When I find an offer for something I need, I add that to my account.
When you shop, you just purchase the item that has the offer available, and then when you get home just take a picture of your receipt, and you'll get the cash added to your account in short order.
You can almost always find an offer to take advantage of because they regularly have cash back for things like "any brand butter" or "any brand milk". Sometimes they even have them for just "any item", so you can almost always save money.
You can get a $10 bonus just for signing up for Ibotta through our link and activating your first offer within 15 days of signing up. Piece of cake – you'll be losing money if you don't sign up! You like money, right?
Read a full Ibotta review here.
Free Money From GetUpside App ($0.35/Gallon Savings On Gas)
GetUpside is an app that helps you to earn cash back on gas, restaurants, and groceries, and it also helps you to find the best gas prices near you. In the year or so we've been using the app we've earned almost $540 from using this one app alone!
So how do you get free money by using GetUpside? First, you can earn an average of $0.25/gallon in savings every time you fill up. That could add up to several dollars every time you fill your tank. Second, you can earn money at local restaurants or grocery stores. They have a lot of fast food places in our area that pay 25-35% off cash back. So if we get $20 in food at Wendy's, we often get $5-6 back in cash from GetUpside.
To earn the cash back you just have to claim an offer within the app, to get the cash back. When you're at the gas station (or restaurant) just check in on the offer page, and then the app will automatically match the transaction on your linked card with the charge over the next few days. Once it's approved you'll have cash back added to your account.
Sign up for the app through our link below, and use promo code gas21 to get an extra 0.10 cents/gal in cash back on your first gas fill-up.
Free Money From Drop App (Plus A $5 Sign Up Bonus)
The Drop app makes earning free money a breeze. So how does it work?
First, you just download the app to your phone through our link.
Then when signing up, enter my referral code: jc2y2. The code will give you 5000 bonus points, which is enough to earn a free $5 gift card, no strings attached. Piece of cake!
After you've signed up and earned your bonus via the code, just link your credit or debit card to your new account. Then browse the app for offers at a variety of stores like Target, Jet.com, Walmart and more. Take advantage of the shopping offers by shopping via the app, or buy things at the bricks and mortar store using your linked credit card. You can even sometimes play games in the app that give you bonus points.
When you use the app to shop and do other tasks you'll earn points that are good towards a bunch of different rewards including Amazon gift cards, Starbucks gift cards, Target gift cards and more.
Free Money From Dosh App (Plus A $5 Sign Up Bonus)
The Dosh app helps you earn cash back on purchases you're making anyway. When you sign up through our link you'll get a $5 bonus right off the bat after you link your first credit card.
First, you need to download the app to your phone.
Then when signing up, use my code: PETERA18. The code will give you a $5 credit after you link your credit card. You can then redeem that bonus later on for a cash payout via PayPal.
Once you've signed up and earned your $5 bonus you can view cash back offers within the app at a variety of stores like Pizza Hut, Costco, local restaurants and more. Take advantage of the shopping offers in the app to shop online, or buy in store using your linked card.
When your balance reaches $25, you can get free money on PayPal or a linked bank account. I just reached my second $25 payout while writing this article, sending it directly into my PayPal account!
Free Money From Pei App (Plus A $2.50 Sign Up Bonus)
Pei is an app that pays you cash back for shopping with merchants that are partnered with them.
You just link your credit card to the app, and then when you pay for something with the linked card at a partner store or service, you'll get cash back.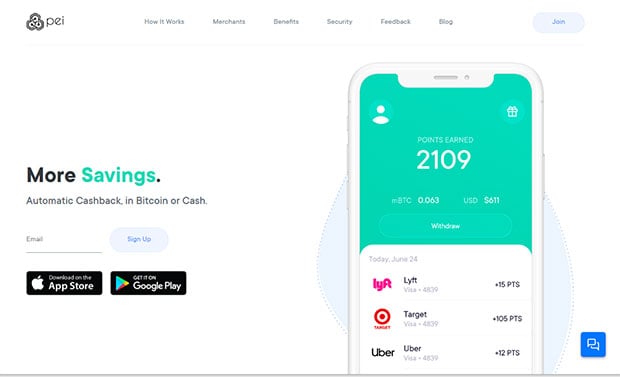 The cash back just starts flowing into your account automatically once you sign up. Get a sandwich at Chick-fil-a? Cash back. Morning coffee at Starbucks? Cash back. Take an Uber to work? Cash back.
After earning your cash back you can cash it out once you've reached the $25 minimum. You can get paid via PayPal, Bitcoin, or by getting one of the gift cards that they have available. I just cashed out $63 in cash back to my PayPal account this week!
Bonus: Refer other users to Pei and you can earn 250 points for each one that signs up, or $2.50. Just make sure they enter your referral code when they sign up and you'll both get a nice bonus after their first purchase with a linked card.
Enter code moneymatters on the first page of the sign up process and get $2.50 cash back (after your first purchase with a linked card).
Free Money From Seated App (Plus A $5 Sign Up Bonus)
The Seated app gives you $20-$40 in Amazon, Uber, Starbucks or dining credits per person when you meet a minimum spend, every time you eat at a participating restaurant.
Just book your reservations through the app, and dine out at over 500 restaurants in selected cities. Then, within 24-48 hours after you eat at the restaurant, you'll receive your credit in the app, redeemable for gift cards or dining credit.
Enter promo code: PETER501 to get an additional $5 sign up bonus when you sign up for Seated through our link. After you signup you can also refer your friends to the app, and you'll get $10 credit after their first successful reservation.
Free Money From My Points (Plus A $10 Sign Up Bonus)
Just sign up for MyPoints and earn points when shopping through their site.
Redeem your Points for gift cards, award miles and more from over 75 top retail, restaurant and travel partners!
Free Money From Inbox Dollars (Plus A $5 Sign Up Bonus)
Inbox Dollars is another site that will pay you to take surveys, watch videos, play games and shop online for cash back.
You can also earn a bonus each time a friend you referred signs up, and then earns money! You'll get a $1 bonus, and then 30% of your friend's earnings while they're active users. You do have to earn $30 to cash out to a gift card, so you'll need to be somewhat active.
Free Money From Dobot App (A $5 Sign Up Bonus)
The Dobot App is a powerful saving and budgeting tool that is linked with and an automated savings account.
I've been using Dobot for some time now, and it gives you the ability to setup multiple savings goals with hoped for completion dates and then turn on automated savings transfers. After you setup your automated savings goals, it will transfer money to your Dobot savings account in small increments without your intervention. Ten dollars here, $25 dollars there. When the month is complete you'll find you've saved more money than you thought possible.
Dobot saves for you, without ever overdrawing on your account, which is important.
I love the app, and I highly recommend giving it a try, especially since it's free and it currently has a $5 sign up bonus. The worst that can happen is you'll earn an easy $5!
Read our full Dobot review here.
Free Money From Qapital App (A $5 Sign Up Bonus)
Qapital is an automated savings and investment account that has quickly become an integral part of our financial toolset at our house.
The app allows you to save money in small amounts over time that you don't miss, and over time those small amounts grow to larger savings and investment account balances.
Qapital also some cool features that allow you to customize how you save money by integrating it with IFTTT. So for example, let's say you want to save money for World Series tickets, in case your team makes the series. You could have IFTTT say that every time your baseball team wins a game, that you want to save $10. Then if your team wins 100 games you'll have $1000 saved! (If they don't, you still have saved a nice chunk of change!)
Sign up for Qapital and get a $5 sign up bonus to get you started!
Read our full Qapital review here.
Free Money From Stash Invest (A $5 Sign Up Bonus)
Stash Invest is a great site for investing, especially for new investors that don't have a lot of money to start investing.
They have a low initial deposit of $5, and from there you can use dollar cost averaging to build your portfolio bit by bit. You can even start a Roth IRA or Traditional IRA and invest for retirement with Stash Retire.
Stash has a wide variety of investment options, and if you're looking to hold a diversified portfolio, their basic mix portfolios can give you what you're looking for.
Try Stash for free with the currently available $5 account bonus!
Read our full Stash Invest review here.
Free Money From Groundfloor (A $10 Sign Up Bonus)
Groundfloor is a real estate crowdfunding and investing site. If you've been thinking about investing in real estate, a site like Groundfloor is a good place to dip your toe in the water.
On the site you can invest in real estate by lending money, mainly for house flipping projects, and earn a healthy return for your trouble. You can earn upwards of 9-10% on many of these short term loans. As long as you diversify your investments on the platform, you should see some pretty good success. I'm currently signed up and earning 9% on my invested cash.
Groundfloor is free to sign up for and is currently offering a $10 sign up bonus for all new accounts, so jump in while the bonus is still available!
Read our full Groundfloor review here.
Free Money From Wealthsimple (A $50-100 Sign Up Bonus)
Wealthsimple is one of the premier places to invest if you want an automated investment portfolio.
Their portfolios are created and based on the ideas of Modern Portfolio Theory, proven strategies that are a sound basis for a good long term investing portfolio for any investor, big or small.
If you sign up for their service through our link they're currently offering a $50 sign up bonus if you fund an account with $100 or more. Sign up with an account balance of $100,000 or more and you'll get a $100 sign-up bonus!
I think their service is top notch. With the current $50 bonus for a small $100 account balance, it's definitely worth trying for a quick return and free money.
Read our full Wealthsimple review here.
Free Money From Free Stock Bonuses
There are quite a places that you can get free stock when signing up for a new brokerage account or investing app. Getting free stock, in the end, is just as good as getting cash.
If you open an account and invest through the apps listed below, you can get anywhere from between $1 and $1,600 in free stocks or account bonuses added to your account.
Each service has its own requirements in order to claim the bonuses, so make sure that you read the small print. If you want to go down this road, consider checking out our article on how to get free stock.
Get Free Money Fast By Doing Things Online
Another way to get free money fast is to do things online for money. There are a ton of opportunities to fill out surveys, engage with advertising and
Get Free Money By Switching To An Online Savings Account
Far too many people have their savings sitting in an account at their local bricks and mortar bank that gives no interest, or a paltry amount that isn't really worth it.
Take the time to switch your savings account to an online account that pays good interest.
For example, one of my favorite banks, CIT Bank, is offering among the best rates right now at 2.45%. Compare that to a local bank that only offers 0.5% or less.
Here's a listing of some of the best online savings accounts currently available:
Get Free Money By Refinancing Student Loans
If you've got any amount of student loans, like many people do these days, you may be able to save hundreds or even thousands of dollars on your loans by refinancing into a new loan with a lower rate.
There are quite a few reputable providers available that can help you to consolidate your loans, and find a lower rate while you're at it.
Here are a few that can help you to save hundreds, free money that you can use for other things!
Get Free Money By Filling Out Surveys
There are a bunch of survey sites out there that will allow you to sit down, take some of their surveys, and get credit that you can put towards free Amazon gift cards or cash payouts.
In most cases they only accept U.S. panelists, so be sure before you sign up.
Get Free Money By Using Get Paid To Sites
Prize Rebel is a website where you can get paid in cash via PayPal to do things like answer survey questions, complete offers, watch videos and more.
You just do the activities you prefer, and you'll start earning points in your account. Once the points reach a certain threshold you can redeem the points for a reward of your choice. The thing I love about Prize Rebel is that you can redeem your points for as little as a $2 reward! Many sites won't let you redeem until you reach $20 or $25.
I have also earned quite few points and cash payouts by referring other users to the site.
When someone that you referred earns points on the site by filling out surveys, watching videos, etc, you'll earn 20% of what they're making.
For example, if they earn 200 points in a day of filling out surveys, you would then earn 40 points. If you refer a lot of people, your referral earning percentage can go up to 25% or even 30% – so it's a good idea to refer a bunch of people.
Get Free Money By Using These Money Saving Tools
There are a lot of tools on the market now that can help you to save money on your regular monthly bills, by negotiating your contracts, and finding savings where you didn't realize there were any.
Get Free Money By Using Bill Shark
Bill Shark is a startup backed by Mark Cuban that will negotiate your monthly bills to save you time, money and hassle.
They have stated that they have a 85% success rate in negotiating bills for cable TV, mobile phone bills, satellite TV, Internet access and home security bills. The larger and older your bill, the more free money they're likely find for you.
It's easy to get started and start saving. Just sign up through our link on this page, fill in some basic details, and then start uploading copies of your bills. Then Bill Shark will start looking for savings, and will negotiate a lower bill for you.
There is no fee to use Bill Shark unless they find you savings. If they find savings they'll charge 40% of your savings and you save 60% off your bill. Not too shabby.
Get Free Money By Using Trim
Trim is a savings assistant and AI bot that hooks up with your Facebook Messenger account and then proceeds to save you money, similar to the above service.
How do they find free money to add to your bottom line? They help you to find and cancel unwanted subscriptions, lower your cable, internet or cell phone bill, find cheaper insurance rates, help you pay off your debt and more.
I've been using Trim for a couple of years now, and in the process it's saved me quite a bit of money. It found me cash back for spending on my credit card that I was doing anyway, and helped negotiate a lower internet bill.
If they're successful in saving you money, they'll charge you 25% of your annualized savings. If you're saving money that you wouldn't have otherwise, that seems like a fair deal!
Read our full Trim review here.
Get Free Money By Using BillCutterz
BillCutterz is a site that finds you extra money by negotiating lower rates on your existing bills, one bill at a time.
You just sign up with some basic information, then they'll call your service providers and negotiate your bills on your behalf to get lower rates.
The lower rates that you're now paying after they negotiate your bills will appear directly on your regular invoice, and Bill Cutterz will only charge you 50% of the first year's savings.
So for example, if they save you $100 for the year, you'll pay a total of $50. So in this hypothetical example you'd save $50 that first year, and $100 every additional year. Sounds like easy money to me!
Get Free Money Fast By Earning Side Income
We live in a gig economy these days, and there are a ton of ways you can make money on the side. Anything from giving people rides in your car, to sharing an extra room in your home on Airbnb.
While making extra money on the side is great, what's even better is that sometimes you can get some free money just for signing up to be a provider.
Here are a few services that will give you free money just to sign up or refer other users.
Get Free Money From Lyft (A $300 Sign Up Bonus)
Lyft is one of the top ridesharing companies that you can drive for, and right now if you sign up for the service as a new driver you can earn a nice big $300 sign up bonus (bonuses will change and vary from time to time).
How do you get the bonus? Just sign up to as a new driver and complete 100 rides in the first 30 days. Breaking that down it means you could do 3 or 4 rides per day, and you'll earn the bonus.
Not only do you get the bonus if you complete 100 rides, but you'll also earn whatever you make by taking those 100 rides.
While being a rideshare driver isn't for everyone, it can definitely bring in a decent amount of money if you put some time in.
Get Free Money From Uber (Variable Bonuses)
Uber is the other top ridesharing service, and they have a ton of opportunities to drive people around for extra cash.
If you're looking for free money in addition to your Uber earnings, they have regular promotional bonuses for drivers, where you can earn bonuses for completing a certain number of rides during a certain period.
For example, one recent Uber Quest offered a $50 bonus for completing 10 rides in one weekend. You can also earn by referring other drivers.
Get Free Money From Rover ($50 Referral Bonus)
Being a pet sitter or dog walker is a great way to make some extra money on the side, while also getting some free dog cuddles (who doesn't want dog cuddles?). Rover says sitters can earn up to $100 (or more!) a week when you become a sitter on their site.
If you've already got dogs and have availability to watch other people's dogs while they're on vacation, to watch them during the day while they're at work or for a short term stay, you can make some extra cash.
To make some free money while you're at it, all you have to do is refer a friend to be a pet sitter as well, and when they become an approved sitter and book their first stay in the first 90 days, you'll get a $50 bonus!
Get Free Money From Airbnb ($55 Sign Up bonus)
Airbnb is one of the best ways to save money and have a comfortable place to stay when you travel.
People open up their homes and you can find either a single room to stay in, or at times you can rent an entire apartment or home.
When you sign up to be a guest with Airbnb you can now get $55 in sign up bonuses through our link.
Looking to host? You can earn some good money by hosting people at your own home as well! Read our full guide to hosting on Airbnb here.
Get Free Money From Unclaimed Accounts
Sometimes you can get free money just by claiming money that belongs to you in the first place.
In some cases you may have forgotten to close an old bank account, or have money due to you from an old insurance policy. These sites below can help you to track down that money and claim it.
Get Free Money From Unclaimed.org
Unclaimed.org is a site setup by the National Association of State Treasurers to allow United States residents to find money that they may have forgotten about.
What types of things can you find on there? You'll find things like uncollected insurance reimbursements, old savings accounts, health care reimbursements, security deposits on old rentals and utility accounts, etc.
I've used sites like this in the past and have found money for family members and friends.
Get Free Money From
MissingMoney.com
MissingMoney.com will help you to search all the participating states to find your family's missing, lost, and unclaimed property, money and assets. It's very similar to Unclaimed.org.
While you may not find free money here, it doesn't hurt to check. You may be surprised – as I have been in the past.
When Finding Free Money Online, Make Sure To Avoid Scams
In this day and age Internet scams are abundant, they're everywhere. When you're searching Google for "free money" you're likely to find a few scams in the results.
Scammers like to prey on people who need a bit of extra money, and will likely hope that you'll allow yourself to be greedy.
To avoid scams, try to be wary of the following things:
Avoid free money opportunities that ask you to pay money before you can get a bonus, or pay up front membership fees. It's likely a scam if they do that.
Avoid sharing your personal and private information with anyone that doesn't need it. If they're asking for your Social Security Number and they have no real reason to need it, steer clear.
If something sounds too good to be true, it probably is. That Nigerian prince offering to send you a huge payout in return for depositing his royal check? Not legit.
What it comes down to is this. There are plenty of legitimate places to get free money online. There's no need to fall prey to a scam, just be careful and check out the company to make sure they're legit, before you sign up.
Have your own favorite places to get free money online? Tell us what they are in the comments!