Through my work on this site I get to see a lot of interesting financial tools that people have created. Some of them are more useful than others.
A while ago I discovered a tool called that allows you to not only stay on top of your money situation, but also helps you to save money by canceling unwanted subscriptions, alerting you to large transactions, or by giving you statement credits for doing things you're already doing.
I signed up for the tool, Trim, a couple of months ago. Here's a quick look at how Trim works.
Trim Savings Assistant
So what is Trim? Trim is a helpful savings assistant/bot that you use via Facebook Messenger, or if you don't have that, via SMS.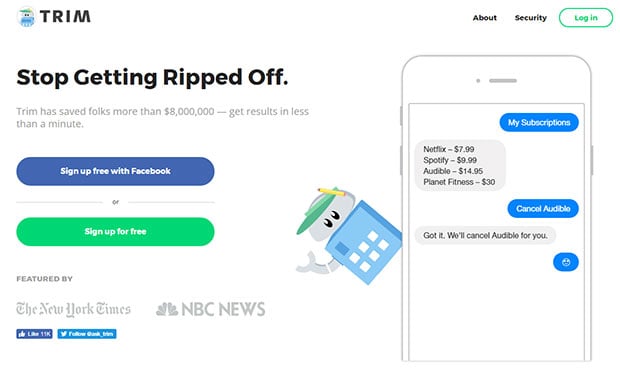 Trim will enable you to save money by helping you to cancel unwanted subscriptions, alerting you to any fees on your accounts, negotiating lower rates on your bills (like your Comcast or Mediacom bill), and even helping you find lower auto insurance rates.
It's super easy to use once you set it up, and I can honestly say that in the months I've been using it I have saved a decent amount of money. Here's a look at my visa statement showing multiple Trim credits that have come through recently.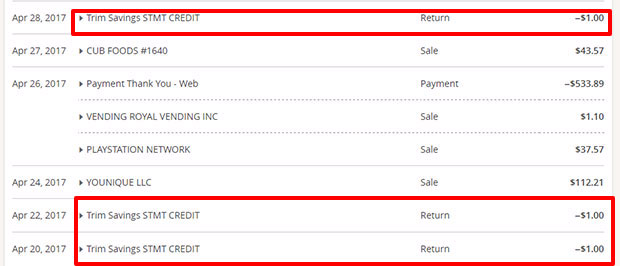 So what do you need to do to set up Trim? First, you need to sign up using either your Facebook account or an email address. Sign up via the link below.
Sign Up For A Free Trim Account Here
After you sign up, all you have to do to enable all the functionality of Trim is:
Link your Facebook account (so that the Trim bot can send you messages).
Link your checking account (so that Trim can check for unwanted subscriptions, fees and large transactions, etc).
Link your Visa account in order enable additional savings and account credits.
No worries about security as Trim uses 256-bit encryption and read-only access to check your accounts.
Once the accounts are all linked, the Trim bot will scan your accounts and look for ways to help you save.
Cancel Unwanted Subscriptions
The first thing that Trim will help you to do is to cancel all of your unwanted subscriptions.
Once you supply your login credentials, Trim will connect to your bank and download your transactions. It will scan your activity and find your subscriptions based on known subscriptions. Right away they'll send you a partial list of subscriptions you might want to cancel, via Facebook Messenger. You'll get a full list once the bank information fully syncs.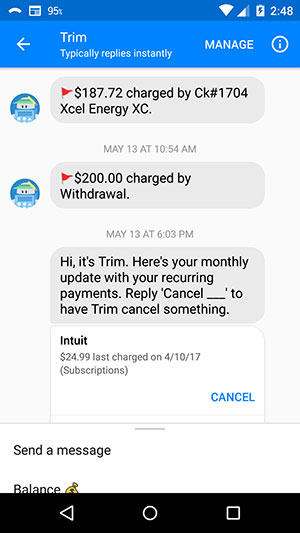 If you see a subscription in the list supplied to you by Trim that you want to cancel, you just tell Trim to cancel that account.
Trim will contact the biller by email, phone or even certified mail in some cases to make sure the billing stops. Why pay for a service you're no longer using?
Once your account has synced you can view your subscriptions in your account on the "Subscriptions" page.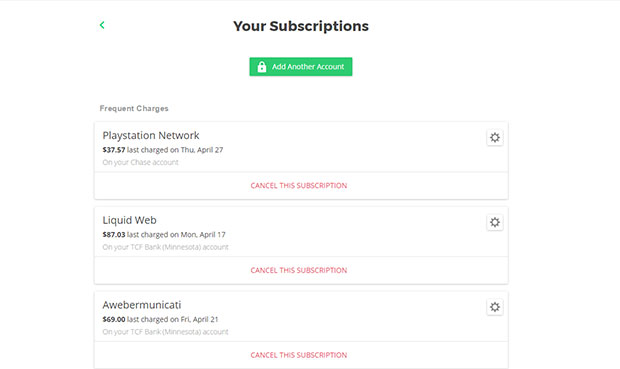 If you have a subscription not showing that you believe should be, you can go to the "Spending" menu item on the site, and from that page you can view all of your account spending. Just find the ledger item you want to add as a subscription, click on the gear icon on that line, and select "This is a subscription".
Lower Your Cable, Internet Or Cell Phone Bill
Trim can help you to save money on your cable, internet or cell phone bill.
You can directly connect your Comcast, Time Warner (Spectrum), and AT&T accounts using your existing login credentials. For all other service providers, you can easily upload or email a bill for Trim to negotiate.
If you're a Comcast user, for example, you can securely link your Comcast account, and Trim will look over your bill in order to see if there are any applicable promotions or discounts. If there are they will negotiate to get you a better price on your bill, without making any changes to your current plan.

How much will this cost you? You'll be charged 33% of your annualized savings that Trim gets you. If they aren't able to find you any savings on your bill – you pay nothing.
I used this service on my Mediacom cable internet bill, uploading a recent bill. After a day or so it alerted me that I had saved $15 on my bill due to a "loyalty discount".
So in my case I was charged $4.95 of the $15 savings that they found, and I enjoyed the savings that I probably wouldn't have gotten otherwise.
I save a decent amount on my bill, and they take their fee for the negotiation. Sounds fair to me!
Link Your Visa And Get Account Credits
If you add your Visa card to your Trim account you can get statement credits and savings when you spend money at certain restaurants, grocery stores and other retailers.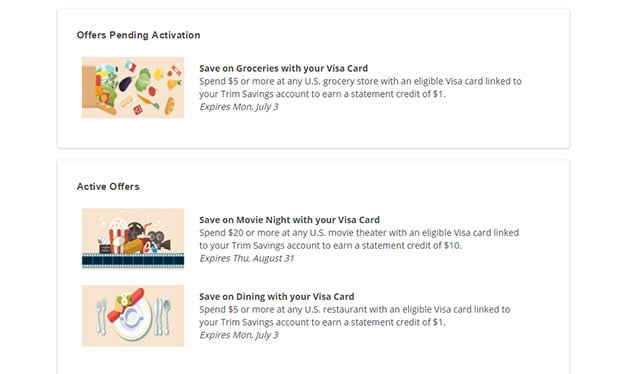 Visa credit or debit cards can be added to your account, just add the one you use most. When you use the card at an eligible retailer where there is an offer or coupon available, Trim will apply it automatically and you'll get a statement credit.
For example, right now when you open an account, the first two times you spend over $25 at a grocer, restaurant or retailer, you'll get a $5 statement credit.
In my account, I'm currently seeing offers that will give you a $10 credit if you spend $20 or more at any U.S. movie theater (I just used this one tonight, see below!), or get a statement credit of $1 for $5 in spending at any U.S. restaurant. Both of those are things that most people will do on a regular basis anyway, so why not save?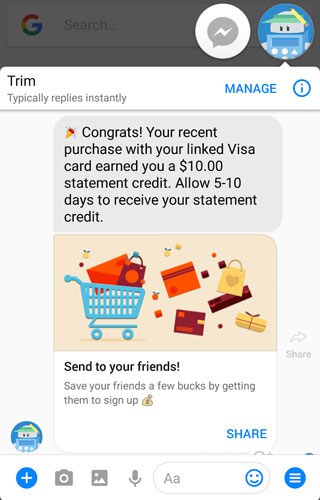 Get Account Alerts
Trim can help you stay on top of your accounts by sending you alerts about your finances. It can alert you to things like large transactions hitting your account, deposits showing up, low balance alerts, unexpected bank fees and more. Just set up which notifications you'd like to receive via the "Settings" menu item.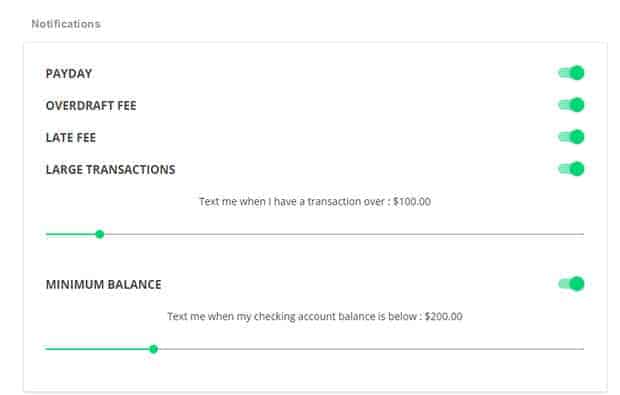 Trim can also contest overdraft or late fees with your bank if it sees one come through.
Find Cheaper Auto Insurance
Another thing that Trim added recently was the ability to get quotes on cheaper auto insurance. Just go into their "Auto" menu item and enter the details for your car. It will then help you to get a quote from a third party on auto insurance that may be better than what you've already got.
Trim Simple Savings
Trim is great at finding savings on your existing bills, but they're now also going to be good at helping you to save money in a savings account!
Trim just launched a new automated savings account that helps you to save for whatever goal you'd like to save for. Choose a goal, set a target and track your progress in the dashboard.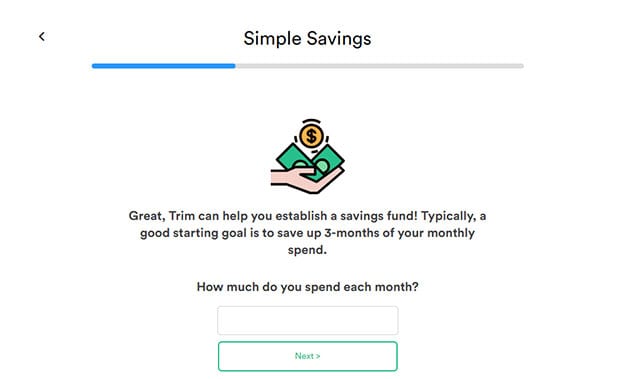 Trim Simple Savings provides a 1.5% annual reward on your balance and allows you to set it and forget it with automated weekly transfers of an amount specified by you from your selected checking account. The cost of this feature is $2/month.
Trim's New Debt Payoff Program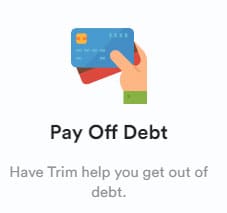 Trim recently announced they were releasing a new debt payoff program (focusing mainly on credit cards for now), that they say will help the average user to save more than $250/yr. Here's how it works.
Credit card debt is one of the most expensive types of debt, and consumers who carry it pay an average of $1,292 per year in interest on it.
Create a payoff plan: After you click through the "Pay Off Debt" link in your Trim dashboard, the Trim AI will help you to setup a personalized debt payoff plan, based on the credit card balance and APR information from your linked accounts.
Trim will negotiate your APR: Trim will setup a call to negotiate the interest rates on your existing credit cards. This isn't negotiating the principal amount, and won't affect credit score. The hope is that they can save you hundreds in interest charges moving forward by getting a lower rate. For many banks Trim can call and negotiate every 3-6 months.
Personal coaching: Starting on the first day of your debt payoff plan you'll have Trim's financial coaches available to help guide you through the process.
What does this debt payoff program cost? $10/month. They offer a money-back guarantee in case you're unsure. If you don't like the service in your first 90 days, they'll refund any charges in exchange for your feedback.
Is The Debt Payoff Program Worth The Cost?
The average user saves more than $250/yr by having Trim negotiate their interest rate on their credit cards.
So far they're having a 77% success rate on getting rates lowered.
Depending on how long you used the program it could be pretty affordable, especially if you're saving hundreds of dollars. Of course, if you're a go-getter, you could try negotiating your own APR as well, but if you just want them to do it, go for it. If you're not happy just ask for a refund!
Trim Helps You To Save
Trim is a free service that is worth far more than it's cost.
It helps you to save money in a myriad of ways, from canceling subscriptions that you may have forgotten about, to finding coupons and savings that you can take advantage of via your credit card.
While I wasn't sure I could save very much using the service, I've come to find that the automatic coupons and account credits that Trim offers just keep showing up on my Chase statement. $1 here, $10 there. I was also happy to receive a credit after they negotiated my cable bill.
It all adds up, and since it's a free service it doesn't take very long before you've gotten your money's worth.
I'd highly recommend giving this service a try.
What have you got to lose? Maybe a few unwanted fees and subscriptions?
Sign Up For A FREE Trim Account Here