Insurance is one of those topics that can be dry and unpleasant to think about because it usually involves thinking about a worst case scenario.
It deals with dying (life insurance), accidents (auto insurance), disabling accidents (disability insurance), growing old (long term care insurance), loss of a home (homeowner's insurance) or dealing with health issues (health insurance).
All of those things can be life altering events, and if you don't have insurance, they can become bigger problems than they need to be.
It's important to stay on top of your insurance, and make sure you're getting the best value for your money.
Been a while since you got a quote? choose your state from the drop down to get quotes on insurance in any of the areas shown below.
| Auto Insurance | Motorcycle Insurance | Health Insurance | Life Insurance | Homeowner's Insurance |
| --- | --- | --- | --- | --- |
| | | | | |
Get a quote: health insurance | life insurance | homeowner's insurance | auto insurance | disability insurance | long term care insurance
Looking for auto insurance? Get a quote through our insurance partner Savvy!
Looking for term life insurance? Get a quote through the Policy Genius tool linked below! Read about Policy Genius here.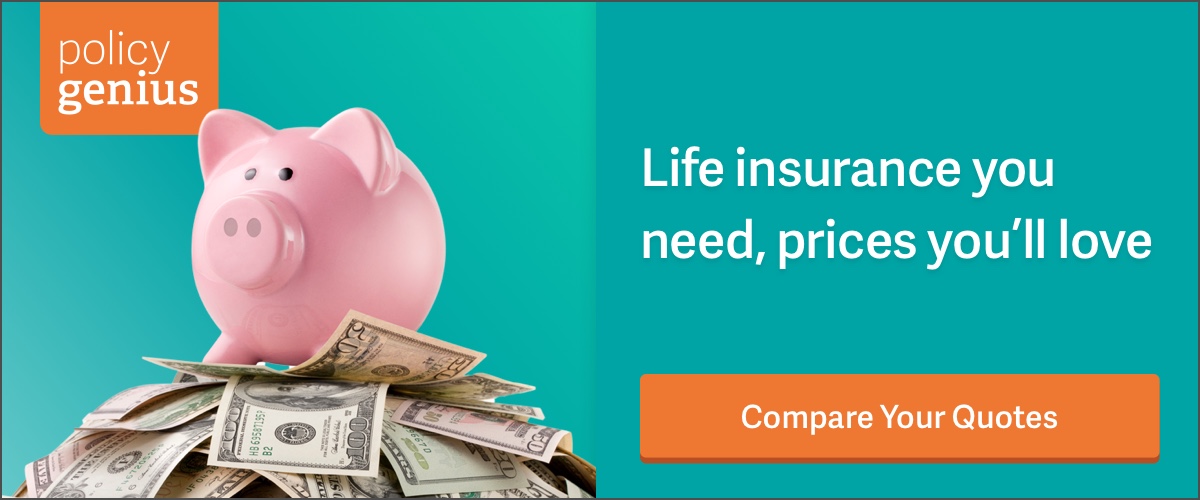 What Types Of Insurance Should I Have?
What types of insurance you carry depends upon your personal financial situation, and whether you're secure enough to self-insure. If you're not to that point yet, here are some of the most important types of insurance to have. Click on the links to start getting quotes.
Health Insurance
I think that health insurance is one of the most important types of insurance to carry. The stats of people who go into bankruptcy or huge debt because of medical debt is staggering. My wife and I have seen first hand just how much money you can spend when you have a health crisis. In our case we've spent well over $300,000 at hospitals since we've been married. Health insurance can be extremely expensive, but when you consider the alternative, it is definitely worth it. I know we've already gotten our money's worth.
So where can you find health insurance coverage? Usually the first place you should check is with your employer. They are usually going to have some sort of a group plan that you can opt in for, and it will give you much lower rates than if you were to buy on your own.
If you don't have that option available, you may want to consider getting a HSA or Health Savings Account. An HSA basically gives you a tax-exempt savings account to pay for your own health care expenses. It is usually paired with a high deductible insurance plan that covers major health care expenses (including types of preventive care, maternity care, and pediatric primary care).
One of our favorite health savings accounts is from Lively. They have no fees, have an easy to use website and include a debit card for expenses. Check out Lively HSA!
Life Insurance
Life insurance is one of those things I didn't feel like I needed when I was younger. As time went on, however, and our family started to grow with our young son being born in 2010, I knew it was time to think about what would happen if I were no longer around.
I think in most cases term life insurance makes the most sense. You can get 20 or 30 year term life insurance for extremely affordable rates. I was able to find 20 year term life insurance for less than $40/month when I bought my insurance a year or so ago.
Check out Policy Genius for quotes on your life insurance. They make the process of getting multiple quotes simple, and they can even continue checking for the best rates on a regular basis! They also do quotes for homeowners, auto and other insurance. Check out Policy Genius!
Disability Insurance
If you have life insurance you're prepared in the case that you're killed in an accident or other mishap. But what if you're only disabled? Who is going to provide for your family?How will you pay the bills?
Having own occupation long term disability insurance will allow you to be sure that your family is protected in case you get hurt and are disabled to some degree.
If you check with your employer many of them will offer some type of coverage. If not, shop around to find the best rates, you can usually find some pretty reasonable rates, depending upon your occupation and lifestyle. (some more dangerous jobs or occupations may cost more).
A good place to start your search for long term disability insurance is Breeze. They'll walk you quickly through the quote process, and you can have a decision on insurance in as little as 15 minutes! Breeze Long Term Disability Insurance
Long Term Care Insurance
If you're 60 or over and in relatively good health, you may want to get a long term care insurance policy. The costs of living in an assisted living facility can be astronomical, and if you don't have insurance it can run through your savings in short order.
Having an insurance policy will mean you're covered and your family protected in case you need to move into a facility.
Homeowner's Insurance
If you're a homeowner and you have a home mortgage, you're probably going to be required to have homeowner's insurance, so talking about whether you should get it is usually going to be a moot point.
Don't forget to regularly get quotes on coverage, however, or you could end up paying more than you should for coverage. Last time we changed coverage we ended up saving $650/year.
One place to try shopping for homeowner's and auto insurance is through Gabi. They'll compare quotes from over 20 different companies and have insurance brokers license in all 50 states. People save $720 on average when shopping for home and auto insurance through Gabi Insurance Quotes!
Auto Insurance
Auto insurance is another required coverage if you want to be out driving your car on the roads. Most states have a minimum of liability coverage where if you cause an accident you'll be able to pay for the other person's damage or injuries, while not really covering your own vehicle. From there you can get comprehensive coverage and have all sorts of extras added to your policy including rental car coverage, towing, glass coverage and more.
Getting quotes on auto insurance is extremely important and switching companies can end up saving you hundreds of dollars like it has us. Just be sure to make sure your quotes are for similar coverage with the same coverages, or you won't be comparing apples to apples.
Get a quote: health insurance | life insurance | homeowner's insurance | auto insurance | disability insurance | long term care insurance
More Insurance Related Articles
Here are a variety of other articles related to insurance on this site.
Disclaimer
The information contained in BibleMoneyMatters.com is for general information or entertainment purposes only and does not constitute professional financial advice. Please contact an independent financial professional for advice regarding your specific situation.
In accordance with FTC guidelines, we state that we have a financial relationship with some of the companies mentioned in this website. This may include receiving access to free products and services for product and service reviews and giveaways.
Any references to third party products, rates, or websites are subject to change without notice. We do our best to maintain current information, but due to the rapidly changing environment, some information may have changed since it was published. Please do the appropriate research before participating in any third party offers.