Paying for insurance is something I believe everyone should do.
Why?
Because it transfers the monetary risk of a catastrophic event from you the insured, to the insurance company.
The insurance company banks on the fact that most people aren't going to have a major event in any given period, and because of the fact that most people don't, insurance companies end up bringing in a lot of money. (Yes, there's a reason why many of the huge buildings in metropolitan centers are owned by insurance companies)
On the other hand, if you do have an accident, a negative health event, or if you pass away, you and your family will be extremely glad you've been paying those premiums. The insurance is your safety net while walking the high wire of life.
At our house we have been blessed to have good health insurance ever since we got married.
In the past 3 years my wife has had various health issues which have lead to over $250,000 dollars in medical care.
I on the other hand had to have my appendix taken out.
In the end because of our surgeries and health events we've spent close to $300,000 dollars over the past few years.
For us having that health insurance means that we didn't end up in bankruptcy. For you it could mean the same thing, or it could mean having your family be provided for in the case that you pass on unexpectedly.
What Types Of Insurance Should I Have?
What types of insurance you carry depends upon your personal financial situation, and whether you're secure enough to self-insure.
If you're not to that point yet, here are some of the most important types of insurance to have:
health insurance
life insurance
disability insurance
long term care insurance
homeowner's insurance
auto insurance
I did a video this past week talking about my "personal finance tip" for Get Rich Slowly's video contest. My personal finance tip was a reminder to everyone – "Don't Forget The Insurance!".
Health Insurance
I think that health insurance is one of the most important types of insurance to carry. The stats of people who go into bankruptcy or huge debt because of medical debt is staggering.
My wife and I have seen first hand just how much money you can spend when you have a health crisis. In our case we've spent well over $300,000 at hospitals since we've been married, and since we're having our first child this year, it's going to be another expensive year!
Health insurance can be extremely expensive, but when you consider the alternative, it is definitely worth it.
So where can you find health insurance coverage? Usually the first place you should check is with your employer. They are usually going to have some sort of a group plan that you can opt in for, and it will give you much lower rates than if you were to buy on your own.
If you don't have that option available, you may want to consider getting a HSA or Health Savings Account.
A HSA basically gives you a tax-exempt savings account to pay for your own health care expenses. It is usually paired with a high deductible insurance plan that covers major health care expenses (including types of preventive care, maternity care, and pediatric primary care).
One of our favorite health savings accounts is from Lively. They have no fees, have an easy to use website and include a debit card for expenses. Check out Lively HSA!
Whatever you decide to do, it's a good idea to have some sort of coverage.
Term Life Insurance
This is one that I've thought was a good idea, but didn't pursue until I found out we were expecting our first child. Now that I know we have another family member to provide for, it's way past time that I got life insurance to help them out in case of my untimely demise.
Good term life coverage isn't that expensive nowadays, and I was able to get ten times my income in coverage for only around $50/month, provided my health exam goes well. (I have it next week!)
Disability Insurance
Another important type of coverage to have, for many of the same reasons as having life insurance.
If you're incapacitated and aren't able to work, who is going to provide for your family?
Having own occupation long term disability insurance will allow you to be sure that your family is protected in case you get hurt and are disabled to some degree.
Check with your employer to see if they offer any type of coverage, and if not, shop around to find the best rates.
A good place to start your search for long term disability insurance is Breeze. They'll walk you quickly through the quote process, and you can have a decision on insurance in as little as 15 minutes! Breeze Long Term Disability Insurance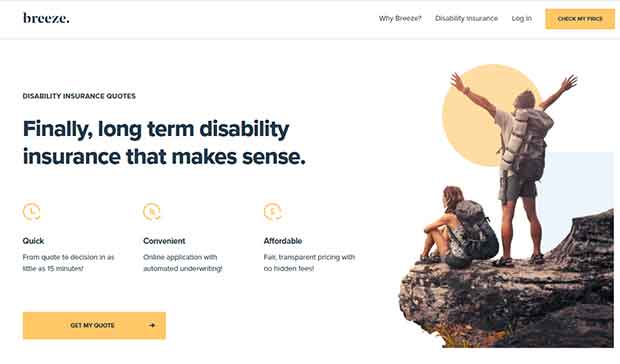 Long term disability insurance shouldn't be that expensive, but if you need it, you'll be glad you had it.
Long Term Care Insurance
If you're 60 or over and in relatively good health, you may want to get a long term care insurance policy.
The costs of living in an assisted living facility can be astronomical, and if you don't have insurance it can run through your savings in short order.
Having an insurance policy will mean you're covered and your family protected in case you need to move into a facility.
Homeowner's Insurance
If you own a home these days and have a mortgage, you'll likely be required to have a homeowner's insurance policy.
While you're required to have a policy, that doesn't mean you have to accept just any policy. It pays to shop around and try to find the best policy for you on a regular basis. I suggest shopping around every year or two to see if you can find better coverage.
We just completed purchasing a new policy for our house this week and we ended up saving around $650/yr!
Check out Policy Genius for quotes on your homeowner's insurance. They make the process of getting multiple quotes simple, and they can even continue checking for the best rates on a regular basis!
Auto Insurance
If you own a car, you're going to be required to have auto insurance coverage. Just how much coverage you have will likely depend on your situation, the age of your car, and so on.
Take the time every year to shop around to find the best coverage through an aggregator, and direct through insurance company sites.
One place to try shopping for auto insurance is through Gabi. They'll compare quotes from over 20 different companies and have insurance brokers licensed in all 50 states. People save $720 on average when shopping for home and auto insurance through Gabi Insurance Quotes!
Are there other types of insurance that you think people should have? Do you have all these types of coverage?