One thing that has never made sense to me is playing the lottery. The odds against you are astronomical, and it's nearly impossible to win. So why even bother?
Instead of playing the lottery I've started doing something with slightly better odds. In my free time I like to enter online contests – usually ones found on smaller sites and blogs. Instead of having odds of 300 million to 1, your odds are often closer to anywhere from 200:1, down to 50:1.
In the past year or so I've won the following things through blog contests:
Nice 18V Cordless Drill
$100 Amex Gift Card
$50 Amazon Gift Card
$50 Smarty Pig Gift Card
2 Books
Now granted, I did enter a lot of contests, but that's not half bad for leaving a few comments, and subscribing to a few sites via RSS. You can do the same thing!
Where Are All These Contests?
So how do you find these contests? I've found an easy way to find a ton of contests and giveaways to enter, and I'm going to share the secret. Twitter! All you have to do is go to twitter and search for contests using hash tags. For example, two of my favorite keywords to search for are:
When you do those searches you'll almost always find tens of contests and giveaways to enter. Got a free 15 minutes? Go to twitter and you can easily enter 4-5 contests in those few minutes. It isn't too long before you end up winning one of them like I did (5 times)!
Enter This Contest Now!
To get you started on entering all these contests, here's a great giveaway currently being hosted by Elle over at CoupleMoney.com. To celebrate her blog's 6 month anniversary she's giving away a netbook computer! We bought a netbook for my wife a year ago, and she loves it! I'd love to win one of my own now!
Here's what she's giving away:
Asus 10.1″ Netbook – Crystal Black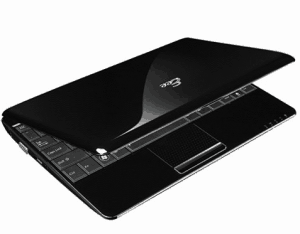 Windows 7 Starter
Processor Type: Intel Atom
Hard Drive Capacity: 250 GB
Netbook Kit
Black neoprene bag with pockets for flash drives and small accessories
Optical mini mouse with USB interface
Self-powered USB hub distributes power equally among four ports
Contest Rules
All you have to do to get a chance to win is simply subscribe to Couple Money either with email updates or through RSS and follow Elle on twitter. Head on over to the site and there are additional ways to get entries to win!
There will be a drawing to pick the winner on Friday, March 26, 2010, so enter now for your chance to win! Last I checked you had a better than 70:1 chance of winning!
Even More Contests
Elle's contest isn't the only one going on right now. Here are some other contests you can check out, enter and hopefully win!
As always you can also head over to twitter, and search for contests as well.
Do you have other ways to find contests to enter? Have you won any contests this year? Tell us about it in the comments!