Recently my wife and I decided that we wanted to get a laptop computer so that we could check emails, do work and otherwise surf the web while the other spouse was on our main desktop computer. We no longer wanted to deal with the "are you done on the computer yet?" exchanges. (Yes, it was usually me hogging the computer time, I admit it.)
At first we looked at a wide range of regular sized laptop computers. We looked at everything from some nice looking Dell laptops all the way to the fashionable and slick Apple Macbooks. The laptops were all extremely nice, and would do everything that we needed them to, but they all had one thing in common that wasn't something we were excited about. The price.
Looking For A Cheaper Alternative
After talking with a friend about their new MSI Wind U120 netbook computer, and how much they loved it, we decided to look into getting a netbook. After all, they were in fact a lot cheaper than some of the laptops we were looking at buying.
Everything I had heard about netbook computers up until that point really hadn't been that great. I had an image of these tiny little computers, too small for my big hands, that would lack the processing power to do much of anything. Getting one really didn't sound that appealing.
After trying out our friend's netbook, however, my opinion started to change. Not only did the little machine run a stripped down version of Windows XP, it ran it very well. It had 1 gig of memory, plenty of processor power, a 160 gig hard drive, and really wasn't as underpowered as I had expected. It was great for checking email, writing word documents, surfing the web, and doing a whole host of other every day computing tasks.
Researching Available Netbooks
After deciding that a netbook might be right for our situation, and knowing that it would definitely fit better into our budget, we began looking at what was available. We found quite a wide range of available units. It seems that netbooks are all the rage right now!
After reading reviews, and checking out several models at local stores, we ended up narrowing it down to several models.
All the units were in the $300-350 price range, right where we wanted to be. In addition, they had almost identical specs:
10 inch screen
160 GB hard drive
1 GB memory
webcam
Intel Atom Processor
After considering the options, and trying out all three units at our local Micro Center store, we decided on the MSI Wind U100 netbook, for a variety of reasons.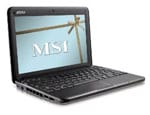 First, the unit had received good reviews from many different review sites. Second, it was compact and attractive looking, and we liked the ergonomics of the netbook. It was also the lowest priced unit we found as it was on sale for just under $300 at our local store.
The Wind U100 is able to do just about any basic computing task that we throw at it, minus things that are graphics intensive like video editing or anything else that needs some serious memory and CPU. Since my wife mainly uses it to check email and facebook, that's not an issue.
The other netbooks we looked at were nice as well, but the Wind won out because of it's combination of good price, features and good reviews.
Conclusion
While buying a new computer is hardly ever a truly frugal undertaking, there are ways to make it a bit more reasonable. We found that since we wouldn't be using our new portable computer for much more than checking email and facebook (or twitter!), we wouldn't need one of the more expensive and feature laden laptop computers. Instead we were able to get something that was considerably cheaper, but still offered everything that we needed in portable computing.
While we are completely happy with our new computer, netbooks do have their drawbacks. For example, a 10 inch screen isn't really big enough for all applications. Some webpages are too wide for the small screen, and trying to view photos in applications like Picasa isn't as easy as on a larger screen. I have also have found that the smaller keyboard on the netbook isn't as suited for larger hands like mine – there have been a few frustrating moments when trying to type on this netbook. Beyond those things, however, we have found that netbooks are a lot more capable and advanced than we had first realized.
If you're looking for a cheap alternative to buying a $500-700 laptop, and you won't be needing to do CPU and processor intensive operations, I think netbooks are a great alternative that you should check out. We're glad we did!
What things have you bought that you were able to find a cheaper alternative for? Was the cheaper alternative inferior, or did it end up being a wise purchase? Tell us about it in the comments. (as well as if you have a netbook, and what you think of it.