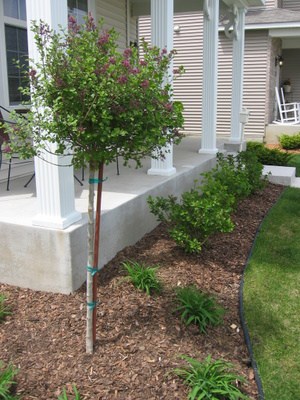 Today we're about to embark on another non-frugal spending spree. This is something that I agreed to over a year ago, but we kept putting it off. Well the time has finally come. We're finally going to be doing some landscaping in the front yard.
We're going to be adding two Hydrangea bushes, and a Dwarf Korean Lilac Tree (see picture to the right).
The landscaping that we have now in our front yard is pretty sparse, and we wanted to do a couple of things:
1. Fill it out so it doesn't look as bare.
2. Add some color and life to the front of our house.
The lilac tree that we're adding will be adding a nice splash of color to our front yard. A little bit of purple against our beige house. The bushes will also be adding some beautiful white flowers – they look like giant snowballs.
So how much is this going to set us back? Since we're having our home builder in-laws buy the plants for us, we'll be getting a discount, but it will still be over $100. Not frugal, but in the end I think it will be worth it.
Now, I'm off to the Lowe's hardware store to get some sod for our side yard – there's a patch where the grass all died from standing water this spring. Off we go!
UPDATE: I updated the picture at top to show the finished job. That's our new tree in front of our house, along with the new bushes just to the right. So, what do you think?
Quick frugal gardening tip from commenter freefrombroke: "I've heard that coffee grounds can be used as a fertilizer. You can sometimes get a big bag of used grounds at Starbucks for free." I checked, and its true!