My wife Maria and I got married about 9 years ago now, and our wedding was a beautiful affair. We had a reception held at a local country club, we had over 200 guests, and we spared no expense on catering, flowers, decorations, dresses, DJ and party favors. After all was said and done we ended up spending over $30,000. Luckily for my wife and I her parents were the ones footing the bill, and they really wanted to pay for it since my wife is their only daughter.
Looking back my wife and I cherish the memory of our beautiful wedding, but if I had gotten my way we wouldn't have spent quite so much money on the wedding. Wouldn't it have been much nicer just to have her parents give us all that money, and have a smaller affair?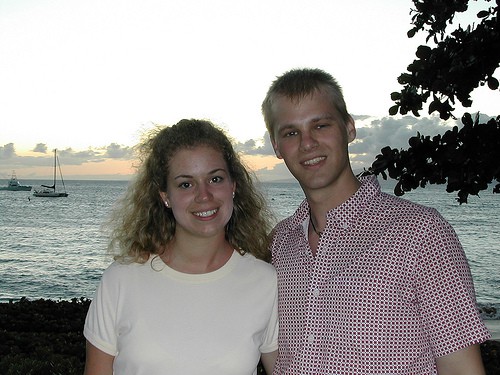 My cousin and her fiance are getting married this weekend, so I thought today would be a good day to share some tips – of ways to have a more frugal wedding.
Ways We Could Have Saved Money On Our Wedding
If we could do it over here are some places I think we could have saved some money on things we probably wouldn't have even noticed.
Photographer

: We spent a ton on a photographer for our wedding when we probably could have found someone cheaper. We have friends who for their weddings had family friends and acquaintances who were good photographers take wedding photos that looked just as nice or better than some that the professionals take. Of course you need to be careful when doing this, but if you find someone talented, it doesn't need to be as expensive. You also can have access to the originals when you have an acquaintance do it, which is an option you don't have with professionals.

Reception location

: Our reception was held at a local country club, very beautiful, exclusive and

expensive

. Friends of ours had receptions that were almost as nice at local VFW or Knights of Columbus halls that were substantially cheaper. Just make sure to check them out ahead of time to make sure they're not too small, smoky or dingy.

Keeping the wedding small

: We basically invited everyone we knew to our wedding, and the more guests you have the more things cost. You need to take into account the costs of paying for dinners, party favors, valet parking, etc. It adds up quick. Keep the wedding smaller and it will be cheaper – I guarantee.

Make your own invitations

: We spent a fortune on creating and mailing our custom printed invitations. Make your own invitations for a substantial savings.

Wedding cake

: Our cake was beautiful, delicious and monstrously expensive. Have a family friend who bakes well to make cake for the reception. We have friends that did this and no one even knew the difference.

Don't rent a limo or fancy car

: While it can be fun to rent a limo to ride to and from the reception, and home afterwards, remember that it can be pricey. A good way to save some money is to borrow a nice car from a family friend (we borrowed the in-laws Mercedes), or just use your own vehicle. Just make sure that if people are going to be decorating your car not to use anything that will damage the paint job.

Plan ahead

: Try and make sure you're planning your wedding with plenty of advance time. If you have longer to plan, you'll have longer to research your options, and find the choices that give you the best value for your money.
Do Your Research And Plan Ahead
Those are a few areas where I think you can safely cut out some expenses when planning your wedding. Of course you need to be careful, and realize that sometimes you'll get what you pay for. But as long as you plan ahead, and give yourself plenty of leeway for making some small mistakes – you'll be fine.
When things get busy on your big day, don't forget to enjoy the day and your new spouse! You only get married once and all the small details and things that seemed so important beforehand really won't seem so important once you're looking into their eyes on that big day! Have fun!
What are some ways you cut expenses on your wedding, or do you plan on cutting for your upcoming nuptials? Tell us in the comments!