There are a lot of different ways to make money, including countless services you can offer as a freelancer.
Fiverr is an incredibly popular platform for freelancers who have specific services to offer, and also for businesses looking to hire talented freelancers.
Although Fiverr is a great option, there are also many other sites like Fiverr that provide money-making opportunities for freelancers.
Here, we'll take a look at some of the best Fiverr alternatives for freelancers that you may want to consider.
Why Freelance?
With so many different side hustle options, freelancing and service-related businesses are often overlooked. Other options like blogging or starting a YouTube channel may appeal to more people, but there are several reasons why you may want to consider freelancing as a way to make money on the side.
Start Making Money Quickly. Some of the most popular side hustles require you to put in a lot of time and effort before you start making money. For example, if you start a blog, it might take a year before you start earning anything for your effort. By freelancing, you can start making money as soon as you have your first client.
Use the Skills You Already Have. Most likely, you already have some skills that would allow you to make money as a freelancer. You may have developed valuable skills through a former job or just from a hobby.
Part-Time or Full-Time. Freelancing works equally well as a side hustle or a full-time business. It can be whatever you want or need it to be.
Growing to Full-Time is a Realistic Goal. Growing to a full-time income is more achievable for the average person through a service-related business than it is through a blog, YouTube channel, or another type of online business.
Earn an Excellent Hourly Rate. Freelancers who are in demand make an excellent hourly rate. Of course, it depends on several factors like the specific service you provide, but the income potential is excellent.
Demand for Talented Freelancers. Skilled freelancers who get results for their clients are always needed. While you'll be competing with other freelancers for clients, there's plenty of work available for the best freelancers.
Flexible Schedule. Most freelance work can be done whenever it fits into your schedule, as long as you meet deadlines. It doesn't matter whether you work weekdays, evenings, or weekends.
Why Consider Fiverr Alternatives?
Fiverr is an extremely popular site both for freelancers looking to make money and for businesses and entrepreneurs who need to hire talented workers. In the platform's early years, it was known as a place to find cheap workers, which isn't exactly ideal if you're looking to make money by offering your services. However, Fiverr has come a long way, and today there are thousands of freelancers from around the work who are earning an excellent income on the site.
Despite the fact that Fiverr is an excellent resource for freelancers, you may want to consider using some Fiverr alternatives. Maybe you're looking for a platform with less competition so you can start landing clients quicker. Or maybe you're looking for a site that's specialized in some way. And of course, you can also use a few different freelancing sites rather than relying exclusively on Fiverr.
Sites Like Fiverr
Here we'll look at ten websites like Fiverr that are ideal for earning money as a freelancer. Read the details of each site to see which ones might be the best fit for you.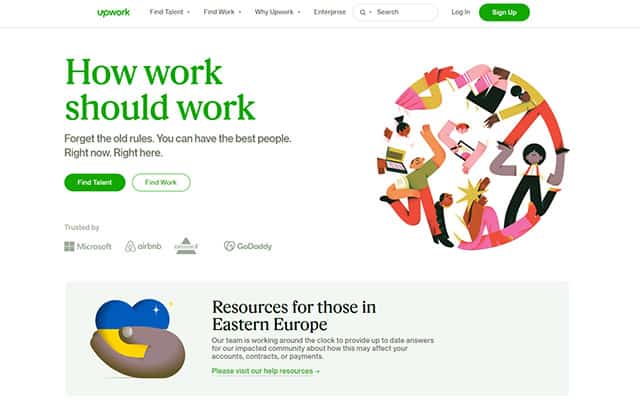 Upwork is one of the most popular sites for freelancers and for businesses looking to hire skilled workers. There are many different job categories, so you can use Upwork to promote services of just about any kind.
The primary benefit of using Upwork is the massive audience and userbase that Upwork has already established. As a freelancer, you can create your profile and start finding opportunities right away.
Landing jobs on Upwork involves bidding. Clients will create a job listing when they're looking to hire, and freelancers can submit bids and pitches to try and land the work. Some projects will pay hourly, and others will pay per project. You'll submit your bid along with a personalized message or cover letter to sell yourself.
You'll find projects in all budget ranges at Upwork. The site is sometimes criticized by freelancers because there are a lot of low-paying gigs. While it's true that some projects have very low budgets, there are also plenty of other gigs on Upwork that pay very well. As a result, it's a legit option for all freelancers from beginners to established leaders in their industry.
Upwork provides a comprehensive platform that includes messaging between clients and freelancers, as well as payments and escrow.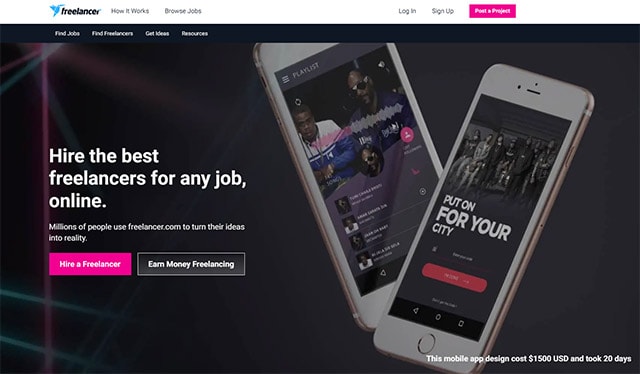 Freelancer is very similar to Upwork. Although Freelancer is popular, it's not quite as huge as Upwork, which means you may find that you're up against less competition for work at Freelancer.
Like Upwork, Freelancer allows you to create a profile and bid on job listings submitted by clients. The downside to both of these sites, and other bidding sites, is that you may wind up spending a lot of time bidding on jobs only to get no work. To have success with these sites, you'll need to perfect your pitch. Many freelancers submit very generic responses with their bids, trying to save time. If you want to stand out, you can put more time and effort into your pitch and explain why you'd be an excellent hire.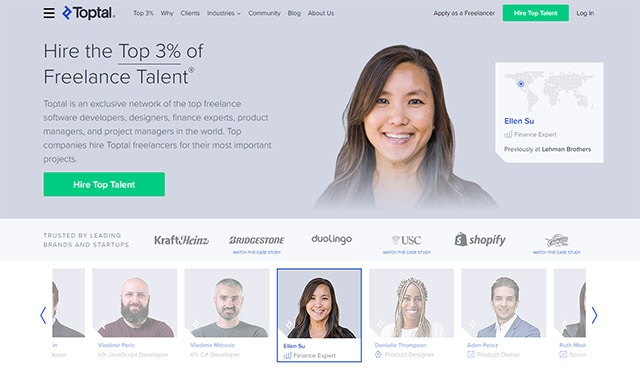 Toptal is different than Upwork and Freelancer because it focuses on the best of the best freelancers. According to Toptal, only the top 3% of freelance talent can be hired through the platform.
Although talented and experienced freelancers are also on other platforms like Upwork and Freelancer, clients may have to wade through a lot of inexperienced freelancers in order to find the cream of the crop. Toptal appeals to these clients because they can be assured that only outstanding freelancers are on the platform.
From a freelancer's perspective, there are a few significant benefits of a platform like Toptal. First, you'll face much less competition since fewer freelancers are on Toptal. And even more important, you're likely to earn an excellent rate for the work you do through Toptal since clients who are using the site are specifically looking for highly-skilled workers.
Toptal is not appropriate for freelancers who are just getting started. You'll need to build up your experience and portfolio before you can prove that you belong in the top 3% of freelancers. But once you've reached that level, Toptal is an excellent resource for those who are looking for gigs that pay well.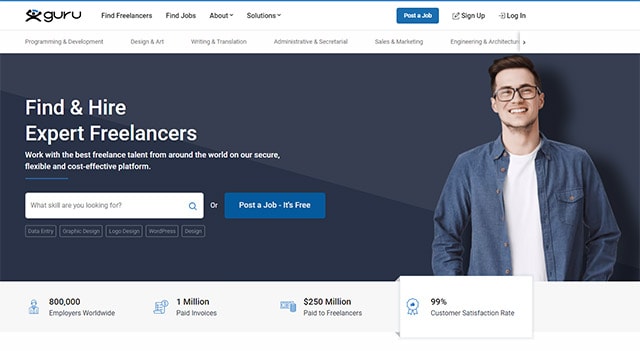 Guru is a freelancing website that's similar to Upwork and Freelancer. You'll sign up and create your profile, and then you can bid on job posts that have been submitted by clients. You'll find work related to web design, web development, writing, marketing, engineering, legal, and more.
With over 800,000 employers using Guru and more than $250 million paid to freelancers over the years, Guru is a well-established platform that gives you the potential of finding plenty of work. Just like Upwork and Freelancer, success at Guru requires you to effectively pitch yourself, your experience, and your skills to potential clients. Many job listings receive a lot of bids from freelancers, so you'll need to be able to stand out if you want to get the job.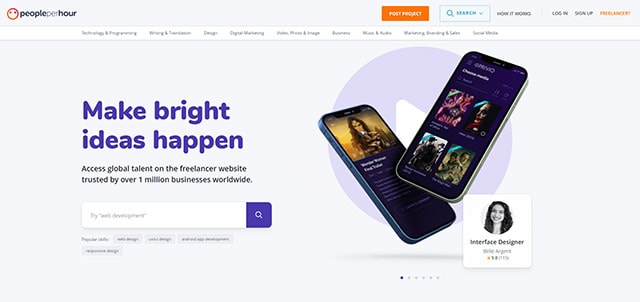 People Per Hour is another popular bidding site, with more than 1 million businesses hiring through the site. Despite the name, you can find jobs that pay hourly or by the project at People Per Hour.
You'll find job listings for all types of services at People Per Hour, as there is no specialization or area of focus. On the downside, People Per Hour has a reputation for lots of competition among freelancers, leading to low prices. As result, you may not be able to make as much money here as you can with some other Fiverr alternatives.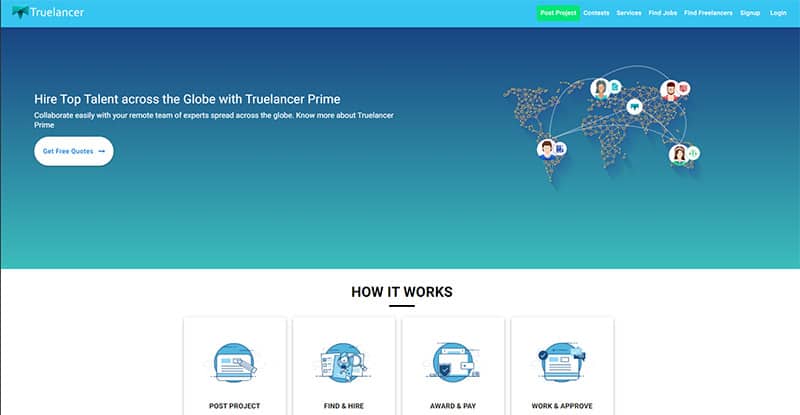 Truelancer is a bidding site similar to Upwork, but businesses can also choose to run a contest rather than placing a regular job listing where freelancers submit bids. To participate in contests, you would do the work and submit your entry (for example, a logo design), and you would get paid only if you win the contest.
While there are plenty of opportunities on Truelancer, it's another site that's developed a reputation for low-paying work. Many of the freelancers are from developing countries, so you'll be competing against bids with very low prices.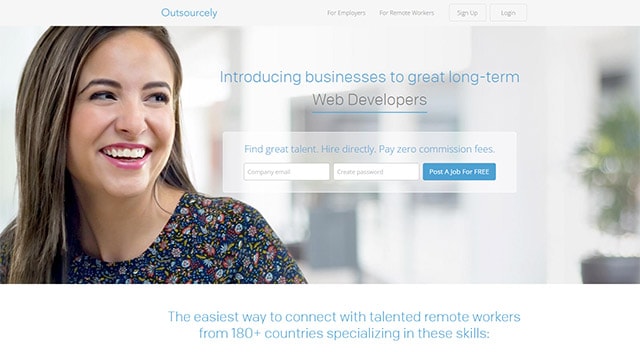 Outsourcely is different from the other Fiverr alternatives we've looked at so far because it focuses on long-term remote opportunities. There are opportunities for many different types of work, but the volume of job listings is a fraction of what you'll find at other sites like Upwork.
If you're interested in a long-term opportunity, rather than trying to find new clients all the time, Outsourcely is worth checking out. Another perk is that once you're hired, you'll be paid directly by the client or employer rather than through a third-party platform. Sites like Upwork and Fiverr that manage payments between clients and freelancers charge significant fees, taking away from what you're able to earn.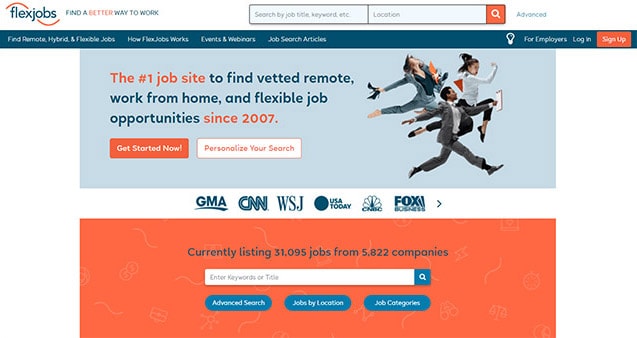 FlexJobs is a job board that focuses exclusively on remote work. You'll find a mix of freelance gigs and traditional employment opportunities. The FlexJobs staff also vets every company that posts a job listing to ensure that only legit opportunities make their way onto the site.
The downside of FlexJobs is that you'll need to pay for a subscription to see and respond to the job listings. However, weekly, monthly, and annual plans are available, so you can choose something that meets your needs without overpaying. The convenience of having access to a vetted list of remote work opportunities may easily justify the cost.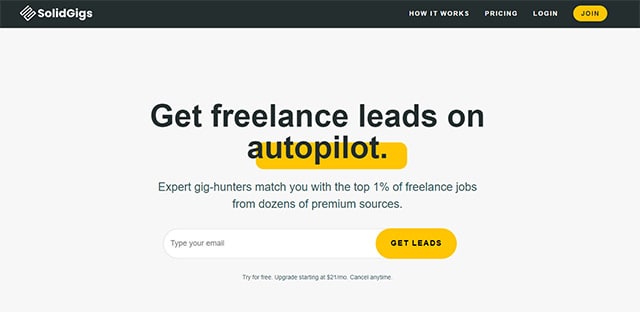 SolidGigs is another subscription service that helps you to find the best freelancing opportunities. It's a bit unique because SolidGigs actively searches for the best freelancing gigs on a variety of platforms, and the top opportunities are shared with SolidGigs subscribers.
When you subscribe to SolidGigs, you'll tell them about yourself, the services you offer, and the type of clients you're looking for. Then, you'll get an email every day with the top opportunities that have been handpicked for you.
Of course, you'll still need to be able to pitch your services and sell clients on why they should hire you, but SolidGigs can help to reduce the amount of time you spend looking for opportunities.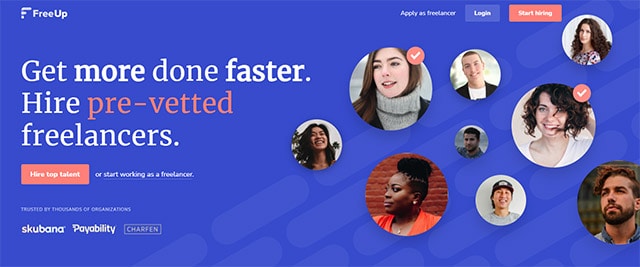 Like Toptal, FreeUp attempts to differentiate itself by focusing on top-level talent. They claim to vet all freelancers who apply and only hire the top 1% of talent. For clients, this means less time spent wading through applicants to get top talent.
As a freelancer, you'll need to be able to prove your skills in order to work through FreeUp. It's not the best option if you're just getting started, but if you've been working on your craft for several years and you're able to produce excellent results for your clients, FreeUp is a site you might want to consider.
Why You Might Want to Stick with Fiverr
Now that we've looked at ten other sites like Fiverr for finding freelance work, it's time to decide which site is best for you.
Building up your profile on Fiverr can take a lot of effort and some patience, but Fiverr does offer a significant benefit that sets it apart from all of these other sites. As a Fiverr freelancer, you'll create the listing for your gigs, clients will find them, and (hopefully) some of them will hire you. The big difference here is that you don't need to bid on jobs or send out lots of proposals.
Fiverr is an enticing option because you'll spend less time looking for work and more time on the work that brings in the money. Of course, in order to get to that point, you'll need to have an established profile with lots of good reviews and a service that clients are looking for. It won't come easily, but achieving success on Fiverr can be very rewarding since the clients are coming to you rather than the other way around.
Choose The Freelancer Sites That Are The Best Fit For You
There are lots of sites like Fiverr for making money as a freelancer. Each one has something that makes it unique, but they all can serve as excellent resources for freelancers. Don't feel like you have to choose just one platform to use. You can set up a profile and try out a few of these Fiverr alternatives to decide which one meets your needs the best.