For years I've heard from some of my friends in the personal finance sphere that many of them use a Discover card as one of their main credit cards. For me I've always had a notion in my head that the Discover card was the read headed step child of credit cards that wasn't accepted at very many places, and that had benefits that didn't match some of the other cash back and rewards cards out there.
I'm now discovering that I was wrong. Discover has come a long way, and they're now more widely accepted and used than I had even realized with over 54.4 million cards in circulation (source). They may still be smaller than Visa and Mastercard in terms of number cards out there, but they certainly have caught up terms of card benefits, no fees and importantly, customer loyalty. According to the 2012 Brand Keys Customer Loyalty Engagement Index Report, Discover has been ranked number 1 in customer loyalty for 16 years.
A short while ago Discover revamped their credit card lineup. In the past they had several cards available that you could sign up for, among them the Discover More Card and the Discover Miles Card. Those cards have all been retired and their entire lineup has been replaced by the Discover it® Card. Today I thought I'd do a brief Discover it® Card review.
Discover History

Discover is a relative newcomer to the credit card scene, only having been introduced nationwide back in 1986. They were a part of Dean Witter and then Morgan Stanley until 2007, at which time Discover Financial Services became an independent company.
Discover also moved into the debit card arena in 2006 when they announced they would begin offering Discover debit cards to banks.
Discover has come a long way since 1986, and they're now offering some of the most attractive credit card options out there.
Cash Back Rewards
Traditionally Discover has been known for a couple of different things, their great balance transfer offers and their great cash back rewards. First, let's take a look at their cash back rewards.
5% Cashback Bonus in rotating categories. Save on things like gas, restaurants, and home improvement stores up to the quarterly maximum.
5% to 20% Cashback Bonus through our exclusive online shopping mall
1% Cashback Bonus on all purchases and there is no limit to how much you can earn.
For me the key here is the 1% cash back on all purchases, that's a great deal and it's actually cash back that you can use for a statement credit or direct deposit into your bank account. No points to worry about!
On the other hand, if you want to redeem your points in other ways you can use your cash back to get gift cards and other items. In some instances you can get gift cards that exceed your cash back balance. For example use $20 cash back to get a $25 gift card. That could come in handy if you were planning on buying something anyway!
For the 5% cash back categories mentioned above Apr-Jun this year will come in handy for us since we're building a home right now and the current bonus category is at home improvement stores. We're spending a lot of money at Home Depot right now, so that would be a good one to take advantage of. With gas prices going up substantially this week, the gas stations bonus category in July-September will be great as well!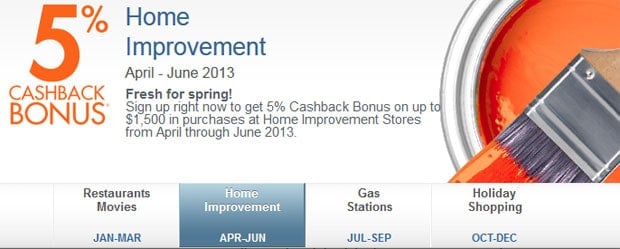 0% Balance Transfer Offers
Another thing Discover is known for is their balance transfer offers, and they do have a couple of decent ones that you can take advantage of right now, among the best available right now.
As with most balance transfer offer deals there is a 3% balance transfer fee, so be aware of that. If you look around at other credit card issuers right now, the longest you're likely to find is 0% for 18 months, although some in the past went as long as 24 months. If you're looking to transfer a balance, Discover is among the best and should be at the top of your list.
No Fees
Discover enjoys great customer loyalty, and one of the reasons is because they don't charge a bunch of fees like some cards do.
No annual fee
No late fee for your first late payment
No overlimit fee
No foreign transaction fee
Paying late won't increase your APR
So no annual fee, first late payment fees waived, no overlimit fees and no foreign transaction fees.
Discover it – Other Card Benefits
Among other benefits you'll enjoy with a Discover it Card:
100% U.S. based customer service available any time
Discover ranks among the industry's highest in identity fraud resolution1. And you're never responsible for unauthorized purchases with our $0 Fraud Liability Guarantee.
Pay for millions of items with your rewards at Amazon.com
Pay your bill 'til midnight (ET) the day it's due by phone or online
Choose your payment due date online or by phone
Lower rate, lower payment or other help after job loss
The card is flexible, has good customer service backing it up, and you're protected in case of identity theft or other fraudulent charges.
Cons Of The Discover it Card
One of the few downsides i can find for the Discover it Card is that it doesn't have an attractive signup bonus like some other cards on the market. While that's a definite negative, for the most part the card's positives make up for it.
Conclusion
With its cash back rewards, great balance transfer offers and no annual or overlimit fees, Discover has a solid credit card offering that should be in the running if you're looking for a new card. Granted, it doesn't have an attractive cash bonus offer at the outset like some cards do, but in the end the card's benefits are equal to or better than most other cards out there.
For more information, or to apply for a card on their website, Check out the Discover it® Card Website
* See the online credit card application for details about terms and conditions. Reasonable efforts are made to maintain accurate information. However all credit card information is presented without warranty. When you click on the "Apply Now" button, you can review the credit card terms and conditions on the issuer's website. Discover is a paid advertiser of this site.