Many people like the idea of starting an investment portfolio, but the initial cost can be prohibitive.
What if I told you that you could get free stock to give your investment portfolio a boost?
There are quite a few ways to get free stock that will allow you to dip your toes into the markets, trade stock, and maybe even earn a few extra dollars.
The apps mentioned in this article will not only hand out free stock, but many of them will also teach you how to buy stock, provide the tools to trade stocks for free, and give you a head start on building your wealth.
How To Get Free Stock Investments
We've all heard that there's no such thing as a free lunch. But that may not be the case since there are now so many ways to get free stocks.
Since discount online brokerage firms became more common in the late 1990s, many firms reduced their commissions to compete.
Today, there are many brokers that offer commission-free trades, and a few even take that one step further, offering free stock charts, free stock portfolio trackers and more. Some are even offering free stocks to attract more investors.
The criteria for receiving a free stock are different at the different brokers. Some give stocks to investors who simply open an account, while others have specific criteria (like you have to make a deposit into your account and make a trade).
It pays to read the fine print before you open an account, but in most cases, it's a pretty simple process.
15 Ways To Get Free Stocks
If you invest through the apps and trading platforms listed here in this article, you can get anywhere from between $2 and $1,000 in free stocks or account bonuses added to your account.
Let's explore twelve ways that you can take advantage of these offers and get free stock.
Webull
Webull is a great platform through which you can earn free stock.
Webull is a commission-free investing app, and you can receive 1 free stock when you open an account and make an initial deposit of at least $100. The stock you receive is awarded randomly and can range in value from about $8 to $1,600.
To qualify for free stock, you just need to sign up and complete the account opening process. Then, after you open the account, if you link a bank account and deposit $100 in your account, you'll get a signup bonus of free stock worth between $8-$1600.
Once you have opened an account they sometimes offer ways you can earn even more free stock. You'll have a referral link in your account, so you can share the service with your friends. Anyone opening an account using your referral link will get free stock, and you will as well. They also now offer crypto and you can get free cryptocurrency by referring others to the service as well.
You can leave your free stock in your account and watch them grow, or cash out, per the terms of the deal.
Webull changes up their offers periodically, so make sure you look closely when signing up to see what the current free stock offer is.
Read our comprehensive Webull review.
Get your free stock from Webull
Public
Public is a commission-free brokerage and investing website where you can invest in fractional shares of stock, with as little as $5. That means you can invest in great companies like Apple, Amazon, Netflix, and more, without having to have a bunch of money to get started.
You can also invest in popular ETFs from companies like Vanguard, BlackRock, and others, but without commission fees or account minimums, you'll find with some other investing companies.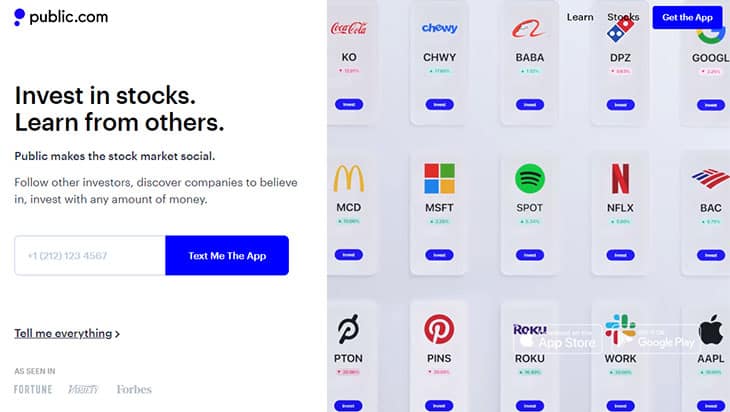 Just set up your account, add your funds, and create your own portfolio with your carefully selected stocks. Just buy shares when you have the extra cash. No need for thousands of dollars to invest.
Claim your free stock by signing up for a new account through our link, and you'll be awarded the stock in your account once it is approved. Just click on our link, download the app, and get started. On desktop enter your phone number and they'll send you a download link to get the app on your phone.
Read our comprehensive Public app review.
Get your free stock bonus with Public
Groundfloor
Groundfloor is a real estate crowdfunding and investing platform where you can invest in high-yield, short term real estate investments.
With Groundfloor you're investing in short term loans for real estate investors and entrepreneurs, most of which are renovating and then flipping or renting the properties that you're investing in.
Most of the loans have terms of 6 or 12 months, and they say you'll earn on average about 10% in interest on these loans.
You can invest in these loans for as little as $10.
The good news is that Groundfloor now also has a promotion going where you can get a $10 bonus for every user you refer to the service, and you can use it to invest in a real estate project of your choice. As soon as your referral transfers money into their account, you'll both get your bonus.
Read our comprehensive Groundfloor review for more about the platform.
Robinhood
Many industry experts consider Robinhood to be among the best investing apps for beginners.
The platform offers a sign up bonus of free stock shares for a variety of companies, and you can earn even more free stock by referring other users to the platform.
After sign up, you will be offered a random free share of stock from JPMorgan Chase, Facebook, Microsoft, GE, Ford, or Energy Transfer, among others. So the value of the stock you get can vary from a few dollars to a few hundred dollars. The chances of receiving the higher dollar stocks is lower.
While you may or may not get a stock with a higher value, either way it's a nice way to jumpstart your portfolio.
Robinhood also offers tutorials and articles on how to buy stocks through its help center.
To qualify for the free stock just download the app through our link below, and sign up. You'll receive your stock within a few days and be able to claim it. That's it!
To earn additional stock just start referring your friends! They'll get a free stock, and you will as well for your trouble.
Robinhood is a great investment app to choose because they have eliminated any sort of fees and commissions, they have a zero dollar minimum balance and they have the attractive free stock bonuses as you already know!
Although the platform might be a little basic for more experienced investors, it is an excellent option for beginners, and with their site and app you can trade in stocks, fractional shares, cryptocurrencies and ETFs.
Read our comprehensive Robinhood review.
Get your free stock with Robinhood
M1 Finance
M1 Finance is an app that allows you to trade stocks commission free, similar to Robinhood.
The platform is a great choice for beginners with an easy to use interface with over 80 expert created portfolios (called "Pies") pre-built for users to invest in.
The platform is very flexible, and you can invest in a basket of hand picked ETFs, REITs and stocks, or if you prefer you can choose a pre-built investment pie.
M1 Finance also offers fractional share investments which means you can invest in fractional pieces of a single stock, in case you want to add small amounts of money to invest at a time.
The M1 Finance platform is a robo-advisor that is fully customizable, low cost and you can use it to create the exact portfolio that you need.
Your portfolio pies are constantly monitored and rebalanced as funds are withdrawn or added. You can also force a rebalance, making M1 Finance a great way to invest.
M1 Finance offers free shares and bonuses from time to time when you sign up, so you can quickly start creating your investment portfolio. There is currently a $30 referral bonus once you sign up for your account where you can give $30 to a friend and receive $30 if they sign up and fund an account.
Read our comprehensive M1 Finance review.
Get your free bonus with M1 Finance
SoFi Invest
SoFi has a wide range of products that you can take advantage of, we've written about them all in some length in our SoFi review.
They have student loan refinancing, insurance, a cash management account (with a debit card), personal loans, and more. They also now have a brokerage and Robo-advisor.
If you're looking to manage your own investments and trade stocks and ETFs, as well as for cryptocurrencies, you can begin trading with as little as $1 with SoFi Invest. You can also trade stocks and ETFs with no commission, it's free of charge. You can even buy fractional shares of stock!
Get up to $1,000 in free stock from SoFi when you download the app and open an Active Invest account. They have a "claw game" promotion where you use a "claw" to choose a game piece. Once grabbed the app screen will display a dollar amount on the game piece, which will be converted to "stock bits", or fractional shares of stock. You can be awarded anywhere from $5-$1,000 in stock, the smaller amounts having a higher likelihood of being awarded.
Get started with SoFi Invest & Automated Investing
Tornado
Tornado (formerly NVSTR) is a brokerage and investing account that offers 1-click portfolio optimization based on Nobel Prize winning research and years of institutional investing experience.
It's free to open an account with Tornado, and anyone 18 years or older in the U.S. can open an account. There is no minimum account size, so the accounts are good for just about everyone.
They currently offer a subscription-based service where you get 25 trades per month for a $4.99/month cost. That's a pretty low cost ($0.20 a trade!) and might as well be free. Trades in excess of this or outside of the subscription are $4.50 per trade, but for obvious reasons, most people stick with the subscription.
Tornado is now offering a cash bonus for new accounts. When you open your account, they'll fund the account with a random amount of cash, once the account is approved. You're guaranteed to get at least $10, and you could receive anywhere up to $1000. Their site lists the actual odds of receiving the different amounts.
The caveat with this free stock deal is that you'll need to place at least one trade within one month of opening the account to keep the reward. Cash rewards must be held in the account for 1 year, at which time they'll be eligible for withdrawal.
Use our exclusive link below and you'll be guaranteed at least a $10 cash award that you can use towards stock.
Read our comprehensive Tornado review.
Get your free stock with Tornado
Firstrade
Firstrade is a low-cost brokerage that gives you free commissions on trades and allows you to trade stocks, ETFs, options, and over 11,000 mutual funds with no hidden fees.
They have received high ratings and was listed by Kiplinger's as the #1 best platform for ETF and active investors commissions and fees in 2019.
Not only are they low cost but they also have a way for you to claim free stock. To get the stock you first need to sign up for the free service. Once you sign up you will be able to refer your friends to the service using a unique referral link that they supply.
When you friend signs up and has their account approved, you'll both be able to claim a free stock in your account.
The free stock is selected randomly and determined by an algorithm. The value will be anywhere from $3 to $200, and will fluctuate based on market movements.
You can earn up to $500 in free stocks from Firstrade.
Get your free stock with Firstrade
Moomoo
Moomoo is a trading app that allows you to trade stocks with no commissions, no minimum deposit, and no fees on things that matter, all while giving you an app that will work well for both novice investors and experts.
The app gives you comprehensive suite of trading tools, free level 2 quotes (which most apps charge for), pre and post-market trading, paper trading, and more.
You can download the app on your Android, iOS or Windows device.
Sign up through our link below and get free stocks valued up to $1,000. The only criteria are that you have to deposit at least $100 to receive the stock. Once you deposit $100 you will receive a stock valued between $4 and $200. If you deposit at least $1,500 you will get another higher price free stock valued between $10 and $1,000.
TradeStation
TradeStation is another low-cost brokerage that allows you to do commission-free stock trades, trade crypto, research trades, and more.
There are no minimums to open an account, no commissions to trade stocks and ETFs, and free real-time market data for stocks, ETFs, stock options, futures, indices, and cryptocurrencies.
The platform also has award-winning apps on desktop, mobile, and web interfaces, so wherever you're most comfortable, there's an app for you.
Once your account is approved, you'll receive $10 in free crypto. Plus you can earn more rewards when you fund your account. Deposit $5,000 and you'll get a $200 cash or crypto reward. Deposit $10,000, you'll get $500. Deposit $100,000 and you'll get $1,000.
Get free crypto with TradeStation
Stash
Stash is a micro-investing platform and bank account that allows you to invest in a risk adjusted portfolio of stocks, via ETF index funds, or via individual stocks.
You can invest as much or as little as you want since Stash allows you to buy fractional shares.
Stash has a low minimum investment, you can start investing with as little as $5.
Stash is also offering a $5 bonus if you sign up and fund your account with at least $5.
To get your bonus, just click on our link below, link your bank account and add at least $5 to your account. Once that goes through you'll get your $5 bonus added to your account. You can then use that bonus to buy fractional shares in an ETF index fund portfolio.
You can also earn earn extra stock in your account via the Stash Invest "Stock-Back" rewards program. Spend using the Stash Visa debit card at one of 11 million participating retailers (like Amazon, Walmart or Starbucks), and you'll be rewarded with a fractional share of stock in that company, or if they're not available on the platform, stock in a diversified index fund.
The beginner account does start at $1/month, so if you want you can use your bonus for the monthly fee, and then earn your Stock Back rewards to get free stock.
Read our comprehensive Stash review.
Get your free $5 bonus to buy stock from Stash
Acorns
Acorns is another investing app that will give you an account opening bonus when you sign up.
When you sign up via our link you'll get a $5 account bonus. You can use that bonus to pay for their $1/month account management fee.
Once you're signed up you can then take advantage of what Acorns calls their "Found Money" bonuses to get free stock.
Companies like Amazon, Casper, Uber, Lyft, Airbnb among others will deposit free stocks into your account when you use their service or product and spend above a certain amount.
For example, for every dollar you spend with Amazon, Amazon will invest $0.03 in stocks in your Acorns account, while Uber invests $0.50 in your Acorns account each time you use the app. Casper will put $75 in your Acorns account when you buy a mattress, while Airbnb will give you a $200 bonus if you become an Airbnb Host.
The key is to take advantage of the app to earn bonuses on spending you would have done anyway, and then take those bonuses to invest in their highly diversified index fund portfolios.
Read our comprehensive Acorns review.
Get your free stock with Acorns
Schwab
Schwab, a brokerage firm that has been around for decades has recently come out with their "Intelligent Portfolios product, which is a low-cost robo-advisor service that will allow you to invest, and automatically rebalance a portfolio of diversified ETFs with little to no input from you.
Their Intelligent Portfolios product has a minimum investment of $5,000, so you'll need to have a good initial investment. If you have a larger portfolio to transfer over ($25k+), they are offering from $100-1000 in referral signup bonuses based on the amount of your initial investment.
If you are looking for a new advisor anyway, and have a decent stash to move over, dont' forget to look into this cash bonus offer. You'll just need to find a friend or someone online who can refer you. Just don't forget that you have to make your qualifying deposit within 45 days of opening the account.
Get your free signup bonus with Schwab
Bits of Stock
Bits of Stock is another rewards app that will give you free stock for shopping at your favorite brands both online and in-store.
To get started just download the app, link a bank account, and then shop using your linked cards and you'll earn stock with every purchase at some of your favorite brands.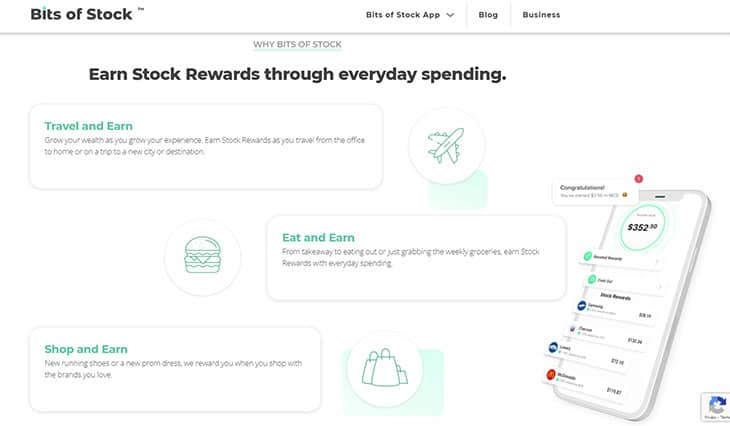 When I opened my account I got $5 in free stock for Popeye's Chicken!. After I claimed the stock it was added to my brokerage account where you can let it appreciate, or cash it out at some later date.
Nothing to lose with this one, all you have to do is set it up and then reap the rewards as you earn by shopping in-store and online.
Get your free stock with Bits of Stock
Tax Consequences Of Receiving Free Stock
If you hold stock shares in a brokerage account, you need to be aware of the tax consequences.
The most obvious of these is capital gains that apply when you sell your shares for a profit. There are two types of capital gains tax:
Short Term: This is the tax on profits from selling an asset that you've held for less than a year. This is the same as your usual tax bracket.
Long Term: This applies to profits on asset sales that were held for longer than a year. The rates depend on your filing status and taxable income, varying from 0% to 20%. However, these rates are usually lower than the short term capital gains tax rates.
You may also need to pay tax on your dividends. Dividends are typically taxable income, but for tax purposes, you need to know whether your dividends are non-qualified or qualified. Non-qualified or ordinary dividends attract the same tax rate as your regular income tax bracket, while qualified dividends are taxed at 0% to 20% depending on your filing status or taxable income.
In either scenario, if you are in a higher tax bracket, you can expect to pay more tax on your dividends. However, how and when you own your investment can change your tax bill dramatically. There are a number of exceptions and special rule scenarios that could minimize your tax burden.
The most effective way to minimize the tax consequences of your free stock is to use a long-term strategy. You're likely to pay less tax by holding the shares for over a year. This will allow you to pay the long-term capital gains rate when you sell your stock.
You can also use your investment capital losses to offset any gains. If your losses are more than your gains, it is possible to deduct the difference of up to $3,000 per year on your tax return.
Free Stocks Are There For The Taking
Everyone loves free stuff, and it is even better when your freebie is an asset that has the potential to appreciate over time.
As we've demonstrated, there are quite a few ways to receive free stock and begin your investing journey.
If you're struggling to decide which platform to use, why not try more than one and take advantage of several bonuses? Just be aware of which ones are completely free, and which ones have caveats to be aware of.
Get in now and get your free stock, before the deals expire!
Get Your Free Stocks
Open your accounts and get free stocks here:
Do you know of more companies that are offering free stock or sign-up bonuses? Tell us what they are in the comments!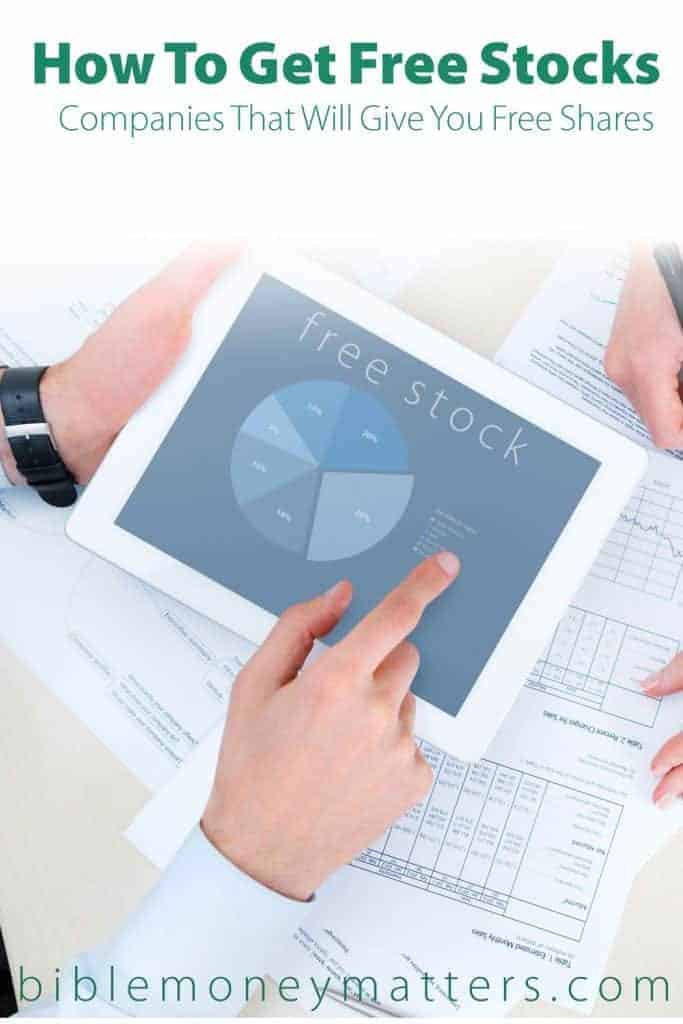 Frequently Asked Questions
Do some companies really give free stock?
Some companies will give out free stock in return for signing up for an account, making a deposit into your new account, or referring your friends and family for new accounts. They write the free stocks off as a customer acquisition cost, and for you, it's an easy way to get your foot in the door with some free shares at no cost to you.
How do I get my free stock?
How you receive free stock will depend on what company you're working with. With Robinhood for example, to get a free stock you just sign up for an account, and your free share will be added to your account within a few days. You can earn additional shares by referring friends to the service. With Webull to qualify for the free shares you just have to complete the account opening process within 24 hours for your first free stock, and deposit any amount in your account to receive a second. You can also earn shares by referring other users. Every company has different requirements.
How long does it take to get a free stock?
For most of the free stock deals you are able to get your free stock added to your account within a few days. It depends on the requirements to claim the free stock with each independent brokerage. Most of them, however, will add the stock to your account and it will be available to trade within a week or so.
How long do I need to hold the stock before I sell?
Make sure that you look at the fine print of each individual deal. Some of the brokerages will add the stock to your account very quickly and it will be available to trade or cash out immediately. Others will have other requirements in order to keep your reward, and will have a holding period during which you can't sell the stock. For example, Tornado requires you make one trade ($4.50) within 1 month of account opening, and the cash reward must be held in your account for 1 year.
What free stocks can I get?
What free stock you receive depends on the company, and what stocks they have made available in their free stock program. For example, with Robinhood you have a 1 in 150 chance of getting Facebook, Microsoft or JPMorgan Chase stock. You have a 1 in 80 chance of getting GE Energy Transfer or Ford. Free shares or stock are chosen randomly from their inventory of settled shares. Webull awards free stock at random, determined by algorithm. The value of stocks varies from $2.50-$250.