In the past couple of years I've written about quite a few startups that are offering easy ways to save and invest.
As I was doing some research on several microsavings sites, companies that allow you to save and invest small amounts of money based on your spending or other triggers, I found Acorns.
Acorns is a company that allows you to invest your hard earned money in small micro "round-up transactions", with the idea that over time your small investments of $0.50 cents here and $0.35 cents there, will lead to a much larger retirement account in the end.
Here's a review of Acorns, and a look at how they can help you to pad your retirement bottom line.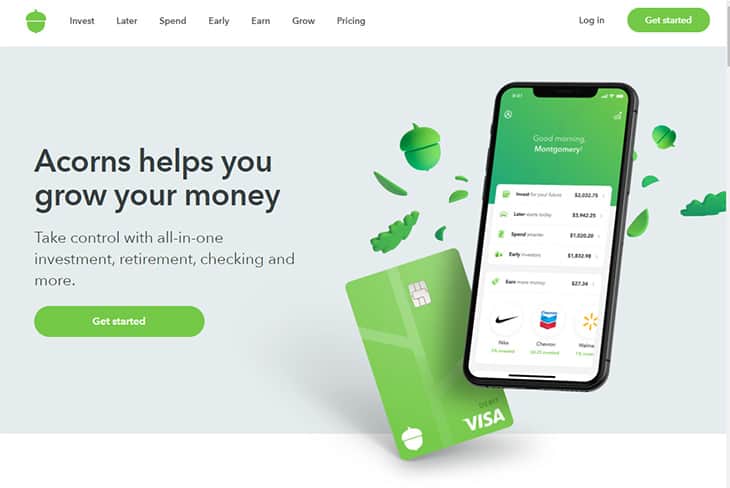 Acorns Background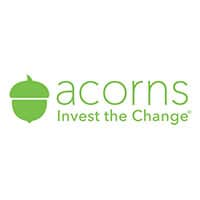 Acorns was founded in 2012 by Jeff Cruttenden and his father Walter as a way for first time investors to invest in a diversified portfolio. After receiving all of the regulatory approvals, they launched the app on July 15, 2014, and have been helping new investors get in the market ever since. Here are the details from Wikipedia:
Acorns was founded by Jeff Cruttenden and his father, Walter Cruttenden in 2012. Walter was an investment banker and had previously founded and served as CEO of Roth Capital Partners and e-offering, an investment banking firm. Jeffrey with his father worked on creating a mobile app for first-time investors to invest small automated investments from a bank account into diversified portfolios.Within less than two years of launch, Acorns opened nearly 1 million investment accounts. Acorns Grow Inc. is the parent of Acorns Securities LLC, a member of FINRA and SIPC, and Acorns Advisers LLC, an SEC registered investment adviser.
Acorns has over 4.5 million customers and over $1.2 billion in assets under management as of early 2019. So they're growing at a good clip, and look to continue that as an attractive option for newer or beginning investors.
How Does Acorns Work?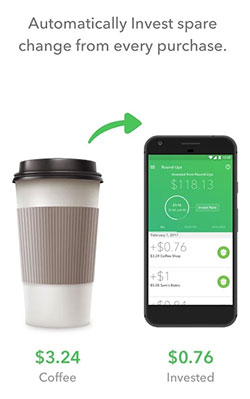 Acorns is a micro-saving and investing platform that is mainly accessed via a mobile phone app, and via their website. They have three main tools.
Acorns Invest, a taxable investment account.
Acorns Later, a retirement account.
Acorns Banking, a checking account and associated debit card that helps you to save more.
To get started you just sign up for an account, link your checking account and after verifying the account – you can start saving and investing money automatically, without any need for you to intervene.
3 Ways To Save & Invest
Once your account is all set up there are 3 different ways that you can save and invest.
Round-up savings: First, Acorns can save small amounts of money by rounding up your transactions in your main checking account. So if you spend $4.75 at McDonald's, Acorns will round the transaction up to $5 and deposit $0.25 into your Acorns round-up balance. Once your round-up balance is at least $5, the money is withdrawn from your linked checking and added to your Acorns investment account.
Scheduled deposits: You can save recurring amounts to Acorns on a scheduled daily, weekly or monthly basis. Just set the deposit amount, choose the frequency, and forget it.
One time deposits: You can make one time lump sum deposits as well. So if you have $2000 you want to invest in Acorns, you can transfer that over whenever you want.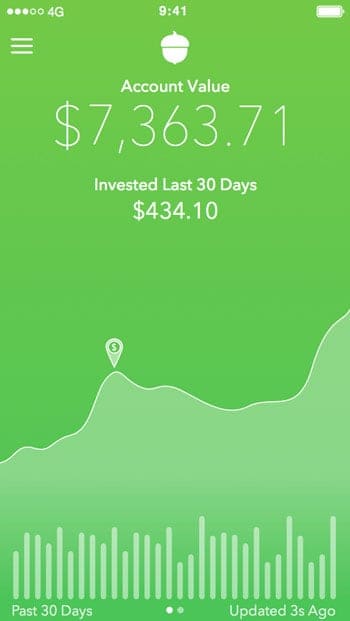 Acorns Investment Portfolios
The Acorns portfolios mainly invest in ETF index funds and were put together with the main input coming from Dr. Harry Markowitz, a Nobel Prize winner. He is commonly referred to as the father of modern portfolio theory.
Dr. Markowitz came on as a paid adviser in the early days of Acorns, and helped them to design good long-term investment portfolios based on modern portfolio theory. They also take into account user input to questions in regards to net worth, yearly income, reasons for investing, and time horizons – among other things.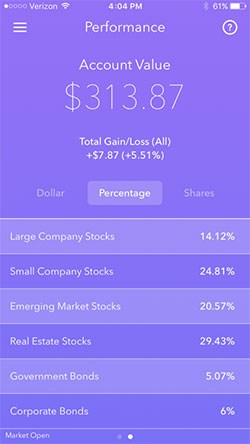 When signing up there are 5 portfolios that you can choose from:
Conservative: 35% Stocks, 60% Bonds, 5% Real Estate
Moderately Conservative: 45% Stocks, 45% Bonds, 10% Real Estate
Moderate: 60% Stocks, 30% Bonds, 10% Real Estate
Moderately Aggressive:75% Stocks, 15% Bonds, 10% Real Estate
Aggressive: 90% Stocks, 0% Bonds, 10% Real Estate
As of 2019, the following low-cost investments are in the portfolios:
Vanguard S&P 500 Index ETF (VOO)
Vanguard Small Cap Index ETF (VB)
Vanguard Emerging Markets FTSE Index ETF (VWO)
Vanguard FTSE Developed Markets ETF (VEA)
Vanguard REIT ETF (VNQ)
BlackRock iShares iBoxx $ Investment Grade Corporate Bond ETF (LQD)
BlackRock iShares 1-3 Treasury Bond ETF (SHY)
The investments are mainly low-cost Vanguard and IShares index fund ETFs, bond funds, and a real estate ETF to further diversify. The investments are meant to capture the market and keep fees low, focusing on long-term growth.
Investments can change over time, so check for current investments when you sign up.
Acorns Account Types
When you sign up for Acorns, there are three different account types that you can sign up for. We'll take a brief look at them here.
Acorns Invest
Acorns Invest is the original micro-investing taxable investment account that Acorns launched with in 2014. It takes only 5 minutes to set up an account and start investing.
The account allows you to invest your spare change in a diversified portfolio. More than $1 billion has already been invested here.
Acorns Later
Acorns Later is Acorn's retirement accounts. They'll recommend an IRA account that fits your goals. That could be a traditional IRA, a Roth IRA or SEP IRA.
Once your IRA is setup and your portfolio is chosen, you can setup recurring contributions, and invest.
An Acorns Later + Acorns Invest account is $3/month.
Acorns Banking
The Acorns checking account is a checking account with no account fees, reimbursed ATM fees and ways to earn cash bonuses that can be invested. You'll also get an Acorns Visa debit card.
When you get an Acorns checking account you'll also get the Acorns Later + Acorns Invest accounts as well. All three together cost $5/month.
Opening An Account With Acorns
Opening an account with Acorns is simple, but it is currently only available for U.S. citizens over the age of 18.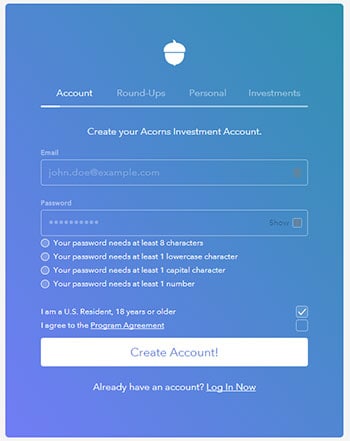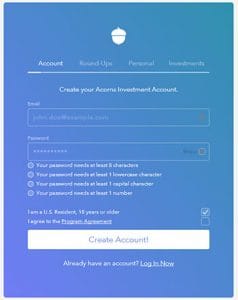 To sign up just go through this simple process:
Enter an email address and password.
Connect your main checking account. (where they'll track spending for round-up savings)
Connect your checking account (where deposits are funded from)
Create your investment account (taxable accounts only currently), including entering name, address, phone and birth date.
Enter your Social Security Number for ID verification, tax reporting and fraud prevention purposes.
Enter net worth, yearly income and your reason for investing. These are standard questions and will be used to help create your portfolio.
Choose your portfolio. Choose the recommendation or choose one of the other 4 portfolios mentioned above.
That's it!
After you verify your accounts you'll be set to start saving and investing money automatically by round-up savings, recurring deposits or one-time deposits.
Other Features of Acorns
Acorns has added other features over the last couple of years.
Found Money
The Found Money section on the Acorns app allows you to shop at Acorns partner sites like Jet.com, Blue Apron, Airbnb, Apple, Hulu, and others to be rewarded with cash back when you use a linked payment method.
So for example, if you book with Airbnb via the Acorns app and use your linked card, they'll invest up to 1.8% of your service fee in your Acorns account. Buy something from Apple via the app? You'll get 1.2% back to invest.
It's an interesting way to save and invest a little extra by doing things you might have done anyway. It's not going to make a huge difference, but if you were going to buy something anyway it's a nice bonus.
Grow Magazine – Educational Content
Acorns publish an online personal finance magazine that is geared towards millennials with advice on side hustles, credit card debt, student loans, investing (obviously), and other financial topics.
The content also appears in the app, so it's always at the tip of your fingers.
Acorns Service Fees And Minimums
Where the rubber meets the road is just how much you'll be paying to use Acorns. What are the fees and minimums for using the service?
First of all, there are no minimums in order to have an account, and you only need $5 to invest in one of Acorn's five pre-built portfolios. So the service is accessible to just about everyone. There are no trading fees either.
Free For Students
If you're a student who registers for the service with a .edu email address, you'll be eligible to receive up to 4 years of free service with Acorns.
Since young first-time investors are their target market, that makes some sense. If you're a student, why wouldn't you jump in on a great deal like this?
Low Monthly Management Fees
For non-students, you'll pay $3/month when you start investing with Acorns Invest. There used to be a 0.25% annual management fee for accounts over $5,000, but as of 2018 all accounts now pay $3-5/month for Acorns Invest products.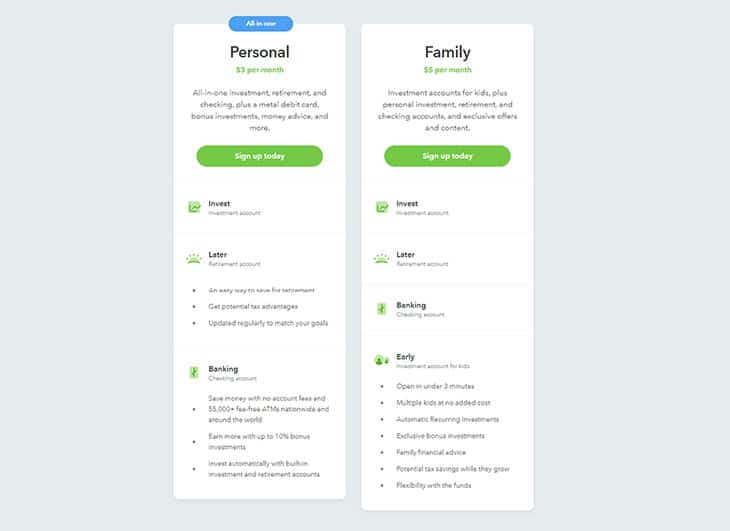 If you add on Acorns Later retirement accounts, or Later + Checking account it will be $3/month or $5/month respectively.
Acorns Personal: $3/month.
Acorns Family: $5/month.
The pricing is simple and easy to understand. No surprises. You just pay $3, or $5.
Automated Micro-Saving & Investing
I'm a big fan of all the automated saving and investing services that have popped up in the past few years. My belief is that the more automatic you can make saving investing, the more likely most people are to plan for their future and put their future first.
I love the fact that Acorns invests for the long term with an investing strategy based on Modern Portfolio theory. If you're a student, it's a no-brainer to sign up since you can get up to 4 years of the service for free.
For others, the fees charged for the service are in line with similar robo-advisors. The only caveats to my hearty recommendation are the fact that there may be cheaper options for those with extremely low account balances. The faster your balance grows, the less of an issue that becomes.
I'd also love to see them add some retirement account options in the future as they currently only provide taxable accounts.
All in all, Acorns is a great service that can help make investing easier – and more automatic. They're one of the best microsavings and investing sites out there, and I'd recommend checking it out.