For most people contributing to a 401(k) retirement plan at their workplace is the main way they're investing for the future.
Sometimes those retirement plans are easy to understand, low cost, and offer great options to invest, but other times they're confusing and complicated.
Blooom is an automated investment advisor and advice engine that can make managing your 401(k) a little bit easier.
Blooom is a robo-advisor for your 401(k). Let's take a look at who Blooom is, and what they do.
Blooom History
Blooom was founded in March 2013 in Overland Park, Kansas by three friends, co-founders Chris Costello, Kevin Conard and Randy AufDerHeide.
The idea behind the company was to help give better advice and management for 401(k) plans, for regular people.
The firm's researchers analyzed close to 90,000 401(k)s, with over $3 billion in total assets, and they found that over 80% of them were managed poorly.
That's where Blooom decided to step in.
Blooom helps people to manage their employer sponsored retirement plans. They can manage your 401(k), no matter where your plan is held, or who your employer is.
They'll give you good advice, and manage the 401(k) in your best interest, since they are a fiduciary and are required to by law.
Here's an overview of the company from the folks at Blooom:
What Does Blooom Do?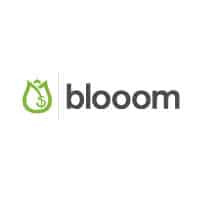 Blooom will automatically manage your 401(k) retirement account for you. It is a robo-advisor that will help you to maximize returns within your company sponsored retirement plan.
If you work for a company that has a 401(k) plan, often the company won't give you much advice on how to manage your investments, once you're signed up for a plan.
They basically tell you there's a plan, that they'll match your contributions up to a certain level, and give you a login for your account.
Simple enough. But what happens once you start contributing money? Where does that money go, and what should you invest in? What are the expense ratios on the different funds?
If you're in your 20s and just starting out these concepts can be a bit difficult to grasp, especially if you're more focused on building a career.
Blooom can step into this knowledge gap and help you to make sure your investments are aligned with your future goals.
They'll find out some basic information from you like your age, target retirement date and a few other things, and then Blooom will recommend an allocation for your portfolio.
For younger people they'll typically recommend a 100% stock allocation, and as you age the portfolio will begin to be more heavily weighted towards bonds. In other words, you'll be taking on more risk in your early earning years, and move towards more stable investments as you age. If you don't like their recommendation you can opt for a different ratio of stocks to bonds.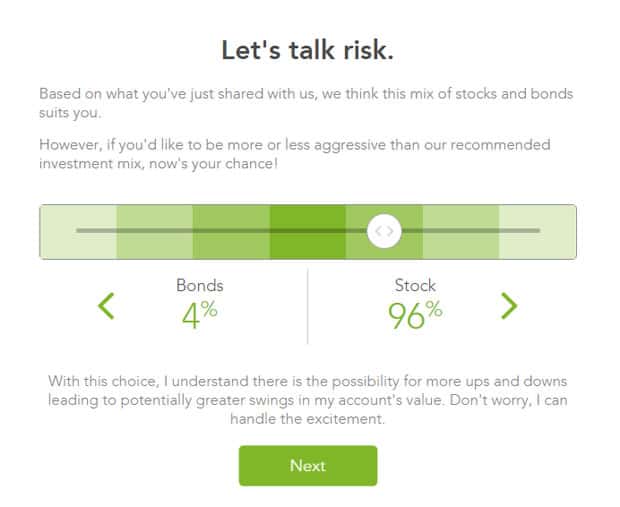 Whenever possible Blooom wil select a low cost index fund to help you meet your goals, and if you're someone who has accidentally selected high cost mutual funds, this could bring some significant savings for you right off the bat. They're looking to get you into investments that will be low cost, and track the performance of the market.
Based on their algorithm, Blooom will rebalance your portfolio every 90 days to make sure your desired stock to bond ratio is maintained. If you want to adjust your allocations, or target retirement date, you can do that at any time as well.
In addition to managing your 401(k) account, Blooom will allow users to ask financial questions from experts and real advisors. Should you invest or pay extra towards your mortgage? Should you be worried about market downturns? Ask them and they'll be happy to help.
Get Started With A Free 401(k) Checkup
Blooom offers a free 401(k) checkup before you even sign up for their services, no promo code needed.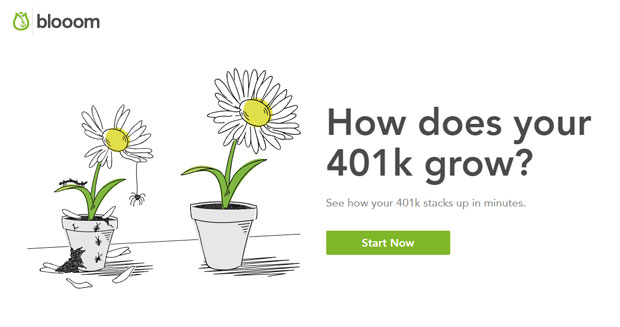 They'll take you through a quick questionnaire where they ask you for your name, date of birth and when you expect to retire.
Next, they'll ask you for an email address and password to secure your account.
Third they'll confirm that you do in fact have a 401(k), 401(a), 403(b), 457 or TSP account, and ask you to link that account.
Finally they'll analyze your retirement account, and you'll see how your account is doing, and what you might be able to do better. It will show you how you can do better with fees, with allocation, and with the diversity within your portfolio.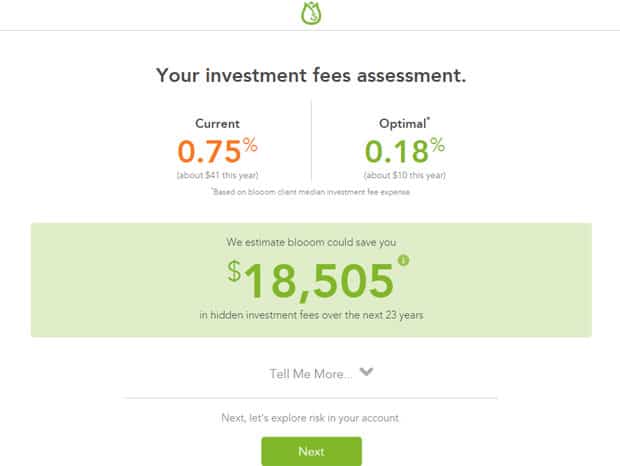 Finally it will give you a summary of your 401(k) checkup telling you just how much Blooom can save you, and how they can help.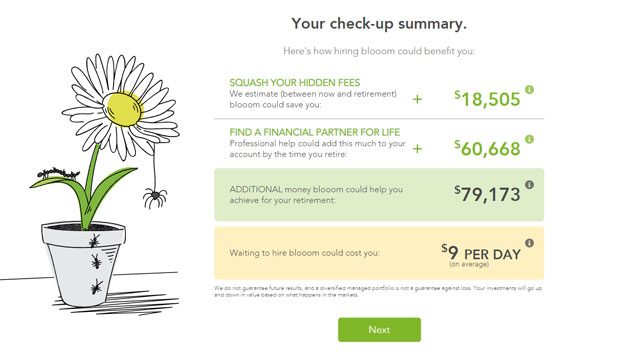 To get started with your free 401(k) checkup, head on over through our link here:
After Your Free Checkup
After your free 401(k) analysis, if you choose to continue with Blooom within 30 days they'll adjust the investments in your account so that it aligns with your goals.
the average Blooom client cuts their hidden investment fees by 44%. (Based on Blooom clients' median pre-Blooom expense ratios and median post-Blooom expense ratios as of August 5, 2018)
First they'll check your 401(k) and remove any funds that aren't worth having. They'll prioritize index funds, and typically only use actively managed funds to gain investment exposure in an area that you're light.
Then Blooom will use their algorithm to select the best portfolio based on costs and manager experience.
Any time a change is made, they'll advise you of the changes, and you'll get a full break down of what has changed with your investments, how your investments look now and how you can save more.
Finally, every 90 days or so Blooom will check your account for opportunities to rebalance your portfolio. If the investments are out of balance, Blooom will rebalance them. Regular rebalancing can add an additional 0.5% to the annual returns on investment.
What Types Of Accounts Will Blooom Manage?
Blooom only manages employer-sponsored retirement accounts at the current time. That means that you can sign up and use them if you have one of these types of retirement account:
IRAs, Roth IRAs and other taxable account types need not apply.
Blooom Security
If you're concerned about the security of Blooom, and whether or not your retirement accounts are safeguarded, they are. Here is how they're protecting your information:
256 bit encryption, bank level security: The website is secured with secure socket layer encryption, and bank level security. Their servers are secure and encrypted to ensure private online transactions.
Third party verification: They take extra measures to ensure you are really who you say you are any time changes are requested.
What Is The Cost To Use Blooom?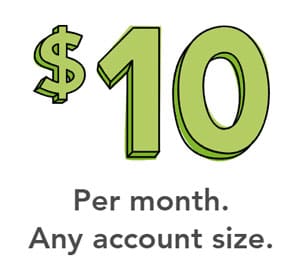 What does it cost to use Blooom?
Currently it costs only $10/month to have Blooom manage your 401(k). If you have additional 401(k) accounts to manage under the same login it is an additional $7.50 per account.
Depending on how much you have invested, the fee may be a large percentage of your portfolio, or it could be an extremely reasonable fee. Let's look at why that is.
The more you have in your 401(k) account, the better deal Blooom will be for you. For example, let's compare Blooom to the fees charged for assets under management by Wealthfront or Betterment. They both charge 0.25% annual fee for assets under management. On the other hand a human financial advisor will often charge somewhere around 1%.
Let's say you have $1000 invested in your 401(k) (not very much), then the $10 monthly fee will come out to $120/yr, or a 12% fee. That's not going to make much sense for most people.
If you have a larger account, however, say $100,000, the $10/month fee will come out to about a 0.12% fee. At $50,000 it will be a 0.24% fee.
Once you reach a certain level it's very reasonable and low cost to have your 401(k) fully managed by Blooom. The more you have in your 401(k), the more cost effective it is.
Reasons To Use Blooom
There are a lot of reasons to like Blooom, and to give them a try:
They'll give your 401(k) a free once over: Even before you pay for their service, they'll analyze your 401(k) for free, and give you some recommendations. If you don't like the recommendations, don't sign up.
Their service is unique, and helpful: They are one of the only full service 401(k) management services available, and what they're offering is helpful, and at a reasonable price.
Cancel the service at any time: There are no long term management contracts. Just cancel through your blooom account before your next billing cycle and you won't pay additional fees.
Fees are paid directly with credit or debit card: Often investment companies will take their fees directly from your investments, decreasing returns you might gain. Blooom will charge your linked card for the $10 monthly fee.
Their analysis will give insight into your plan's fees, funds: Once they analyze your plan, they'll give you insights into our investment options in the 401(k) plan that you may not have had before. Things like which funds have the lowest expense ratios.
You have access to a real advisor through email and chat: Not only will you get the automated financial advice, you'll also have access to a real person through email and chat if you have questions. It doesn't necessarily have to be about your 401(k).
Reasons To Not Use Blooom
There are a few reasons to avoid Blooom. They may not be for you if:
Have a non employer sponsored type retirement account: If you don't have a 401(k), 401(a), 403(b), 457 or TSP account, you won't be able to work with Blooom.
Don't agree with their aggressive stock allocations for younger investors: Most investors under the age of 40 receive a stock allocation of 100%. If that's too aggressive for you this might not be for you.
If your account is too small to make the fee worthwhile: If your account is small enough the fee may be too large or a percentage of your assets under management. You're probably better off managing it yourself for the time being, and working hard to max out your contributions. Sign up later.
Blooom Is The Low Cost Robo-Advisor For Your 401(k)
Blooom is a low cost automated investment advisor for your 401(k).
Most people will contribute to a 401(k), but aren't really fully aware of what they're investing in, or why. If you don't have the time or the inclination to research your 401(k), it can be like fishing in the dark. Which funds are the best for my situation?
Blooom can step in, and fill in the gap. They have the expertise, knowledge and the technology tools in order to turn your 401(k) around.
They'll analyze your account for fees, allocations and diversity of investments. They'll find ways that you can improve your investments and then help you to implement their suggestions.
In short, they'll manage your 401(k) and allow you to focus on things that are more important to you.
I would definitely recommend giving Blooom a try!
Get Your Free 401(k) Account Analysis