A week or two ago I embarked on a search to find a replacement for my old microsavings app, Digit.
In writing up a list of microsavings sites and apps that could be good alternatives to Digit, I came upon an app that was similar in some respects, but in many ways was a superior product.
That microsavings app I believe is a step above is called Qapital.
After signing up to use their app and using it to save money over the past couple weeks, I've decided to write up a full review to explain how it works, and talk about why I think it is so much better.
So let's take a look at Qapital.
What Is Qapital?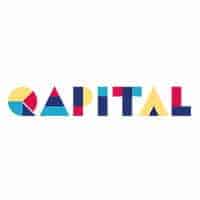 Qapital is an app for iOS and Android that allows you to save money automatically for goals, based on rules and triggers that you set.
Your spending and other life behaviors can be set to trigger micro-savings that are then automatically put aside for the goals that you create. Here's how they explain who they are, and what they aim to do.
Qapital is the leading personal finance app committed to helping everyday people achieve their goals. Founded in 2012 by George Friedman and Erik Akterin, the platform leverages behavioral economics to bridge the gap between intention and action when it comes to money management by making saving as seamless and enjoyable as spending. The app's goal-driven approach encourages users to save for things they aspire for, like a vacation, wedding, or down payment on a home, by turning everyday habits and guilty pleasures into opportunities to save –without even thinking about it. Qapital is also the only personal finance app that employs IFTTT (If This Then That)technology, allowing users save money by using their favorite apps, such as posting a photo to Instagram or reaching a target on Fitbit. Based in New York and Stockholm, Qapital is funded by investors including Northzone, Industrifonden, Anthemis Exponential Ventures, Rocketship VC, and EntréeCapital.
Qapital aims to help create positive saving behaviors based off of the ways you're already living your life. Instead of just allowing your money to disappear, they're helping you to create positive cash flow by being intentional about saving.
Here's a brief video talking about how Qapital works:
Signing Up For Qapital
Signing up for Qapital won't take you more than a few minutes. I signed up for it a couple of weeks ago before writing this review. At most it took about 10 minutes.
Get a $5 bonus added to your new account's balance by using this sign up link.
On the signup page supply your mobile number (so that you can get the bonus)
Download and install the app (iOS or Android) from the link you'll receive at your mobile number.
Enter your personal details to create your account.
Connect your checking account. (Must be a checking since savings accounts typically require 6 or less transactions per month, and Qapital will be triggering transactions more often than that.)
That's basically the end of the sign up process!
Once you've signed up it's simply a matter of setting up your goals and letting Qapital start the saving!
How Does Qapital Work?
Using Qapital is extremely simple. Once your account is setup and your checking account is linked by confirming two micro-deposits into your linked account, you just have to setup your first savings goal.
When creating your first goal the app will ask you, "What do you want to save for most?". It will ask you to choose one of the following options:
Do something
Go somewhere
Get something
Pay off debts
Just start saving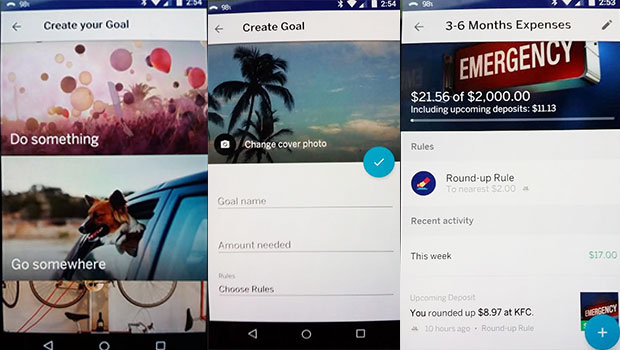 For me I chose to "just start saving", and then named my goal "3-6 Months Expenses" since I wanted to save up some money to replenish our emergency fund.
After choosing a name for your goal and adding a cover photo of your choosing (add your own or search for one online via the app), it will ask for how much you want to save for the goal. I set my first goal at $2,000.
Finally you choose the rule by which you'll be saving money. This is the trigger that happens in order for money to be moved to your savings from your checking.
The most common rule is the "round-up rule" whereby you just round up any expense on your linked checking accounts to the nearest dollar and save the difference. You can modify the rule if you want, and since I wanted to save a little more I set the rule to round up to the nearest $2. What that means is if I spend $4.20 at Starbucks, Qapital will round the expense up to $6 and save $1.80 for me in my Qapital savings account.
Though savings are being triggered constantly for a rule like the round-up rule, transfers from your checking account to your Qapital savings account happen only four times per week, Monday-Thursday. The balance showing in your goal, and the one that is displayed in the app is updated continuously as your Rules are triggered. The actual money is moved over in batches, however.
You don't have to worry about Qapital taking too much money out as they have a rule setup to help avoid overdrafts. If your linked checking balance is less than $100, they will automatically pause saving to avoid an overdraft charge. They'll keep checking to see if the balance has gone up, and if so try the deposit again. If it hasn't in 14 days, the deposit will be canceled.
Saving money with Qapital is as easy as setting up your goals, and then choosing what rules or triggers will initiate the saving. So let's take a look at those rules and triggers that you can choose when setting up your goals.
Saving For Your Goals Using Flexible Rule Based Triggers
Qapital is unique in the microsavings app space in that they allow you to save automatically based on a set of rules that trigger savings. When setting up a savings goal you can choose to save based on the following rules:
Round-up: As mentioned above this rule will save money to the nearest $1, $2, $3, $4, or $5 every time you spend money on a certain account.
Spend Less: To encourage less spending Qapital will save money if you are able to stay below budgeted spending for a certain category. For example, if you spend less than your $15 budget at Starbucks this week, the difference will be put towards a savings goal. Spend only $10? $5 will go to your savings account.
Freelancer: Every time you get a deposit in a linked account, this rule puts aside 30% towards taxes. A great rule for freelancers or folks with side business income like me!
IFTTT Integration: IFTTT, which stands for "If This Then That", allows you to trigger savings transfers by just about anything you want. You can trigger savings based on your location, things you say to your Amazon Echo or Google Home device, certain emails showing up in your inbox and more. For example you could set it to save $5 every time your phone's GPS location says you're at the gym, or every time you tell your Amazon Echo to "save five dollars". You can even set it to save every time you upload a photo to Instagram with a certain hashtag, like #savemoney. This trigger/rule is extremely flexible, and I'll talk about it more below.
Guilty Pleasure: Say you're trying to lose weight and are avoiding Wendy's. If you spend money there anyway, you can set it to automatically save some money for you. For example, for every visit to Wendy's you save $5.
Set & Forget: Set up a regular daily, weekly, or monthly scheduled savings amount. Set it and forget it.
Apple Health:This option isn't on the Android app, but on iOS you can set it to save money towards a goal if you hit a fitness target. For example, set it to save $15 towards your new wardrobe goal every time you take 500 steps.
52 Week Rule: Save $1 the first week, $2 the second week, and so on for 52 weeks
As you can see the app has a variety of ways that you can save, based on rules and triggers that you setup. It really is a cool concept, and I especially love the concept of using IFTTT triggers to save as it means you can use just about anything in your life to trigger savings.
As someone who has a lot of freelance income, I also like the "freelancer" rule. It's an easy and automatic way to save for your taxes, something that can be easy to forget to do if you don't do it automatically.
Using IFTTT Triggers To Save With Qapital
I really love the idea of IFTTT integration for Qapital as it allows you to save money based off of just about anything you can think of.
To use IFTTT you'll need to sign up for an account at the IFTTT site first of all.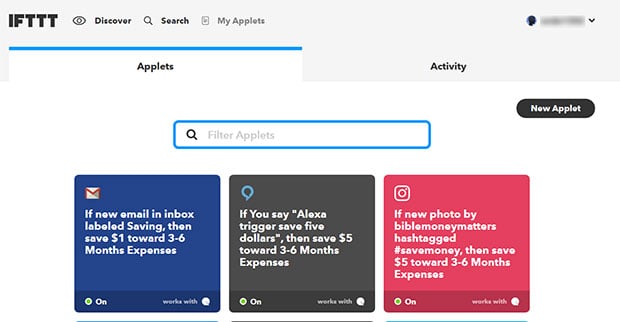 Once you're signed up at IFTTT, they have a million and one things that you can use to trigger savings transfers to your Qapital account.
Anything from social media posts, emails in your inbox to changes on your Nest thermostat can trigger savings.
Some creative ideas of things you could setup to trigger savings transfers to Qapital:
Penalize yourself for using Instagram too much by saving $1 every time you post a photo.
Use ESPN integration to save money towards playoff tickets every time your favorite team starts a game. For example, save $2 for every one of the Twins 162 games and you'll have $324 dollars saved for playoff tickets at the end of the season.
Use Yahoo Finance integration to save money to purchase another share of stock if the price of the stock decreases by 10%.
Use Amazon Echo to save money every time you say a key phrase, like "Alexa, save five dollars".
Use Weather Underground integration to save money for an air conditioner every time the temperature goes above 80 degrees.
Use Twitter integration to save money every time Donald Trump (or any other user) tweets.
Create a filter in Gmail to label emails from a certain sender or subject line as "saving" label emails. Then use Gmail integration on IFTTT to save money anytime an email labeled "saving" shows up in your inbox.
Create a virtual swear jar that is triggered by an IFTTT button on your smartphone. Every time you hit the button on your phone's home screen, money will be saved towards your virtual swear jar goal.
These are only a few ideas of things you can do, but as you can see it's pretty flexible and the things you can do are only dependent on your creativity. IFTTT integration is fun for finance geeks like me, once you start thinking of the possibilities you may find yourself spending far too much time coming up with strange ways to save like I did.
Qapital Invest
In early 2018, Qapital launched a new tool called Qapital Invest.
What is Qapital Invest? It's an investment tool that makes investing your money just as easy as they've made it to save.
Qapital Invest uses a goals based approach to investing your money, similar to how you save money for shorter term goals with Qapital.
Your microsavings deposits can now be routed to be invested in longer term goal based investment accounts where they use a low cost strategy based on modern portfolio theory.
When you sign up for Qapital Invest it will ask you what your long term investing goal is, what your level of risk is, and when you need access to the money. Then they will invest the money in a low cost, index fund heavy portfolio. It's a great feature to have! I've now got over $500 microinvested!
New Qapital Tools And Features
Qapital just released some additional new tools within their app.
Payday Divvy: This feature will split up your paycheck and assign the money as soon as it arrives in your account. For example, you could set aside money for expenses first, some money for an emergency fund, and then decide how you want the rest split up in your savings and investing goals.
Spending Sweet Spot: Find a budget for all of your weekly expenses, become mindful of where and how you're spending, and use that insight to find a spending amount that makes you happy.
Money Missions: Accept fun and meaningful challenges that were developed by behavioral economists to help you spend your money in ways that optimize your happiness.
How Much Does Qapital Cost?
Since Qapital launched a few years ago they've changed quite a bit, and they've added a bunch of new features and products to their suite of tools.
So how much does Qapital cost?
They have three pricing tiers, depending on your needs. From the Qapital site:
Basic ($3/month): For members that want to solely focus on building their savings to meet short-term goals,

Qapital

Basic offers unlimited Savings Goals with customizable, automated Rules.
Complete ($6/month): For members seeking a goal-based view of their entire financial lives,

Qapital

Complete is an all-in-one financial solution. Unlike traditional banks,

Qapital

's suite of saving, spending, budgeting, and investing tools work seamlessly together to help find the perfect balance between spending in the present and planning for the future.
Master ($12/month): For members that want an even greater understanding of their relationship with money,

Qapital

Master offers all of the tools of

Qapital

Complete, plus exclusive webinars by our

Qapital

experts and in-app challenges designed to bring mindfulness and meaning to financial decisions.
So on the basic tier you'll basically be able to save for short term savings goals. The Complete tier will add in a bunch of investing, budgeting and planning tools. The Master level adds in webinars by Qapital experts, in app challenges and more. Honestly I'm not sure I'd pay for more than the Basic or Complete packages personally.
Qapital $5 Referral Bonus
Qapital is offering a $5 referral bonus to all users that sign up for an account through my link down below.
Just enter your mobile number when signing up and Qapital will give you $5 when you open your account using that number (Yes, I will get $5 as well!).
Once your account is live you can refer new users to the service as well, and you'll earn another $5 for each one that signs up.
After opening my account I received my bonus almost immediately, so no worries about the bonus not showing up.
Frequently Asked Questions About Qapital
If you're considering giving Qapital a try, you may have some more questions about how it works. Here are some of the most important FAQ questions from their site:
How does Qapital work? Qapital automates your savings by letting you set up Goals toward the things you want and then save toward them by setting up different saving Rules. The saving Rules trigger transfers from your connected bank to your Qapital account where you can build up your savings.
What do I need to open a Qapital account? To open a Qapital account, you'll need a checking account from a U.S.-based bank or credit union. You also need to be 18 years of age or older. By agreeing to our Terms & Conditions, you certify you're 18+ and proof of age and identity may be requested by Qapital at any time.
Where does my money go when I save with Qapital? The money you save with Qapital toward your goals is deposited to an FDIC-insured account at Wells Fargo, where it is held by Qapital for your benefit. The only way to access your funds at Qapital is through the Qapital app. You can withdraw some or all of the funds in your goals back to your funding account at any time, free of charge.
How secure is this app? Your personal data is always encrypted between the Qapital app and our servers as well as between different subsystems on Qapital servers. We encrypt all communication between Qapital servers and all third-party partners.
Is my money FDIC insured? Yes. The funds in your Qapital Account are FDIC-insured and held at Wells Fargo Bank for your benefit. Qapital itself is not a bank, therefore does not have an FDIC insurance number. The funds are FDIC-insured on a "pass through" basis. This means that each individual customer's balance is protected by FDIC insurance, up to the limits established by the FDIC. Other funds that a specific investor has on deposit with Wells Fargo may count against any applicable FDIC insurance limits for that user. All funds held within Qapital are FDIC insured up to a balance of $250,000 per user.
When do you send the money to my Qapital account? We batch when we transfer money from your checking account to your Qapital account – it's sent 4 times per week, Monday through Thursday. The balance in your Goals that is displayed in the app will be updated continuously as your Rules are triggered, but the money won't be withdrawn from your funding account and sent to your Qapital savings account until those days.
How long does it take to withdraw money from my Goals? A withdrawal will take two business days. It will become available in your linked funding account on the second business day after the withdrawal was initiated. Business days do not include holidays or weekends. Since Saturday and Sunday are not business days, withdrawals initiated on Thursday will settle on Monday and withdrawals initiated on Friday will settle on Tuesday.
How does the overdraft protection work? To help you avoid overdraft fees when we withdrawal your money, Qapital pauses all deposits that will leave you with less than $100 in your funding account. That deposit will remain paused until the balance in your checking account is large enough to cover the deposit and still leave $100 in your funding account. If the deposit still can't be sent after 14 days, the paused deposit will be canceled and not tried again. Please note: when a deposit is paused, your Rules will also be paused until that paused deposit has either settled or been canceled.
Why don't you guys have a phone number? We don't have a phone number because our customer support is optimized for in-app chat and email. We read and respond to every single customer query we receive. It truly is the best way to get in touch with us, we promise!
What if I need immediate help or have a question? If our FAQ doesn't answer your question, getting in touch with our Customer Success Team is easy. You can email us at hello@qapital.com or reach us though our in-app chat. To access the chat, open the 'You' tab in the app, press 'Support' and then press 'Contact us'. We read every question and email and promise you'll get an answer from a real, live person every time.
Their site has answers to additional questions as well, and I'm sure they'd be happy to answer any other questions you may have at their email above.
Qapital – A Powerful And Flexible Savings Tool
Qapital is a flexible short term savings tool that has quickly become an integral part of our financial toolset. With the addition of Qapital Invest they can be great for saving for long term goals now too.
The app allows you to save money in small amounts that you don't miss, and over time those small amounts grow to larger savings and investment account balances.
Throw in the ability to get creative with just how and why you're saving with IFTTT integration, and it becomes just about the perfect tool. I'd highly recommend giving Qapital a try
Sign Up For Qapital & Get Your $5 Bonus!