If you are a self-directed investor, who primarily invests in stocks, options, and exchange-traded funds, Robinhood may be the investing app for you.
Robinhood offers commission-free trades in all three asset classes. And if you like to invest in cryptocurrency, Robinhood has you covered there too.
Not only can you buy and sell cryptocurrency on the platform, but you can do it commission-free as well. Compare that to cryptocurrency exchanges that charge fees for buying and selling, and even for holding a currency in between.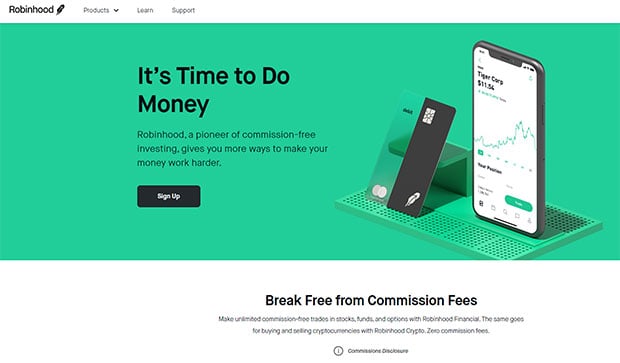 Who is Robinhood?
Robinhood was launched in 2013, pioneering the concept of commission-free trades. It was and is designed primarily for experienced investors who don't require the depth of tools and customer support offered by large, well-established brokerage firms.
The platform is designed mainly as a mobile app but is also available in a web version. It offers limited investing, primarily in US-based stocks, exchange-traded funds, and options. But what is perhaps the most interesting twist is that Robinhood is one of the very few investment platforms that allows you to trade cryptocurrencies.
The Robinhood app has more than 5 million installs and has a rating of 4.5 out of five stars from users at both Google Play and the App Store.
The investment app is owned by Palo Alto, California-based Robinhood Markets, LLC, which has a Better Business Bureau rating of "B" on a scale of A+ to F.
How Robinhood Works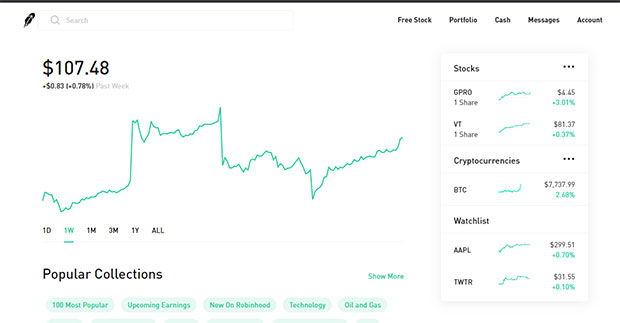 Minimum initial investment: $0 on most accounts, including on Robinhood Gold accounts (which have a $5/month fee). If you are trading on margin there is a $2,000 minimum, but that can be turned off.
Account types available: Taxable brokerage accounts only, no retirement accounts, custodial accounts, or trusts.
Available investments: More than 5,000 stocks, including most US-listed stocks and exchange-traded funds (ETFs), options contracts for US-listed stocks and ETFs, cryptocurrencies (Bitcoin, Dogecoin, and Ethereum), American Depository Receipts (ADRs) for more than 250 globally listed companies.
Exclusions include:
Foreign-domiciled stocks
Select over-the-counter equities
Preferred stocks
Tracking stocks
Mutual funds
Bonds and fixed-income trading
Foreign exchanges
Geographic availability: In all 50 states and Puerto Rico, the platform may also be available to US military personnel stationed abroad.
Clearing agent: Clearing by Robinhood handles clearing, trade settlement, and account custody. Until recently, Robinhood did use third-party clearing agent services. But they found they could reduce fees even more by creating their own clearing agent.
Trading hours: You can begin pre-market trading at 9:00 am, and extended trading two hours after market close, until 6:00 pm, with all times being Eastern.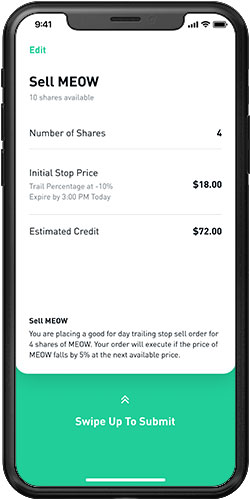 Mobile App: The Robinhood app is available on the App Store for all iOS (including Apple Watch) devices, 11.0 and newer. Also available at Google Play for Android devices 6.0 Marshmallow and newer. The app isn't specifically supported on either iOS or Android tablets, though it may still work through the mobile app.
Customer service: Limited to email only. There is no direct phone support.
Is Robinhood Safe?
With a new investing platform, it's important to ensure that your money is safe and that it's not a scam.
As a broker regulated by the SEC, all accounts with Robinhood are covered by SIPC insurance up to $500,000 in cash and securities, including up to $250,000 in cash. The coverage is to protect against broker failure, not losses due to market factors.
The app also uses two-factor authentication to provide greater security for your account. When you sign into your account, you'll receive a prompt for an additional code, which will come from a text message sent to your mobile device.
Your data is secure with Robinhood. Your password is hashed using industry-standard BCrypt hashing algorithm and never stored in plain text. Sensitive details like your Social Security Number are encrypted before they're stored. Mobile and web applications are secure and communicate using Transport Layer Security (TLS) protocol.
As a broker, Robinhood is regulated by FINRA. You can find more details about them on the Broker Check site. Robinhood on Broker Check.
Robinhood Trading Platform
Though Robinhood has limited functionality when compared to major brokerage platforms, it does offer most of the tools and features the typical investor will need. That includes placing market, limit, stop, stop limit, and trailing stop orders.
Once again, trading is commission-free and takes place in real-time.
The app also provides advanced notification of scheduled events, like earnings reports, dividends, or splits.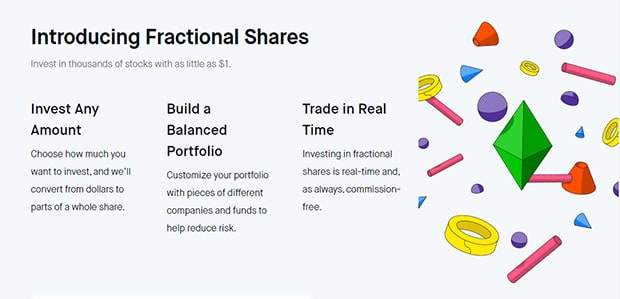 Robinhood also allows you to trade fractional shares, as small as 1/1 millionth of a share. However, for a stock to be eligible for fractional shares it must be worth a minimum of $1 per share and have a total market capitalization in excess of $25 million. One of the major advantages of fractional shares is that they will enable you to build a diversified portfolio without a large account balance.
One of Robinhood's specializations is options. The platform gives you the ability to execute sophisticated strategies, like iron condors, straddles, strangles, and other trading techniques.
Robinhood Snacks. This is "daily dose of financial". You get a three-minute newsletter with fresh takes on the financial news.
Robinhood Gold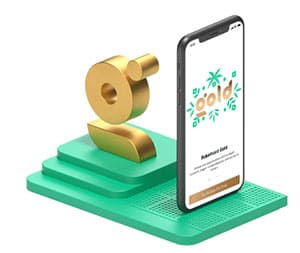 Robinhood Gold is a premium plan option that gives you a higher service level. For example, you can get in-depth stock research reports on 1,700 stocks through MorningStar, as well as Level II Market Data, providing multiple bids and asks for any given stock that helps you buy or sell at the best price.
Robinhood Gold also provides larger instant deposits. You can get access to $5,000 to as much as $50,000 when you make a deposit, depending on your account balance. And you'll also have access to margin investing, enabling you to add leverage to your investing activities.
The service is free for the first 30 days, after which you'll pay $5 per month. Your first $1,000 in margin is included in your subscription price. But if you use more than $1,000 of margin you'll pay 7.75% yearly interest (rate is variable and can change at any time). But while margin is available with Robinhood Gold, you're not required to use it to maintain the account.
Robinhood Cash Management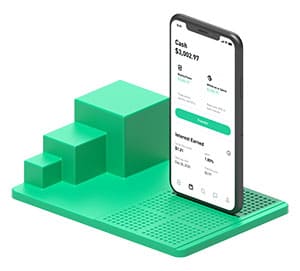 Robinhood Cash Management provides you with an option to earn interest on at least part of your investment. The account is currently paying a 4.65% annual percentage yield (APY) (APY is variable and can change at any time), and also comes with a customized debit card offered by Sutton Bank. The ATM card will give you access to more than 75,000 fee-free ATMs across the country. The account also gives you access to Apple Pay, Google Pay, or Samsung Pay.
Robinhood Cash Management will require approval, and may not be available to all investors.
The FDIC protects Robinhood Cash Management accounts for up to $250,000 per depositor. There are no account minimums, no transfer fees, and no foreign transaction fees.
Those not enrolled in Robinhood Gold can still earn up to 1.5% in interest on uninvested brokerage cash once enrolled in cash sweep.
Robinhood Crypto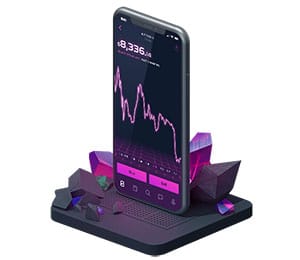 If there is one feature that sets Robinhood apart from the competition, this is it. You can buy and sell crypto currencies 24 hours a day, seven days per week, and do it completely commission-free.
It's currently available to buy and sell Bitcoin, Bitcoin Cash, Ethereum, Litecoin, and Dogecoin, and will eliminate the need to invest in these digital currencies through a cryptocurrency exchange.
Be aware however that cryptocurrencies are not covered by SIPC or FDIC, and will therefore involve a higher degree of risk than other asset classes.
Robinhood Pricing & Fees
As described throughout this review, Robinhood charges no fees to trade stocks, options, exchange-traded funds or cryptocurrencies. There are also no monthly service fees, or other charges that sometimes appear with traditional brokerage accounts.
So how does Robinhood make money if they don't charge any fees? The company earns most of its revenue on the monthly fees charged through the Robinhood Gold program, as well as on the interest charged on margin accounts with more than $1,000 in margin.
One major advantage, unlike a lot of services that charge no fees, is that Robinhood will not subject you to advertising of affiliated service providers. This is a common revenue-generating technique by free providers, and one that Robinhood doesn't participate in.
Current Promotions – Get Free Stock
Robinhood offers a refer-a-friend and affiliate program, through which you can earn free stock.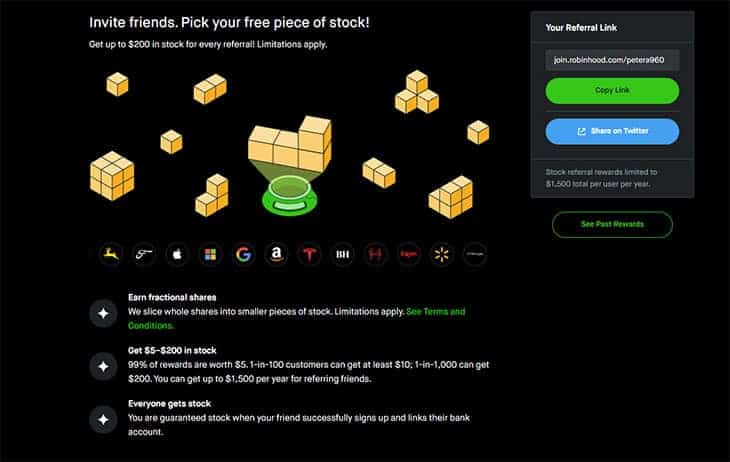 When you refer a friend, both you and the friend can earn a free stock. Once the friend's application is approved, both your account and the friend's account will be credited with the free stock.
100% chance of getting a free stock: When you sign up, you are awarded a surprise stock in your account.
No money needed: You don't need any money in your account to get your free stock. When you sign up for Robinhood, you receive a free stock with a value ranging between $5 and $200.
You could get up to $200: You can earn up to $200 in stock in the following companies: AAPL, AMZN, BRK.B, CVX, DE, DIS, F, GOOGL, HON, JNJ, JPM, KO, LLY, MCD, MSFT, NVDA, PG, TSLA, WMT, XOM.
Through multiple referrals, you can earn as much as $1500 per year in free stocks.
Get free stock: Click this link to use my referral and enjoy your free share of stock!
How to Open a Robinhood Account
To open an account with Robinhood you'll need to meet the following requirements:
Be 18 years or older.
Have a valid Social Security number – a taxpayer identification number is not acceptable.
Have a legal US residential address within the 50 states or Puerto Rico, though exceptions may be made for active US military personnel stationed abroad.
Be a US citizen, US permanent resident, or have a valid US visa.
To sign up for an account, you'll need to complete the information required on four screens. The first asks for basic information, including your name, email address, and the creation of a password.
Next, you'll need to enter your phone number and complete address. You'll also need to indicate if you or a member of your immediate family is a director, 10% shareholder, or senior officer of a publicly traded company, or if you or an immediate family member is employed either by Robinhood or is associated with a member firm of a stock exchange or FINRA.
In the following screens, you'll need to verify your identity, and indicate the funding method for your account. It's an easy process to open an account.
Robinhood Pros & Cons
Pros:
Zero commissions on stocks, options and ETFs.
Robinhood is one of the very few brokerage services to offer trading in cryptocurrencies.
There's no minimum initial investment required.
The platform offers pre-market and after-hours trading.
The use of fractional shares enables you to build a diversified portfolio even with a small account balance.
Robinhood is rolling out its Cash Management program that will enable investors to earn high interest on a fixed-income account, alongside other investing activities.
Cons:
The commission-free aspect of the Robinhood service isn't as attractive as it used to be, now that most major brokerage firms have eliminated commissions on stocks, options, and ETFs.
Robinhood has a limited selection of investments – they don't offer mutual funds and bonds.
No IRA option is available.
Customer service is extremely limited (email only, during regular business hours).
Should You Invest With Robinhood?
There are two types of investors Robinhood is particularly well designed for. The first are sophisticated investors, who are looking for commission-free trading, limited to stocks, options, and ETFs.
The second is those interested in investing in cryptocurrencies. At the moment, Robinhood is alone among investment brokerage firms offering cryptocurrencies. And not only do they offer them, but you can also buy and sell them commission-free. Otherwise, you'll need to trade them on dedicated cryptocurrency exchanges that charge fees for both trades and custody.
If you're looking for commission-free trades, free stock, and the ability to buy fractional shares (with no commissions), Robinhood is worth a second look.
Open your FREE Robinhood account