If you're looking for a mobile trading app with no minimum initial investment, no trading fees, and plenty of technical analysis tools, you'll be interested in Webull.
Since it's a new stock trading app, it does have limited trading options. But the trading platform is highly intuitive, and a good choice for experienced investors.
The company is also offering a generous promotion package, particularly on larger accounts. (see details below).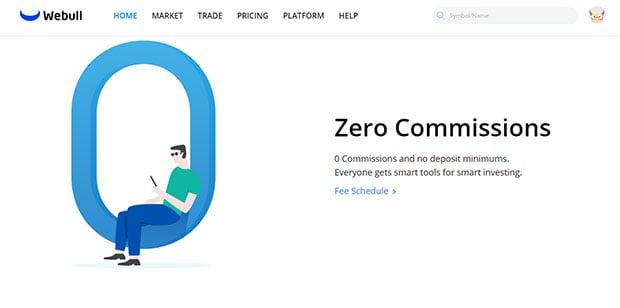 Who is Webull?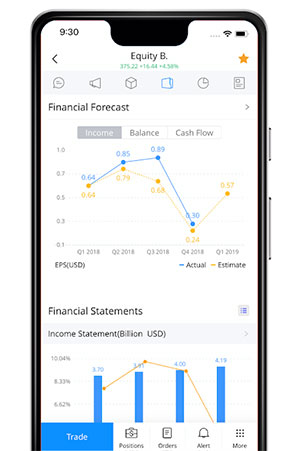 Founded in 2017, launched in 2018, and based in New York City, Webull is a mobile stock trading app that offers platforms on mobile, desktop and web for google chrome. The platform provides completely free trading in thousands of stocks in ETFs, with plans to roll out options trading in the near future.
Webull specifically targets more advanced traders, particularly technical traders, as it offers a wealth of tools for technical analysis.
The mobile app can be downloaded at Google Play for Android devices and at The App Store for iOS devices. The platform is also available on web via google chrome.
No money is required to open an account, but there is a $2,000 minimum for margin accounts to access leverage and shorting, and $25,000 for unlimited day trading.
The company is privately owned, and funded by venture capital. But it already has more than 10 million users.
How Webull Works
Minimum initial investment: $0 for a Cash Account, or $0 to $25,000 for a Margin Account, depending on features and functionality you want access to.
Account types available: Individual taxable accounts and traditional, Roth, and rollover IRAs.
Available investments: Stocks and exchange traded funds (ETFs). Webull indicates options trading is coming soon. You cannot trade foreign stocks, however you can invest in foreign companies through American Depositary Receipts (ADRs).
Geographic availability: All 50 states and outlying US territories.
Clearing agent: Apex Clearing.
Trading hours: Regular market trading hours, as well as pre-market hours (4:00 am to 9:30 am) and after-hours (4:00 pm to 8:00 pm), all times Eastern.
Mobile App: Available for both Android and iOS mobile devices.
Customer service: Support can be contacted by e-mail, live help in app and by phone.
Account protection: Provided by the Security Investors Protection Corporation (SIPC) for up to $500,000 in securities and cash, including up to $250,000 for cash. There is additional insurance provided through Apex Clearing for securities and cash up to an aggregate of $150 million, subject to maximum limits of $37.5 million for any one customer's securities, and $900,000 for anyone customer's cash.
Webull Accounts
Webull offers two types of accounts, Cash Accounts and Margin Accounts. Cash Accounts are regular trading accounts, and do not permit you to use margin.
As the name implies, Margin Accounts enable you to borrow for the purpose of investing. There are some limitations and benefits based on the amount of equity you have in a Margin Account:
For account balances under $2,000 you're limited to no more than three day trades within five business days. However, you're not permitted to use leverage or shorting with this account balance.
For account balances between $2,000 and $25,000 you can also make up to three day trades within five business days, with 4X leverage on day trades, and overnight borrowing power up to 2X. This account balance range also permits short sales.
On account balances over $25,000 you'll get unlimited day trading as well as short sales. This account size also comes with 4X leverage on day trades, and overnight borrowing power up to 2X.
Webull offers individual taxable accounts as well as IRAs. However, they do not yet offer joint accounts, custodial accounts, or trusts.
The Webull Trading Platform
Webull offers trading in more than 5,000 US listed stocks and ETFs. They also offer access to initial public offerings (IPOs) to investors from underwriters before the stock is listed.
There are major limitations of the types of investments offered. Webull does not offer mutual funds, bonds, options, over-the-counter stocks, forex or futures. But if you mostly trade in individual stocks and ETFs, that won't be an issue.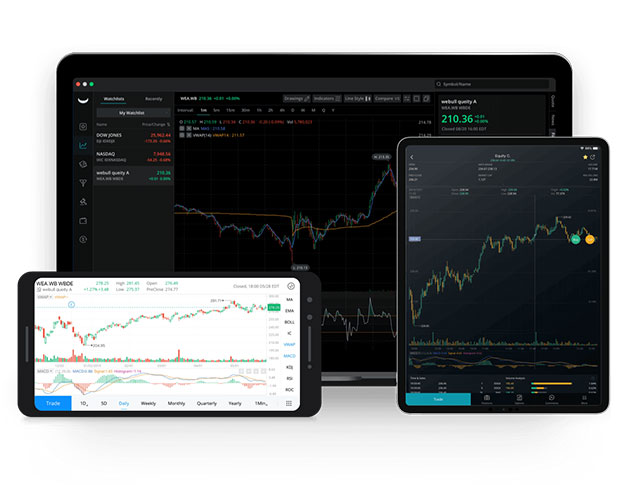 The platform does permit trading in penny stocks subject to the following minimum price limitations:
Less than $0.01, not permitted.
$0.01 to $0.099, minimum quantity 1,000 shares.
$0.10 to $0.999, minimum quantity 100 shares.
Greater than $0.999, minimum quantity, one share.
The platform accommodates market orders, limit orders, stop orders, stop limit orders, bracket orders, take profit, and one-cancels-other orders.
The trading platform provides watch lists, real time stock quotes and market information and stock quotes and a stock screener. They even provided an economic calendar listing upcoming IPO dates, as well as news and earnings reports on stocks held on your watchlist.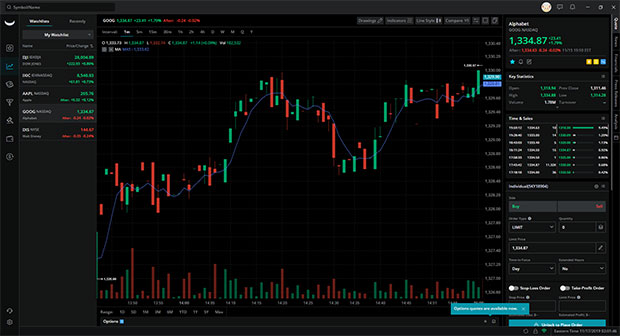 Technical analysis tools include Bullinger Bands, MACD, RSI, money flow index and exponential moving averages. You will also have access to up-to-the-minute news and press releases, revenue data, insider positions and transactions, a customized watchlist, and historical earnings per share.
Webull does offer a paper trading platform that will enable you to sharpen your investment skills before you begin trading with real money. And though the platform is designed primarily for experienced investors, they do offer training courses, including one for day traders.
Webull Pricing & Fees
There's nothing but good news on the fee front. Webull has zero trading commissions across the board. There aren't even any deposit or withdrawal fees if your account is connected to a US bank account.
If you trade ADRs, a fee of between $0.01 and $0.03 per share will apply.
Market interest rates are as follows:
$0 to $25,000 – 6.99%
$25,000.01 to $100,000 – 6.49%
$100,000.01 to $250,000 – 5.99%
$250,000.01 to $500,000 – 5.49%
$500,000.01 to $1 million – 4.99%
$1,000,000.01 to $3 million – 4.49%
Over $3,000,000 – 3.99%
As is the case with all brokers, there are certain fees charged by regulatory agencies as follows: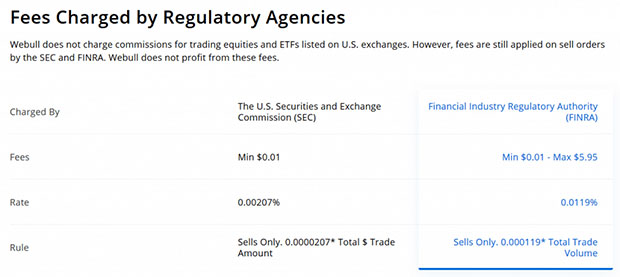 Current Promotions
Webull is currently offering a promotion where you can get free stock when you open a Webull account and make a deposit.
Free Stock Promotion
Here's what you need to do to get your free stock.
Fund your account with $100 or more within 30 days of opening it, and you'll receive a free stock valued up to $1,600.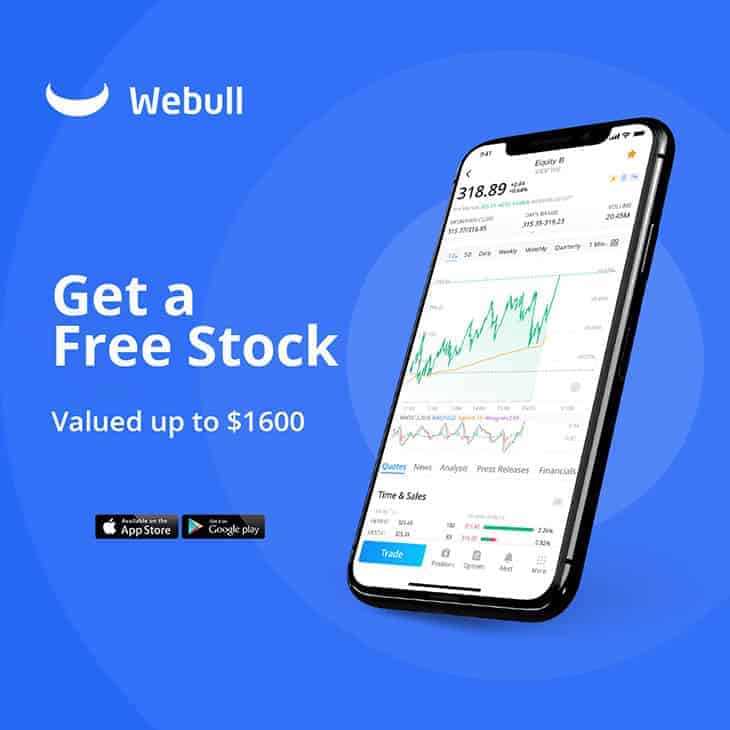 Webull will also reimburse up to $100 in transfer fees for an initial account transfer of $2,000 or more.
How To Open A Webull Account
To open a Webull account, you must meet the following qualifications:
Be 18 years or older.
Have a valid Social Security number.
Have a legal residential address in the US and outlying US territories.
Be a US citizen, US permanent resident, or have a valid US visa.
The sign-up process can be completed in minutes, and approved in under an hour. You'll need to link a US-based bank account to make transfers into and out of your account.
Webull Pros & Cons
Pros:
No-fee trading.
Up to 4X leverage on day trades, and overnight borrowing power up to 2X.
Generous sign-up bonus that includes up to $1,600 in free stock.
Designed for experienced traders, particularly those who favor technical analysis.
Offers margin trading, day trading, and short sales.
Webull provides a paper trading platform that will help you learn the Webull system and improve your trading skills.
Cons:
New trading app (about 1.5 years old) still developing and adding new features and investments.
Limited trading platform that does not accommodate foreign stocks, over-the-counter (OTC) stocks, mutual funds, bonds, options, futures or Forex. Webull also does not accommodate fractional shares.
Account types are limited to individual taxable accounts and IRAs. Joint accounts, trusts and custodial accounts are not available yet.
Webull accounts are not available to non-US residents.
Should You Open an Account with Webull?
Webull is a good choice for a self-directed, experienced investor and especially one who favors technical analysis. It's also a natural choice for anyone who engages in margin trading, short sales, and day trading.
The platform is currently designed to be primarily for trading stocks and ETFs (though options are reportedly in the pipeline soon). Since it doesn't offer other investments, like mutual funds, options, bonds, real estate investment trusts and other common investment types, it may be necessary to maintain an alternate investment or trading account along with Webull.
Webull is less suitable for inexperienced investors, or for anyone who wants to have all their investments in one place.
But Webull is a relatively new trading platform, having been launched only in the spring of 2018. The platform has made considerable progress since its launch, and promises more upgrades in the near future.
If you'd like more information, or you'd like to open an account, visit the Webull website via the link below.