As the economy and the stock market continue on their downward slide saving money is becoming more important for families across the country. We've all probably heard a lot of the conventional tips on how to save money – like not eating out as much or cutting back on personal fun money, but there are other less conventional ways that you can save money.
Today I thought I'd list a few of those. While you may not want to try all of these, hopefully this post can serve as a reminder that there are always ways to find more money (or make more money) in your budget.
10 Weird And Unconventional Ways To Make Money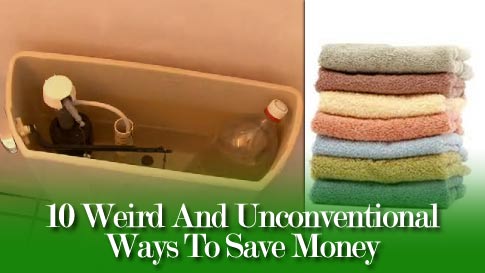 10 Not So Normal Ways To Save Money
When you're looking for ways to save, these ideas may not immediately come to mind first, but rational people are doing these things to save money.
Stop using toilet paper (and/or other paper products): Yeah, I know, great way to start the list – by telling people to stop using toilet paper! While this idea is admittedly not for everyone (including me!), there are plenty of people forgoing traditional toilet paper in favor of what they call "family cloths". Basically you just buy a bunch of extra washcloths at the store for cheap, and then use those for wiping instead. Then you set up a small pail of water with bleach solution in it, to place your used cloths. Just pour the bucket into the wash, spin out the liquid and then wash with hot water and bleach. Also save money by opting to use non-paper products. Skip the use of paper plates, paper napkins, etc.
Flush using less water: Some people will save a few dollars a month by flushing using less water in their toilets. To do that they'll place a capped jug filled with sand or rocks in the back of their toilet tank, displacing enough water in the tank to save 10 or more gallons per day of water. Over an entire year that can mean savings of $90-100. Use in conjunction with the first tip to save even more!
Dumpster diving for food and other useful items: This is another one that I'd probably avoid mostly because of embarrassment and/or concerns about food safety. There is a whole community of folks online, however, that like to brag about what things they found in the trash this week. People will furnish their entire homes, and create entire meals from things found dumpster diving. It's best to be careful on this one, however as sometimes dumpster diving can be illegal in certain areas, or when dumpsters are on private property.
Make your own home products: A lot of people are starting to make their own home products, everything from shampoo and dish detergent to mouthwash and fabric softener. There savings you see from making your own products ( many of which are essentially the same or better than store bought) can be pretty big!
Forgo having a car: For many people this might not be feasible if they live a long ways from their place of employment, or if there isn't public transit available, but many people are living without a vehicle in order to save on gas, insurance and car payments. Options to replace having a vehicle include riding public transportation, carpooling and cost sharing as well as biking to the place you need to go. There are also creative ways to get rid of the need for a car, like ordering groceries online, renting a car short term if you really need one, or riding a taxi. This way to save money works best, however, if you're living in a urban center with lots of public transportation options.
Buy your groceries farm direct: Often you can buy your groceries direct from the source, or go in with a co-op group to purchase vegetables and other groceries in bulk direct from local farms.
Live in a smaller house (or even a tiny one): These days people more often will talk about wanting to move into a bigger house with more amenities and space. Be counter-culture and move into a smaller house that is simpler, costs less and has less expenses associated with it. Pay it off before you move in! Many folks are even deciding to lessen their impact on the environment by living in a tiny house. While I might not go that extreme, it is an option.
Roast and brew your own coffee: My brother opened my eyes to the fact that you can roast your own coffee and save a ton of money. Coffee costs have gone up in excess of 90% or so in the past year. Roasting your own coffee can save you a ton of money. Just buy the green coffee, buy a cheap new or used popcorn popper and follow tutorials you can find online.
Never buy new. Buy everything used or secondhand: Some folks will refuse to buy anything when it's new – instead opting to buy things when they're gently used or a year or two old. You can find just about anything used on Craigslist or ebay nowadays – anything from an Xbox 360 to a car. Buying used will save a ton of money!
Don't use subscription services, or ask for price reductions on current services: If you can help it avoid using subscription services like cable TV, cell phone service, newspapers, magazines and lawn mowing service. Instead opt for free alternatives online, do it yourself, buy pre-paid services or buy things only when you really want or need them. If you need a certain service ask for a price reduction, or consider switching services to save.
So there are a few ways to save money in less than conventional ways. While I won't be doing all of these – or even most of them, I'm sure to do one or two.
Do you have any weird or strange ways of saving money? Any that you would avoid at all costs? Tell us about them in the comments!