A blogging buddy of mine, J. Money from Budgets are Sexy, gave me an invite to sign up for a new company that aims to make saving money easier and more automatic.
The company is called Digit.co, and they're an online and FDIC insured savings account that helps you to save regularly, without feeling a pinch. The account automates the savings process and makes it painless by taking small amounts from your checking, and transferring them to a Digit saving account throughout the month.
Today I thought I would do a in-depth review of Digit, talk about what they do, and do a quick walk-through as I sign up for the service.
UPDATE: Check out my Digit.co and WiseBanyan automatic saving and investing challenge here.
Digit.co History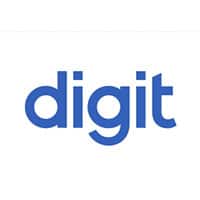 Digit.co was launched as a beta program back in August of 2014 by founder Ethan Bloch. It quickly received 2.5 million in seed money, led by Baseline Ventures but also including Freestyle Capital, Upside Partnership, Google Ventures, and Operative Capital.
Founder Ethan Bloch talks about how he came up with the idea for Digit in a recent interview:
I have been obsessed with personal finance since I got my first bit of cash at my Bar Mitzvah. I invested most of this money and by age 15 I had seen my net worth triple and then go to $0.00, thanks to the Internet and telecom bubbles. This early experience of managing my own money set me on a lifelong journey in search of the truths underlying the financial realm. Once my first company Flowtown was acquired I had the mental space to arrive at a question I found no one else was asking: "How could we help people maximize their money, while at the same time driving the amount of time and effort it takes to do so as close to 0 minutes per year as possible." This question eventually led to a prototype that automatically assessed your cashflow and put money aside when it thought you could afford to and not feel it.
So Digit was conceived to help people maximize their money, while keeping the time investment to a minimum. I like it.
How Does Digit Work?
So how does Digit work? When you connect your checking account to Digit, it analyzes your income and spending, and finds small amounts of money it can safely set aside for you.
Every 2 or 3 days Digit transfers some money from your checking, usually somewhere between $5-$50, to your Digit savings account. Automated savings!
If you're worried about Digit accidentally transferring too much money, put your mind at ease. Digit never transfers more than you can afford, so you don't have to worry about overdrafting. They actually have a "no overdraft guarantee" that states they'll pay any overdraft fees if they accidentally overdraft your account. Of course you can stop the automated savings at any time as well.
Here's a video giving a quick demonstration of Digit:
Signing Up For Digit
Invite only service
Digit was an invite only service at one time, but now anyone can sign up. Sign up through our link here.
Signing up for a Digit account couldn't have been easier. It was a quick 3 step process that I completed in about 5 minutes.
First, Go to Digit via this invite link, and enter your full name, email address, and password.
Next, enter your mobile phone number. (The site's features work primarily via text message)
Link your existing checking account to Digit.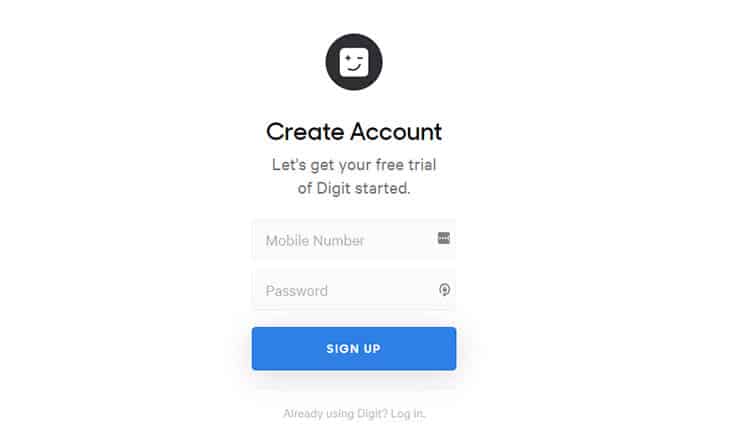 As mentioned, Digit will link to your checking account in the last step in the process. I know some folks have qualms about providing login credentials for third party services, but Digit is secure, anonymized and encrypted – as well as being FDIC insured up to a balance of $250,000, so your money transferred over to the Digit savings account is safe. No worries.
Digit In Action
Digit will automate transfers to your savings when it feels you can afford to do it. You can log into your account to view your total amounts saved, dollar amounts for recent transfers, average savings transfer amounts and more.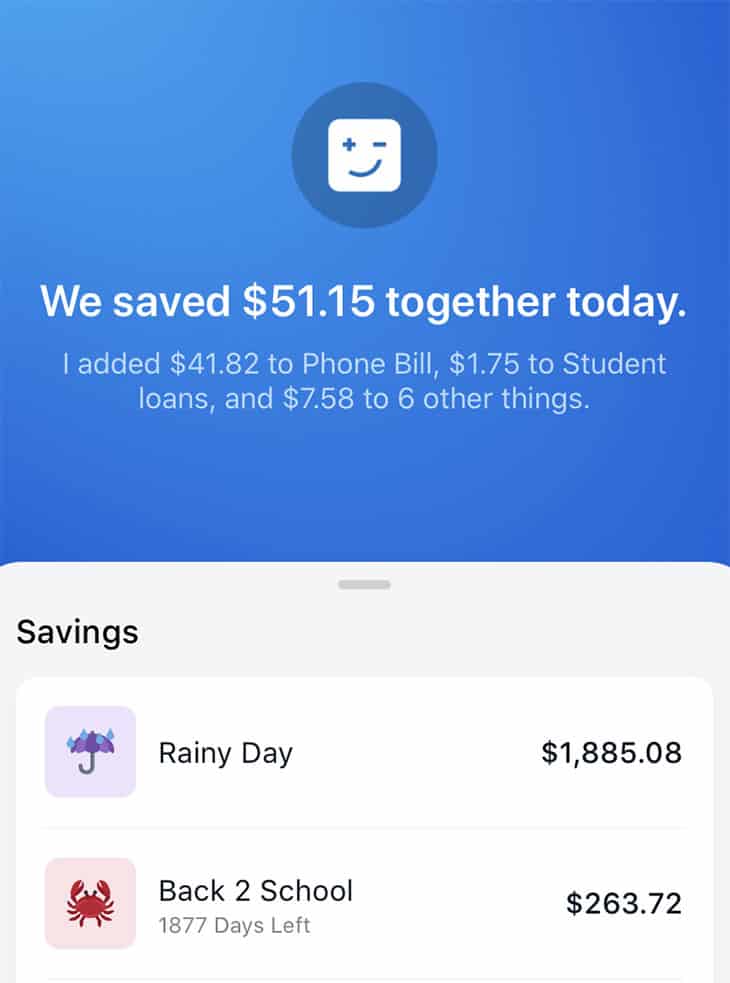 Using Digit Via Mobile Texts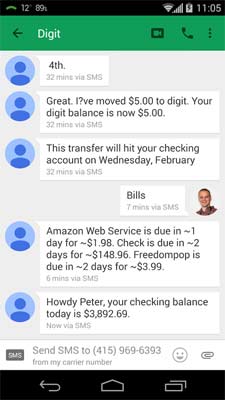 In addition to logging in and checking your account, you can also use Digit via your mobile phone to do a variety of functions including checking balances, transferring money to savings, viewing upcoming bills and more. Here are a few of the text messages you can send to Digit – and receive a reply:
savings: view your savings balance.
balance: view your checking balance.
recent: view your recent checking transactions.
bills: view upcoming bills.
withdraw: make a withdrawal from your Digit savings.
save: move money to your Digit savings balance.
pause: pause automatic saving.
settings: adjust my programming.
commands: view all possible commands.
It seems to work pretty well, I've used the text prompts to transfer money to Digit, as well as check balances and upcoming bills. Seems pretty seamless.
Features and Functionality
Automated Saving – Digit analyzes your spending and saves the perfect amount every day.
Unlimited Goals – Save for a vacation, an emergency fund, or anything you can think of. Set as many goals as you like, and Digit will get to work.
Automated Debt Payments – Digit will save for and automatically pay down your credit card debt.
Overdraft Prevention – Digit sends money to your checking if your balance dips below a certain amount.
1% Savings Bonus – Digit automatically rewards you for saving.
Unlimited Withdrawals – There's no limit to how many times you can pull from Digit, and you can upgrade to instant when you need it.
Overdraft Reimbursement – The fee is on us if Digit saves too much.
No Account Minimums – You can leave as little or as much as you want in Digit.
Frequently Asked Questions About Digit
Still not sure about Digit? Here are some of the frequently asked questions (and answers) from their site.
How does Digit work? Every few days, Digit checks your spending patterns and moves a few dollars from your checking account to your Digit account, if you can afford it. Easily withdraw your money any time, quickly and with no fees.
What makes Digit different than a recurring bank savings transfer? Digit automatically figures out when and how much is safe to save based on your lifestyle. Digit doesn't require you to figure out an arbitrary amount to transfer every month.
Is Digit safe? Yes. Digit uses state-of-the-art security measures. Your personal information is anonymized, encrypted and securely stored. All funds held within Digit are FDIC insured up to a balance of $250,000.
Does Digit cost anything? Digit was free when it launched, they would make money via interest on your deposits. Since then they changed their model and started to charge a $5 monthly fee.
What is the Digit no-overdraft guarantee? We believe so strongly in our math and the ability to safely identify money you don't need that if we overdraft your account we'll pay the fee.
Where is Digit currently available? At this time, Digit supports over 2,500 banks and credit unions within the United States.
Does Digit work with banks located outside the United States? Unfortunately, Digit is U.S.-only right now. We have hopes to expand internationally in the future.
Do I need a savings account? No. When you signup for Digit you get your own Digit account which will hold any Digit savings until withdrawn. Any funds held in your Digit account are FDIC insured up to a balance of $250,000.
How do I access my Digit savings? You can withdraw your savings 24/7/365 and as many times as you want per month. Just text Digit 'Withdraw' if you'd like to move money from Digit to your checking account.
How does Digit make money? We are able to offer Digit as a free service because any interest earned on your savings funds our operations. We plan to offer ways to get a return on your savings in the future. UPDATE: 4/11/17 Digit now charges a $5 monthly fee.
What should I do with my Digit savings? Some of our users have started a fund for emergencies, splurged on a trip, or paid down debt. You can also move your savings to other accounts (for investments or retirement) as often as you wish.
Have other questions? We are always here to answer them. Please feel free to go to http://digit.co/help or email at help@digit.co.
Digit – A Good Idea For Those Who Need A Nudge To Save
Digit is an interesting idea that I think could help a lot of people. These days far too many folks just spend down their checking account every month, to the point that they feel they can't save anything. With Digit, saving money becomes automatic, it becomes just another one of those miscellaneous expenses that tend to drain our accounts every month. But instead of draining the account, it helps to slowly fill up a savings account – so that you'll have the money available later on. It could be a great way to build up an emergency fund if you're trying to dump debt!
Is Digit for everyone? Maybe not. Their biggest downsides at this point is that you don't earn any interest on savings deposits (beyond a quarterly 1% bonus), and that they have now added a monthly fee – which may be a deal killer for some.
The automatic savings, and psychological boost it can give you (see, I CAN save!) may be more than worth it for some. Plus, if you want to start earning interest on the money, you can always periodically transfer it back to your checking, and then out to an interest-bearing account of some kind.
Check out Digit via the link below.
Start Saving Automatically With Digit