A couple of years ago I discovered an app and savings account from Digit.co that allowed you to automatically save small increments of money over time in order to reach a larger savings goal. It was a pretty cool idea, and I really liked the tool, up until they started charging a $2.99 monthly fee for the product recently.
When they started charging a monthly fee I started looking for alternative microsavings sites and apps, tools that would allow me to save towards specific savings goals, without needing very much interaction from me.
One site that kept coming up as one of the best automated saving tools was Dobot.
What Is Dobot?
Dobot is an easy-to-use financial app for iOS or Android that helps you to save money for all of your most important goals.
You set up savings goals in their beautifully designed app, link the app to your existing checking account, and then the app can save money automatically for you based on their algorithm. There's no need for you to intervene or manually transfer funds. Here's how they explain it: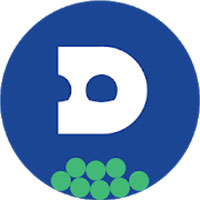 Dobot helps you save by visualizing your goals and then makes saving easy by automating it. After you connect your checking account, the algorithm goes to work analyzing your spending patterns to calculate "safe savings amounts" that ensure you have enough to meet your spending needs while still saving. Every few days, Dobot will move small amounts of money into your savings. And if you want to add more money, you can transfer funds directly into your Dobot savings whenever you want. It's that easy.
Dobot is a budgeting tool in a sense, it allows you to plan for and save for your goals all in their app. It helps you to create a plan and put it into action.
It sounds simple, and it is to a degree, but it's amazing how simple ideas like this – actually planning for and automating your savings – can actually be so powerful.
Signing Up For Dobot
Signing up for Dobot is a quick 5 minute process. I know because I signed up for it before writing this review.
Get a $5 bonus to your new account by using this sign up link.
On the signup page supply your mobile number (so that you can get the bonus)
Download and install the app (iOS or Android).
Enter your personal details to create your account.
Connect your checking account. (Dobot can connect with more than 9,000 banks across the country. If your bank isn't one of them, you can contact support to see when and if it can be added.)
That's basically the end of the sign-up process!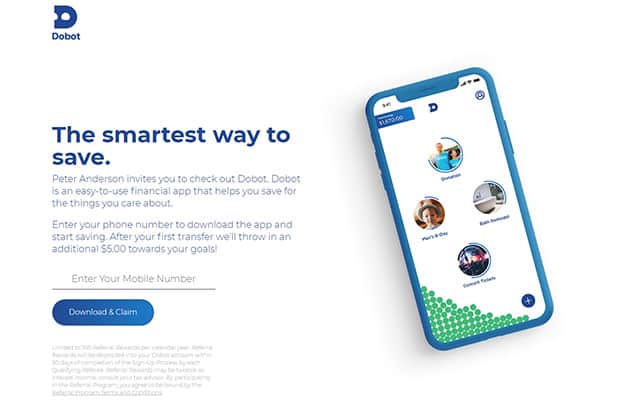 Once you've signed up it's simply a matter of setting up your goals and letting Dobot start the saving!
How Does Dobot Work?
Using Dobot is extremely simple. Once your account is setup and your checking account is linked, you just have to setup your first savings goal.
I signed up for Dobot myself, and took it for a spin. Here's a video showing how it works:
Savings Goals
To setup your goal just click on the plus button in the app's home screen, and setup your new goal.
Tell the app what you're saving for, how much you need to save, and when you want to have it saved by. You can also add a photo of your goal (which they recommend since they say it makes you more likely to save).
When you're done just click "create goal" and your new goal will be saved in the app.
To test out the app, and to save for our own goals I setup 2 goals. One for an emergency fund that we're replenishing, and another for a car we're planning on buying next year.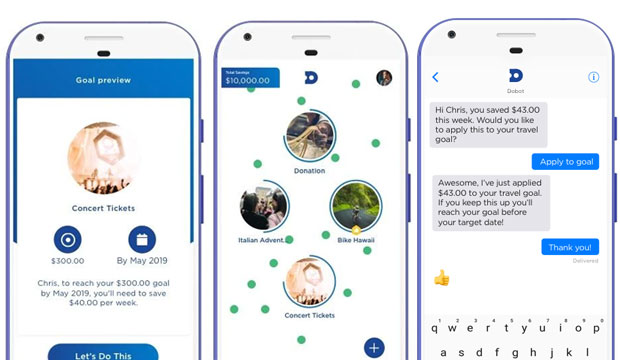 So now that I have two goals setup, we're ready to start saving!
Turning On Automated Savings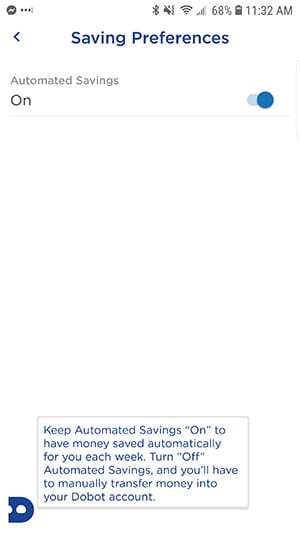 Once your savings goals are setup, you'll also want to make sure that you have "automated savings" turned on in your account. Automated savings is what allows the app to take advantage of Dobot's proprietary algorithm to save money safely and automatically each week, without your intervention.
Just go to your the "account" link at the bottom of the app, and then click on "saving preferences". Once in that screen just make sure "Automated Savings" is toggled "on".
If you decide not to turn automated savings on, you'll be limited to transferring deposits into your account manually in order to fund your goals. You can do manual transfers at any time if you decide to. Just click on your account balance in the top left of your home screen, and then click on "Transfer money to Dobot".
Saving For Your Goals – In Action
Once you've setup your savings goals and turned on automated savings it's a matter of sitting back and allowing Dobot to do it's work. It will regularly check your account's balance, determine if it's safe to save, and if it is it will move money over to your savings account.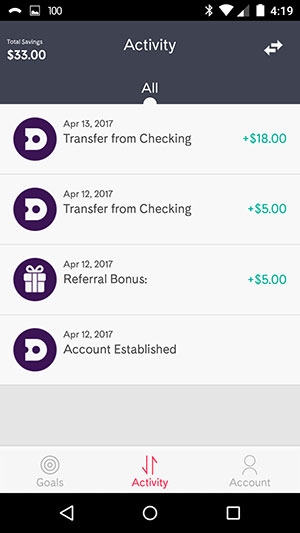 Once the money is moved over you can allocate the money towards your individual savings goals. You don't have to worry about Dobot taking too much money out as they have a no overdraft guarantee.
When I first opened my account I transferred $5 into the account to start it off, and also received a $5 referral bonus (see about the $5 bonus below to get yours!). Over the next few days, Dobot transferred more money automatically into my Dobot savings account, without my intervention.
Once the money is transferred into your savings account you're able to allocate it to your savings goals. Just click on your account balance in the top left of your home screen, and then choose the "Add Money To Goals" option. Then you can allocate the money how you would like, adding whatever amount you want to whichever goal you want. So if you have $20 sitting unallocated in the savings account, you could choose to allocate $10 to one goal and $10 to another goal, for example.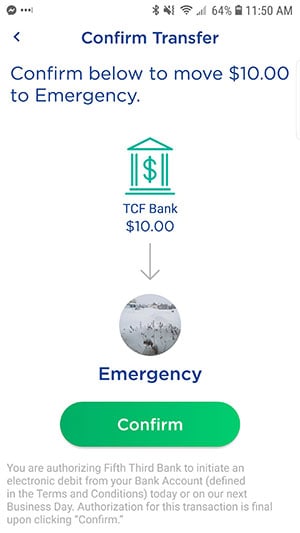 $5 Referral Bonus
One thing to take advantage of while it's still available is the $5 referral bonus that Dobot is offering.
If you sign up through my link down below and enter your mobile number, it will give you $5 when you open your account (It will also give me $5 as well. Thank you in advance!).
Once your account is live you can then refer other users to try out the app as well, and earn $5 for each user referred. It's an easy sell.
When I signed up, the $5 bonus showed up in my account almost immediately.
Frequently Asked Questions
If you're considering giving Dobot a try, you may have some more questions about how it works. Here are some of the FAQ questions from their site:
What is Dobot? Dobot is a free, easy-to-use financial app that helps you save money for the things that matter most.
What should I use Dobot to save for? Anything you want! Whether you're saving for vacation, planning a wedding, building an emergency fund or boosting retirement savings, your Dobot financial goals are only limited by your own imagination.
Is Dobot safe? Yes, very. We use bank-level security to anonymize and encrypt your personal information before it's stored on our secure servers, and we never store bank account log-ins. Your Dobot savings is kept in a bank with all its inherent protections and is FDIC-insured up to a balance of $250,000.
Does Dobot charge fees? The app is free to use.
How do I know how much money has been saved? The Transfers tab in the app displays a complete list of transactions into and out of your Dobot account. You will also receive weekly text messages highlighting your savings activity. You can also text Dobot at any time to receive your account balance.
Can I get updates without opening the app? You bet. Text Dobot at "(720) 575-2805" and use the following commands: Savings – view your Dobot savings balance. Activity – view your 3 most recent transactions. Save 10 – to save $10 (or any amount). Tip – receive helpful insights about your financial health. Joke – just in case you need a laugh
Do I have to use the automatic savings feature? No.
Can I add or withdraw money anytime? Of course. Just tap Dobot (top left corner of the app) to view a menu, then select the option you need. Follow the prompts, and with the push of a few buttons your money will be where you need it to be.
How long does it take to add or withdraw money? Banks usually take 2-3 business days to send money out, so your Dobot savings may include pending transfers. Once the funds arrive, however, they are immediately available to be withdrawn. If you request a withdrawal before 3pm PT, your funds will typically arrive in your checking account the next day.
What are the requirements to use Dobot? You need to have a checking account from a U.S. financial institution. You also need to be 18 years of age.
How do I connect my checking account with Dobot? It's easy. Download the app or sign up here. Then create your Dobot account, establish your goals (don't forget to add photos!), and connect your checking account. Note that for certain banks you will need to provide your routing and account numbers, so have your checkbook ready.
Which banks connect with Dobot? Dobot connects with over 9,000 banks in the United States. If you are unable to find your bank when connecting, tweet or email us with your bank's name and we'll let you know when it becomes available.
Can I use Dobot if I live outside the US? Unfortunately, Dobot is only available to U.S. residents with a U.S. bank account at this time.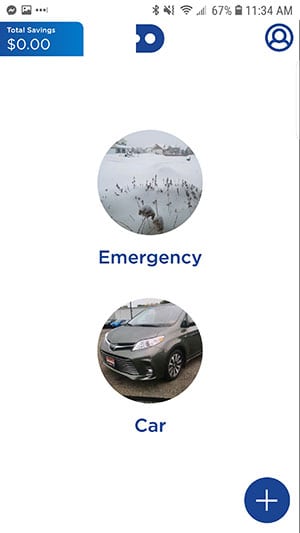 The Dobot App – A Useful Tool To Save Money For Your Goals
I've only been using the Dobot app for a short time now, but I can already see it's potential as a powerful saving and budgeting tool.
Not only does it seem to be a cheaper replacement for Digit, but in some ways I actually prefer Dobot as it makes saving for goals much easier. It gives you the ability to setup multiple savings goals with hoped-for completion dates, save automatically and do manual transfers as well. It's a complete product.
The only other things I'd like to see in this product right now are possibly some additional ways to save money, beyond the automated savings. It would be nice to see things like round-up savings (where you round up all spending and save the difference), scheduled savings, and even possibly some rule-based saving where you save money based on financial spending behavior.
So far I love the app, and I highly recommend giving it a try. The worst that can happen is you'll be $5 richer!
Sign Up For Dobot & Get Your $5 Bonus!