Over the past couple of years there has been a proliferation of automatic savings accounts and tools from companies like Digit, Dobot, Qapital and Chime. Their tools allow you to automatically save small increments of money over time in order to reach a larger savings goal.
I love the idea of automating savings in order to take the human element out of it. Too often if we're left to our own devices we forget to save, or find "better" uses for the money.
One thing I don't like, however, is when I have to pay a fee to save my own money. I used to use Digit.co, but dropped them when they started charging a $2.99 monthly fee. I then started using and enjoyed Dobot, but they also started charging a fee.
I've kept my eyes open for alternative microsavings sites and apps to use, tools that would allow me to save towards specific savings goals while making the process automatic – and free.
One tool that has popped up onto my radar this past month is the "intelligent savings account" from Rize Money.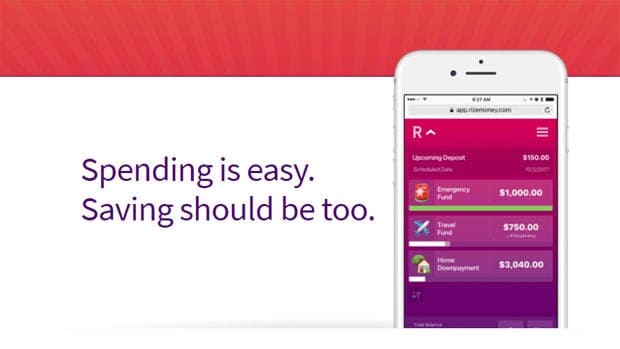 Sign Up For Rize & Get A $5 Bonus!
What Is Rize Money?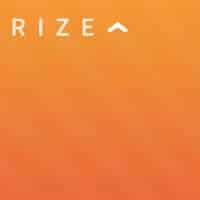 Rize Money is a microsavings account that was launched in early 2017.
At this time it's only a website, but the site is very mobile-friendly. They say they have plans to launch an actual app later in 2017.
So what's the idea behind this microsavings site?
Spending is easy. We thought saving should be too. That's why we built Rize – the only savings account you'll ever need. We made saving simple, so you can spend your time working towards the things you care about. The Rize team is comprised of investors, advisors, and leaders with extensive financial backgrounds. Our collective experience is what makes us unique and exceptional at what we do, which is help you save! At Rize, we believe that saving leads to a fuller and happier life.
So they want to make saving simple, automatic and easy. Just how easy is it? Well, let's take a look at the signup process.
Signing Up For Rize Money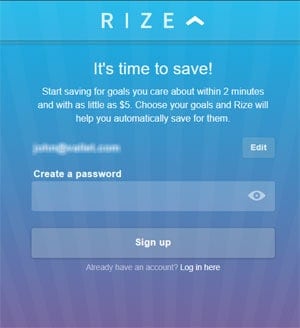 Signing up for Rize only takes 2 minutes according to their site. I can confirm it's close to that because I signed up for an account before writing this review.
Use our Rize Money signup link and you'll get a $5 bonus just for opening your account!
On the signup page supply your email address and create a password.
Enter your personal details to create your account.
Setup your first savings goal.
Connect your checking account.
Choose what you want to pay (Yeah, that's right. You can pay nothing, or a dollar or two. Your choice!).
That's basically the end of the sign up process!
Since I have a credit freeze placed on my credit report due to the recent Equifax hack, I had a couple of snags since Rize couldn't check my credit, but their customer service was top notch and worked with me to get my account setup completed.
Once you've signed up it's simply a matter of setting up your goals, and letting Rize start the saving!
How Does Rize Work?
Rize is dead simple to use.
During the account setup process mentioned above you create your first savings goal. You choose a goal name, a savings target and how much you want to commit to saving each month. Based on your answers it will give you a completion date for your goal, and you can adjust how much to save every month if you don't like the end date.
Add New Savings Goals
To setup another new savings goal beyond your first one just click on the "+" plus button on the Rize homepage, and then choose "Add A New Goal".
Rize will ask you a few questions:
What are you saving for? Enter a name for your goal. You can also choose an emoji or icon to represent the goal.
How much are you trying to save? Enter the total amount you want to save.
When do you need it by? Enter a date you want to have this money saved by.
How much would you like to save towards this goal each month? Enter how much you want to save each month for your goal. It will give you a suggested amount.

You can add as many goals as you'd like. So if you want to set one up for a vacation that's coming up, one to save for a upcoming tax bill and then one to pay for your child's braces, you can create them all and have the money automatically transferred. Easy.
Savings Power Ups
In addition to setting up automated monthly transfers to reach specific savings goals, you can enable a couple of added savings features within Rize to help you save even more money. They call them "Savings Power Ups".
Accelerate: If you turn this feature on it will help you to save a little more by automatically increasing the amount you save every month by 1%. That means over a year your monthly savings will have increased by more than 12%, without you hardly noticing!
Boost: This feature will provide small savings boosts throughout the week. It monitors your checking and when it makes sense it saves small "spare change" amounts to your account. It can save anything from pennies up to $5 or 5% of your monthly savings (whichever is lower). While your scheduled deposits will be your main savings, this power up will give your savings a little extra "boost".
Earn Interest On Your Savings
One thing most of the other microsavings sites lack is any true interest earned, which is disappointing. Most pay none, and one or two pay something along the lines of 0.10%.
Rize is different on this account.
As of the writing of this article they pay more interest than the national savings account average. They pay 1.16% APY on your balance.
Start Earning Interest With Rize!
Invest With Rize
Rize has recently updated their site and tools to allow users to not only save money towards goals, but to also invest their money as well. But what do they invest in?
We invest your goals into a set of exchange traded index funds (ETFs) to get your portfolio exposure to the entire stock and bond market. This unique balance of cash, stocks and bonds puts you on the right track of saving and investing smarter. Rize is built around goals, which allow you to divvy up your savings by different time horizons. Our automatic ETF and cash allocation for each of your goals is dependent on the specific time horizon you set.
So when you setup your goals in Rize you now have the option to leave the money in cash, or you can invest your money in a broad ETF index fund based portfolio. You choose a time horizon for your goal, and based on how long you have to invest the site will choose a specific asset allocation between cash, stocks and bonds. If you have a longer time horizon, there will be more stocks. If you have a shorter time horizon, there will be more of a focus on cash and bonds.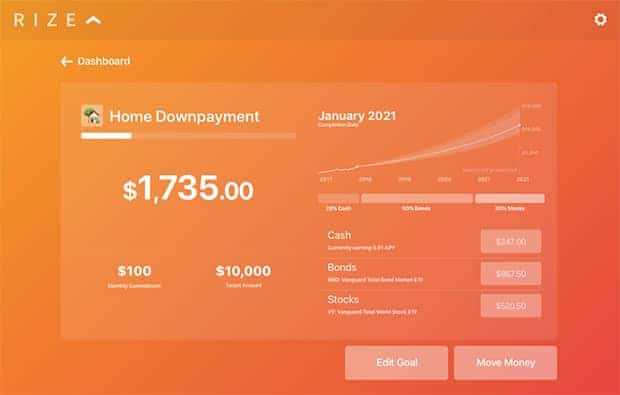 Currently it appears that they will invest your money in Vanguard Total Bond Market ETF, and Vanguard Total World Stock ETF. Vanguard is a world leader in low cost index funds, and are a good choice in my opinion.
So what does it cost to invest with Rize? You will pay a monthly minimum fee (right now the minimum is $2) plus 0.25% annually on the assets in your investment goals. To put that in perspective, if you invested $10,000 with a traditional advisor charging 1% (not all that uncommon), that would cost you $100 per year. With Rize, that same $10,000 investment would cost you $26.50.
While their annual management fees aren't the absolute cheapest option I've seen, the cost definitely isn't out of line, and are in line with many other new wave robo-advisors. It's definitely worth a look, and is a nice addition to their offering.
$5 Referral Bonus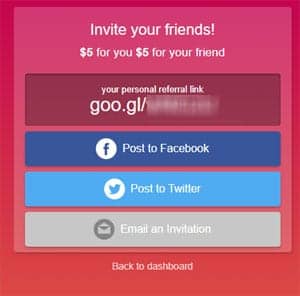 Currently Rize is offering a $5 referral bonus for new users. If you sign up through one of the links on this page, it will give you $5 when you open your account (I'll also get $5 as well. Thanks in advance!).
Once your account is opened you'll have a menu option in your account to refer other users to try out the site. They'll get $5 when they open their account, and you'll also get $5 once their account is open. It's an easy sell.
Rize Money Apps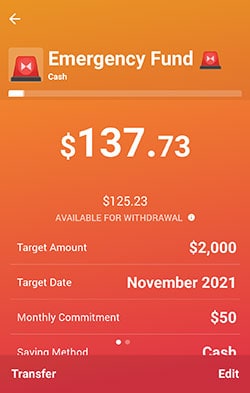 Up until recently Rize mainly was available via their online, mobile friendly, portal. In the past few months, however, they have now released apps for both iOS and Android.
I've been able to test out the Android version of the app and it works just as you hope it would.
In the app you're able to check your goals, transfer money, setup new goals, view activity and more.
With the addition of the app, it's now become a full featured product.
Frequently Asked Questions
If you're considering giving Rize a try, you may have some more questions about how it works. Here are some of the FAQ questions from their site:
How does Rize work? Rize is an automatic savings account designed to making saving simple, so you can spend more time doing the things you love. You set your savings goals and your deposit schedule, and we handle the rest. You can update your goals or savings target at any time, and easily withdraw your money when you need it. To help keep track of your savings, we will send you an update on your progress via email or text each time you make a deposit. You can also log into your account to check on your progress at any time.
Which bank account should I connect? Rize is designed to help you save before you spend. We recommend connecting your most active checking account. Your Rize savings are like a direct saving deposit right from your paycheck, so you will want to make sure you connect an account you can save from. To keep all our Rizers safe, each account will an only connect to one bank account.
Does Rize cost anything? There are no fees and no hidden costs to use Rize. We ask you to tell us what Rize is worth to you. You have the option to contribute a small amount from your savings each month to help us keep making Rize better for you. The choice is all yours.
Is Rize a bank? No. Rize is an independent savings account. We operate as individual brokerage accounts in order to increase functionality as we grow and give Rizers the best possible benefits (like our above-average interest rate).
Is Rize safe?: Yes. Your privacy and security are a top priority. Your personal information is anonymized, encrypted, and securely stored. The funds in your Rize account are SIPC insured up to $250,000.
What if I don't have enough money in my checking account? Will you overdraw my account? You hate fees and so do we. That's why we will never make a deposit into your Rize account if it will drop your bank balance below $50. We will notify you before each transfer, so you can be sure your bank account is ready. You can always pause or update your transfers at any time.
Do I earn interest? You bet! Rize is currently offering 1.16% APY on your savings, that's 17 times the national average for savings accounts. Rates are subject to change.
Can I add or withdraw money anytime? Of course. To make a transfer, click the plus button in your Rize dashboard, select "start a transfer". From here, you can make a deposit or withdrawal. To make a withdrawal, transfer your money from your goal to your checking account. Transfers may take 2-3 days to process before becoming available in your checking account.
How long does it take to add or withdraw money? You can withdraw any amount from your Rize account as often as you want, for free. You can transfer money between goals instantly, or transfer money back to your bank account in 3 to 5 business days, depending on your bank.
What are the requirements to use Rize? You need to have a checking account from a U.S. financial institution. You also need to be 18 years of age.
Which banks connect with Rize? Rize currently works with over 2,500 banks and credit unions in the United States. You must connect a checking account in order to use Rize. Debit cards, gift cards, and other mobile payment services will not be accepted.
Can I use Rize if I live outside the US? Rize is only available to U.S. residents with one of the 2,500 compatible bank accounts at this time.
Rize – A Great Savings Tool Help Reach Your Goals
I just signed up for Rize this month, but so far I'm liking what I see.
They give you simple options in order to save money automatically, based off of as many different savings goals as you want. You set the goals up, and the money will move into your savings account automatically every month. The money you save will also earn above average interest, or if you choose to invest, can grow even larger over time.
They do all this for you, and you only have to pay what you want. So if you want to try it out and not pay a thing for a few months, you can do that.
Why not give it a shot, in the end you'll be able to try the service for free, and you'll be at least $5 ahead of where you were when you started!
Sign Up For Rize & Get Your $5 Bonus!
Related Services