A while back I heard some alarming news that one of the 3 credit bureaus, Equifax, had been the victim of a hacking attack.
While it's always alarming when any company you use is hacked, when one of the credit reporting agencies themselves are attacked, it means the possibility for mischief are that much greater.
Not only do the bureaus have a large volume of data about your credit lives in their systems, they also have some very sensitive information that you don't want out there.
They have information like your Social Security Number, addresses, drivers license numbers, credit card numbers and more. All of that can be used against you for years should the hackers decide to open fraudulent accounts in your name, claim fraudulent tax refunds and more.
With so many people affected by this hack it is more important than ever to pay close attention to your credit, and protect yourself against fraud.
Today I want to look at what you can do to protect yourself, and how to freeze your credit with all three agencies so that you can avoid becoming a victim.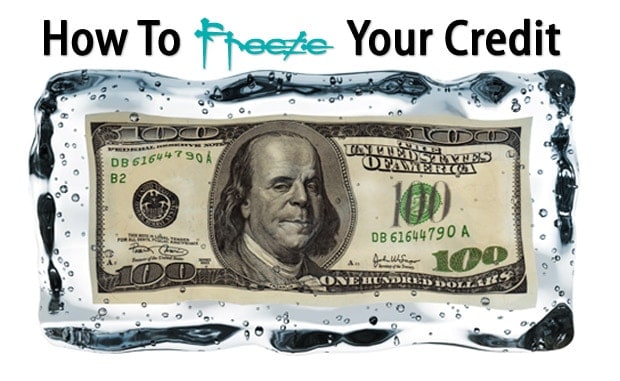 The Equifax Hack – What Happened?
Equifax announced that they had been the victim of a hack that began back in May of 2017, and continued through at least July of 2017. Information for more than 143 million american consumers was potentially compromised. From the NYTimes:
Equifax, one of the three major consumer credit reporting agencies, said on Thursday that hackers had gained access to company data that potentially compromised sensitive information for 143 million American consumers, including Social Security numbers and driver's license numbers. The attack on the company represents one of the largest risks to personally sensitive information in recent years, and is the third major cybersecurity threat for the agency since 2015.

Equifax, based in Atlanta, is a particularly tempting target for hackers. If identity thieves wanted to hit one place to grab all the data needed to do the most damage, they would go straight to one of the three major credit reporting agencies. "This is about as bad as it gets," said Pamela Dixon, executive director of the World Privacy Forum, a nonprofit research group. "If you have a credit report, chances are you may be in this breach. The chances are much better than 50 percent."

In addition to the other material, hackers were also able to retrieve names, birth dates and addresses. Credit card numbers for 209,000 consumers were stolen, while documents with personal information used in disputes for 182,000 people were also taken.
Let that sink in folks. If you have a credit report, your chances of being affected by this breach are better than 50%. That means, it is time to take precautionary measures.
How To Check If You're Affected By The Equifax Hack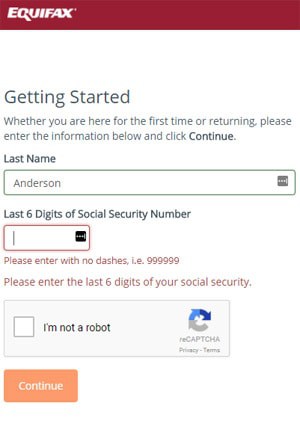 Equifax has launched a website that tells you how to figure out whether your credit was affected, and what next steps to take. To figure out if your credit file was affected, go to their website here:
The site will ask for some identifying information (including last name and last 6 digits of Social Security Number), and after you confirm you're not a robot, it will tell you if you're affected.
One thing that should be noted, Equifax at time of publication was offering complimentary identity theft protection and credit file monitoring services, but as some users have mentioned, when you sign up for the service you are required to accept their terms of service which includes precluding yourself from participating in any class actions.
Some have suggested you may be better off just implementing a credit freeze, and using an alternate free credit monitoring service. I'll mention a couple down at the bottom of the page.
What The FTC Suggests Doing In Light Of The Equifax Breach
The FTC lists some steps that they say you should take in light of a breach like the one at Equifax.
So check your credit reports for free through the government site, place a freeze on your credit, monitor your existing accounts and make sure to file your taxes early so you don't have attempted tax fraud like I did last year.
Filing A Claim In The Equifax Settlement
The FTC announced a settlement agreement with Equifax in July of 2019 for the breach. The agreement with the credit agency was for 700 million dollars.
So what does that mean for you?
If you were affected by the hack and can show how you lost money, you could be entitled to collect up to $20,000.
For most people that probably didn't happen, but even if you didn't suffer a loss, you may still be entitled to the following benefits if you were a victim of the breach:
Since I was affected by the breach, and spent a couple of hours researching and putting in place credit freezes, I claimed 2 hours of reimbursement, along with $125 for credit monitoring.
To find out if you were affected by the breach and might be eligible to submit a claim, go to
this website
.
If you find that you are in fact eligible to submit a claim, you can do that through this page on the Equifax Breach Settlement site.
The claims deadline is 1/22/2020, so claims cannot be paid out until after that date.
A Fraud Alert Vs. Credit Lock Vs. Credit Freeze
There are a few things you can do when it comes to putting a hold on your credit. You can either place a temporary fraud alert on your credit reports, you can use a credit agency's "credit lock" tool on your credit file, or you can place a permanent credit freeze (also known as a "security freeze") on your report.
A credit freeze locks down your credit so that it can't be accessed, a fraud alert allows creditors to get a copy of your credit report as long as they take steps to verify your identity.
A credit lock is a relatively new feature offered by the credit agencies that is similar to a credit freeze, but it allows you to turn the lock on and off via an app or website. The problem is that it doesn't offer as many legal protections as a credit freeze, which has protections mandated by law, while a credit lock often comes baked in with arbitration agreements, and more. If choosing between a credit lock and credit freeze, opt for the credit freeze.
For fraud alerts, there are three types of fraud alerts you can get. An initial fraud alert which is good for 90 days, an extended fraud alert of 7 years for victims of identity theft, or active duty military fraud alerts, for those who want to protect their credit while on active duty or deployed.
A fraud alert is free to put in place, and once you place a fraud alert with one company, that company must tell the other credit reporting agencies. If you're not sure you want to place a complete freeze on your credit, putting a fraud alert on your account now might be a decent, albeit less effective, alternative.
Place A Fraud Alert
How To Freeze Your Credit
Let's say you don't just want to place a fraud alert on your credit file since creditors can still access your file. If you want to do a complete lockdown on your credit and restrict access to your credit report altogether, you can put in place a credit freeze.
A credit freeze will not affect your credit score, and won't keep you from getting new credit accounts as you can temporarily lift the freeze to get new credit. It simply restricts access to your credit report unless you give notice to allow access.
Freeze Your Credit For Free With The Big 3 Credit Agencies (And 1 Additional Agency)
To freeze your credit, go to each of the agencies and fill out their forms. It's now free to do.
In the past freezing your credit was not typically free with the three big agencies. A freeze could cost between $5-10 in most cases.
As of Sept. 21, 2018, however, freezing your credit is now free in all 50 states as is mandated by federal law.
Once you place your credit freeze the credit reporting company may send you a confirmation letter containing a unique PIN number or password. Keep that PIN in a safe place as you'll need it to lift the freeze in the future.
Lifting A Credit Freeze
A credit freeze will remain in place until you ask the credit reporting agency to temporarily lift or remove it. Once you make the request to lift a freeze the new law mandates that credit freeze be lifted in less than 1 hour. Just to be careful, however, you may want to plan ahead and lift the freeze a few days in advance just in case something happens.
If you're lifting the credit freeze because you're applying for credit or a job, you can often find out which reporting agency the business will contact, and lift the freeze only with that company to save money.
Always Monitor Your Credit
When it comes down to it, you're the best person to be keeping tabs on your own credit. And if you get a little help doing it via a credit monitoring service or government site, so be it.
Have you placed a credit freeze or fraud alert on your credit report? What was your reason for placing a freeze?