Savvy shoppers have gotten away from clipping coupons and instead rely on apps on their smartphones to save money. (Of course, some people do still clip coupons, but others don't see the need when there are so many ways to save money with your smartphone!)
One cash back app that is extremely popular is the Dosh app.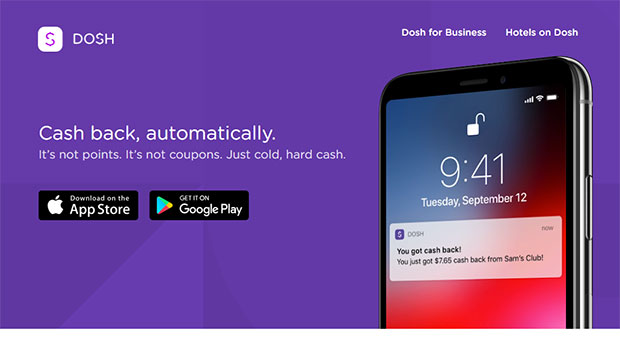 Quick Summary
App is free to use.
Get actual cash back, not gift cards.
No action required once cards are linked.
Buy online or in-store.
Cash back at national and local stores.
Setting Up Dosh
You can download the Dosh app on the App Store or Google Play.
Like many other apps of this type, you'll need to link your credit card or debit card to the app. Dosh has bank level security including 256-bit SSL Encryption so you don't need to worry about identity theft or anything like that.
Bank and credit information is never stored on Dosh's servers, and Dosh tokenizes all credit card information using Braintree, a PayPal server.
How To Earn Cash Back With Dosh
Dosh has linked with 1000s of stores and restaurants to offer cash back.
Generally, you'll earn 2% to 3% cash back, but some high earners will give you 10% back. Some popular chains that offer cash back on Dosh include Pizza Hut, Jack in the Box, Sam's Club, Dunkin', Pier 1 Imports, and Sephora, just to name a few.

In addition, Dosh has now partnered with hotels, and those can give you up to 40% cash back, depending on the hotel you stay at. Some clients have reported that the rates given on Dosh are actually lower than the rates given at other hotel booking sites, giving you another discount. Of course, you must reserve your hotel room through the Dosh app link on your smartphone.
Linking Cards
When you link your first credit or bank debit card to Dosh, you earn $5. Link up to two more cards, and you get $1 for each of them.
Friend Referral
Refer a friend to Dosh and you'll earn $5 (after he links his card). Occasionally they offer promotions where each referral will earn you $15 instead of $5.
Get A Business To Join Dosh
If you get a local business to join Dosh, you can earn 20% of their Dosh fees for the next two years after they publish an offer!
What I Like About Dosh
Dosh is easy to use, and there are several advantages to this app.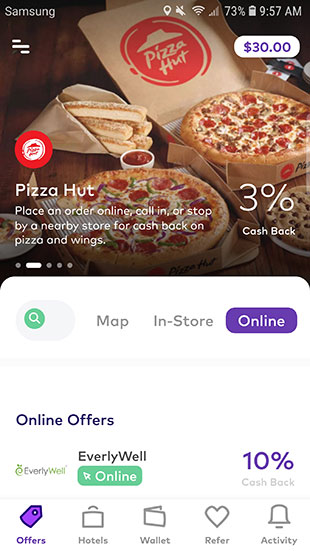 No Action Is Required
Since your credit or debit card is already linked, there is no thought required on your part. Simply make your purchases as normal and watch your rewards add up.
Make a purchase through the app at Pizza Hut? Your cash back will show up shortly thereafter.
You Can Buy In Store Or Online
When making a purchase or going to a restaurant, you can go in store, or you can buy online and get your cash back. As a handy feature, you can scroll through the app and see which stores and restaurants are close to your current location and how much cash back you will get, which can help you decide where to go. If you know you want pizza and there are three different pizza shops within a five mile radius, the cash back amount can help you decide which store to go to.
Offers A Reward For Stores That Don't Have Their Own
Many of the stores and restaurants on Dosh don't offer their own rewards. Take for instance, Wendy's. There is no loyalty program with Wendy's, but just by eating there, you'll get cash back. Score!
Double (Or Triple) Dip
The Dosh app, like many other apps like Drop, offers one more way to get cash back.
Let's say I'm shopping at a store that has a loyalty card. I'll use my loyalty card and earn points. I'm also using my credit card, so I accrue cash back points that way. Then, I'm using Dosh, which also gives me cash back. It's a triple win, and the rewards and cash back can accrue quickly!
If you're a Rakuten member, you can occasionally earn cash back both from Rakuten and Dosh for the same purchase!
Get Actual Cash Back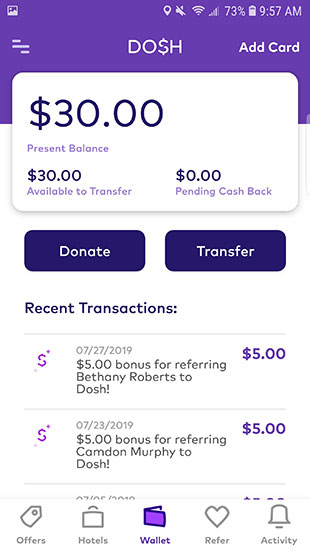 Many apps like this offer gift cards, but Dosh offers cold, hard cash back.
Once you reach a threshold of $25, you can get your cash back, either through your PayPal or bank account (after you link them to the Dosh app).
As an alternative, you can also choose to give your cash back to a charity. Dosh has a handful that they donate money to.
Rewards Are Given Quickly
Unlike other apps, rewards are given quickly with Dosh; many people report that within less than an hour of making the transaction, Dosh will credit their account with their cash back amount. In addition, once you request to withdraw your money and put it in your bank or PayPal account, you are likely to get it in less than a week.
Both National And Local Retailers Are Included
Once again, Dosh offers an advantage that other apps don't. Dosh offers both national and local retailers, expanding your opportunity to gain cash back.
What I Don't Like About Dosh
While Dosh is a great app overall, there are a few drawbacks.
More Store Offers Are Needed
When looking to make in store or restaurant purchases, depending on your location, the offers may be limited.
Each Credit Card Can Only Be Linked Once
Each credit card can only be linked by one person. For example, if a wife is a Dosh member and gets her husband to join Dosh, and they have joint credit cards, only one of them will be able to link the card to Dosh. The only way to make this work would be for the wife to link and use Card A, and the husband to link and use Card B. If the husband uses Card A to make a purchase, he will not get any cash back from Dosh even though he's a Dosh member.
Your Card Can't Be Linked To Competing Apps
If your card is already linked to an app that is a direct competitor with Dosh, you won't be able to link up that card. You'll either have to take the card off the other app or choose a different card to link to Dosh.
My Final Thoughts About Dosh
If you're going to use a smartphone app to try to make some extra money, Dosh seems like a good one. You can get cash back instead of simply getting gift cards, and money is deposited both to your Dosh account and your bank account quickly.
In addition, Dosh is continuing to grow at a rapid rate, meaning there will hopefully be more and more ways to garner cash back in the future.
Sign Up For Dosh & Get $5 For Linking Your Card!
Have you joined Dosh? If so, what has been your experience?