I'm always on the lookout for ways to make my smartphone work for me and give me additional small income streams and rebates.
I especially enjoy apps that give me money back for things I'm already doing and purchases I'm already planning to make.
Recently, I tried the Drop app, and there were a lot of features of the app I really liked, while there were a few things that I disliked.
Let's take a look at the Drop app and what it has to offer.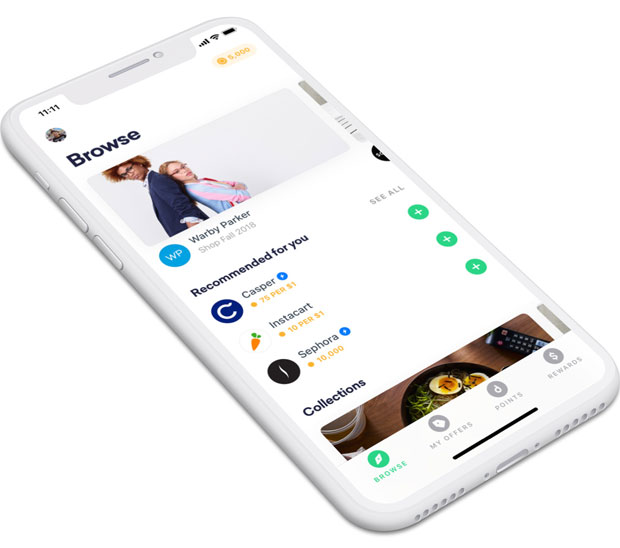 Signing Up For Drop
Signing up for Drop is pretty simple. First, get the app on the iOS App Store, or on the Google Play Store through this link:
Once you get to the page just enter your phone number and it will send you to the app store to get the app.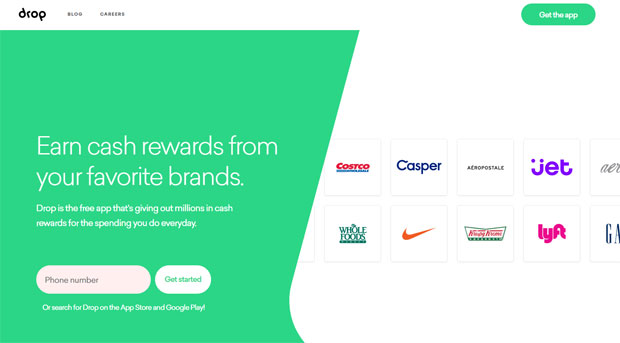 Setting Up Drop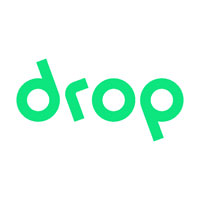 Once I downloaded Drop from the App Store, I began to set it up. I had used a referral code from another Drop user to earn an immediate $5 credit;
Then, I was asked a series of questions such as "How old are you?" and "What is your gender?".
The next step was to choose two brands to earn points with each time you shop. There are 17 brands available; make sure to pick your brands carefully because you can't change them later. I ended up choosing:
Walgreens (8 points per dollar)
Target (2 points per dollar)
Next, you pick a credit card to link to the app. I thought I would just have to enter my credit card number, expiration date, and the CVV number, but the process was more complex than that. I had to log into my bank through the app and answer five security questions.
I'll admit that this part of the process made me uneasy; I just don't like giving away that much information. The app does that for security purposes, but I'm still a little nervous about my credit card info being linked to this app.
However, Drop does take pains to make sure that user information is secure. Bank login information is never stored on Drop's servers, and Drop uses Transport Layer Security (TLS). In addition, Drop has been validated by DigiCart's verification process.
How To Earn Points With Drop
Anytime you use your linked credit card at one of the five stores you originally chose, you will automatically earn points. You're not required to do anything.
After your purchase, within 24 to 36 hours, you should see the points added to your account.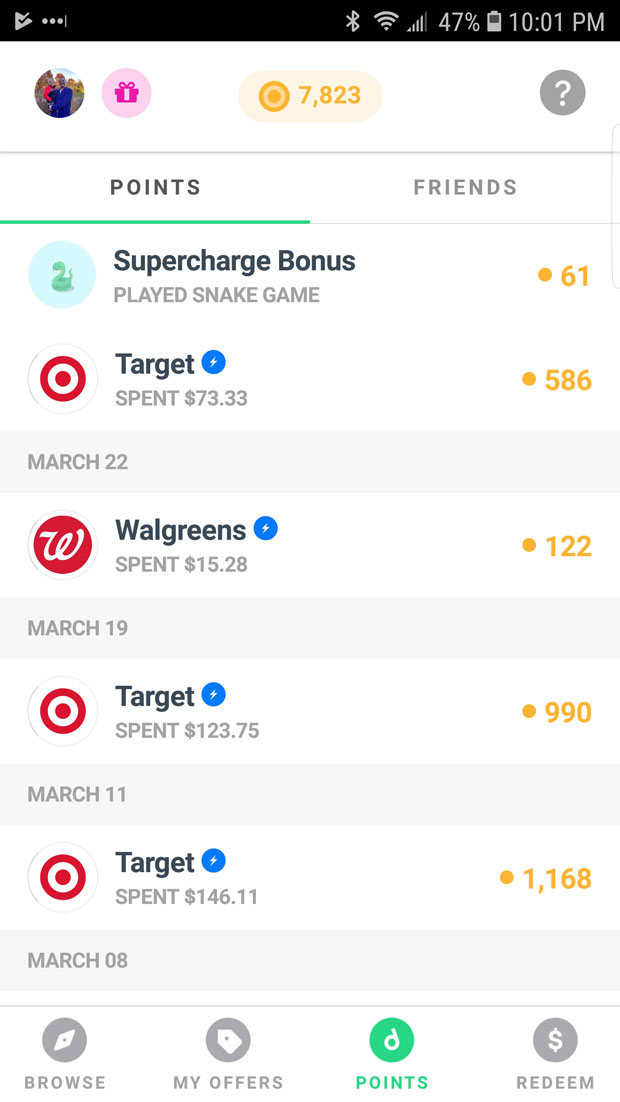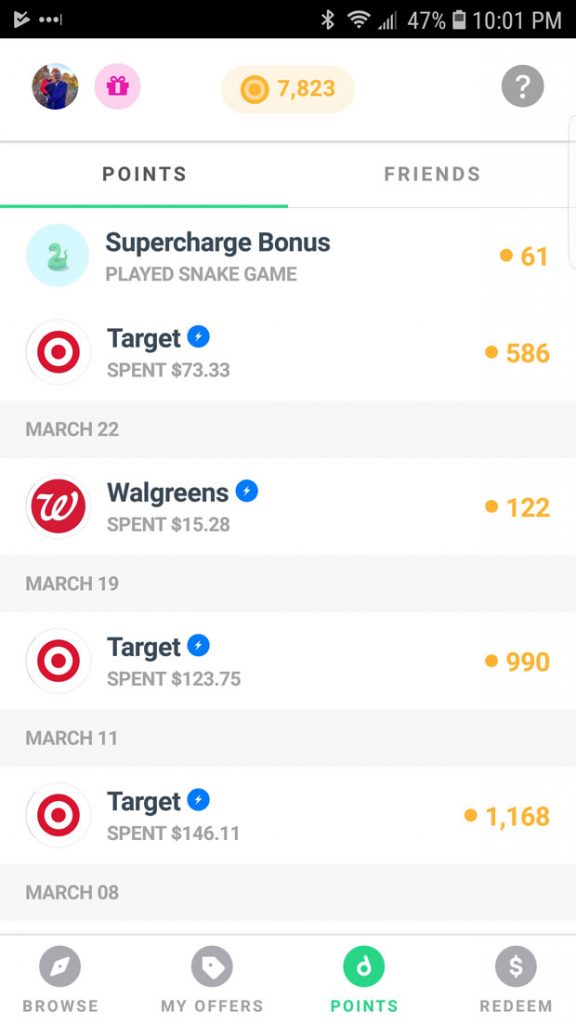 How To Earn More Points With Drop
The way to really rack up the points is to use the many different offers that Drop has.
Boosted Offers Give Bonus Points
With boosted offers, for a limited time, you'll earn up to 4x the normal points. For instance, Drop will add 50 points to your account per dollar spent at Macy's. (The normal amount is 20 points per dollar spent.) To receive this offer, you'll need to add it to your account manually.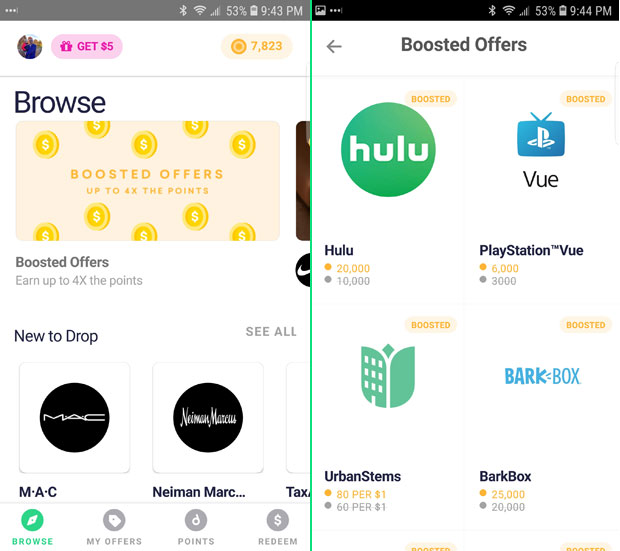 Currently there are 25 boosted offers. Some pay per dollar spent like Macy's, while others pay just a flat number of points for the offer such as Whole Foods (make a $25 purchase and earn 3,000 points).
Earn Points For Referring Friends
Refer a friend to Drop and have them enter your referral code, and you'll earn 5,000 points, enough to redeem a $5 gift card.
This can be one of the more powerful ways to earn points, especially if you've got a large network of friends on social media, or via a blog.
Play Games To Earn Points
You can also play games within the app to earn points.
For example, they have a game called the Snake Game where you help a virtual snake to navigate on your screen, gobbling up small dots on the screen. It's a harmless little game, and you can quickly earn 50-100 points by playing for a few minutes!
What I Liked About Drop
Drop is easy to use, and there are several advantages to this app.
No Action Is Required
Unlike reward cards that you have to carry with you and remember to fish out when you're paying, there is no thought required. Shortly after I started using Drop, I went to Trader Joe's and made my weekly purchases. I was surprised to see the next day that points had been put in my Drop account for that trip.
I had completely forgot about the app, but it had worked behind the scenes, recording the purchase and giving me points.
Offers A Reward For Stores That Don't Have Their Own
I shop at Trader Joe's at least once a week, but they don't have a reward program like many other grocery stores.
Drop lets me earn points for shopping, which is like creating a Trader Joe's reward program for myself.
Generous Points Distribution
Depending on what stores you choose and what offers you take advantage of, Drop offers a generous points program. If I spend $25 at Trader Joe's, I earn 175 points.
Plus, some of the special offers have an amazing point value. If you order from Thrive Market, there is a one-time bonus of 15,000 points. That's worth a $15 gift card just for trying out a new store.
Double (Or Triple) Dip
The Drop app offers one more way to get cash back. Let's say I'm shopping at Safeway. I'll use my Safeway loyalty card and earn points for gas purchases and potentially free products in upcoming weeks.
I'm also using my credit card, so I accrue cash back points that way.
Then, I'm using Drop, which also gives me points for gift cards. It's a triple win!
Things To Be Aware Of With Drop
There are a few things I didn't like about Drop, and there are also a few cautions I have for potential Drop users.
More Brand Variety Is Needed
While I had 17 brands to choose from when I chose my initial two brands, I simply didn't use many of the brands that often. I go to Target about once a week, so that was a great brand to choose, but there weren't other brands I would have appreciated such as Sprout's and Natural Grocers. I should probably point out that I'm not much of a shopper; I'm more of a penny pincher, so I would prefer grocery store brands to choose from as that is where I spend most of my shopping money.
Getting Points To Your Account Can Be Slow
When I shopped at Target or Walgreens my points typically deposited to my Drop account within 24 to 36 hours. However, points are added very slowly for any other activity.
I still haven't received my points for my sign-up bonus, and the app says that special offer points can take up to three weeks to deposit.
More Rewards Variety Is Needed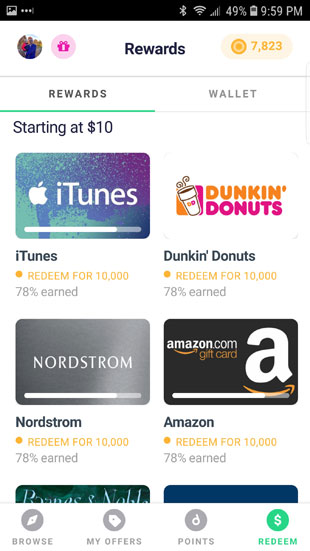 You can redeem your points for gift cards, but I don't feel there is enough gift card variety, especially at lower dollar amounts. Currently, at the lowest level of redemption, 5,000 points for $5, you can redeem your points for gift cards for:
Aerie,
AMC Gift Card,
Coffee Bean,
Domino's
Sephora
Honestly, none of these gift cards interest me, and I don't want to redeem a gift card just to spend money on a place I wasn't planning to go to.
I should note that at the 10,000 point redemption level, there is more of a variety of gift cards including Target, Amazon, Applebee's, and Starbucks.
Cash Back Isn't Available
I would prefer to get cash back rather than a gift card, but at this time, Drop only offers the option to redeem points for gift cards.
Targeting A Certain Age And Spending Type
This app seems to be targeting millennials, not people like me who are firmly entrenched in middle age and raising a family. In addition, it seems to be targeting people with a lot of disposable income, my guess is unmarried individuals or married couples with no kids.
Encouraging Users To Spend
This app will likely encourage users to spend. For instance, I saw that Whole Foods had a limited time special offer—spend $25 before April 6, and earn 3,000 points. At first I thought, "3,000 points, that's great. I'll go shop at Whole Foods this week." But as I thought about it more, I realized that, first, 3,000 points is only worth about $3 because most $5 gift cards need 5,000 points to purchase.
Second, I normally don't shop at Whole Foods because it is more expensive than other stores I go to. Why should I go to a store to pay more for my groceries to earn $3? That just didn't make sense.
I'm guessing that my experience is not unique and that many people will see the large amount of points available for special offers and spend more than they would have at a store they don't normally shop at because they're using this app and chasing points.
My Final Thoughts About Drop
I do enjoy Drop because it doesn't require any thought from me and because it offers me rewards when I shop at places like Target that don't have their own reward system.
I would caution people, however, to not get swept up in earning points through the special offers. Without discipline, this app could easily cause people to spend more than they would have if they'd not been using the app.
As is, I will most likely use it to earn points for the five stores I chose, and earn my points slowly.
For others, they may be able to rack up points a bit faster and earn some of the better rewards at higher dollar amounts, making it even more worth their while. It's definitely worth checking out, especially if you're likely to be spending the money anyway.
Why not earn a little bit of your money back in gift cards?
Download the Drop App And Get A $5 Bonus