When you get married, money can be one of those sticky issues that has the potential to cause problems.
It's important to get on the same page as your spouse as early as you can when it comes to money, and get your priorities and goals in sync.
When you have that family budget meeting you'll often come up with some shared savings goals for your family.
Once your goals are agreed on, it's time to start saving for those goals, together.
An app I just discovered recently, the Twine app, helps couples to save together for their common savings goals.
Today I want to take a quick look at how Twine works in this Twine savings app review.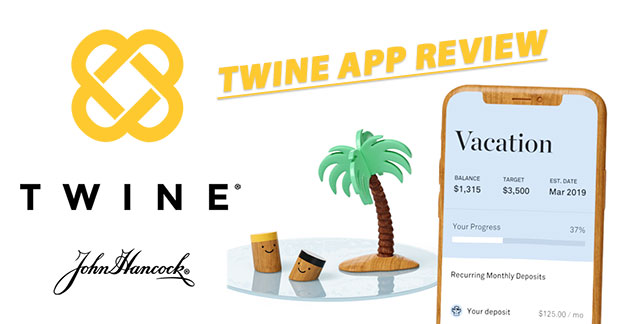 Quick Summary
Designed for couples to save together
App is free to use for cash savings goals
Saving and investing options
FDIC and SIPC Insured
Twine Savings App From John Hancock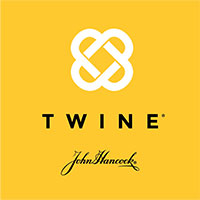 Twine is brought to market by financial services and insurance giant, John Hancock.
John Hancock, headquartered in Boston, is no Johnny come lately.
The company was founded in 1862 and has a solid 150+ year history of doing business in insurance and financial services. So you know they're not going to leave you high and dry.
Signing Up For Twine
Signing up for Twine is a quick process that shouldn't take more than a few minutes. You just need to be a U.S. Citizen or permanent resident, age 18 or over.
You can open an account as an individual, or open a joint account for use with a partner.
It should be noted that you don't have to be married, or even in a relationship to share a joint savings or investing goal with someone.
When you go to the Twine site, first you'll be asked to enter an email address and password to get started.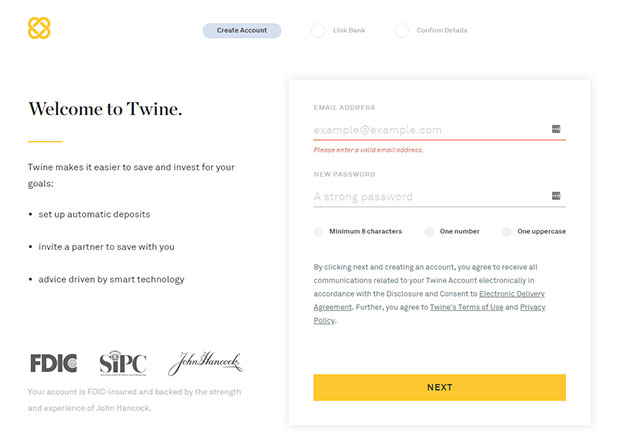 Next, they'll ask you to setup your first goal, and link your existing bank to Twine, so that you can fund your cash or investment accounts.
Finally, you'll confirm some other identifying details to complete your account including full name, address, birthday and Social Security Number.
Twine – How It Works
Twine is a saving and investing app and website for couples who want to work towards a joint financial goal.
The idea is that families plan their goals together, so they should be able to save or invest for those goals together too.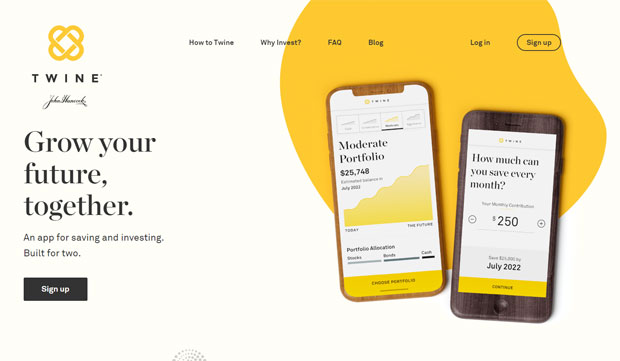 When you sign up for Twine you choose whether you're going to be saving and investing as an individual, or as part of a joint goal.
If you choose to save with a partner you'll send them an invite to join you on Twine. Once they've joined the account you'll each have your own individual brokerage account, but you'll be able to save towards your shared goals together.
Setting Up Shared Goals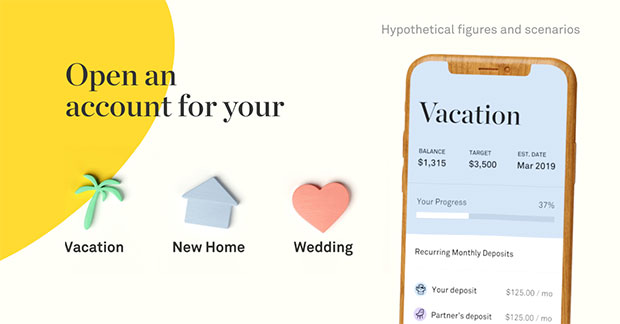 The first step is to create a shared goal. For example, a house down payment, paying for your upcoming wedding, or for a vacation.
Currently the goals you can choose in the app are:
Kids
Emergency Savings
General Savings
Custom
Vacation
Large Purchase
New Home
Wedding
Next you set up automated transfers to fund your goal. Just tell Twine how much you want to save each month and Twine will automatically transfer that money in weekly installments from your linked bank account.
Finally, you choose whether you want to save for your shared goal in a cash only, interest bearing account, or in an investment account.
Saving For A Short Term Goal In Cash
If you're saving for a short term goal in Twine saving in the cash account is probably the safest bet. You can start with as little as $5!
If you save your hard earned cash in a cash based goal you'll earn a variable interest rate that is on average better than many traditional banks.
While it's not the highest rate around by any means, it is definitely higher than most places. I'm embarrassed to admit it, but for years I had our emergency fund stashed in my local bank's savings account earning 0.07% interest. This is so much better than that.
Investing For A Long Term Goal
If you're saving for a longer term goal, or if you seek the potential for greater returns, you can always switch your shared goal's holdings from cash to an investment portfolio*. You can get started investing with as little as $100.
When investing with Twine you can invest in 3 investment portfolios, from conservative to moderate to aggressive.
Depending on how long you're planning to invest and your answers to personal financial questions, your investment mixes will vary.
The available plans are:
Conservative Portfolio: A conservative portfolio is designed to emphasize stability and protect against potential year-to-year capital losses on the way to achieving your financial goals. Conservative portfolios consist of funds with a higher share of securities with more stable historical returns, like bonds, and cash, rather than stocks.
Moderate Portfolio: A moderate portfolio is designed to guard against potential losses while still achieving meaningful growth. Moderate portfolios will likely show less volatile returns than most broad equity market investment funds and typically include assets like bonds and money market funds.
Aggressive Portfolio: An aggressive portfolio is designed to offer more meaningful investment growth while still avoiding the large potential annual losses that users in broad equity market investment funds may sometimes experience. Aggressive portfolios annual returns may be somewhat more volatile than those in Twine's conservative or moderate portfolios, but are still likely to be far less volatile than annual returns in most broad equity market investment funds.
So Twine will get input from you, figure out what your personal financial situation is, what your goal timeline is and then help to tailor an investment portfolio that matches your goals.
Fees For Your Twine Accounts
The pricing for using the Twine website and app is pretty simple.
Save In Cash For Free
If your goals are kept in cash, using Twine won't cost you a thing. Just deposit your cash, save for your goals, and then withdraw at any time. You'll earn a variable 1.05% annual interest rate on your money, and there are no hidden fees.
Invest For 25 Cents Per Month
If you choose to have your goals invested, your funds will carry an annual management fee of 0.60% of the account's average daily balance.
That fee comes out to about 25¢ per month for every $500 you invest.
While that's certainly not the lowest pricing for an automated investing advisor by any means, it's in line with costs for similar tools online.
Twine App
The app is currently only available on iOS via the App Store.
Twine has stated on their FAQ that they want to release an Android app at some point as well, but for now it is not available on that platform.
For Android users that want to use the service with a loved one in the meantime, you can edit your profile, see your goals and statements on the website.
Twine Features, Benefits, Support
Here are some things to keep in mind when using Twine.
Is Twine Safe?
The Twine cash account is FDIC insured, up to $250,000 per account, as is standard.
Your investments are protected against broker failure by the SIPC for up to $500,000 in cash and securities, including up to $250,000 in cash.
It's a pretty safe bet that a product from an industry giant like John Hancock is safe, legit and is in no way a scam. You can put your mind at ease.
Other Considerations
Withdrawals taken from your account will typically take 2-3 business days to post to your linked account. Withdrawals from the investment account can take even longer, 7-10 days, to allow for time to sell the investments.
Apex Clearing Corporation serves as a clearing agent and custodian for Twine accounts. If you've had accounts with other brokers or robo-advisors, you've likely had an account that was held with Apex as they're one of the largest investment custodians in the industry. They are a member of both FINRA and SIPC.
Customer Support
If you find yourself in need of customer support, or have questions, customer service is provided by Twine by both email (support@twine.com) and by phone at 800-721-0111.
You can also access the Twine FAQ and customer support portal here.
Saving And Investing For Couples Made Easy
For couples that are saving cash for a short term goal, and that want a tool that can help to facilitate that, Twine is one of the few apps that offers such a nice integrated joint goal feature where you can save together while still having separate brokerage accounts and apps. It does all this while offering the tool free of charge for people who are saving in cash.
The interest that you'll earn with your Twine account is more than you'd probably get at a traditional brick and mortar bank, but less so than some online banks. But then again this app also offers a different experience, and has a different purpose – joint saving and investing for couples. In that sphere they don't really have much competition currently.
The investment options with Twine offers seem to be decent, and I like how you can set up automated transfers to ensure that your goals are met, but the 0.60% annual management fee is a bit much for my liking. I'd like to see that fee lowered a bit, but beyond that the concept and execution of the product is top notch, what you would expect from a big company like John Hancock.
If you want to start saving for joint saving and investing goals with your significant other, you should definitely give Twine a look.
*Investing carries the risk of losing money