If you've ever run into a situation with your bank where you have been assessed an overdraft fee for an innocent mistake in balancing your checkbook, you'll appreciate a new financial app and spending account from Chime.
Chime believes that financial companies shouldn't be making money off of your misfortune, and as such, they charge no maintenance fees, no overdraft fees, and no bounced check fees for their spending account. They even allow you to use over 24,000 ATMs for free.
But it doesn't stop there. Not only is Chime fee-free, but it also has a rewards program that gives you the incentive to save.
So let's take a look at what Chime has to offer.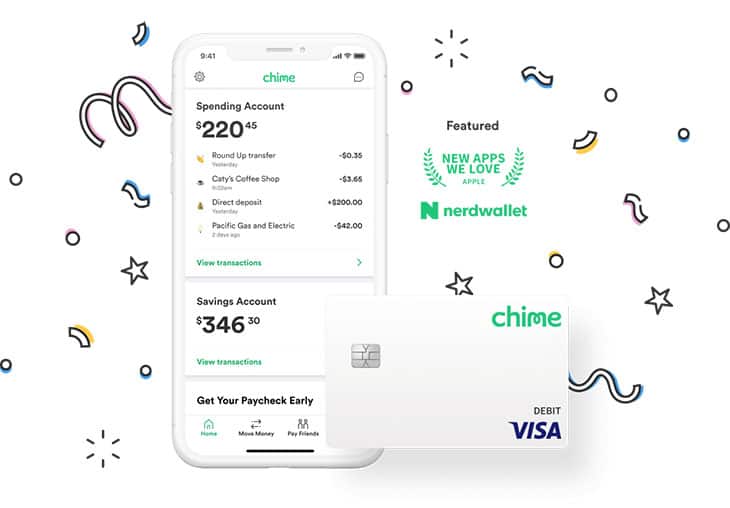 Chime History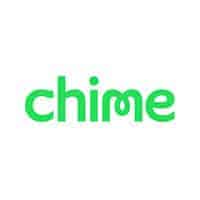 Chime app has been around for a while now, co-founded by Chris Britt and Ryan King in 2013. The company has raised over $12 million in venture funding.
Chime uses a banking partner, the Bancorp Bank, and Stride Bank. Those banks provide private-label banking solutions to a lot of financial services like Chime, Simple, and others. They provide the banking back end, while the front end brand, presence, and software are created and maintained by Chime.
The company was founded with the idea of empowering people to make better financial choices. From their about us page:
We created Chime for one very powerful reason: to empower people to lead healthier financial lives. Sounds simple, right? But it isn't. Managing money is hard, and too often banks aren't making it easier. At Chime we're dedicated to building a new kind of account that helps members get ahead by making the hard parts of managing money easy. How do we do this? By eliminating unnecessary fees and creating a service that puts members in control, helps them form healthy habits, and empowers their financial well-being.

Most bank accounts cost you money. We designed Chime app differently, with a business model that doesn't rely on fees to make a profit. Instead, Chime earns a small sum from Visa on Chime card transactions. So the more members spend, the more money we make. We share some of those earnings with our members so that the more you use your card, the more money you save. It's a win-win.
Chime was founded to help encourage you to make better choices like saving more and to reward you for doing so. So let's take a look at how Chime does that.
Signing Up For Chime (Get A $5 Bonus)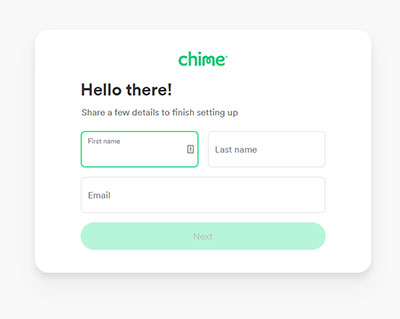 Chime is currently open for new users. Signing up for a free Chime spending account couldn't be easier, and if you sign up through our link below, you'll get a $5 bonus!
First, Go to Chime via this invite link, and enter your full name, email address, and password.
Next, enter the rest of your requested details.
Link your existing checking account or set up a direct deposit to Chime.
Once you've set up your account it's time to let Chime start working.
Chime Spending And Savings Accounts
So how does Chime work?
When you sign up for a Chime spending account you'll receive a Chime Visa® Debit Card that you can use wherever credit cards are accepted. The debit card is linked to your Chime "spending account" (A spending account is like a checking account – but who uses checks anymore?).
If you want you can also open a savings account, which is needed if you want to enroll in their "Automatic Savings" rewards program (Trust me, you do. We'll talk more about that below).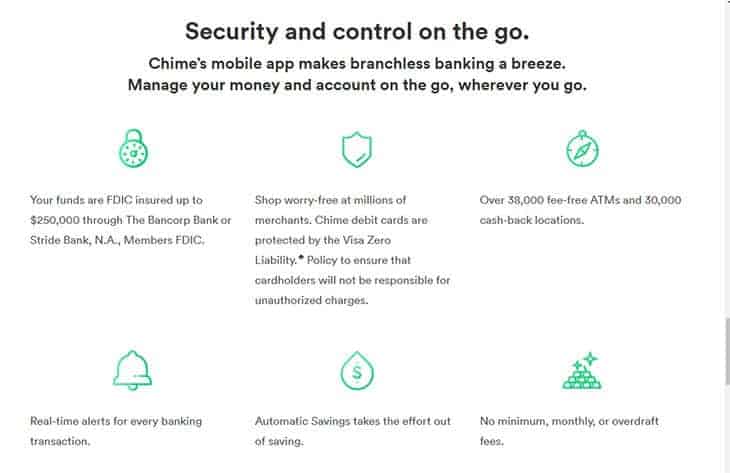 Safe and Secure
The Chime account is FDIC insured up to $250,000 through their banking partner The Bancorp Bank, and your account comes with the Visa Zero Liability policy for any unauthorized purchase.
Easy Direct Deposit Or Transfers
To fund your account you can easily set up a direct deposit of your paycheck when you sign up. Simply provide your Chime routing number and spending account number to your employer or payroll provider and they'll set it up to fund your account automatically when your paycheck comes through.
If you prefer you can also initiate a transfer from an existing external bank account to be sent to your Chime spending account. If you initiate a transfer from your Chime account, there are limits of $200 daily or $1,000/month, so transferring from the external bank is probably preferable.
Fee Free Account
Chime app accounts are as free of fees as you can get. They charge no maintenance fees, no overdraft fees, and no bounced check fees. Banks in the U.S make billions off of fees every year, in fact, Americans paid $33 billion in overdraft fees last year! One study of U.S. Bank fees found that the average annual fees for an account holder were about $290. By not having fees like the ones mentioned, you're already ahead of the game.
Americans paid $33 billion in overdraft fees last year. Chime might be part of the solution.
Click To Tweet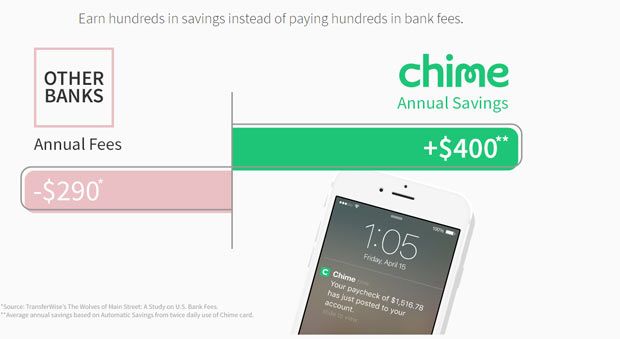 What fees does Chime charge? Chime charges a $2.50 out-of-network ATM fee. That's it.
Using Chime Via Mobile
Chime works well on both desktop and Mobile, but since the financial app is optimized for millennials, it works the best on your smartphone, either iOS or Android.
The app has mobile notifications set up so that you can get daily balance notifications, as well as real-time notifications of spending on your account.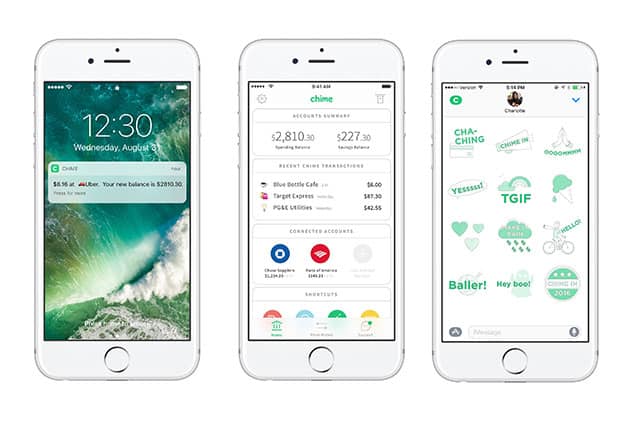 You can also use the app to find local ATM locations and to get instant cash back at some retailers.
You can also block your card temporarily in the app if you've misplaced it.
Automated Savings Program
One of the most exciting features of a Chime account is the automatic savings component of the account. So how does it work?
When you use the Chime debit card they will round up every transaction to the nearest dollar, and put the money aside in the savings account for you.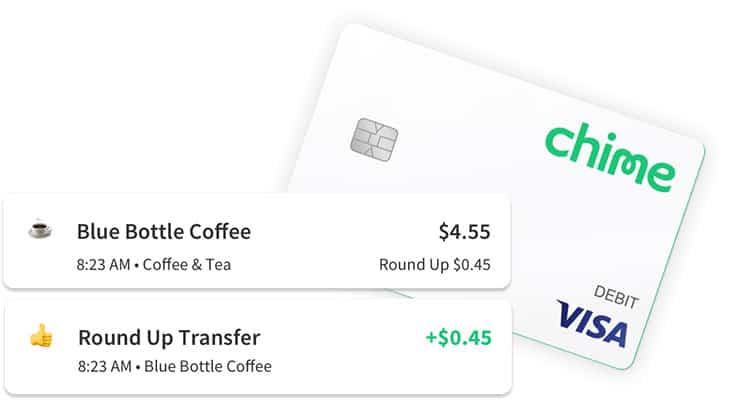 The savings account has a 2.00% APY1 (variable and may change at any time), which is in line with other competitive online savings accounts, and the rewards and automation of savings only make it that much better.
So if you do a transaction for $1.55, it will round it up to $2 and move .45 cents in your savings account.
Plus they now have a new tool that allows you to automatically put 10% of your paycheck aside when the money hits your account.
Chime: Give Your Savings A Bump
Chime is an interesting banking app option, that could be useful for a lot of people. I'm a big fan of products that take important ideas – like saving for the future – and make them easier and more automatic.
With the automatic savings program, Chime makes saving money pain-free and easy. Tools to help you save automatically when your paycheck hits your account are a bonus.
Is Chime for everyone? Maybe not. They do have some limitations at this point including lower limits on transfers initiated from your Chime account, and limits on transaction amount for the Chime Checkbook ($5,000/transaction or $10,000 per month). They also don't do joint accounts currently. If you can get beyond those things, however, I'd recommend giving Chime App a try.
What have you got to lose? It's free – and if you sign up now through the Bible Money Matters link below, you'll get a $5 opening deposit!
Start Saving Automatically With Chime App. Get Your $5 Bonus!
Chime is a financial technology company, not a bank. Banking services provided by, and debit card issued by, The Bancorp Bank or Stride Bank, N.A.; Members FDIC.
1The Annual Percentage Yield ("APY") for the Chime Savings Account is variable and may change at any time. The disclosed APY is accurate as of November 17, 2022. No minimum balance required. Must have $0.01 in savings to earn interest.