This past week I was introduced to a new bank that was just launched in the last few months called Simple.
Their tagline is "Worry free alternative to traditional banking", and they truly are a different alternative to what a lot of banks are offering.
Their aim is to make banking smarter, more intuitive and more simple. They took what would have been just another bank account, and put on top of that a great software that in some respects is similar to Mint.com in that it helps you to set goals, budget your money, and quickly categorize your transactions so that you have more meaningful transaction data in front of you.
But this post isn't about Simple, even though they do have an intriguing offering (Read the review of Simple here!). This post is more about something that I saw when I was looking at the Simple FAQ page, a quick line at the bottom of the article that got my attention because I knew I had seen it elsewhere.
Banking Services provided by The Bancorp Bank. The Bancorp Bank, Member FDIC.
Banking services provided by The Bancorp Bank? What exactly does that mean?
It means that Simple, and a lot of other online virtual banks aren't really banks in the traditional sense. In many respects they're simply software companies, companies with a good idea for a rewards checking account, a great budgeting software, or something else. The true banking aspect of their operations aren't handled by them. They're handled by their "bank partner".
Private Label Banking
What I found when I started digging around a bit more was that the bank that Simple uses as their "partner bank", The Bancorp Bank, is a partner to hundreds of other private label banks and affinity groups as well.
A few of the companies that use The Bancorp Bank as their banking partner (You might recognize a few!):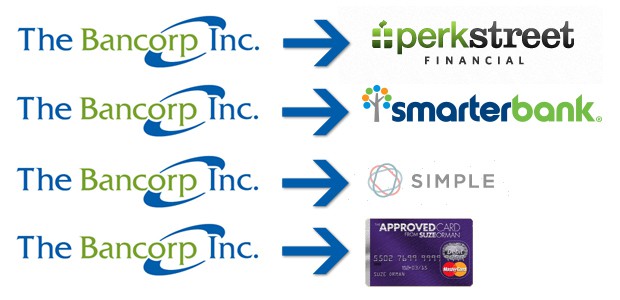 As you can see there is quite the range of companies that use The Bancorp Bank as their banking partner, from prepaid debit cards to checking accounts and more. At the time of writing, they have over 300 private label affinity and partner programs nationwide.
The Bancorp Bank – One Bank With Many Names
So The Bancorp Bank provides banking services for a huge range of financial products ranging from prepaid and debit cards to checking accounts like Simple. So just who are they? From their site:
The Bancorp, Inc. (NASDAQ NM: TBBK) is a financial holding company with a wholly owned subsidiary, The Bancorp Bank.

The Bancorp Bank is an FDIC-insured branchless commercial bank that delivers a full array of financial services and products both directly and through more than 300 private-label affinity partner programs nationwide. Our regional community bank division serves the needs of small and mid-size businesses and their principals in the Philadelphia-Wilmington region.

When it was introduced in 2000, The Bancorp Bank's ability to create customized banks for affinity partners set a new standard in financial services innovation. Today, Bancorp remains a leader as one of the few banks in the country dedicated to providing private-label banking and technology solutions for non-bank companies.

The "branchless banking" programs enable members, employees and customers of affinity partners to access online banking services, customized for them, under the affinity partner's brand.

The Bancorp Bank is headquartered in Wilmington, Delaware, with offices in Philadelphia, PA; King of Prussia, PA; Chicago, IL; Crofton, MD; Minneapolis, MN; Orlando, FL; Sioux Falls, SD; Sofia, Bulgaria; Newcastle upon Tyne, UK and Gibraltar. Total assets of The Bancorp Bank, as of December 31, 2011, are $3.0 billion.
So The Bancorp Bank is a commercial bank that specializes in "providing private label banking and technology solutions for non-bank companies". In other words they provide the banking backend and expertise that non-banking companies need in order to start up their own bank, affinity program or private label bank brand.
Private-label affinity and partner programs can mean anything from banks like Simple, to pre-paid debit cards at your local university or via Suze Orman and a range of other things.
The Bancorp Bank isn't the only company that specializes in these private label banking solutions. There are others that do this as well like MetaBank, CBW Bank.
How Does The Bancorp Bank Make Money?
So how does a company that deals in private label banking make money? The same way other banks make money.
Whenever someone uses a debit card to make a transaction, they make money for facilitating the payment. They make money from holding deposits and then lending out the money. They also make money from selling other services like wire transfers. They make money from private label pre-paid cards, and unredeemed pre-paid cards. Basically they make money off of a wide range of normal everyday banking transactions.
The money that is earned is then shared with the company that they're providing services for – like Simple – depending on how their revenue sharing agreement is structured.
What Does It Mean For You?
What does all this mean for you as a consumer? Not sure it really matters a whole lot for us as consumers, except that we need to know and realize that our deposits are going to the partner bank, and not to the other company we signed up with. Yes you still have an account with that company, but it's a little more complicated.
When you sign up for an account with Simple or PayPal debt card – your deposits are being made at The Bancorp Bank. When you mail in a check to be deposited for your PayPal Mastercard account, it's going to the Bancorp Bank. Make a smartphone deposit with Simple, your money goes to The Bancorp Bank. If your bank was to go under, your deposits are insured by the FDIC under The Bancorp Bank umbrella.
What are your thoughts on private label banking? Do you think having a company that engages in this practice frees up other enterprises to come up with more innovative banking products and concepts like Simple?