UPDATE February 2021: Simple has announced that they will shut down operations at some point in 2021. No new accounts are being opened with the bank and existing customers will have their accounts transferred and serviced by BBVA.
It's not that often that I come across a new financial product that really intrigues me or offers something different from the myriad of alternatives out there.
Most of the bank accounts I see are essentially the same, maybe differentiating themselves with a better interest rate on savings, or priding themselves on great customer service.
While that's all well and good, sometimes it's not enough to really make you consider switching banks.
A company that I recently discovered that had an intriguing product offering beyond what traditional banks are offering is called Simple.
Their offerings are pretty intriguing – attempting to make banking simpler, easier, and more organized.
I touched on Simple in a recent post where I explored the phenomenon of private label banking and how a lot of the newer financial services companies are all using the same partner bank as their back end. Their customer facing presence is their brand and their software, while their banking back end is provided by a banking partner. Banks like PayPal, SmarterBank and others have all used the same banking partner as Simple in the past, but Simple's software sets them apart.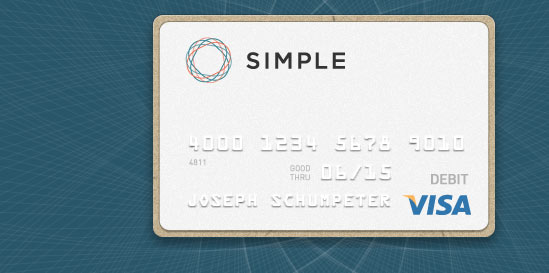 Simple Bank History

UPDATE February 2021: Simple has announced that they are closing their doors and will shut down operations in 2021. Accounts can no longer be opened with the bank and existing customers will have their accounts transferred and serviced by BBVA.
Simple has been around for about 9 years now, with their launch happening in a beta in 2012.
What was initially known as BankSimple was founded in 2009 in Brooklyn by former CTO Alex Payne, CEO Joshua Reich and CFO Shamir Karkal.

The company launched in the summer of 2012 as a limited beta. By January 2013, the company had 20,000 customers and had processed more than $200 million in transactions. By July 2013, its customers had increased to 40,000 and total transaction values increased to greater than $1 billion. At year's end in 2013, Simple reported processing on average around 13 debit transactions per minute with an overall customer balance of $64 million.

On February 20, 2014, Simple announced it had been acquired by Banco Bilbao Vizcaya Argentaria (BBVA). BBVA acquired Simple for $117 million or about $1200 per customer. BBVA was also part of the initial venture funding; it originally became interested in Simple in 2011 when a co-founder of Simple criticized the technology of banks and their approach to customer service.
Founded in 2010, they raised millions in funding and finally launched in 2012 in an invitation-only beta. Their product is open to all now and is getting better as time goes on. So let's take a look at what Simple has to offer.
Simple Banking Experience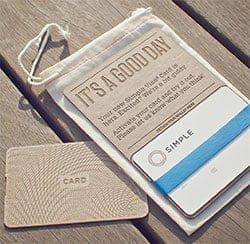 So what is the idea behind the Simple banking experience that makes it different?
I would describe Simple as sort of like Mint.com, but within your bank account. Most traditional bricks and mortar banks don't do things terribly well when it comes to their online banking platforms. They're getting better at it every year, but they still tend to lag behind. Simple, which in some respects is more of a software company than a bank, does the online banking experience right. They make it easy to track your spending and transactions, and they make it easier than most to actually use the data later on.
They also keep things simple when it comes to fees, there are none. They have no monthly debit card fees, account maintenance fees, low balance fees, overdraft fees, or out of network ATM fees.They make their money from interchange fees and interest margins shared with their partner bank. For you that means a free banking experience with no hidden fees.
While the software side is Simple's forte, they are also partnered with a FDIC insured bank, the BBVA, so your money with them is safe and sound.
So let's look at some of the features and functionality of their accounts.
Organization Of Your Transactions
Probably one of the things that Simple does best is organizing your transactions within their site – and on their mobile apps.
When you spend money using your Simple Visa card the transaction will be automatically categorized within your account within seconds, in some cases even tagging transactions that include a tip or other things. You can then update your transactions with more information including text descriptions and hash tags, attach photos of the purchase, attach a bill to go along with a transaction and more.
Essentially Simple takes your transaction data, and allows you to make it as data rich as you want for searching or reports later on.
So let's take a look at a few of the features more in depth.
Safe to spend amount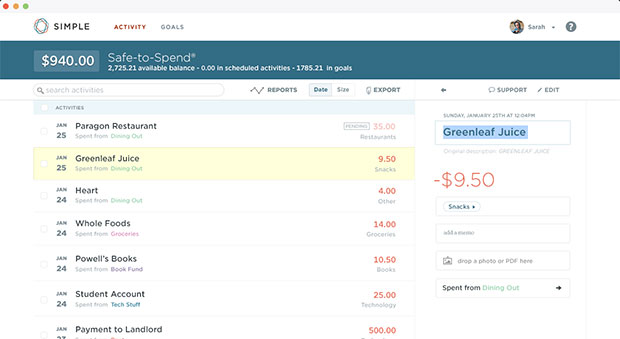 One feature that Simple has is their "safe to spend" notification at the top of your account or app. Basically the notification tells you exactly how much money you're able to spend safely without overdrawing your account. It factors in pending transactions as well as savings goals you may have in place (see savings goals below).

Savings goals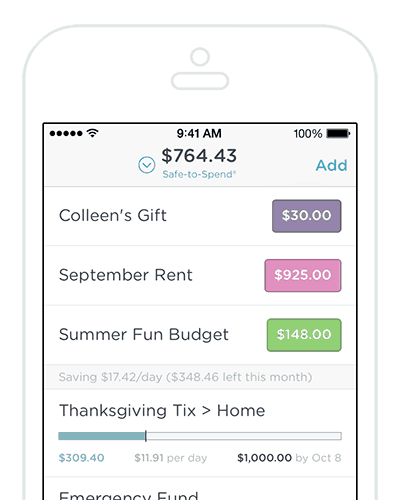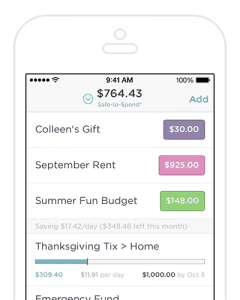 Within your Simple account you can set savings goals to save for future expenses.
For example, let's say you want to save for a trip home for Thanksgiving. You can set a new goal for the amount you'll need to save for it, and then tell it how much you want to save on a regular basis for that goal. It will then set the goal and as money flows into that account, it will be removed from the "safe to spend" category.
Once you reach your savings goal you flip the switch to "spend from goal" and you're free to use that money to buy your plane tickets, or whatever your goal is for.
For average daily balances of over $2,000 you'll earn a nice interest rate of 2.02% APY, which is very competitive.
Reports
Simple's reports offer a lot of ways to get insight into your spending and saving. You can search for transactions in certain categories during certain time-frames. You can search for hash tags that you have added to transactions, like "#car", for car related transactions for example.
You can also export your transaction data if you want to import it into excel or some other spreadsheet program for further manipulation. The possibilities are pretty endless.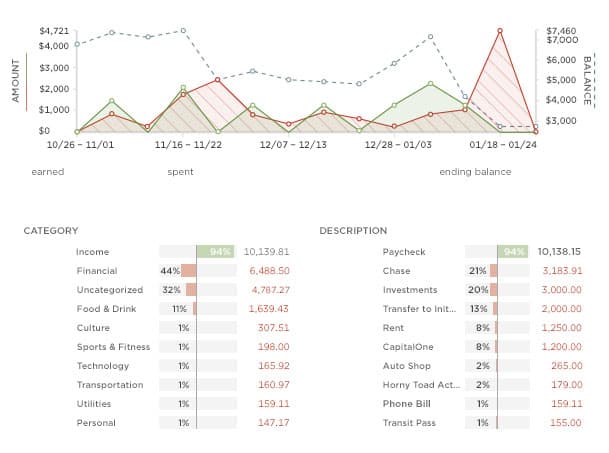 Mobile Apps And Tools
Part of Simple's appeal is that they have such great integration with mobile devices with their iPhone and Android apps. In fact, to have an account you currently are required to have a iOS or Android device.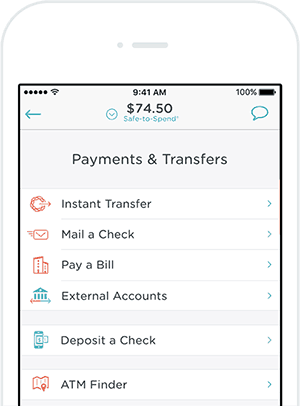 There are quite a few things you can do with the apps.
Remote check deposit: Take a photo of your check and deposit it right from your phone. I use this feature with another bank and it's a huge timesaver.
Attach a photo (or a bill) to a transaction: Kind of a neat feature is that if you're out and about and you buy something – like lunch – you can take a picture of your lunch and attach it to the transaction. Or a picture of the receipt – or of the bill. Nice to have for future reference.
Tag and geo-locate transactions
Quick ATM locator: Locate one of their convenient ATMs in the Allpoint® network.
Send money to anybody: You can easily send money to people or businesses through mobile or the website. Simple will either send money electronically if it's an option, or send them a paper check. Easy.
Conclusion
Simple offers a nice banking alternative to the offerings from the big banks. While the product is still working out a few kinks here and there, the product that they've released is a good one.
The nice integration with mobile, and their extensive reporting tools make Simple a bank to keep on your short list.
Are you using Simple? Tell us your thoughts on the banking experience there so far.