A week or so ago I talked about how I had opened a new online high yield savings account with one of the personal finance blogosphere's favorite banks, CapitalOne360.
CapitalOne360 is great because of a variety of factors, but for me the ability to set up sub-accounts, and to budget using their automatic withdrawals to sub-accounts was the clincher.
You can read more in depth about why I signed up for them HERE.
While I love the budgeting and other features of CapitalOne360, I also wanted to open another account with a higher interest rate so that we could gain a bit more interest on our 8 month emergency fund while it sits around waiting for an emergency.
Our 8 months of expenses is no small amount, and having the money at a bank with a higher interest rate means hundreds of dollars in interest every year.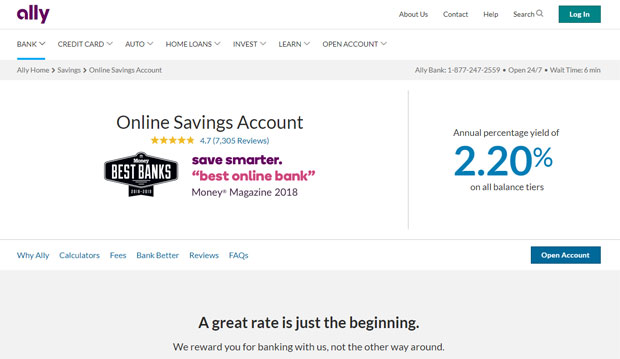 So to continue my research for the next few weeks I decided to write some quickie reviews of some of the more popular and higher interest rate banks that are out there. Today I'm reviewing Ally Bank.
Ally Bank: Where Did They Come From?
Ally Bank just popped onto the banking scene a short while ago, but what a lot of people don't realize is that Ally Bank is the new face of an old name, GMAC bank. They changed the name in May of 2009 at a time when they were giving the company a facelift, and giving a promise to be the customer's "ally". Thus the name.
So far their competitive rates are good enough for me to say that they're off to a good start. Be my ally by giving me more money!
Ally Bank was honored by Money Magazine in 2018 as the "Best Online Bank", so you know they've got a solid reputation and a good slate of offerings.
Is Putting My Money With Ally Safe?
One of the first things you should ask when signing up with a bank is, "Will my money be safe if I bank with this company?".
With Ally your money will be safe and sound because the bank is FDIC insured, and has been since August 2004 – under their old name of GMAC. If you deposit your money and the bank goes under, you'll be fine – as long as you don't have more deposited than the FDIC insurance will cover. Currently that amount is $250,000 per depositor.
Features Of An Ally High Yield Savings Account
Ally Bank's High Yield Savings Account has a good number of features. Here are a few of them:
Open with $0
No minimum balance
No monthly fees
Ability to create sub-accounts with different names and account numbers. (like ING, great for budgeting sub-accounts!)
Daily compounded interest for maximum earnings
24 hours a day, 7 days a week customer service at 1-877-247-ALLY (2559) for 24/7 assistance or by e-mail at customercare@ally.com
FDIC insured up to $250,000
Six withdrawals or transfers per statement cycle. (mandated by the government)
high level of online security
Opening An Account With Ally Bank

While I haven't actually opened an account with Ally yet, my understanding is that the process is pretty simple. It's a 5-step process.
You'll need to provide some basic information (including your SSN and drivers license), and they'll do a hard credit pull. Then you just set up your initial deposit, set up a few account options and you're set to go. No big deal.
Other Ally Bank Options
In addition to it's competitive high yield savings accounts Ally Bank also has other options available including classic CDs, no penalty CDs (ability to withdraw early with no penalties) and money market accounts.
All of them seem to have rates that are currently competitive. For more details about their other account options, click here.
Conclusion
At the time that I wrote this, Ally Bank offers some of the highest interest rates in the country and all of their accounts are FDIC insured (to find current updated rates, go here). Add to that their other solid account options, no fees or minimums, great mobile app offerings, good security and 24/7 customer service and you have a solid bank offering.
If you're looking for a good high yield savings account where you can put your money, I think Ally Bank should be near the top of your list. I know it's near the top of mine now as I continue my search.
Do you have any experience with Ally Bank? How do you like them? What are the pros and cons of their accounts? Leave us a note in the comments!