A couple of years ago I wrote a review of Ally Bank savings account, as it was offering one of the higher interest rates available on the market. At the time I was trying to find a resting place for our large emergency fund of 8-12 months in expenses, somewhere that offered a slightly higher rate than we were getting with ING Direct at the time.
After reading several positive reviews of the company and their customer service I decided to take the plunge and sign up for an Ally Bank savings. The process was an extremely simple 5 step signup process that only took a few days for me from start to finish. You just enter your personal information, link an account at another bank, choose your account type and then verify your deposits. Simple.
One of the features that I really liked about the account that was added shortly after I signed up was remote echeck deposit. As a blogger I receive a lot of checks from miscellaneous companies, and through Ally's remote deposit system on their website I was able to start taking all those checks and quickly deposit them into my savings account. It saved me the hassle of having to drive down to the bank, filling out deposit slips and actually depositing the checks as I had been doing. Instead I could just open up my browser, go into the remote deposits section and then follow their check scanning wizard in order to deposit the check online.
The only thing that Ally was missing at that point in my opinion was one of the great smartphone apps with remote deposits, similar to the one at ING Direct or Chase, that allow for you to take photos of your checks right from your smartphone and deposit them on the spot – without the need to go to a computer. Within the past couple of months, however, Ally Bank has now released their own remote deposit app. This post will do a brief review of the new Ally Bank remote deposit app.
Ally Bank Remote Deposit App – Now Available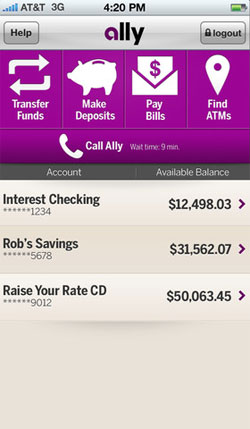 I'll be the first to mention that I was frustrated in how long it took Ally Bank to come out with their mobile app and remote deposit functionality. They released their app back in early 2012, and that app gave a lot of the basic functionality. It allowed you to check balances, pay bills, transfer funds or find an ATM, but the remote deposit functionality still wasn't available for smartphones. Remote deposits were only available via their website. Customers have been clamoring for the remote deposits via the smartphone app for as long as I can remember.
In November 2012 Ally announced and released a new updated version of their app that would now allow for remote deposits.
You can download the Ally Bank app for Android and iOS from the Google Play store, and via Itunes:
Ally Bank App – Functionality
So the Ally Bank app now has all of this functionality available:
Make deposits
Access your accounts
Transfer funds
Pay your bills
Locate ATMs
As you might guess, the functionality in the app is all stuff that is available from just about all banks that have an app. Viewing your accounts, paying your bills, transferring funds and locating ATMs are things that even the most basic of the banking apps do for you. While helpful, those weren't the features I was looking for. The one thing that not all of them have that was of supreme interest to me was the remote deposits.
Remote Deposits – How They Work
I've been using the app for over a month now and have deposited 10-11 checks using the remote deposit app. It's much easier to deposit a check for me using the app than it is to do it on the computer because I don't have to boot up the computer, login to the website and then go through the process of scanning the checks. Now all I have to do is grab my phone, start up the app, sign in and then go through the quick process of taking photos of the checks.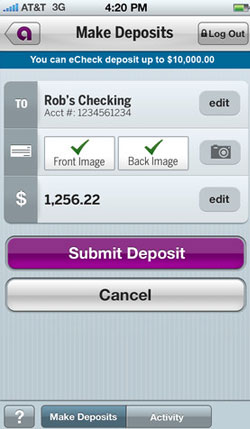 So how do the remote deposits work?
Taking a photo of your check and depositing it is extremely simple. First, you login to the app using the bank level security provided by the app, and then you click on "make deposits". Once you've done that, depositing a check is as easy as 1-2-3.
Choose the account you're depositing to: In my case I only have the Ally Bank savings account, so I choose that account. If you have their interest checking, that would appear in the list as well.
Take photos of your check: Take photos of the front and back of your check (after signing it!) using the onscreen check template as a guide.
Enter the deposit amount and hit submit!: After taking your photos you just enter the dollar amount of the check and then hit the "Submit Deposit" button to send the deposit to Ally. Check images aren't saved on your phone or device – only transmitted to Ally, so no worries there.
So far I've had problems depositing two of the checks I've submitted. I was able to re-submit those checks on a second try. I think my main issue was taking photos of the checks in low light – and also I think my phone's camera doesn't have the greatest quality. Since then I've been more careful about the lighting when taking photos, and haven't had any issues since.
For the most part I've found using the remote deposit app to be a simple process. It saves me a ton of time from driving to my bricks and mortar bank, and it even saves me a good amount of time from getting on the computer and scanning them in. Instead of running down to my computer in the basement I can now just open the check in the mail, put it on the counter and take photos of it to deposit it on the spot. Huge time saver!
Lots Of Reasons To Try Ally Bank
The remote deposit app isn't the only great reason to use Ally Bank. They're just a great bank in general. You'll get one of industry's leading interest rates (which admittedly isn't great at around 1% – oh how I long for the days of 4%+ interest rates!). You can open an account with no minimum balance, there are no monthly fees and their customer service is available 24 hours a day 7 days a week. Having used them on a couple of occasions, the service is top notch.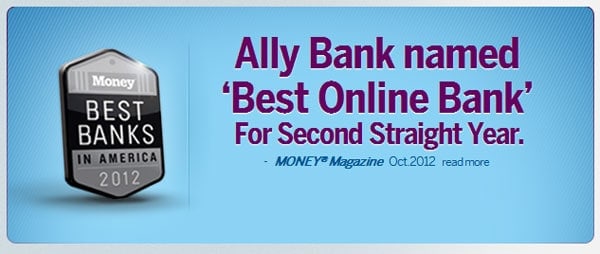 Ally was also recognized by Money Magazine in October 2012 as the "Best Online Bank" for the second year in a row, so you know they've got a solid reputation. Read a full review of all Ally Bank's offerings here.
Get More Details Or Sign Up For Ally Bank Here
Have your own experience with Ally Bank and their remote deposit app? Tell us about it in the comments!