A while back I started looking for a new high yield savings account to put our emergency fund in so that it would at least gain a little bit of interest while it sat in an account. We had the money sitting in an account at Bank of America, and last week I relayed my story of trying to cancel that account and get a check for the remaining funds. It turned into a 3-4 week nightmare, only to be rescued by their helpful Twitter support team.
Now that I have closed my Bank of America account I wanted to open a new high yield savings account with a higher interest rate. "High Yield" is a relative term nowadays, since most of the interest rates on savings accounts are hovering between 1 and 2%, when even just a couple of years ago they were more than twice that .
After doing my research I had settled on a couple of different banks that were constantly showing up at the top or near the top in the highest interest rate categories. They were:
Everbank High Yield Savings Account: This was my first choice for a bank because their rate started at a high 2.25% for the first 3 months, and then dropped to 1.5% for the first year. After the first year the rate dropped down a bit to around 1.26%. Not too bad.
Ally Bank Online Savings Account: Ally Bank, formerly known as GMAC bank, was my second choice. Their rate was near the top of the list at 1.29%, and the feedback I was getting from others on their accounts was consistently good. Add to that the fact that they were dubbed the "Best Savings Account" by Kiplinger's Personal Finance magazine, and I felt that they were worth giving a shot.
I had been leaning towards signing up for Everbank just because their first year interest rates were better, but after hearing a couple of people relay negative experiences with their system (including our own Craig Ford), I decided I'd be more comfortable in signing up for Ally Bank. Their rate wasn't as good, but I hadn't heard anything negative about their accounts. (Read an extended review of Everbank here)
Benefits, Features And Fees
Ally Bank's High Yield Savings Account has a good number of features. Here are a few of them:
Open with $0
No minimum balance
No monthly fees
Ability to create sub-accounts with different names and account numbers. (like ING, great for budgeting sub-accounts!)
Daily compounded interest for maximum earnings
24 hours a day, 7 days a week customer service at 1-877-247-ALLY (2559) for 24/7 assistance or by e-mail at customercare@ally.com
FDIC insured up to $250,000
Six withdrawals or transfers per statement cycle. (mandated by the government) ($10 fee for each item exceeding 6)
high level of online security
So really there aren't going to be any fees associated with this account unless you're doing something out of the ordinary.
Signing Up For Ally Bank
When I finally decided to sign up for Ally Bank I wasn't sure what to expect.
I had already gone part way through a couple of other bank sign-up processes, and they can vary from extremely simple to more complex. I found Ally Bank's process extremely simple. It's a quick 5 step process.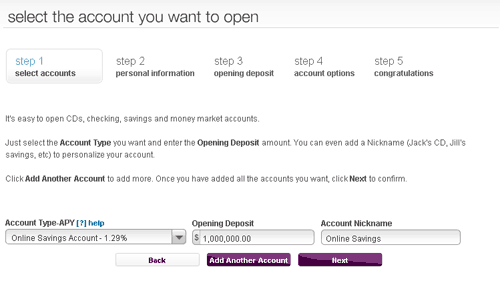 Step 1: You select the account type that you're choosing, along with whether it is a single or joint account.
Step 2: You enter all of your personal information including your social security number.
Step 3: You enter your linked bank account information and enter how much you'd like your opening deposit to be.
Step 4: Choose account and statement options.
Step 5: You're done. Now you just need to verify your trial deposits in your linked account. For me that took 3 days. My initial deposit should be in the account within 3-5 days after verifying the linked account
I found signing up for this account to be extremely simple, and when I did have a question about my initial deposit, I was able to find the answer I needed within minutes via their online chat – very helpful!
Other Ally Bank Account Options
In addition to the high yield savings accounts Ally Bank also has other account options available. Those include classic CDs, no penalty CDs (ability to withdraw early with no penalties) and money market accounts. All of them seem to have rates that are currently competitive. For more details about their other account options, click here.
Conclusion
At the time that I wrote this, Ally Bank offers some of the best interest rates available, and all of their accounts are FDIC insured. Add to that their other solid account options, no fees or minimums, good security and 24/7 customer service and I was sold on their savings account. Time will tell if it continues being a good experience, but everything has been trending positive thus far.
If you're looking for a good high yield savings account where you can put your money, I think Ally Bank should be near the top of your list. After doing my research, it certainly ended up being on the top of mine.
Do you have an account with Ally as well? What do you like about it? What things do you wish they would change? Have other high yield savings accounts you would recommend?
Further Details: Ally Bank High Yield Savings Account