A while back I talked about how my wife and I were looking to close out our account with Bank of America because the rate of interest that we were receiving on our money was not very good, even in today's market with low rates across the board. Our account had a paltry .50% rate of interest, and I wasn't expecting them to raise the rates anytime soon. We had a considerable amount of money sitting in the account (our 9 month emergency fund), and we wanted it to be gaining at least a little bit more interest while it sat there. At the time I wrote about how I had closed the account, and was expecting to receive a cashier's check in the mail for the balance of our funds in the account. At least that's what I was expecting, but unfortunately Bank of America had other ideas.
So, how many attempts would it take before we were actually able to close our account?
Closing My Account: Attempt Number One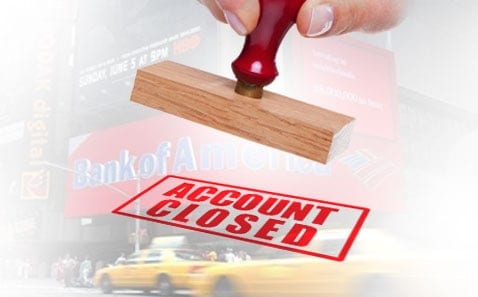 The first time I attempted to close my account I called up on a Monday morning. I talked to a nice young man who told me that closing my account would be no problem. He quickly processed my request (or so I thought), and told me that my account was now closed, and that I would be receiving a check for the balance of the funds in the account. He said it would take 5-7 days for my check to be processed and sent. He then asked if I had anything else that I needed today. I said no, and hung up the phone fully expecting to receive my check a few days later so that I could open and fund a new account elsewhere.
A few days and then a week passed, and still I hadn't received a check. I was a bit worried because this was a considerable amount of money that we were waiting on, and I wanted it sitting in an account gaining interest – not sitting out there in a post office somewhere waiting to be delivered. I checked my account online and discovered my account still appeared open and all the funds were sitting there in my account. Something wasn't right.
Closing My Account: Attempt Number Two
I called up Bank of America again to ask them why I hadn't received my check in the mail, and to confirm that my account had in fact been closed. The customer service rep pulled up my account and then told me that nothing had been done, that my account had not been closed. I expressed my concern as to why this hadn't been done, and the rep couldn't tell me for sure, but told me she would help me to close the account now.

At this point she explained the process. She would close the account for me on her end, which would mean I would receive a letter in the mail that I would have to sign and get notarized, and send back to confirm that I wanted to close the account. I was frustrated by this because it meant I had to find a notary to notarize the documents, and it was going to mean more time and hassle in order to close my account. She told me that this should have been done the first time around, and that it is standard procedure when closing an account with over $25,000 in it.
I finally agreed to do it so that I could be done with it, and waited 3 days for an account closure letter in the mail. I took the letter to a notary at my wife's place of employment and signed the document and had it notarized. (By the way, if you're looking for a notary, you can often find them at your bank or a real estate office) I sent the document back and awaited a confirmation and a check with my remaining funds. A week later I had seen nothing.
Closing My Account: Attempt Number Three
By this point I was getting extremely frustrated. I had now made two attempts to close my account, one of them on the phone and one of them involving me having to track down a notary public and signing documents in order to get my own money back. By now I was beginning to think that Bank of America was never going to let me have my money back.
I called Bank of America again and asked why my account hadn't been closed and my money sent. The rep told me that they had never received my documents, and that I would need to resend them. The problem was that I hadn't made copies of the notarized letter requesting the account be closed (my own fault, I know). She said the only option was for the documents to be resent to me, and to have them notarized again. So again, I would have to wait 3-5 days for the new letter to arrive.
At this point I was exasperated and started voicing my displeasure with BofA on Twitter. At this point my experience with Bank of America changed for the better.
After I had tweeted my situation I received a reply from the Bank of America twitter customer service rep asking if they could help. If you want to track them down for your own issues, you can find them here:
I started talking with one of the reps, Nereida, about my situation on Twitter and via email. She did her best to help me rectify the situation. After doing some research she called me up, got further details of the situation and called the manager of the account closure department. Instead of making me wait 5 days for a letter in the mail, she emailed me a copy of the account closure letter. She then asked that I send it back to her directly, and she would make sure that it was followed up on. I expressed my displeasure that I would have to pay for a notary again, and she said she could make things right by sending me an Amazon gift card.
I got the form notarized again, and faxed it back directly to Nereida. She forwarded it on to the account closure department, and my account was closed and check was received within a couple of days. On top of that I got a $50 gift card for my trouble.
Turning A Negative Experience Into A More Positive One Via Social Media
My experience in attempting to close my Bank of America savings account started out as a frustrating and aggravating one. After several phone calls and weeks of waiting I hadn't been able to close my account and my money was being held in limbo.
In the end BofA was able to turn the situation around, and leave me with a positive feeling by being more engaging and helpful via their social media customer service team. While it wasn't enough for me to stick around, it does show that at least some of their customer service reps know what they're doing. Also, once again it shows the power of social media. I was able to get the attention of a big company by voicing my displeasure online, and get what would have been a 1-2 week wait turned into a 3 day turn around – and a gift card!
So how many customer service reps does it take to close an account with Bank of America? One good one, and possibly several bad ones.
Now I just have to make a final decision about which new savings account I'm going to open. I'm currently leaning towards an account with Ally Bank (read my Ally Bank Review here), but could be swayed if you've had a particularly good experience with another bank. Let me know in the comments!
Have you had a bad experience closing an account somewhere? Have your own story of using social media to get better customer service? Tell us your story or thoughts in the comments!