I was reading a new book that I received in the mail yesterday called, "8 Attributes of Great Achievers", written by Cameron C. Taylor. The book examines the lives of famous historical figures and gives light to attributes that they shared that helped to make them successful in life.
It's a great read that I would highly recommend.
The book begins by looking at one basic attribute that great achievers possess, they are responsible.
The price of greatness is responsibility – Winston Churchill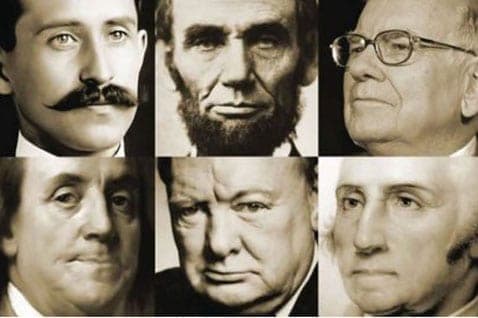 A lot of people don't want to be responsible for the choices they make, and they often don't want to admit that their decisions have real life consequences. Try as you might, you can't escape the consequences of your decisions, whether good or bad.
Every choice carries a consequence. For better or worse, each choice is the unavoidable consequence of its predecessor. There are not exceptions. If you can accept that a bad choice carries the seed of its own punishment, why not accept the fact that a good choice yields desirable fruit? – Gary Ryan Blair
In the book Taylor describes how the consequences of our choices are directly related to the decisions that we've made – and often times people think they can make bad decisions and escape the consequences of those decisions. They want someone to rescue them from their bad choices (sound familiar in this day and age?) but often there's no one there to help:
With each choice comes a consequence. No amount of rationalizing or complaining will alter the consequence. If you pick up one end of a stick (choice), you also pick up the other end of the stick (consequence of that choice).
There is a human desire to be miraculously delivered from the consequences of an action. We tend to seek a rescue from consequences with little or no effort on our part. This tendency can easily be seen manifested by those who have incurred large amounts of debt and then seek to be delivered from the bondage and obligation of repayment through bankruptcy, or those who seek deliverance from a disease of choice by taking a pill to treat the symptoms instead of changing the behavior that causes the symptoms. We should seek to change our actions because we cannot choose the consequences. We must accept responsibility.
Through a responsible use of our freedom to choose our path in life and by making the right choices (instead of sometimes the easy or convenient choice), we will help ourselves to succeed. Make a bad choice, you'll get a negative consequence. Make the right decisions and in the long run you'll prosper.
The Power Of Choice
The greatest power that a person possesses is the power to choose. – J. Martin Kohe
There is great power in being able to make choices in our life. We have the choice of what kind of life we'll live, and what type of person we want to be. We aren't just a result of how our parents treated us or a product of our environment. We are a result of the choices we make every day.
There are so many choices that we can make.
We can choose if we'll reflect our environment, or if we affect our environment.
We can choose to be happy, or not.
We can choose how we react to hard times in our life, with positivity or negativity.
We can choose to take responsibility for our actions, or blame others for our failures.
We can choose to be a victor or take on the role of a victim.
What choices are you making in your life? Are they the ones that result in positive consequences?
Change Your Life By Being Responsible
By being responsible for our own lives, and being accountable for the decisions we've made we can change our lives for the better. We can make the choice to be happy, and make a decision to react positively to all of life's situations. We can take control and be a victor and not a victim. So what choices are you making today?