Christmas shopping season is in full swing, and with it, the long lines, crowded aisles, and frazzled shoppers.
In an attempt to avoid the stores altogether this year I decided to do most of my shopping online.
There are a variety of reasons why I like shopping online. First, you can shop in your underwear, and honestly, who wants to get dressed or have to take a shower to go out and spend money when you can do it from the comfort of your cushy office chair? Second, shopping online allows you to shop around, find online-only sales, and get extra cashback. I love getting a deal!
Buying Each Other Christmas Gifts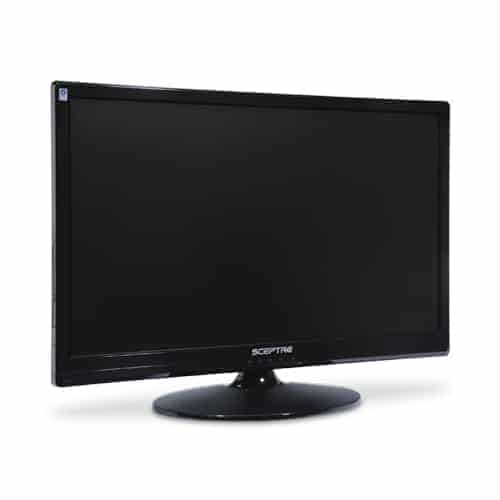 This Christmas my wife and I told each other what we wanted, so there were no surprises. I bought her the remote starter for her car that she's been wanting for several winters now. My wife, despite being a Minnesotan born and bred has the tolerance to the cold of someone from a much warmer climate. She insists that she needs a remote starter so that her car will be toasty warm by the time she sits down to drive home. Being that she's now pregnant as well, I decided that it would be a good thing for her to be comfortable. One remote starter purchased.
I on the other hand decided that I wanted to get a new monitor for our home computer so that I can have dual screens when working from home. I have dual monitors at my day job, and it's amazing how much more productive you can be when you have two screens. My wife agreed to get me a monitor but then said that I should buy it for myself since I am the king of finding great deals. (remember my 50″ plasma for $580?)
Shopping For A Good Deal On A Monitor
I went online a week or so before Christmas to scope out a good deal on a Monitor. I searched all the usual places including deals websites like RetailMeNot, slickdeals.net, and by doing searches through froogle.com.
After a few days of searching, I found what I was looking for. A great deal on a 24 inch LCD monitor at Tiger Direct, for a reasonable price – $159.99. But I wasn't done yet. I still had a few discounts up my sleeve.
I found that Tiger Direct had a cash bank rebate of 12.8% if you bought your item through the bing search. So I did.
Next, I found out that eBillme (now WU Pay) was running a promotion with Tiger Direct that would give you another $25 cashback if you bought your item using eBillme. I had been planning on giving eBillme a try anyway, and the rebate sealed the deal. So my final price: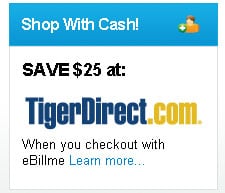 $159.99 24″ LCD Monitor
-$20.48 12.8% bing cash back
-$25 eBillme rebate
———————-
$114.51 total (with free shipping!)
I think I did well. $114.51 for a new 24″ monitor is a pretty good deal. So I went online and purchased the monitor using the cash back link, and paying with eBillme.
Purchasing The Monitor – The Trouble Begins
Paying with eBillme was a relatively pain-free process. I setup eBillme as a billing recipient in my bank's online banking website. When I completed the monitor purchase at Tiger Direct they sent me a bill, which I promptly paid. The payment was expected to go through to Tiger Direct and my monitor to ship within a day or so. No big deal!
Using eBillme may not be as quick as using a credit card, but it is a viable option for those who want to pay cash without using a credit card, or putting their personal information out there. It's secure and pretty easy to use.
My purchase completed I waited for a couple of days and then checked my order status on Tiger Direct's website. Their status said that the order was on hold and that there was a problem. I needed to call.
I called support to ask about why there was a delay on the shipment of my monitor. After looking up my account they said that "all eBillme orders take 10-14 days to ship out because that's how long it takes for the funds to clear". Apparently, they were saying that purchasing something with eBillme was like paying for something with a check. Because of that, I would have to wait up to 2 weeks for my monitor to ship. That was unacceptable! Is that really how eBillme orders work?
Twitter To The Rescue

After hearing that all eBillme orders had to wait 10-14 days to have their items shipped, I was a bit upset. I decided to take my rant to Twitter. I ranted about how my order was now going to take two weeks to ship, and how this was crazy. How did eBillme expect to stay in business if this was how things worked?
It was then that I realized that I knew of a couple of users on Twitter who actually worked at eBillme! I decided to contact one of them who I had worked with before – Samer Forzley, the VP of Marketing at eBillme. (@sforzley on Twitter)
I told Samer what had happened with Tiger Direct, and he told me that this should not happen. eBillme orders should be paid for within a day or so. I gave him my order information and he was able to look up my order.
Your order was placed on 2009-12-15 23:11:34. Your payment was received by us and sent to tiger on 2009-12-16 14:15:53 The payment was for 159.99. If you check your email address you should see a receipt from eBillme confirming that we got the money and sent it to Tiger Direct. We send the receipts every morning, so on the 17th there would be a receipt from us. If it took 10 – 14 days to ship every eBillme order we will be out of business long time ago. But I can 100% guarantee you, that we sent the payment to Tiger on that day and time
So Samer was able to confirm for me that something was wrong. Tiger already had my money, and there should be no reason on earth that my order should not ship for 2 weeks. After getting this information I called Tiger Direct again to find out again why my order wasn't shipping since they had my money already. Again the person I talked to gave the same story. "all eBillme orders take 10-14 days to ship because the funds have to be confirmed like a check". They went on to say, "yeah, it stinks that your order isn't shipping. My suggestion is to not use eBillme next time unless you're OK with waiting".
I went back to Samer with the results of my second call. He seemed none too pleased with what Tiger Direct was saying and decided to take matters into his own hands.
I'm sorry you had to go through this, this is simply false. I cant believe they said that, this does not happen anywhere else. I am gonna call them… When we send them payment, its 100% guaranteed and they should ship instantly!
Samer got on the phone with eBillme's VP of Operations, and after making some phone calls with Tiger Direct, he emailed me back with some news.
Apparently there was a "glitch" in their system which is now fixed. I am told that your order was processed. Please confirm that you got some communication that your order shipped. Once again sorry about the trouble man, this should have never happened. Again let me know if there is ANYTHING I can do. You know where to find me.
I double-checked my account and found that my order had indeed been processed. It was now in the warehouse ready to be shipped. The next morning it shipped and I received the monitor on the 22nd. Because of eBillme's strong customer service orientation in helping me to get my problem fixed, I ended up getting the monitor within the 5-7 days as was originally promised!
Social Media Can Be A Strong Force For Customer Service
The thing that I learned from this whole ordeal is that while some companies don't always have their act together (Tiger Direct), others are doing a good job of using social media like Twitter and Facebook in order to put a good face on their presence. Because eBillme, and specifically VP of Marketing Samer Forzley, were on Twitter and responsive to their customers, I was able to turn a bad experience with their product, into an exceptional one. He was able to correct my misconceptions, go above and beyond when it came to customer service, and not only correct my thinking – but fix my problem in the process!
The other thing I've learned through this process? If you're having problems with a company – seek them out on Twitter, Facebook, or other social media. While not all of them may be as responsive as eBillme was, you might find that they're more helpful than you thought they were going to be. You might just find that they end up fixing your problem like they did mine!
NOTE: After this post went live eBillme was bought out by Western Union, which then launched it as a service called WU Pay. Details here.
Have you had a similar positive (or negative) customer service experience? Have you used Twitter or Facebook to make contact with a company, and how did it work for you? Tell us your thoughts in the comments!