My wife and I have always enjoyed watching movies and TV shows at home. You could say we're movie buffs.
We've got a nice finished basement in our home with a big sectional couch facing our home theater where we can lie in front of the TV and watch to our heart's content. It's one of our favorite places to be, especially on the weekends.
We love having movie marathons or as we've recently done – TV show marathons (We're watching all 5 seasons of Lost in a row right now).
It's safe to say that we spend a lot of time down there.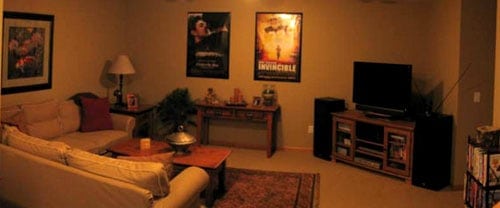 For quite some time I've wanted to upgrade our TV in our basement. The couch is quite a ways from the TV, and while we do have a nice 37″ TV down there, I've always wanted a big-screen TV to really make it a true home theater. My TV of choice for our basement has been a 50″ Plasma TV as it's big enough to be of substantial viewing size, even if we're 10 or more feet from the TV. It's also small enough that it won't be a problem getting it down the tight staircase to our basement.
The only reason I haven't pulled the trigger on a big new TV up until now is that buying a new TV is extremely expensive. Even up until a year or so ago 50″ plasma TVs could run you anywhere from $1000-2000 or more. Being frugal in nature as I am I had no desire to spend that much money on a television. We set a price point we wanted to pay, and saved up that cash in our online savings account so we would be ready when we did find a deal.
Finding A Deal Isn't As Hard As You Might Think
While I didn't want to spend more than a thousand dollars on a TV, I didn't give up on the dream of having a big screen TV in our basement. I just decided to get creative and see if we could find the TV we were looking for, at a discount. It isn't as hard to do as you might think, and you can do it too if you're looking to purchase a high ticket item. It can save you a lot of money. Here's the process I usually follow to save my family hundreds of dollars on our big purchases.
Research the item that you're looking for at many different stores: Look around at a ton of different local and online stores to find a good price on the item you're looking for. Often different stores will have the same item for vastly different prices. The internet has made this process a whole lot easier, as well. You can search through sites like CamelCamelCamel, froogle.com, pricewatch.com, pricegrabber.com and a ton of other helpful sites. Keep searching until you find a good price. Sometime this may take a while, but be patient. (Don't settle for just a good price. Check out reviews on the item you're buying to make sure it is worth your money!)
Once you've found a good price, see if they offer additional discounts for buying the TV online: If you've found the item you're looking for at a bricks and mortar store location, check out the company's website or online store. Often you'll find that the online price is a lot lower than the in-store price. Often buying from a website (like amazon.com) means you won't have to pay taxes as well.
See if any manufacturers are offering mail in rebates or discounts: Even if you've found an item on sale sometimes the manufacturer or the store will have additional mail in rebates and discounts that you can take advantage of. Search the store's "rebates" section, or do a google search to see if you're missing anything.
Find store coupons by searching online: When buying online (and sometimes even in-store) you can find store coupons to save an additional percentage off of your purchase. Often times the discounts are stackable on top of sale prices. For example, when we recently bought a new home computer we saved 10% off the price by buying a coupon code off of Ebay for $5. Using the coupon saved us $50. Find coupon codes and physical coupons through Ebay, retailmenot.com and other coupon websites.
Find other cash back discounts online: A lot of online stores, and some physical stores have cash back programs to save you extra money on your purchases. Sites like Honey and Rakuten.com have cash back programs that will give you cash back on your purchase of anywhere from 1% up to 10% or more when you buy through them. Each store has specific savings that you can receive and they vary widely. My new favorite cash back site, however, is the bing.com cash back program. It seems that right now their cash back percentages are extremely high for some stores. For example shopping at sears.com you can save anywhere from 4%-32% off your purchase price in cash back savings. The one caveat with the cash back programs is that often you have to wait a while to cash out your savings, or reach a certain payout level to get cash back. On larger purchases this usually isn't a problem, however.
Find other non-cash discounts or incentives: You can often find non cash rebates or incentives to buy certain items. Gas cards, gift certificates and other incentives are frequently given out by mail in rebate. Do some searches of the site's rebate section or of online rebate sites to see if there is anything available.
Pick up your item to save on shipping: You an often pick up an item purchased online instead of having it shipped. Sometimes this can save you a good chunk of change if you bought a large or heavy item like a TV.
As you can see, if you spend a little bit of time researching the item you're looking for, and finding miscellaneous discounts and rebates, you can find some great deals on a lot of things you buy.
Getting A Deal On Our New TV
It's easy enough for me to say that you can easily find a deal, but it's another thing to actually do it in practice. So I thought I would share our experience in buying our new 50″ plasma TV, and how we managed to get it for a lot less than other people were paying for it.
We were searching for a 50″ plasma television. We searched prices across a variety of stores and found that we would be able to get one that fit our needs for between $850 and $1000. Several stores were having sales reducing the prices of their TVs below $1000. After narrowing our options down to a few models we settled on one particular TV at Sears. The TV was normally $999, but was currently on sale through the weekend because of a sale on TVs 50″ and bigger. So right off the bat the sale slashed the price to $799.99. Already we're saving $200 off the price.
Next we found that the TV was cut in price by an additional 10% because there was another special sale on LG brand TVs. The savings were stackable, so that means we saved another $80 off the price. Total price before taxes was $719.99, about $770 after taxes.
This is probably where most people stop the process and just buy the TV because $770 is a pretty good deal on a TV of this size. But not me. I want to find where else I can save. After doing a search online for further coupon or rebate savings I found that the Bing.com search engine now has a cash back shopping tool that allows you to save money when you shop at certain stores. I found that Sears was one of the stores and incredibly they currently had a deal where you could save an additional 16% in cash back when you shop at sears.com through their sponsored link. I jumped at that opportunity, which saved us an additional $115 in cash back rebates. That cuts the TV price to $655. That's an amazing deal on this TV by any account. But i wasn't done yet.
One last thing that i decided to try before jumping on this deal was to see if there were any special rebates being offered by LG or Sears for purchasing this TV. I found another rebate online that gave people who purchased a 50″ or 60″ LG plasma TV a pre-paid discover gas card. For my particular TV you could get a $75 gas card by mail in rebate from LG. We buy gas anyways, so getting a $75 gas card is just another $75 in savings! Cut that off our price and you have a final price on this TV of $580.
I found that I could also save another 5% off on this TV if I opened a Sears credit card, but I didn't want to do that. (Left another $30-40 in savings on the table there)
So once again, here's how it broke down: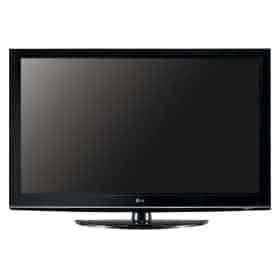 $999.99 – Regular Price
-$200 50″+ TV sale discount
-$80 extra online discount for LG brand TVs
$719.99 final price. (add tax and it was $770)

Other "found" discounts
-$115 (16% discount for buying through bing.com search engine)
-$75 Special LG TV buyer gas card rebate (it's a discover gas card, but we buy gas anyway so we'll still be saving this money)

Final price after all discounts, rebates, cash back and gas cards:
$580 with tax included- $470 in discounts!
So we're extremely happy with the deal we got on this TV. We ended up saving almost $500 off of the retail price just by doing a little bit extra leg work and internet searching. You can do the same thing next time you buy something expensive!
Have you recently made a good purchase where you saved some extra money by doing the extra legwork? Tell us your story and your own shopping savings tips in the comments!