If you're on a tight budget, you may do anything you can think of to save money and make your hard earned dollars stretch further.
While there are plenty of strategies to save money, one technique that has gained favor in recent years, especially with the super coupon phase, is to spend money to save money. However, if taken too far, this technique may actually cost you money.
I went through a time when I spent money to save money, thinking I was being a smart shopper.
I wasn't, though. Here's how this technique cost me money and may be costing you money, too: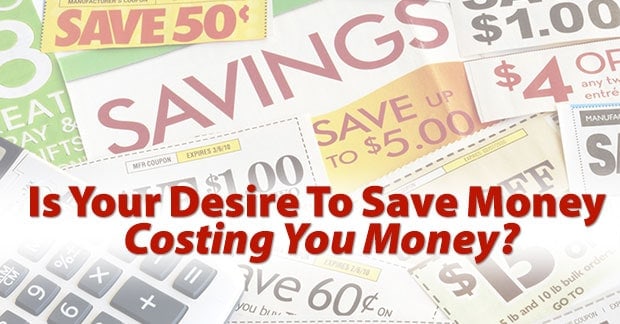 Stock Up On Great Deals At A Low Price
This is what all smart shoppers do, right? They stock up when things are at rock bottom prices so that they never pay full price for anything. While this is a good technique, too many people carry this too far and buy more than they need.
For instance, when one of my children was a baby, I found a great diaper sale. I stocked up on diapers, making multiple trips to the store. I had diapers to last for a few months. However, my child grew faster than I expected, and I ended up with two boxes of diapers she couldn't use because she didn't fit in them any longer. I did sell them on a mom e-mail group, so the investment wasn't a total loss, but I still lost money because I stocked up too much.
Buying Items Months In Advance
Similarly, some people buy items months in advance when they see a low price. While this is a good practice in general, if your money is very tight, you're tying up money for something you don't need right now. This could cause a budget crunch.
We homeschool, and my daughter loves a certain series of history books. There are 30 books in the series, and we have slowly bought her them on an as-needed basis. However, just a few days ago, I was able to snag a Cyber Monday deal and get the books at 66% off their regular selling price. Sure, I grabbed a good deal, and now my daughter has all the books in the series. She will use these for the rest of our homeschool year.
But, because I bought the remaining 14 books all at once instead of a few at a time as I had previously done, I now don't have that money available in my budget. I'll be honest—I probably shouldn't have bought the deal because there wasn't room in our budget for it. Now, I have to cut some other areas, which will be difficult.
Often It's Cheaper Not To Buy Anything
Another frugal principle is to wait a certain amount of time to buy something. This principle is often forgotten, though, when people are in a rush to get a good deal and "save" money.
What some people fail to realize is that it's often cheaper to not buy anything.
For instance, last Black Friday, I went to the fabric store and got some fabric at rock bottom prices. My intention was to sew some historical costumes for my daughters for Christmas. Only, my December was busy, and I didn't get to it.
This year I also had good intentions, but once again, I don't think I'll get to it. Even though I got the fabric for a great deal, I honestly wasted my money because I haven't yet done anything with the fabric. It would have been better if I just hadn't bought anything.
As you can see, I'm one of those who likes to spend to save money. Sometimes that works, but often, like the fabric purchase, it doesn't. I'm trying to become more of a minimalist and recognize that often snagging the good deal isn't really saving at all.
Do you struggle with spending money to save money? If you do spend money to save money, are there any purchases that you regret?