One thing that I'm constantly talking about on this site is the need to be able to cut down on your costs when you're investing. If the mutual fund company or brokerage that you're using nickels and dimes you to death with fees and costs, over the long run it can end up harming your returns more than you realize.
When it comes to choosing a brokerage there is a pretty wide spectrum of good low cost companies to choose from. When I've been searching for which company to use, one of the companies that kept coming up with positive reviews from others I know was Scottrade. No only do the have low costs when it comes to fees and commissions, they also have great customer service, a wide range of research and tools available to all users, and an easy to use interface on the web and mobile. So let's do a Scottrade review.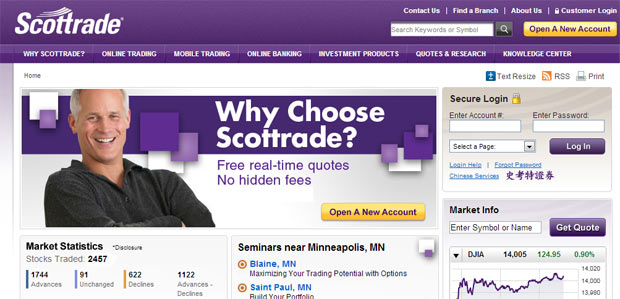 Scottrade Background

So when was Scottrade founded, and where did it get the Scottrade name? From Wikipedia:
In 1980, Rodger Riney, founder, moved from St. Louis to Scottsdale, Arizona where he and a partner incorporated Scottsdale Securities.

In 1981, Riney returned to St. Louis to open a second branch, but ultimately split apart from his partner in 1985 due to conflicting business models. Riney kept the company name, Scottsdale Securities, and lowered the price of commissions to attract more clients. Riney's approach was successful and by 1991 the Scottsdale Securities had a total of 15 branches throughout the US.

Scottrade.com was launched in 1996 (along with Scottrader.com to supply streaming online quotes to clients). Scottrade.com was successful and grew rapidly amidst the dot-com bubble of the 90s.

In 2000, Scottsdale Securities officially renamed to Scottrade due to the success of their online firm.

Scottrade saw substantial growth throughout the 2000s, expanding from 200 branch offices in 2004 to 500 by 2010.

In 2011, Scottrade launched Scottrade Bank.
So they've been around in one form or another since the 1980s, and their name came from the fact that it was originally founded in Scottsdale, Arizona. Scottrade provides brokerage, banking and other educational services as well.
Scottrade Recognition & Awards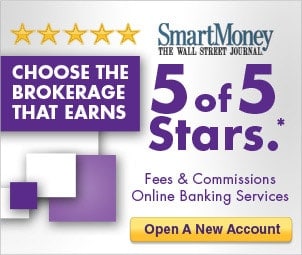 Scottrade has consistently earned awards and accolades from traditional and online financial media. A few of their mentions:
SmartMoney gave Scottrade 5 out of 5 stars in the commissions and fees and banking services categories.
2012 Plutus Award winner (just like this site!)
J.D. Power and Associates named Scottrade a 2012 Customer Service Champion – one of only 50 companies to receive the distinction in the country.
Barron's Annual Online Broker Review recognizes Scottrade with 4.2 out of 5 stars for its customer service and education.
StockBrokers.com's annual online broker review rates Scottrade with 5 out of 5 stars for its customer service, ease of use and investor education.
Those are just the awards from the past year or so. They've consistently been given recognition as one of the top online brokers, especially when it comes to their customer service.
Scottrade Fees, Commissions And Minimums
One of the first things I check out when signing up for a new brokerage company is what their fees, commissions and minimums are. Depending on what they are it can definitely affect your returns.
Stock Trades
Scottrade's cost for stock trades isn't the lowest you'll find out there, but it is still competitive with some of the lowest cost brokers in the market. As of this writing they have $7 stock trades. That rate is for stocks priced $1 and above, regardless of trade frequency, account balance or number of shares. Phone trades are $32, while broker assisted trades are $32.
Options Trades
Options pricing is at a low $7 per trade, plus a $1.25 charge per contract.
Fees And Minimums
There are no annual account maintenance fees, inactivity fees or account closing fees.
There is a minimum initial deposit of $500 to open a cash account with Scottrade.
Account Options At Scottrade
Scottrade has quite a number of different account type options, and not just brokerage accounts. They have:
Traditional IRA
Roth IRA
Rollover IRA
SEP IRA
ESA
ETFs
Bonds
CDs
Checking
Savings
Money Market
They only launched their banking products within the last year or two, but they have been favorably reviewed by sites like Smart Money.
Scottrade Tools & Education

Scottrade offers educational resources for investors who want to improve their knowledge. The offer seminars at their local branches, regional user summits, live webinars, on demand webcasts and much more.
Their website has a knowledge center where there are tools for market research, real time quotes, tickers and just about anything you could ever need when trading.
Scottrade Mobile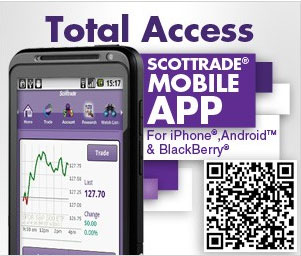 Scottrade released a set of mobile apps on a variety of mobile platforms. Download the app of your choice for free:
Information that's available on the apps includes:
Advanced charts
Technical analysis
Market news and analyst ratings
Real-time streaming quotes and watch lists
Investor fundamentals and market earnings.
Highly Rated Customer Service
Scottrade has been rated highly for customer service, as mentioned above they received the J.D. Power and Associates 2012 Customer Service Champion. They were one of only 50 companies to get that honor. What sets them apart? Unlike a lot of online brokers they have a network of local bricks and mortar branches, over 500 of them at the writing of this article. If you think you may want to sit down with someone face to face at some point, it's nice to have that local presence.
If you want to reach someone by phone, you can do that as well at (800) 619-SAVE. Your calls will go into your local Scottrade office to be answered by someone there, not a call center in India.
A Good Low Cost Option With Great Service
Scottrade is one of the industry leaders when it comes to affordable online trading and investing. They have $7 trades, low minimums and no annual fees, and on top of it all they've got local branches and customer service should you ever need it. In my opinion they should definitely be a contender if you're looking for a discount online broker.
So to review, some of the highlights of Scottrade include their cheap stock trades, low or no fees, great customer service and local presence. So what are you waiting for? Go check them out!
Have you used Scottrade in the past? If so, what was your experience?