Over the past couple of years I've looked at, and reviewed, quite a few online brokers. There are a lot of pretty good ones out there, but even among all the good ones I've reviewed, TD Ameritrade stands out from the pack. They've been honored by multiple financial publications like Smart Money, Kiplinger and Barron's for their great web and mobile tools, usability, commitment to customer education and just being a great place for investors of all types – especially long term investors.
Today I thought I'd do a TD Ameritrade review, exploring their history, the industry awards they've received, as well as looking at the important stuff like fees, tools and mobile trading options. So let's get started.
TD Ameritrade Background
TD Ameritrade has been around for quite a while, tracing it's roots back to a company launched in the 1960s called Rahel, Knack and Co. From Wikipedia:
The company started as an investment banking business named Rahel, Knack and Co. in the 1960s in Omaha, Nebraska. It was purchased in 1975 by J. Joseph Ricketts, Robert Perelman, and David G. Kellogg, renamed First Omaha Securities, and became one of the first firms to offer negotiated commissions.

Ricketts acquired the company completely from the other two founders in 1981. The company became AmeriTrade Clearing in 1983. In March 1997, Ameritrade became a publicly held company. In 2005 Ameritrade acquired TD Waterhouse and was renamed TD Ameritrade.
Today TD Ameritrade has over 6 million U.S. customers, and more if you include international customers. As of 2008 they were 746th-largest US firm.
TD Ameritrade is member of SIPC, which means your investments are protected by SIPC insurance up to $500,000 and $100,000 of it can be in cash. This means that you are protected against the company going into insolvency. You are not protected against market losses.
Awards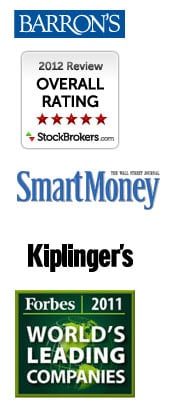 TD Ameritrade has received a lot of praise as one of the top online brokers in the industry. Among the awards they've received in the past couple of years:
Kiplinger named them #1 Best online broker for 2011 and called them "a great value proposition for long-term investors".
Barron's ranked TD Ameritrade #1 Best site for novices in their 2012 annual review of online stock and option brokers.
Barron's ranked TD Ameritrade #2 Best site for long term investing in their 2012 annual review of online stock and option brokers.
Barron's ranked TD Ameritrade #3 Best site for options traders in their 2012 annual review of online stock and option brokers.
Smart Money recognized them as the #1 discount brokerage firm, tied with one other company in SmartMoney's 2011 review of online brokers
Stockbrokers.com ranked TD Ameritrade #1 overall broker in their 2012 broker review.
As you can see the last couple of years TD Ameritrade has consistently been rated as one of the top platforms for investing, especially for long term investors like I am.
TD Ameritrade Fees, Commissions And Minimums
When you're opening an online brokerage account one of the first things you should probably look at is what your fees, commissions and minimums on your account will be. With TD Ameritrade you'll get no account minimums, no maintenance fees and really no other unexpected fees.

Stock Trades
TD Ameritrade has $9.99 stock trades, which are definitely are in line with industry average. For what you're getting with them for tools and research it is definitely a decent price.
Options Trades
For option trades, they also charge $9.99 per trade, plus 75 cents per contract.
Fees And Minimums For An Account
TD Ameritrade doesn't have account maintenance fees, monthly minimums, inactivity fees. Broker assisted stock trades are $49.99. To see a full schedule of their fees, head on over to their site.
There is also no minimum account funding level to open a cash account and a $2,000 minimum to open an options or margin account.
TD Ameritrade Tools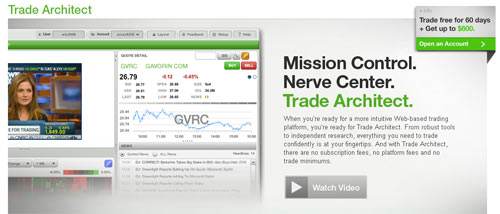 TD Ameritrade has some great tools you can access via their platform. For example, the Trade Architect tool-set includes things like custom charts, probability and earnings analysis, stocks watch lists, integrated community to give you help and more.
TD Ameritrade's Thinkorswim Trading Platform has also been voted the number one trading platform by Barron's. So you know their trading tools are top notch. Their award winning mobile trading apps are available for Blackberry, iPhone, Ipad, Android, or Windows phone. Trading on the go should never be a problem.
TD also has a ton of research available if you want to investigate stocks before you buy. They offer investing and trading reports from Jaywalk Consensus, Research Team, Market Edge, S&P Columns, and S&P Research. Premium reports are also available for an additional charge if you want to get even more in depth. For the average person, however, they have a ton of knowledge available at their fingertips.
TD Ameritrade Account Types
TD Ameritrade has a ton of investment account options for individuals, families and more. If you want to open a retirement or investing account, they've probably got you covered:
Standard Accounts: Individual, Joint Tenants, Tenant in Common, Community Property, Tenants by the Entireties, Guardianship or Conservatorship.
Retirement Accounts: Traditional and Roth IRAs, Rollover IRA, SEP IRA, SIMPLE IRA
Education Savings Accounts: 529, Coverdell ESA, UGMA/UTMA.
Specialty Investing Accounts: Trust, Limited Partnership, Partnership, Investment Club, LLC, Sole Proprietorship, Corporate, Non-Incorporated Organization, Pension or Profit Plan for Small Business.
Open Your Own TD Ameritrade Account Today
Conclusion
When considering an online discount brokerage TD Ameritrade is definitely one of the most awarded and most recommended options out there. They've got low fees, reasonable commissions and their online trading tools and research are second to none. Their Ipad app is also one of the best available.
Add to that the fact that they've been awarded extensively in the last year, with at least 4 publications giving them a #1 rating as best online brokerage or best for long term investors, and you've got one of my top brokerage options to consider. Definitely put them on your short list.
Have you used TD Ameritrade? What has your experience been like? Are you happy with them? Tell us your thoughts in the comments.
Open An Account With TD Ameritrade Or Get Details. Click Here.